UFC 205: Kelvin Gastelum Misses Weight, Removed from Card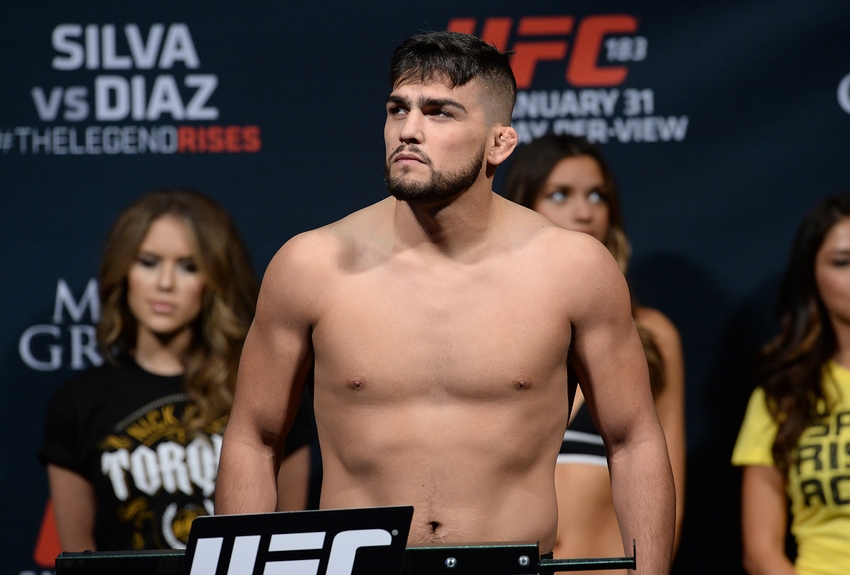 The UFC 205 weigh-ins made for a dramatic morning, as both Kelvin Gastelum and Thiago Alves missed weight. Gastelum, however, was removed from the card.
Although the staredowns are later today, the UFC 205 early weigh-ins can be watched here via MMA Fighting.
Gastelum never actually stepped on the scale, but reports stated that the welterweight was around 178-180 pounds, which is well over the 170-pound limit. The New York State Athletic Commission has a rule in place that sets certain weight difference allowances between fighters (page 58). At welterweight, the difference allowance is seven pounds.
Cerrone was not notified of Gastelum's issues, and weighed in on the mark at 170.4-pounds. Since Gastelum elected not to step on the scale, and allegedly would not have been within seven pounds of that weight.
Dana White stated that Gastelum will never fight at welterweight again. This is the third time Gastelum has missed the welterweight limit, so this is an appropriate reaction from the President.
Gastelum was not the only one to miss the mark. Thiago Alves came in at just over 162-pounds for his lightweight debut. However, his fight will stand because Jim Miller elected to weigh in at 157-pounds to ensure the fight stayed on due to the five-pound difference allowance.
Alves was working with nutritionist Mike Dolce for this camp, but left him midway through the camp. The gamble did not payoff, as he missed weight significantly. Alves ended up blaming food poisoning as the reason he missed weight.
It is worth noting that Alves has missed weight twice as a welterweight, and tested positive for diuretics once. It may be back to 170 for "Pitbull."
The weigh-in results for UFC 205 are as follows:
Eddie Alvarez (154.6) vs. Conor McGregor (154.4) – For Lightweight Title
Tyron Woodley (169.8) vs. Stephen Thompson (169) – For Welterweight Title
Joanna Jedrzejczyk (114.4) vs. Karolina Kowalkiewicz (114.4) – For Strawweight Title
Yoel Romero (185.6) vs. Chris Weidman (185.8)
Donald Cerrone (170.4) vs. Kelvin Gastelum (N/A) – Removed from Card
Raquel Pennington (135.8) vs. Miesha Tate (135.6)
Frankie Edgar (145.4) vs. Jeremy Stephens (145.8)
Michael Johnson (155.8) vs. Khabib Nurmagomedov (155.8)
Tim Boetsch (185.4) vs. Rafael Natal (185.4)
Vicente Luque (170.6) vs. Belal Muhammad (170)
Thiago Alves (162.6)* vs. Jim Miller (157.6)* – 163-pound catchweight
Liz Carmouche (134.8) vs. Katlyn Chookagian (135)
This article originally appeared on