UFC 205 In Focus: Can The Notorious One Make History at MSG?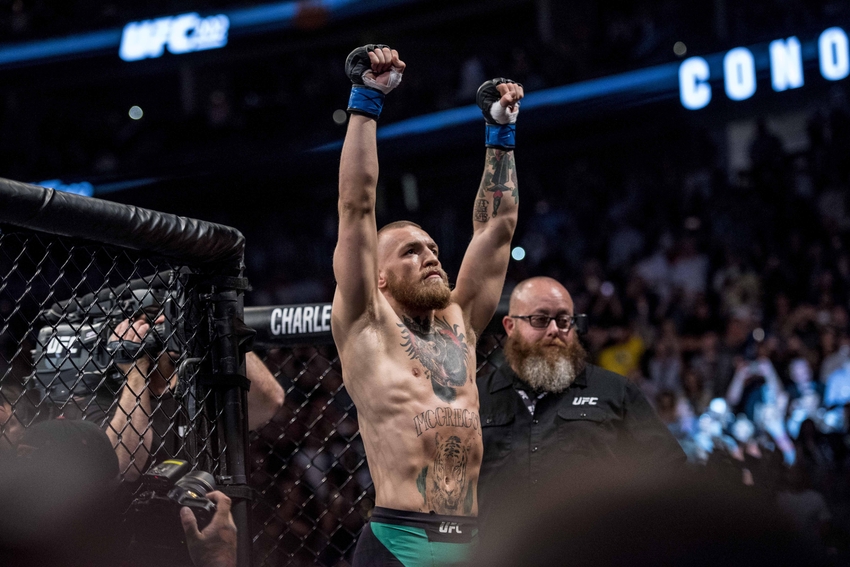 In the pinnacle of New York's first-ever UFC event, Conor McGregor attempts to make UFC history by simultaneously holding two belts in two weight classes, whilst Eddie Alvarez hopes to spoil the party and start his reign as lightweight champion.
Since his move over from Bellator, Eddie Alvarez has fought the best of the best in the UFC lightweight division. After edging out close decision wins against Gilbert Melendez and Anthony Pettis, he was granted a title shot against the in-form Rafael dos Anjos, who was riding a five fight winning streak.
Rocking dos Anjos with a right hand, Alvarez unleashed a sixty second barrage of wild hooks and heavy uppercuts on the Brazilian. How RDA remained standing was astonishing in its own right, but nevertheless Alvarez walked away with the first round finish, and the lightweight belt to go with it.
Like it or not, there's no arguing that Conor McGregor has become the face of the UFC. Captivating millions through his trademark captions on social media, he has become somewhat of a national hero as the sport of MMA continues to flourish.
His aura is ever present when inside the Octagon too. With seven consecutive fight night bonuses, his showmanship carries over to put on phenomenal fights in the cage, that are historic to say the least.
Alvarez's Adjustments
Classifying this title fight as the conventional 'grappler vs striker' match up isn't the right way to go. Although a grappler at heart, Alvarez's striking has improved drastically since working with Mark Henry, and it has paid dividends in his last few fights.
Shown to have an iron chin and huge heart to go with it, especially in his fight vs Gilbert Melendez, Alvarez cannot rely on this against McGregor. Other than Nate Diaz, no-one has been able to take the shots that McGregor delivers. Alvarez's needs to make sure he doesn't push aside the technical aspect of his game and get caught in a brawl, otherwise it could end devastatingly for Alvarez and spell early doors for McGregor.
Prior to UFC 196, Alvarez stated there is a 'simple way' to beat McGregor: Take the fight to the ground. We have never seen McGregor win a fight with his wrestling, as his bread and butter is supremely accurate striking. In order to defend his title, Alvarez has to use his new and improved striking game to set up the takedown. Utilising his wrestling will take McGregor out of his comfort zone, deplete his cardiovascular system, and slowly grind away the force and accuracy of his strikes.
Since his fight against dos Anjos ended fairly quickly and took place mostly on the feet, we have to look back at Alvarez's win over Anthony Pettis to really get an in-depth look at his grappling.
Although Alvarez did a great job of keeping Pettis' back against the fence, he struggled to get him down and keep him there. In his second fight against Nate Diaz, McGregor showed that his takedown defense has greatly improved. So even if Alvarez does get McGregor's back against the fence, it will be interesting to see if he can get him down, and if he does, keep him down.
Want your voice heard? Join the Cage Pages team!
McGregor's Money Shots
A relatively quick turnaround from his rematch with Diaz at UFC 202, this is the first time we will see "The Notorious" fight in the UFC's lightweight division. Due to the gruelling weight cut he has getting down to featherweight, the consensus is we will see McGregor at his best in the 155-pounds weight class.
It's hard to get a sense of what McGregor's gas tank is like at featherweight, due to most his fights (other than Max Holloway) ending relatively early. Everyone knows in his first fight with Diaz, he gassed midway through the second round. It's important to remember this was his first fight at welterweight though, and he is facing Alvarez at lightweight, a weight class in which he used to hold the Cage Warriors world title.
Even though he was defeated by Alvarez, dos Anjos was still having some success prior to the onslaught from the Philadelphia native. Like dos Anjos, McGregor is too a southpaw, so he can feed off this.
Alvarez was caught on several occasions by the straight left hand, and lead uppercut. These are two strikes that Conor utilised to great effect in his last fight with Diaz. With the precision and timing of his punches, if McGregor has success early on with these strikes like dos Anjos did, it could spell for yet another first-round finish for the Irishman.
Another key point to take away from Alvarez's title win over dos Anjos was that although he won the fight, Alvarez stayed on the outside with his back against the fence. McGregor will take full advantage of this.
When McGregor fought Chad Mendes last July, he made him pay badly for staying on the outside. Laterally cutting off the octagon, he used several spinning back kicks to the body, in order to deplete Mendes' gas tank, eventually leading to the finish.
If Alvarez fights the same way, and McGregor exploits it like he did against Mendes, it will be a great way to diminish Alvarez's cardio, and zap the explosiveness out of his single and double leg takedowns.
And Still or And New?
Alvarez has promised that come November 12, "the illusion of greatness will soon be over." Making these bold statements is a pattern all McGregor's opponents seem to follow. However, only Nate Diaz has been able to live up to his word. In undoubtedly his biggest fight ever, Eddie Alvarez looks to deny McGregor's history in the making and, most importantly, start his reign as lightweight champion.
Making history and breaking records is no stranger to Conor McGregor. However, come November 12, he has to get by Eddie Alvarez if he is to achieve his biggest accomplishment yet. His "big announcement", which he has continued to build hype around, will by no means be as significant if he suffers a loss at arguably UFC's biggest event ever. He has to beat Eddie Alvarez.
This article originally appeared on