UFC 205: History of the welterweight championship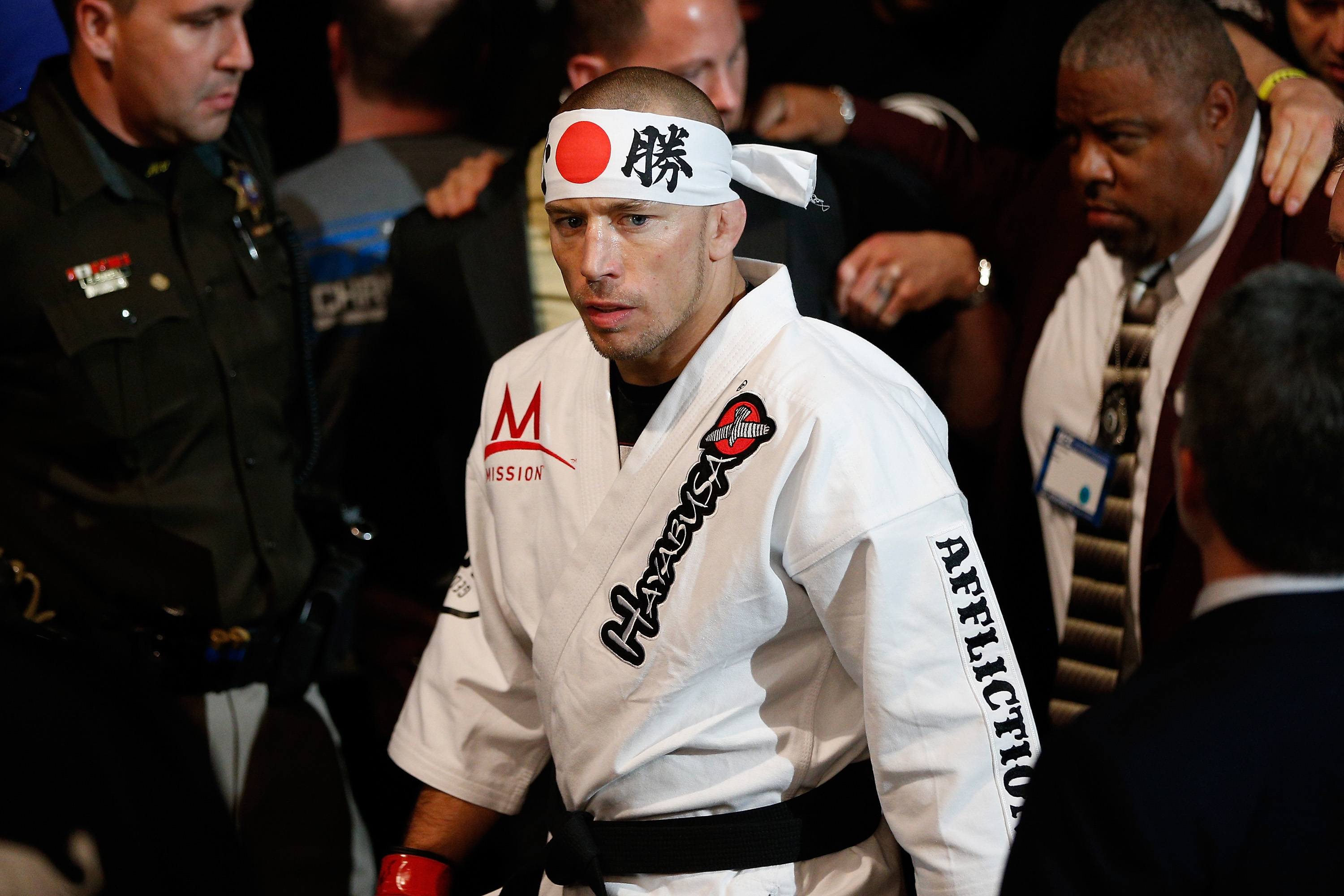 The 170 lb belt is on the line at UFC 205. Here's a look at every person who's worn the welterweight belt, and the pressure that comes with following them.
One of the reasons why UFC 205 will be a landmark event is because three titles are on the line. The last UFC show to ever do that was UFC 33, although it was a disaster because the broadcast cut off in the middle of the main event, Tito Ortiz vs. Vladimir Matyushenko. Every main card fight also went to a decision, which turned many people off.
Even though that should be a sign to stay away from it, the UFC wanted to go all out for their first card in New York. With three five-round fights and a six-fight main card, it's going to be a long night at Madison Square Garden. But if every one of them lives up to its hype, it should be a memorable night for all involved.
Conor McGregor has single-handedly put the featherweight division on the map, and his champion vs. champion superfight is easily the most anticipated fight for UFC 205. But given its history, it's the welterweight championship that might be the most coveted in the UFC.
Just look at the list of people who have held the belt: Carlos Newton, Matt Hughes, BJ Penn, Georges St-Pierre, Matt Serra, Johny Hendricks, Robbie Lawler, and Tyron Woodley. Most of those guys are either Hall of Famers, or are on their way to a Hall of Fame career.
There's a reason why Woodley initially wanted his first title defense to be against GSP – despite the fact that he hasn't fought in three years, there would be no better way to elevate his legacy. But given the acts he's had to follow, there will be a lot of pressure on him for his first title defense. With UFC 205 looming, now's as good a time as any to look back on the illustrious history of the welterweight championship.
Carlos Newton
Here's a great bit of UFC trivia for a pub quiz: GSP was actually not the first Canadian welterweight champion. That distinction belongs to Carlos Newton.
In 2000, the New Jersey State Athletic Control Board took over professional MMA regulations, and added new weight classes. As a result, the UFC added the lightweight, light heavyweight, heavyweight, welterweight, and middleweight divisions.
Since lightweight used to refer to anyone who was 170 pounds or under, Pat Miletich was the first official holder of the welterweight belt. But in his first title defense at UFC 31, he lost to Carlos Newton in one of the most memorable submissions in UFC history. In the third round, Newton locked in a bulldog choke, and never let go. While that submission will forever live on, Newton will be remembered more for paving the way to one of the greatest fighters of all time…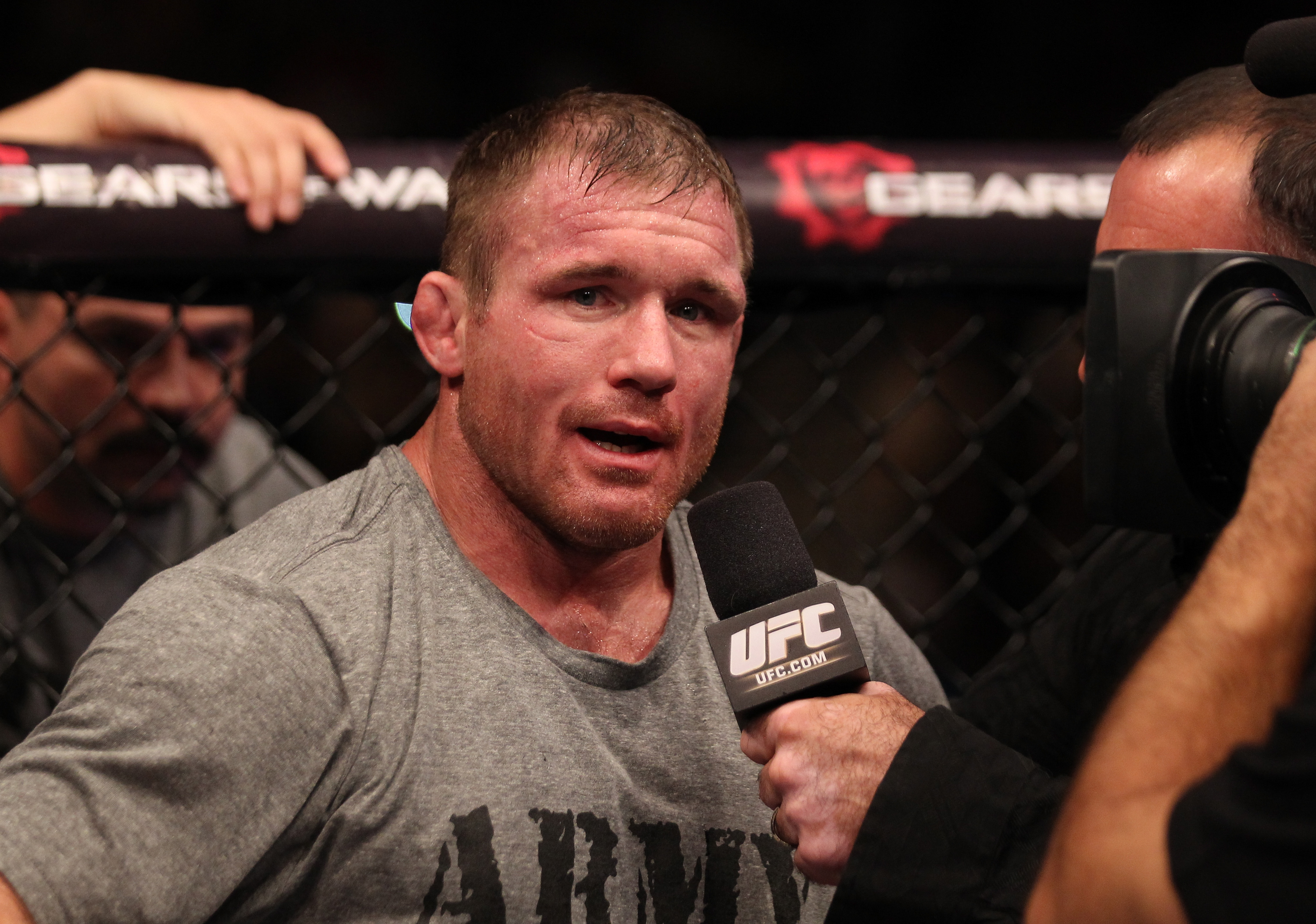 Matt Hughes
Before GSP, Matt Hughes was considered the welterweight GOAT. It's a pretty simple fact that one wouldn't exist without the other, and St-Pierre's two wins over him were the effective passing of the torch moment. But before that, Hughes had seven successful title defenses over two reigns as champion.
When he captured the belt, it wasn't without controversy. Carlos Newton locked him in a triangle choke in the second round, but Hughes still picked him up and slammed him to the mat. Newton went unconscious upon hitting his head but many people, who still believe he lost that fight to this day, picked up on Hughes telling his corner "I was out."
Regardless, the fact that he could pick up and slam someone while he was semi-unconscious was superhuman on his part. Superhuman was an adjective that ended up defining a lot of his title defenses. He pulverized Hayato Sakurai for four rounds, then made light work of Newton in a rematch to leave no doubt over who was the better fighter.
Hughes was such a versatile fighter who possessed an almost unlimited skillset. Against Gil Castillo, he demonstrated excellent striking and takedown defense, and against Sean Sherk, he used superior wrestling to coast to a unanimous decision. He also won a Submission of the Night for his standing rear naked choke against Frank Trigg.
So where did it all go wrong against BJ Penn? At the time, Penn only had eight fights to his name, and nobody gave him a chance. While everyone knows he's one of the greatest BJJ practitioners of all-time now, Hughes thought he could grapple with him. Unsurprisingly, Penn had the upper hand in that department, and his win is still considered one of the best upsets in UFC history.
While BJ is one of the few people to hold belts in two different weight classes, he can hardly be considered a welterweight champion. Once he won the belt, he got into a big contract dispute with the UFC, and eventually departed to K-1. He tried on many counts to win back the title, but failed to do so.
Hughes, meanwhile, did get his title back against a young, up-and-coming fighter by the name of Georges St-Pierre. GSP was a perfect 7-0 heading into that fight, but he admitted to being starstruck in Hughes' presence. He was his biggest idol, and never thought of him as someone he could beat. That makes you wonder how things changed so quickly.
Hughes' first defense of his second title reign was one of the most memorable one-round fights in UFC history. In a rematch against Frank Trigg, he was on the receiving end of a cheap groin shot. Hughes nearly got submitted, but escaped before picking up Trigg, carrying him to the other end of the Octagon, then slamming him down.
His second defense was also a rematch. While GSP was supposed to face him, he pulled out and was replaced by Penn, the next best option. Being the first person to beat Hughes in 19 contests, it looked like the rematch would go just like the first fight. But after controlling the first two rounds, Penn started to fatigue. Hughes capitalized on that in the third to secure the TKO, and avenge the only loss he suffered during his title reign.
Over the course of his career, UFC president Dana White has been full of praise for Matt. He called his second fight against Trigg his "favorite fight in combat sports." And while everyone remembers Hughes' rematch with Penn for what GSP told him in the Octagon afterwards, Dana was much more respectful towards him. Simply put, he told him "You are the greatest champion of all time."
Even though he never recovered from losing to GSP, that shouldn't take anything away from one of the greatest careers ever. Hughes was one of the first fighters to be considered the greatest, and he has earned his spot in the mixed martial arts Hall of Fame. But the person who succeeded him has surpassed him in every way, and is far more deserving of being called the GOAT…
Georges St-Pierre
Outside of one minor hiccup, Georges St-Pierre's run as welterweight champion has been spotless. And along the way, he set multiple UFC records. He has the second most consecutive title defenses (finishing just one behind Anderson Silva), has the most wins in title fights, and is the only person to win a champion vs. champion fight – although one of McGregor or Eddie Alvarez will soon join him.
The greatest attribute about GSP is that he never let his losses come to define him. He only ever lost to Matt Hughes and Matt Serra, but the way he avenged them helped shape his career.
There was a lot that went wrong in his first fight against Hughes. But rather than let it get him down, he instead came back and rattled off a four-fight win streak before begging the UFC to give him another shot. After beating BJ Penn, he finally got it, and made the most of it by capturing the belt in a dominant two-round performance.
Coming off that win, GSP was the biggest star in the UFC. He was bringing in a completely new market of fans north of the border, held a 13-1 record, and was one of the most likable guys you'll ever meet. That's what made his loss to Matt Serra so shocking. But rather than go into hiding, or make that the start of a long losing streak, he came back stronger than ever.
After beating Hughes in a rubber match, he brought the UFC to Canada for the first time ever. In front of 21,000 fans, he unified the interim and welterweight belts in a clinical performance. He also fixed his mistakes from the first Serra fight, and worked takedowns instead of trying to strike. That was the last time he lost, and it started a streak of nine consecutive title defenses, as he never gave up his belt until he walked away from the sport.
Along the way, he headlined two of the most seminal cards in UFC history: UFC 100 against Thiago Alves, and UFC 129 against Jake Shields. The latter was held in Toronto, and with 55,724 fans, it was the most attended event in UFC history until UFC 193.
There isn't much to say about GSP that hasn't already been said. Some people may disparage him for winning by decisions instead of trying to finish, but he fought smart, especially towards the tail end of his career. And while there was a lot of controversy surrounding his last fight, he did well to go out while he was still on top. That being said, MMA fans miss him dearly, and it would mean the world to us if he came back.
Matt Serra
Serra may have only been a champion for one fight, but he's proven to be more than just a one-hit wonder. His championship story is one of the greatest the UFC has ever seen, and it's one that nobody saw coming – not even him.
Through his first eight fights Serra had a 4-4 record. One of those losses was a highlight-reel spinning backfist at the hands of Shonie Carter in his debut. The other was a heartbreaking decision loss to BJ Penn which would've earned him a lightweight title shot.
Luckily for Serra, The Ultimate Fighter Season 4 gave him the chance to revive his career. Dubbed "The Comeback", TUF gave fighters who had never won a title a shot at one. Serra had an amazing run, even avenging his loss to Shonie Carter on the show, before beating Chris Lytle in the finale by split decision.
When it came time to fight GSP, Serra was a +700 underdog but like Han Solo, he didn't let anyone tell him the odds. This fight is the reason why all combat sports are unpredictable, and that all it takes sometimes is one punch. Serra caught GSP with a punch three minutes into the first around, and captured the belt in stunning fashion. Even though he made an enemy out of an entire nation, there wasn't a single person who didn't feel happy for him.
Injuries robbed him of the chance to defend his belt against Matt Hughes, then when he rematched GSP, he lost to kickstart a 1-3 record before retiring. But ever since then, he's become a renowned jiu-jitsu coach while one of his students, Chris Weidman, followed a similar path to Serra when he captured the middleweight belt.
He's also become a great ambassador for the UFC, and appears in the web series Looking for a Fight. The way aspiring fighters react in his presence tells you all you need to know about how revered he's become in his post-fighting life. Serra may not have walked out while on top, but he is a true pioneer of mixed martial arts. Hardly anyone will forget his short, but sweet, UFC run.
Johny Hendricks
While some may have sensed GSP's career coming to an end, nobody expected him to lose to Johny Hendricks. But with a 15-1 record at that point, he was determined to not just be another name in the Canadian's record book.
If Hendricks was going to be GSP's last fight, he was going to make it a fight. And so for the first time since the first Matt Serra fight, GSP lost a round. He lost two according to two judges' scorecards, but he was still able to retain his title. In retrospect, that's probably a good thing because had he lost, he might not have walked away until he could get a win. And after taking a beating like that, it was clear that he wasn't his dominant self anymore.
But everyone from Dana White and all 16 media members scoring the fight had it in favor of Hendricks. And while he never got to take the belt from GSP, it was still great to see him win it against Robbie Lawler after everything he had gone through. Their rematch was just as closely contested as the first one, but it went Lawler's way instead.
Hendricks was put through the ringer time and time again. He's not in great shape these days, but he went through three wars in a row – eventually, that's going to catch up to you. His loss to Stephen Thompson turned out to be the title challenger's coming out party, too. Even though few expected him to win, he turned in a clinical performance capped off by a stunning knockout that put him on this excellent run that he's on.
Despite his current two-fight losing streak, Hendricks is still a very skilled fighter. But with his well-documented weight issues, perhaps he would be better suited as a middleweight contender. He's probably better than a lot of the people competing in that division as it stands.
Robbie Lawler
For as amazing as Matt Serra's championship story was, Robbie Lawler's may be even better. Having started off as a hot prospect, he got Stockton slapped by Nick Diaz. After a second loss to Evan Tanner, he took a break from the UFC, and racked up an unimpressive 11-6 (1) record. He bounced around from promotion to promotion looking to regain some relevancy, and never did.
But he finally returned to the UFC as a welterweight after spending almost a decade as a middleweight. That weight change proved to be the spark he was looking for, as he rattled off a three-fight winning streak en route to a title shot. He lost to Hendricks, but came back and beat Matt Brown and Jake Ellenberger in the same year before capturing the belt in the rematch. In addition to winning Fighter of the Year, Lawler proved that he was to be taken seriously.
After beating Hendricks, he defended his belt twice against Rory Macdonald and Carlos Condit. Those two fights are widely considered the best welterweight fights of all time. Every single one of Lawler's title fights was a war, and if there's one thing he excels at, it's bringing out the best in his opponent. He also refuses to go away, as anyone else would've went down after eating those shots from Macdonald and Condit.
But like Hendricks, all those wars eventually caught up to him which is why he got finished so easily against Tyron Woodley. Obviously, he deserves all the credit for winning the belt, but that was only the second time Lawler was ever knocked out. He clearly wasn't right heading into that fight. And just as it looked like we would get a fight between Lawler and Donald Cerrone, he had to pull out because he wasn't fully recovered.
No matter who wins at UFC 205, we'll see the makings of a great champion. Anyone who has ever held that belt has gone on to have an illustrious career, and while it's a lot to live up to, it's what makes welterweight title fights different than every other one.
Even though McGregor vs. Alvarez is the most anticipated fight at UFC 205, it may not be the fight of the night. That distinction might belong to Woodley vs. Thompson.
This article originally appeared on