UFC 205: History of the strawweight championship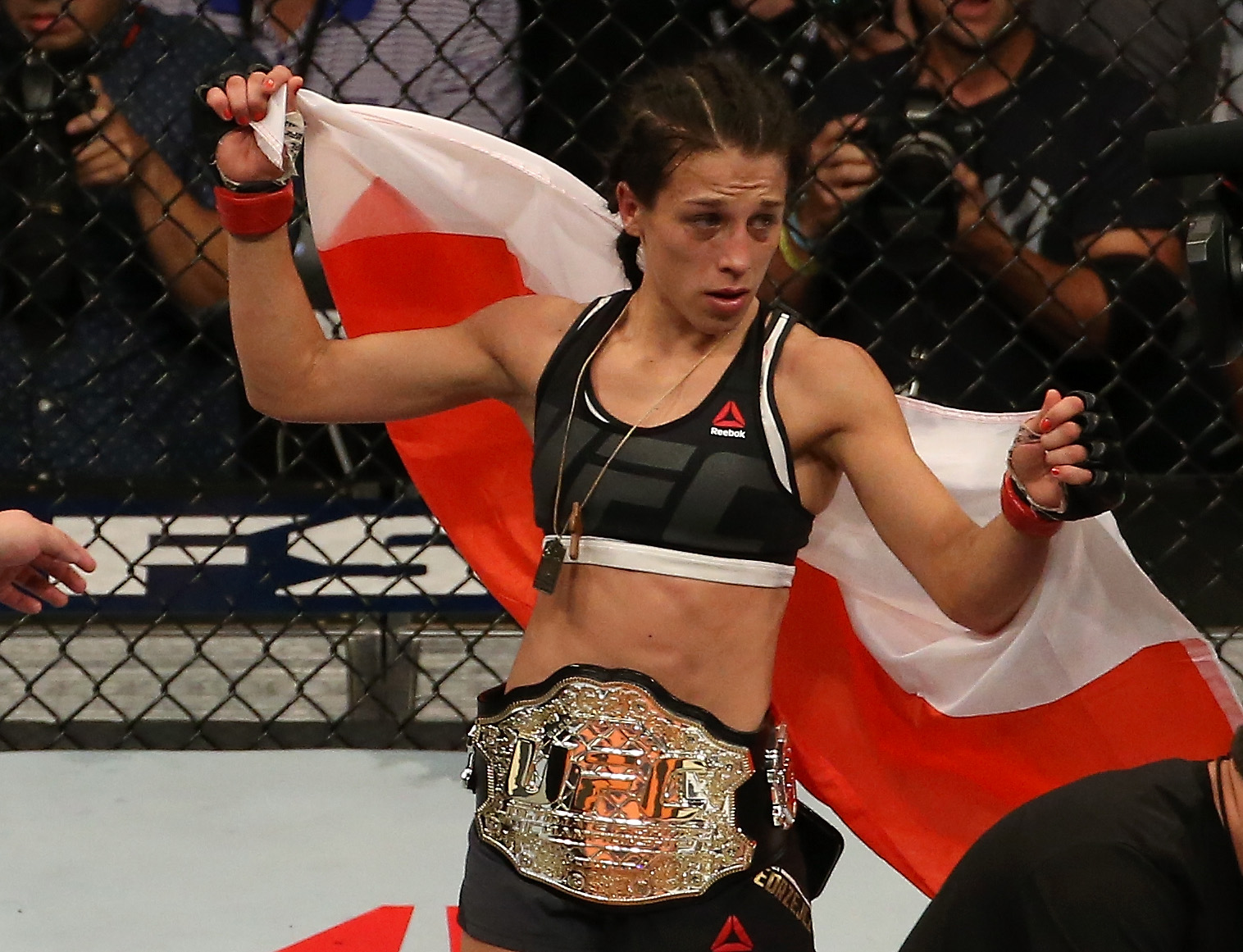 The women's strawweight division may be new, but Joanna Jedrzejczyk has established herself as a dominant champion who's worthy of the big stage at UFC 205.
UFC 205 will see the biggest stars from around the world converge. The card features an Irish superstar in Conor McGregor, hometown kids in Chris Weidman and Frankie Edgar, as well as an all-Polish title bout between Joanna Jedrzejczyk and Karolina Kowalkiewicz. They want this event to reach a global audience, so why not market their country's biggest stars? But in her very brief career, Joanna's star turn has been a joy to watch.
The women's strawweight division only just got added to the promotion in 2015, but it's one of the most intriguing weight classes in the UFC. You've got a champion who's one of the most likable people on the entire roster, and is arguably the best striker in all of MMA.
And while it's easy to think she'll keep dominating, there's a lot of young talent waiting in the wings. Kowalkiewicz is certainly one of them, but there's also Rose Namajunas, Jessica Andrade, Tecia Torres, and the division's biggest star, Paige VanZant. None of them are older than 28, and VanZant is only 22. Most, if not all, of the fighters in the division are just starting to hit their stride, and will only get better as more time passes.
But even though it feels like Jedrzejczyk has been around for as long as the strawweight division has, she wasn't. She didn't even compete in The Ultimate Fighter season that would determine the inaugural champion, and it wasn't until she beat Carla Esparza that people started talking about her.
And while it's great to look at the division's future, this article is about the history of it. Joanna is great, but it wouldn't feel right to not talk about the first ever 115 lb champion, so let's start there.
Carla Esparza
In an effort to expand their female roster and add another champion, Season 20 of The Ultimate Fighter was designed specifically for 115-pound women. It was also the first season to feature only female fighters.
Sixteen people were cast, although Paige VanZant was turned away from the show for being too young. Esparza was the top seed of the tournament and was expected to win. But she had hard-fought decisions against Tecia Torres and Jessica Penne along the way before submitting Rose Namajunas in the final. Namajunas has gone on to become a top-tier strawweight, so that was a big win for her.
But her first title defense came against a relatively unknown Polish prospect who came over from Cage Warriors. Little did anyone know, she would help change the course of the UFC forever.
Joanna Jedrzejczyk
When Joanna started out, people tried and failed to pronounce her name:
Lots of people still can't spell or pronounce her name, which is why they've resorted to calling her JJ or Joanna Champion. But her skill set made everyone take notice of her.
Even though Esparza was the champion, it was Joanna that got everyone talking. She became an overnight sensation from the Embedded videos for UFC 185 which highlighted her magnetic personality. Then when it came time for the weigh-ins, she was like an assassin. She handed her opponent a cookie, then stared her up instead of down.
She had complete confidence in herself, and believed that she would become a champion. It paid off as she completely blitzed Esparza en route to a second-round TKO.
Given Esparza's stature, that win was considered an upset. But by the time her first title defense came around, she was quick to disprove that. She fought Jessica Penne in Berlin as a showcase in front of a global audience, and she didn't disappoint. Her excellent Muay Thai striking was on display, and by the end of the second round, Penne's face was as red as a tomato. She collected another TKO in the third round, and promised she would be a champion for a long time.
At a time when women's MMA was all about Ronda Rousey, Jedrzejczyk's performances made everyone watch and take notice. And after she beat Penne, the bantamweight queen even paid her respects:
Rousey has made an enemy out of everyone in the bantamweight division, but her friendship with Joanna is a special one. It's the reason why the UFC chose both of them to headline their show in Australia and break their attendance record.
While Jedrzejczyk's record has been spotless so far, Claudia Gadelha gave her the toughest test of her career. The first fight, before she went on to win the title, was a closely contested decision, and one that some even scored for Gadelha.
In a genius bit of marketing on the UFC's part, they turned the rematch into a full scale rivalry, and made their tensions very public when they coached opposite each other on The Ultimate Fighter. Even though it took place on the same weekend as UFC 200, it was one of the most anticipated fights of that three-day stretch. And while their first fight was great, their second was even better, especially since there was a belt on the line.
Gadelha gave her a lot of trouble again, especially during the first two rounds where she had some real chances to finish her. Instead, Joanna stayed composed, and knew all she needed to do to retain her belt was win the next three rounds. She kept her distance, picked her off with jabs, and displayed some remarkable stamina. When the fight was over, Gadelha looked completely worn out while Joanna looked like she could go for another five rounds.
Her upcoming fight with Karolina Kowalkiewicz is full of intrigue. Even though it's in New York, they have the most Polish residents in the United States, so it'll feel like a home crowd. Couple that with Joanna's growing fanbase, and the experience should feel more authentic than any other fight that's come before this one.
While Joanna has become a dominant champion, she might not be long for the strawweight division. Even though Dana White doesn't seem to want it, a lot of people have been clamoring for a women's flyweight division.
Only offering women the chance to fight at 135 or 115 pounds prevents them from adding more prospects, and it can sometimes hinder their current fighters' skill sets. Joanna's already murdering women at strawweight, but she's a natural 125-pound fighter, and she could be even scarier there. I'm sure there are a lot of other female fighters eager for that opportunity as well.
In addition, she has hinted at an early retirement because she wants to settle down. As such, expect her remaining fights to mean a lot more to her as she tries to go out on top.
Joanna Jedrzejczyk is one of the most exciting fighters to watch, and having her on UFC 205 should serve to make the card highly memorable. Given her fighting style, and propensity to put on a show, she should be an early frontrunner for a post-fight bonus.
More from FanSided
This article originally appeared on