UFC 205: History of the lightweight championship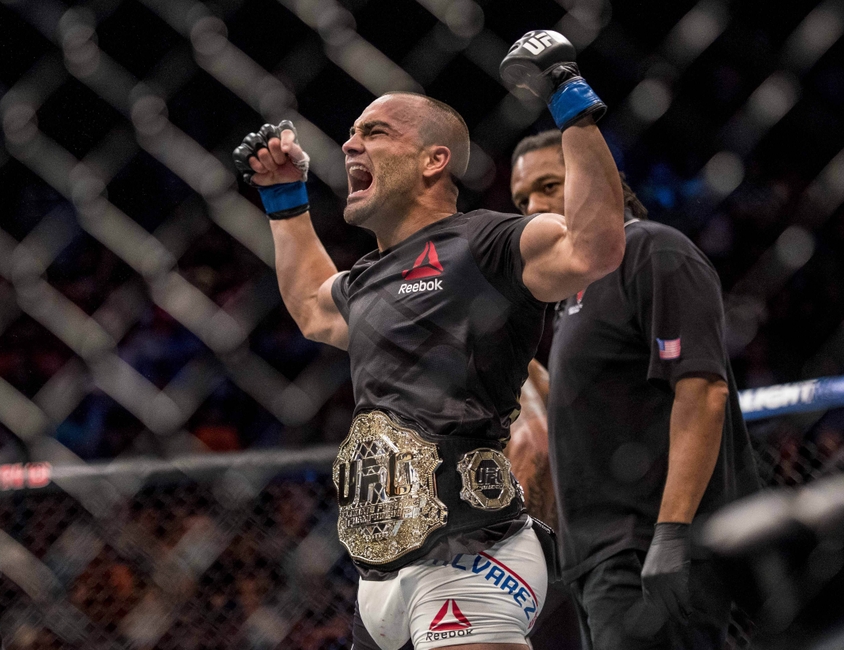 As Eddie Alvarez and Conor McGregor match up with the lightweight title and history on the line on Saturday in Madison Square Garden, it's worth reflecting on the story of the 155lb. division to date.
When Eddie Alvarez and Conor McGregor take to the Octagon on Saturday for UFC 205 in Madison Square Garden, they'll do so under historic circumstances. Not only will they be headlining the first UFC event in MSG and New York City, but both men will also be looking to create their own chapter in the history of the organization's lightweight division.
For Alvarez, a long journey across various organizations to get to this point would seem even more worthwhile if he could secure a win over the man who is arguably the sport's biggest star, and set the table for his own run of future dominance with further defenses.
For McGregor, the UFC's current featherweight champion, not only would a win afford him the chance to join a list of great champions who have been able to claim their status as head of the 155lb. division, but he'd also become the first fighter in UFC history to simultaneously hold titles across two different weight classes.
As a result, not only is UFC 205's main event a fascinating matchup from a skills perspective, but also for the narratives that accompany it.
Since its inception, the lightweight division has been one of the UFC's most competitive weight classes and it has been graced by a number of true MMA legends.
So, as Alvarez and McGregor get set to square off, who are the men they're looking to join in the ranks of lightweight kings? Let's take a closer look at the history of the division over the years.
Jens Pulver
Reign as champion: February 23, 2001 – March 23, 2002
How he got there
Entering the UFC in 1999, three wins and a draw in Pulver's first four bouts with the organization were enough to earn him a shot at the vacant 155lb. title (which was then referred to as the bantamweight title) at UFC 30, the first event staged under Zuffa's ownership.
Pulver's opponent was the legendary Caol Uno, a man who was the welterweight champion for Shooto prior to his arrival in the UFC, and a considerably more experienced fighter than the man from Washington.
Fraught with emotion following the passing of a close friend only days earlier, Pulver's aggression just saw him edge a five round instant classic with Uno and become the UFC's first lightweight champion.
Time as champion
Pulver proved to be a very successful champion for the UFC, and if not for a contract dispute, he could have been a difficult man to dethrone for a number of years.
Pulver's first defense came against Dennis Hallman. A skilled practitioner on the ground, Hallman gave the champion a real scare with an armbar attempt, but ultimately couldn't do enough to prevent a unanimous decision in the champion's favor.
After taking care of business against Hallman, Pulver was matched up with rising star B.J. Penn. Pulver withstood some early pressure from Penn to finish strong and defend his belt again, via majority decision. With that, Pulver left the UFC and would only return years later.
Sean Sherk
Reign as champion: October 14, 2006 – December 8, 2007
How he got there
A former challenger at welterweight, Sean Sherk made his rise through the MMA ranks thanks to one of the most impressive undefeated streaks in the history of the sport. Spanning bouts in multiple promotions, Sherk's first 20 fights comprised of 19 wins and one draw, before Matt Hughes got the better of him with the UFC's 170lb. belt on the line.
It would be over two years of unbeaten matchups before Sherk returned to the UFC again, where Georges St-Pierre greeted him with yet another defeat at welterweight. Although Sherk defeated Nick Diaz at that same weight in his next contest, he announced his intentions to drop down in weight.
With the lightweight division having gone champion-less since Jens Pulver was stripped back in 2002, the organization decided that Sherk would fight Kenny Florian in his first contest down at that weight, with the vacant title the prize for the victor.
The experience that the Minnesota native had picked up in the bigger weight class proved invaluable as he made the most of his wrestling advantage in grinding out the win over five rounds.
Time as champion
Sherk's time as champion was short-lived. For his first defense, Sherk was matched up with Brazil's Hermes Franca at UFC 73 in Sacramento. Although Sherk defended his belt in a five round contest, controversy was soon to follow.
Both Sherk and Franca failed drug tests around the fight, meaning that Sherk was stripped of his title. With the detection of the banned steroid nandrolene, Sherk was banned for six months and was unable to regain his title upon his return.
B.J. Penn
Reign as champion: January 19, 2008 – April 10, 2010
How he got there
In a career that saw him bounce around weight classes demonstrating the depths of his skill, B.J. Penn carved out a considerable niche for himself in the history books. While Conor McGregor looks to join the list of lightweight champions on Saturday, he's also hoping to join Penn as a fighter to have held a UFC title in two divisions.
In spite of a run at the UFC's lightweight title early in his career, it was the welterweight strap that landed with Penn prior to his most successful spell at 155lbs. Penn submitted Matt Hughes at UFC 46 to win the welterweight title in his 170lb. debut, before having the title stripped subsequently as he signed with K-1.
Upon his return to the UFC two years later, Penn lost back-to-back fights at welterweight before making the move down to lightweight. In his first bout at the new weight, Penn beat the UFC's first ever lightweight champion, Jens Pulver, and earned a chance to fight for the then vacant title.
With the belt on the line, Penn headed to Newcastle, England, where he defeated Joe Stevenson thanks to a second round rear naked choke, and as such, the Hawaiian's reign as lightweight king began.
Time as champion
Having won the belt vacated by Sean Sherk following a failed drug test, Penn's first defense was designed to give Sherk a second chance at regaining his belt and to pit the division's two most recent champions against each other. Penn won by knockout after Sherk ducked into a left knee in the third round.
A loss to Georges St-Pierre followed for Penn with the welterweight strap up for grabs, before he returned to lightweight for two more defenses.
A rear-naked choke and a doctor's stoppage, both late in the fights, saw him defend his crown against Kenny Florian and Diego Sanchez respectively. The challenge of Frankie Edgar would prove to be a bridge too far, though.
Frankie Edgar
Reign as champion: April 10, 2010 – February 26, 2012
How he got there
Although younger UFC fans may now know Frankie Edgar best for his battles with Jose Aldo and a late-career stretch as a perennial contender at featherweight, it was in the lightweight division where The Answer reached the pinnacle of his fighting career.
A true veteran of the UFC having first competed under the company banner in 2007, Edgar racked up some great rivalries during his time at 155, and left a legacy of memorable fights to look back on from that time.
Edgar had already gone 6-1 in the UFC before he got his first shot at winning UFC gold, and had beaten some high-profile opponents in that time including former UFC champion Sean Sherk and former challenger and WEC Champion Hermes Franca.
When Edgar stepped into the cage with the belt on the line, his opponent was none other than "The Prodigy" B.J. Penn. Acting as the Hawaiian pioneer's fourth title defense, Edgar seemed set to have his hands full. In a standup contest, Edgar clearly impressed the judges, though, prevailing by a comfortable margin on the scorecards for a unanimous decision.
Time as champion
With the belt now wrapped around Edgar's waist, the UFC decided to run back the fight that saw him earn that honor to begin with. With Penn the opponent, once again, Edgar mixed up his strategy to add more takedown attempts and opportunities to wrestle, and although he had to go the full 25 minutes, it resulted in a clearer cut victory second time out.
With Penn out of the picture, the focus then shifted to an older rivalry for Edgar. Up to that point, only Gray Maynard had given The Answer a taste of defeat, and when the two men met again, it resulted in a fight for the ages.
UFC 125 hosted the clash between Edgar and Maynard that went on to be named Fight of the Year, and the New Jersey native managed to retain his title as the judges found no way to split the pair, deeming the fight a majority draw.
Unsurprisingly, a rematch would follow, where a fourth round knockout saw Edgar defend his belt and leave the career series between him and Maynard all tied up with one win each and a draw.
As Benson Henderson became the next man scheduled to fight Edgar, the outlook never quite seemed to be ideal for Edgar. Henderson was a much bigger man, as would be illustrated in this fight and later in his career.
While Henderson would be able to dip his toes in the welterweight division years later, the rumors surrounding Edgar focused on a potential drop to bantamweight; that told the whole story. To Edgar's credit, he held in and made nothing easy for Henderson, but ultimately the extra size sealed the deal for Henderson.
Benson Henderson
Reign as champion: February 26, 2012 – August 31, 2013
How he got there
A veteran of the WEC (World Extreme Cagefighting), Benson Henderson's achievements started long before he made his way to the UFC, and could continue beyond the organization now that he fights under the Bellator banner.
Henderson came to the WEC in early 2009 and after winning his first two bouts and found himself fighting for an interim title against Donald Cerrone. Having prevailed on that occasion, a win against Jamie Varner unified the WEC lightweight belt, before Henderson's next defense came with another win over Cerrone, this time by way of a first round guillotine.
In the final WEC event prior to its merger with the UFC, Henderson lost out to Anthony Pettis in one of the greatest MMA contests of all-time. That wouldn't be the last time Henderson would match up with Pettis, though, as in many ways their respective fates remained tied in the UFC.
With a couple of quick wins under his belt upon his arrival in the UFC, Pettis' loss to Clay Guida opened the door for Henderson to take on Guida in a title eliminator. A unanimous decision earned the Colorado native the right to take on the champion.
When Edgar and Henderson matched up at UFC 144, Henderson used his reach advantage as the bigger, stronger man to wear down Edgar with kicks to the body in a five-round classic.
Time as champion
After only defeating Edgar in a hard-fought decision, the UFC ordered an immediate rematch and the pair faced off again at UFC 150. This time the matchup was even closer again, but by way of a split decision, Henderson just managed to retain his belt.
Although, Henderson managed to equal the UFC record for lightweight title defenses during his time as champion, he always just managed to sneak past the best competition that the 155lb. division had to offer.
After his second decision win over Edgar, Henderson ground out wins in five rounders against Nate Diaz and Gilbert Melendez before he was forced to face the man who took his WEC title away from him years prior.
Pettis once again proved that he had Henderson's number, as a quick armbar put an end to Smooth's reign.
Anthony Pettis
Reign as champion: August 31, 2013 – March 14, 2015
How he got there
Coming out of Milwaukee, Wisconsin, prior to ever arriving in the UFC, Pettis scaled the heights of the MMA world as the lightweight champion of the WEC. In his final match with the organization, Pettis got the better of Benson Henderson in a unanimous decision win that included one of the greatest highlights the sport has ever seen.
Pettis was named WEC champion, and as the organization immediately merged with the UFC after that bout, he became one of the biggest names at 155lbs. A draw between Frankie Edgar and Gray Maynard prevented him from getting the kind of immediate title shot that would later be afforded to some incoming Strikeforce champions, and so Pettis had to work his way up like everybody else.
A loss to Clay Guida in his promotional debut acted as a major setback, but it would be almost four years before Showtime would lose again. Wins against incredibly dangerous opponents like Jeremy Stephens, Joe Lauzon and Donald Cerrone set Pettis up for a title shot where he'd once again face Benson Henderson.
Although he could finish Henderson inside the distance when he claimed the WEC title, a first round armbar provided a much more comfortable win on this occasion.
Time as champion
In his first defense of his belt, the UFC provided Pettis with a particularly stern test as, after the conclusion of a season of The Ultimate Fighter where both men served as coaches, Gilbert Melendez would be his opponent in Las Vegas.
Pettis overcame Melendez in commanding fashion with a second round guillotine providing the Milwaukee native with his second straight submission win in a title fight against Brazilian Jiu Jitsu black belts.
Although, the next challenger, Dos Anjos, was a skilled grappler in his own right, he also possessed a power that wasn't necessarily associated with Melendez and Henderson. The damage on Pettis' face at the end of five rounds told the tale, and one of the UFC's biggest young stars had lost his belt.
Rafael dos Anjos
Reign as champion: March 14, 2015 – July 7, 2016
How he got there
A stalwart of the UFC since way back in 2008, dos Anjos had long held a place among the organizations best lightweights, but generally had lacked the kind of consistency or charisma that could push him over the edge into the title picture.
After an inauspicious start in the UFC with back-to-back losses, dos Anjos gradually built himself up to become a relevant face at 155lbs. The owner of two five-fight winning streaks, dos Anjos could have been the champion almost a year earlier if Khabib Nurmagemedov hadn't inflicted the Brazilian's only defeat in an 11-fight span.
With that first run having included wins over the likes of Donald Cerrone and Evan Dunham, RDA's pedigree was no longer in doubt, and when he bounced back from his loss to Khabib with wins over fighters like Benson Henderson and Nate Diaz, it wasn't all that surprising.
With the win over Diaz, RDA secured his first title shot against the spectacularly dynamic Anthony Pettis, who was in the midst of his own streak of wins against notable lightweights. When dos Anjos then dispatched Pettis with a dominant decision victory, it was impossible not to be impressed by the new champion.
Time as champion
Dos Anjos' success in recent years had left many convinced that he could be the kind of dominant, long-term champion that has eluded the lightweight division over the years. When he faced Donald Cerrone for a second time in his first defense, he added further fuel to those flames.
Cowboy had looked virtually unstoppable as he had vaulted his way into the title picture, but utilizing his incredible brute force, Dos Anjos bulldozed through Cerrone with minimal fuss in just 1:06.
That left dos Anjos as a big favorite heading into his second defense against Eddie Alvarez, but this time the tables were to be turned. Alvarez beat dos Anjos in a fashion similar to the way in which RDA had defeated Cerrone, and the division had a new champion.
Eddie Alvarez
Reign: July 7, 2016 – present
How he got there
The man known as the "Underground King" has had a long and storied career in the world of mixed martial arts. Making his way around the world fighting in a number of smaller promotions, Alvarez first big step into mainstream MMA consciousness came with his arrival in Bellator for the organization's first event back in 2009.
During his time with the UFC's biggest rival, Alvarez only lost once in ten fights. That loss came to Michael Chandler, who submitted Alvarez in his second defense as Bellator's lightweight champion. Alvarez would work his way back up to Chandler, though, as back-to-back first round KO victories followed the pair's first matchup and led to an inevitable rematch. Alvarez overcame Chandler in five rounds and would never fight for Bellator again.
A long-standing contract dispute saw relations sour between Alvarez and Bellator, prompting his eventual release. When Alvarez finally hit the open market, the UFC acted quickly. With a proven pedigree, Alvarez was thrown into the lion's den for his promotional debut as he lost a unanimous decision to leading contender Donald Cerrone.
That prompted a champion-beating run from the Philly native, as he sneaked by with split decision wins against former Strikeforce king, Gilbert Melendez, and the then recently dethroned UFC champion, Anthony Pettis. Finally, Alvarez had earned his shot.
Entering into his title fight with Rafael dos Anjos, Alvarez was viewed as a clear underdog. Once both men stepped into the octagon, that was proven to be far from the case, though. Alvarez overwhelmed his Brazilian opponent with early pressure, fast hands and a barrage of heavy blows. After only 3:49 of the opening round, Alvarez had stopped dos Anjos and upset the odds.
Time as champion
Battling Conor McGregor in the hope of stopping him from becoming the first fighter to simultaneously hold two belts in UFC history acts as a stern test for Alvarez's first defense. McGregor's skill and confidence ensure that it should make for a fascinating matchup, but at the very least, history stands on Alvarez's side.
Although lengthy reigns as champion have never really been a feature at 155lbs, every man who has worn the belt has at least survived their first defense before the strap changed hands again. If Alvarez can expand upon that existing trend, he'll have topped off a long and eventful life in MMA with a career-defining win.
This article originally appeared on