UFC 205: Frankie Edgar survives headkick, earns thrilling decision over Jeremy Stephens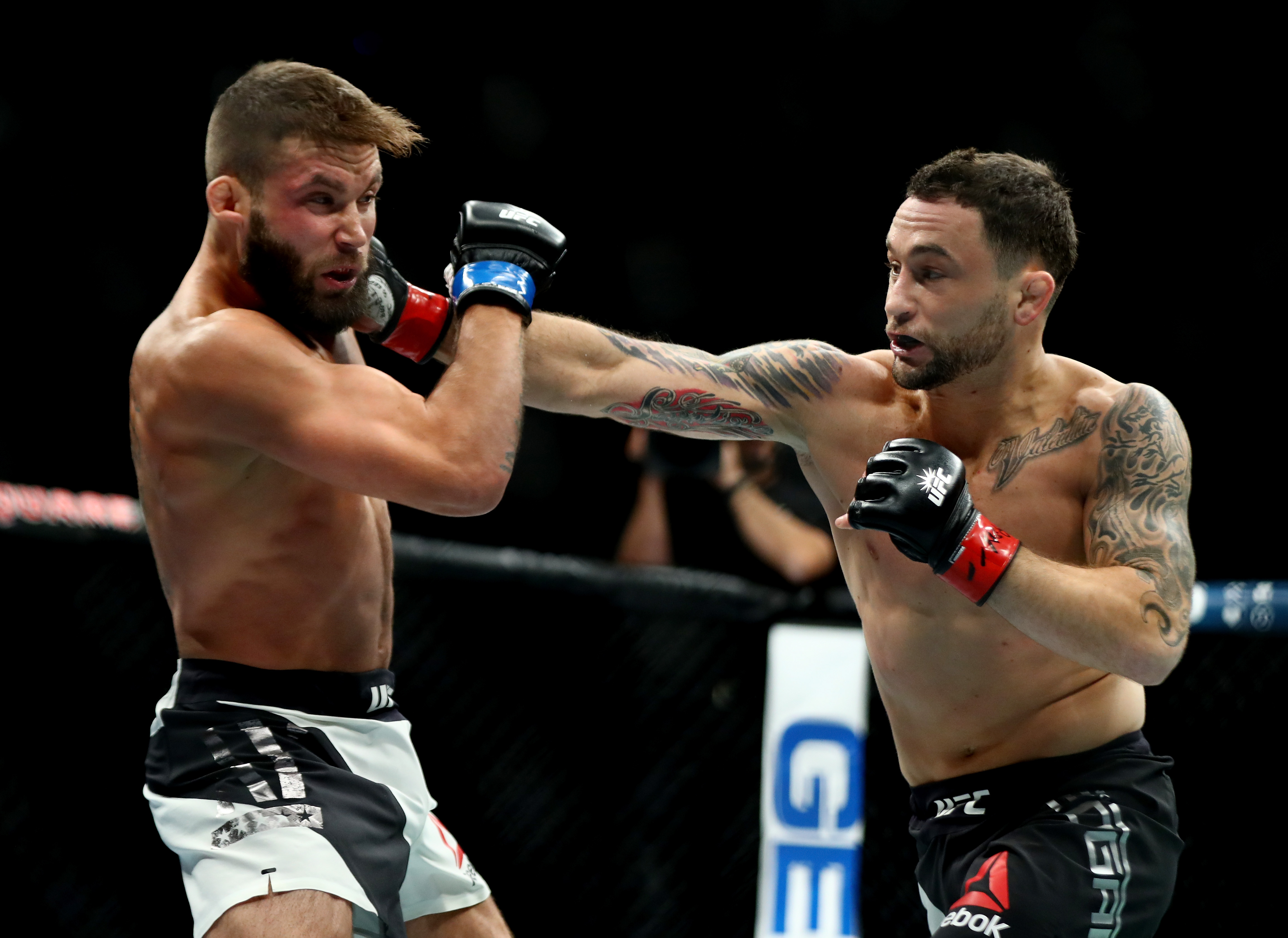 Here is how the UFC 205 featherweight fight between Frankie Edgar vs. Jeremy Stephens played out
On Saturday, November 12, longtime UFC veteran Frankie Edgar looked to get one step closer to a title fight as he squared off against knockout artist Jeremy Stephens at UFC 205. The entire event went down at Madison Square Garden in New York City.
Edgar, also a former lightweight champion, most recently came up short against Jose Aldo in their interim title fight at UFC 200 in July. The unanimous decision loss not only marked Edgar's second defeat to Aldo, but it also snapped Edgar's four-fight winning streak. Stephens was last seen earning a decision over former bantamweight champ Renan Barão in their Fight of the Night performance at UFC Fight Night 88 in May. This got the Iowa native back into the win column after dropping a decision the red-hot Max Holloway at UFC 194 in December.
Here is how the fight unfolded, round-by-round, including FanSided's scoring of the fight.
Round 1: No touch of the gloves these two featherweights as they met in the center of the Octagon. Stephens immediately looked to take the center of the cage as his opponent bounced around from the outside. Edgar shot in for a takedown but Stephens stuffed it and followed up with a thunderous kick to the body.  Edgar once again attempted a takedown but was immediately denied. After a third takedown attempt, Edgar grabbed a hold of Stephens' head as he reigned a series of knees from the clinch before shooting in for the single leg. While he managed to drag Stephens down momentarily both men popped right back up. Stephens eventually broke free and narrowly missed planting a knee from the clinch between Edgar's eyes. After a momentary pause due to an eye poke, both fighters pick up where they left off with 60 seconds left in the round. Swinging wildly, Stephens closed out the round looking to finish the fight with a bang. FanSided scores it 10-9 Edgar
Round 2: Right out of the gate, Stephens stuffed a takedown in the center of the Octagon. After another pause to the action, this time due to an accidental low blow, Edgar looked to pick the pace up with an overhand right. Bouncing around the from outside, Edgar masterfully evaded the looping power shots from his opponent before scooping up Stephens and slamming him to the canvas. While Stephens would manage to climb his way back to his feet, Edgar planted another straight left between the eyes. With the fight slipping away from him, Stephens went for broke and dropped Edgar with a vicious left head kick. Sensing blood, Stephens swarmed as he unloaded a barrage of strikes to his reeling opponent. After surviving the initially onslaught, Edgar struggled to regain composure on his feet as Stephens continued to stalk him down. After finally shaking off the cobwebs, Edgar shot in and secured a takedown, looking to lock on the guillotine. With 15-seconds left in the fight, Edgar once again looked to secure the guillotine before closing out the round with some thunderous ground and pound from full mount. FanSided scores is 10-9 Edgar
Round 3: With the crowd on their feet, Stephens came out looking for the one punch knockout. After catching a slopping leg kick, Edgar snatched up Stephens and drove him back into the canvas. Working from half guard, Edgar landed a series of short punches, while also escaping a tight kimura attempt by battering Stephens mid section with elbows. After passing from half guard, Edgar secured back control against the fence as he looked to sink in a rear naked choke. While Stephens did manage to escape and climb back to his feet, Edgar immediately threw him back down. After another struggle, Stephens again bounced back to his feet, this time escaping completely.  Both men closed out the round and the fight with some looping haymakers, much to the delight of the crowd. FanSided scores is 10-9 Edgar
OFFICIAL RESULT: Frankie Edgar def. Jeremy Stephens via unanimous decision (30-27, 30-27, 29-28)  
UFC 205
|
FEATHERWEIGHT
|
Match Result
This article originally appeared on