UFC 205: Eddie Alvarez Says He'll Submit Conor McGregor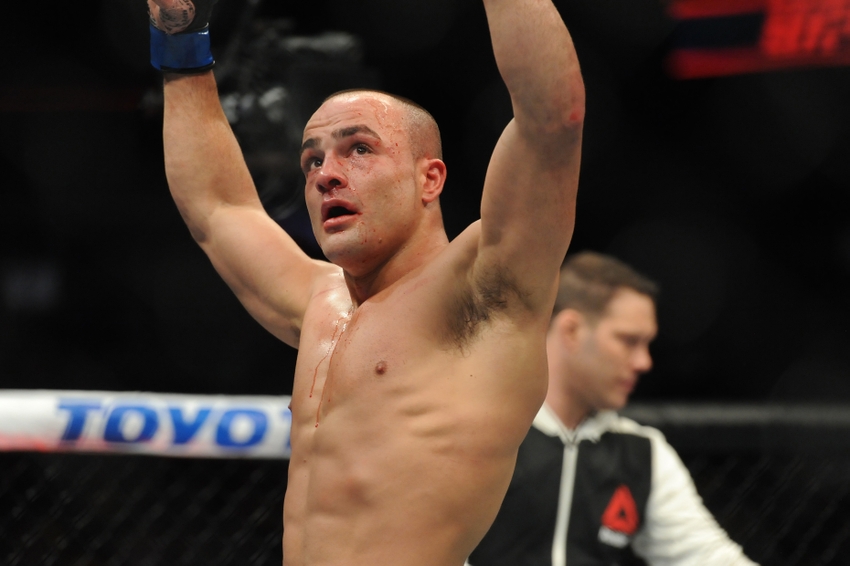 If Eddie Alvarez is nervous about being the main event at UFC 205 against Conor McGregor, he isn't showing it.
Alvarez took the floor at Madison Square Garden for his open workout on Wednesday, talking about defending his title, and facing McGregor this Saturday at UFC 205.
The UFC lightweight champion went through open workouts which were set up on the basketball court that the NBA's New York Knicks play on. Wearing shoes on the court, he hit pads with his coaches, jumped rope, and worked takedowns and feints.
"Hey I'm blessed. Whether you've got red, white and orange flag, it don't matter what you go. You're here and I appreciate you guys," Alvarez told the crowd while speaking with Megan Olivi.
"I think I'm going to land that big shot. I think this guy's worried about a lot of grappling and a lot of wrestling," Alvarez said to the crowd.
"I think where it's going to end up, when his mind's on that I'm going to land that big shot and then I'm going to submit him."
The lightweight champion is the underdog going into the fight against McGregor. The odds don't intimidate someone who has constantly proved people wrong.
"Look, I overcome challenges everyday. That's what I'm good at, that's what I pride myself in, that's why I'm champion.

I'm looking forward to him bringing it on Saturday night. I want him to bring that dog out of me. Bring me some fight, please."
After his workout was done Avarez chanted, "And Still!" If this Eddie Alvarez shows up on Saturday night at MSG we are in for an epic battle.
This article originally appeared on