UFC 205: Conor McGregor and Khabib Nurmagomedov Get Into Heated Row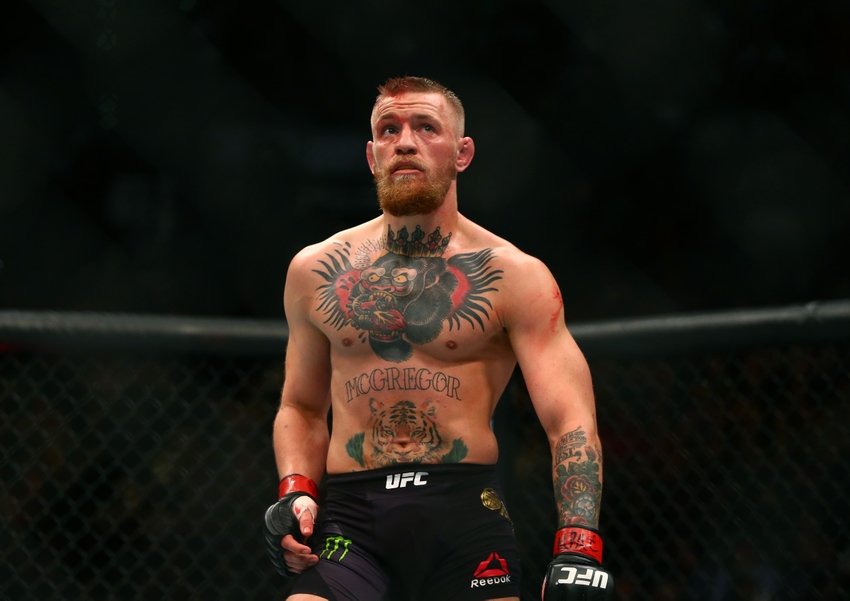 Just when you think things have calmed down Conor McGregor found himself in a heated face-to-face with fellow UFC light weight contender Khabib Nurmagomedov.
Through out the week UFC featherweight champion Conor McGregor has found himself in heated situations with three of the promotions finest fighters.
It all started with Eddie Alvarez who he challenges for the 155-pound title on Saturday night, so that was somewhat expected. Then was welterweight champion Tyron Woodley's turn to have a run in with 'The Notorious' one which led to a number of tweets being sent from each man to the other.
The third man on the list, Khabib Nurmagomedov. Yup, the 24-0 lightweight phenom came face-to-face with Conor McGregor back stage during the UFC 205 weigh-in yesterday. While it was not entirely clear as to why the two clashed yesterday it most likely stems from previous interviews and articles about the two men.
All that was clear in the video of the altercation was that Nurmagomedov wanted to ask McGregor a question and then wanted to "smash" his face in. Watch the full video below thanks to TheMacLife.com.
Want your voice heard? Join the Cage Pages team!
There have been rumour circulating for the longest time about a potential meeting between the two inside the octagon, but when McGregor is involved so is every top-5 fighter in every division. So just how were the rumours, I guess we will never really know.
Both men are fighting in huge affairs on Saturday. McGregor is challenging Eddie Alvarez for the UFC lightweight title and with a win will become the first man in promotional history to hold two titles in two different weight classes at the same time.
Nurmagomedov returns to the cage after a long period away from fighting due to more injuries. This undefeated lightweight title contender is taking on the ever dangerous Michael Johnson who will be looking to spoil the welcome back party come Saturday.
A busy week indeed for the Irishman who is now ready to walk into Madison Square Garden on Saturday night to get the job done. On the line is more than a title, more than a record…. There is eternal UFC glory at stake here.
This article originally appeared on