UFC 205 Breakdown: Is Wonderboy Too Much for Tyron Woodley?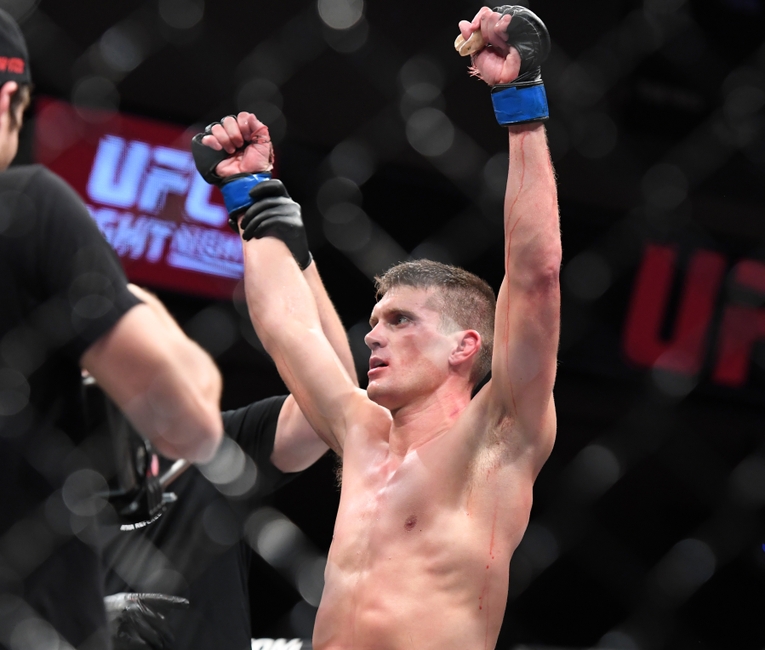 After Tyron Woodley made quick work of Robbie Lawler to win the UFC welterweight belt back at UFC 201 in late July, a feud was created between the newly crowned champion and #1 contender Stephen Thompson.
Offended that Thompson believed that Lawler would win that fight to remain UFC Welterweight Champion, and that he would rather face "Ruthless" instead, Tyron Woodley discredited Thompson as a man saying he "doesn't respect him."
Woodley famously teased Wonderboy after he won the belt. "The Chosen One" reiterated Thompson's claims to fight Lawler, and said that he would want his first title defense to be against Nick Diaz instead.
Much to Woodley's disappointment, he didn't get the big money fight he wished for. However, His first title defense against Wonderboy in the co-main event of UFC 205 at Madison Square Garden, is not a bad alternative.
The venue holds a warm place in Woodley's heart, as shown on his Champ Camp videos. Muhammad Ali is one of Woodley's biggest idols, and his iconic fight with Joe Frazier at "The Garden" serves as great inspiration for the Missouri native.
On the other hand, Thompson comes into his first title fight sky high on a seven-fight winning streak.  With his two most recent wins over Rory MacDonald and Johny Hendricks, Wonderboy has proved with his diverse skillset that he has what it takes to compete in the upper-echelon of the welterweight division.
Due to "The Chosen One's" most recent fight with Lawler ending very quickly, and his last before that against Kelvin Gastelum being almost two years ago, unfortunately for Wonderboy there is not much footage to break down of Woodley's new and improved game. However, one thing we do know is that Woodley is a freak athlete. Broad and extremely muscular, Woodley uses his explosive takedowns as an indirect threat to set up his power shots, and vice-versa.
Although he won the belt in just over two-minutes, there is still a lot take from Woodley's victory. Frequent use of feints and level changes evidently made Lawler apprehensive to the takedown, and it lead to the devastating right hand finishing the fight. Woodley needs much the same in this fight. Keep Thompson guessing.
Use the takedown as a primary, and secondary threat. If it hits the ground, Woodley is not a guy you want on top of you. His large physique will make it a tough time for Wonderboy to stand back up. However, if the fight stays on the feet, Woodley can use the takedown as he did against Lawler, to set up the bomb of a right hand.
Like Frankie Edgar, but for a very different reason, Wonderboy's karate-based kickboxing style allows him to use outstanding, manipulative footwork. Evading punches, but at the same time creating angles to land counters.
Want your voice heard? Join the Cage Pages team!
Spinning hook kicks, lead leg sidekicks, question-mark kicks, Thompson has them all in his arsenal.  However, unlike the few who can utilise these unorthodox striking techniques, the dexterity of Wonderboy's hips hyperbolise these already devastating kicks, as it allows him to throw them from unanticipated positions, making them that much more deadly. Keeping Woodley guessing with these will be a key factor if Wonderboy is to be crowned new welterweight champion.
Thomspon's most recent opponents, Johny Hendricks and Rory MacDonald, both have great wrestling capabilities. Thompson was not taken down in either fight due the distance game plays tied with his high output of kicks. This makes it not only hard to get him down, but very dangerous to attempt a takedown. However, Wonderboy must not be apprehensive of Woodley's wrestling, otherwise he could get caught with the same shot that Lawler did, and be put to sleep.
If the fight does hit the mat, the element of surprise could work in Thompson's favour. Having a BJJ purple belt under Carlos Machado (his brother-in-law), and training with Ryan Hall for this fight, Thompson should not panic if it hits the ground. These grappling exchanges could help him exhaust Woodley's gas tank and eliminate the great power he possesses.
In order for Wonderboy to continue his onslaught at welterweight, he has to go through yet another elite contender at 170-pounds. Tyron Woodley will undoubtedly be the toughest test of Thompson's MMA career, but if he can prevail the victor, it will be eight-straight and new UFC gold to go with it for Wonderboy.
Waiting over eighteen months for a title shot means nothing if you lose it in your first defense. If Woodley really wants the respects he demanded as a newly crowned champion, he will have to earn it, and that starts by putting on the performance of his life against Stephen Thompson at UFC 205.
This article originally appeared on