UFC 205: Belal Muhammad's Perspective on USADA and Cornering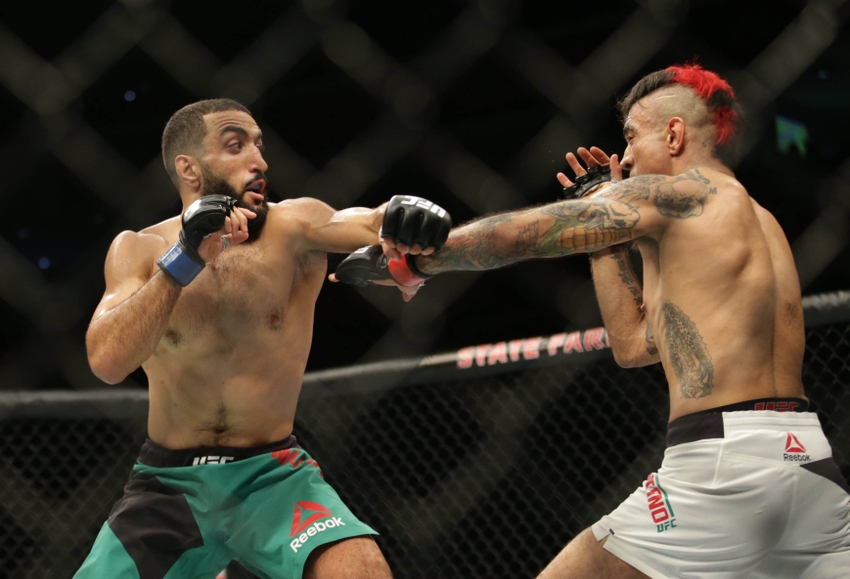 Belal Muhammad's fighting style has caused him to quickly rise to fan-favorite status in his two-fight UFC career. Now he fights on the biggest card in MMA history.
A chance to fight on UFC 205 almost slipped away for Belal Muhammad when original opponent Lyman Good was forced off the card following a failed drug test. Fortunately, the talented Vicente Luque stepped up, and Muhammad will still be able to perform in Madison Square Garden.
Belal Muhammad took time out of his training camp to talk to Cage Pages prior to UFC 205. A training camp that was unaffected by the new opponent.
"Nothing has really changed at all. Basically doing the same thing. I'm not the type of guy that gameplans for anybody specific. I just try to better myself every camp and work on my skills to be a better, more complete fighter. Change of opponent has done nothing for me."
As for his former opponent, Lyman Good, Muhammad simply does not understand how fighters are failing tests under USADA. To him, it's a matter of responsibility.
"I've been tested four or five times already but I'm never worried about anything. I text the guy every time before I take any supplements or anything like that. My first UFC event, the guy gave me his number and said, 'If you have any questions before you take anything, just message me.' I don't see what's so hard with just messaging him and seeing if it's ok to do it.

So these fighters that keep coming up with excuses about tainted supplements, they should just take the right stuff. USADA gives you a whole list of banned substances, what's wrong with that? They can go around saying, 'Tainted supplement! Tainted supplement!' but the list of things you can and can't take is right there. And on top of that, they give you their number to message them with the supplement, and they'll let you know if you can take it or not. So if you're going out on a limb and hoping the substances you take are good, that's the chance you take. You can't say it's a tainted supplement because they give you all the options to figure out how to do it, and those guys that are failing just don't do it the right way."
Saturday will be just the third trip to the Octagon for Belal Muhammad, and it just happens to be on the biggest card in history, which is quite the honor this early in the young career of the Chicago native.
"Everybody was asking to be on the card. So when they decide to put you on the card you know they like you. When your bosses like you, you're happy. It feels good to be a part of history. Madison Square Garden is one of the most monumental sports arenas ever. To be performing inside of it is huge. The fact that it's the first UFC card there makes it that much bigger."
An added benefit to this camp was long-time teammate Louis Taylor earning a title shot at WSOF's New Year's Eve show in the MSG Theater.
"It's perfect. He started his camp right around mine. We've got a bunch of hungry fighters inside the gym. This is a long time coming for him. He's been killing guys for a while. He's on a six-fight win streak, all stoppages. They're finally giving him a shot and he's ready to show the world what he's capable of."
Belal Muhammad has served as a cornerman for Taylor throughout his career, and this experience has certainly changed him as a fighter.
"You see a whole different perspective of the fight. When you're in the cage and you hear the corner yelling instructions, you have to be able to trust because they see something you can't see. So when I'm in the corner yelling instructions I see a different perspective than what he sees in the fight. Now when I'm fighting, I know what he is saying in the corner is most likely right, because I've been in that position too. It really opens your mind more and helps you trust your corner more."
Want your voice heard? Join the Cage Pages team!
In two of Muhammad's last three fights, "Remember the Name" has been in enemy territory. The welterweight's final Titan FC fight was in Florida, where his opponent Steve Carl trained, and his latest UFC fight against Mexican prospect Augusto Montano was fought on the border of Mexico. Adding to that, he was supposed to fight New Yorker Lyman Good at UFC 205. Muhammad definitely embraces this trend.
"I like changing the fans' mindset. In the Steve Carl fight and Montano fight there were a lot of people booing me. So it feels good after the fight when they walk up to you and ask for a picture. Those guys that were booing before the fight now respect you because of the way you fight. I really like having them come to my side."
At the end of the day, Muhammad is a fan like the rest of us.
"I think it's going to be an exciting fight. I plan on finishing it early and watching the rest of these fights on the card."
This article originally appeared on