UFC 205: Alvarez vs. McGregor, preview and predictions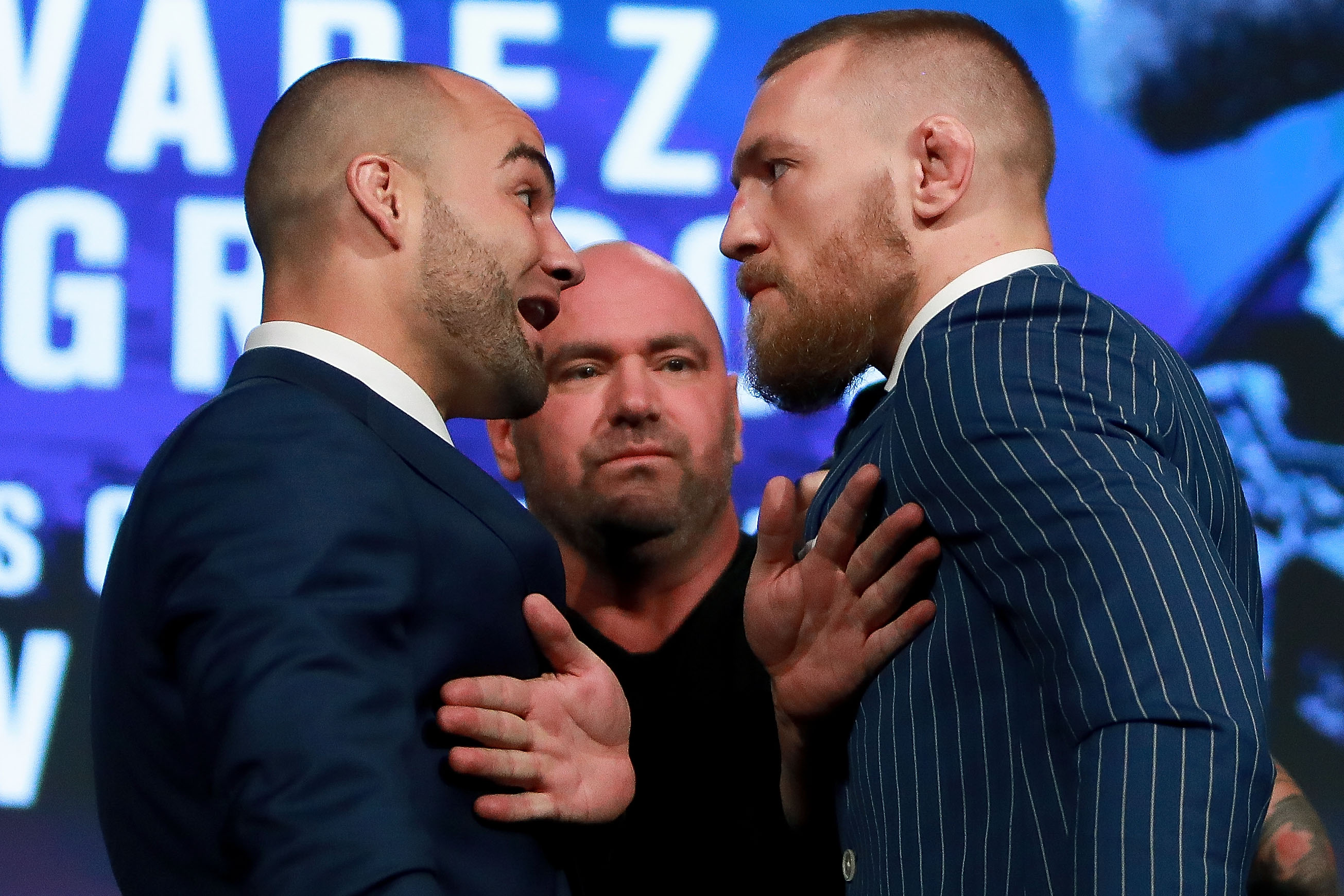 Saturday night, the UFC comes to you live on pay-per-view with its biggest card of the year. It is the first major MMA event to be held in New York City at the world famous Madison Square Garden, and it features three title fights in the lightweight, welterweight and strawweight divisions.
In the main event, Eddie Alvarez defends his UFC Lightweight Championship against featherweight champ Conor McGregor. This is a massive main event that could crown McGregor a two-division champ, something that would solidify him as the biggest star in the sport, possibly ever.
Then, welterweight king Tyron Woodley takes on top contender Stephen Thompson in the co-main event. AFter that, UFC Strawweight Champion Joanna Jedrzejczyk takes on fellow Pole Karolina Kowalkiewicz in a big rematch.
Also on the card are former champions such as Chris Weidman, Miesha Tate and Frankie Edgar, among others, including former title challengers. It should be an amazing night of MMA. With that, let's look at the card and make some predictions for each one of the fights.
Main Card
Eddie Alvarez vs. Conor McGregor
The main event is gigantic, as UFC LIghtweight Champion Eddie Alvarez looks to defend his belt in a superfight against UFC Featherweight Champion Conor McGregor. In breaking down this fight, we see a very interesting stylistic matchup. On the feet, McGregor owns the technical advantage and Alvarez owns the power. Both have great chins and can take a major shot. In terms of grappling, Alvarez has a wrestling advantage that he should attempt to use on McGregor. If he does, he can wear the Irishman down and outlast him. That happens, as Alvarez makes this fight ugly and sends McGregor packing back to the featherweight division.
Tyron Woodley vs. Stephen Thompson
The co-headliner is a huge fight, as newly crowned UFC Welterweight Champion Tyron Woodley looks to defend his title for the first time against Stephen Thompson. Woodley tore the title away from Robbie Lawler in his last fight, blasting him unconscious with a huge bout. He has a wrestling advantage here and should try to stay away from a kickboxing match with Thompson. Thompson is a technical, powerful, flashy kickboxer that has greatly increased his wrestling defense and offense while working with guys like Chris Weidman. I think he can stay out of Woodley's wheelhouse and land some devastating shots, finishing Woodley to become the champion.
Joanna Jedrzejczyk vs. Karolina Kowalkiewicz
Jedrzejczyk
vs.
Kowalkiewicz
The third title fight on the card is a massive rematch, as UFC Strawweight Champion and Polish superstar Joanna Jedrzejczyk takes on fellow Pole and top contender Karolina Kowalkiewicz. In their first bout, Jedrzejczyk was victorious in an amateur outing, where she submitted Kowalkiewicz. Since then, both women have carved out a path of destruction. Both women are undefeated and have looked great in their UFC careers. That said, Jedrzejczyk has shown to be on another level than the rest of the division. She goes 2-0 against her fellow country woman.
Chris Weidman vs. Yoel Romero
Chris Weidman gets his wish and will fight in front of his home state crowd, as he takes on Cuban Olympian Yoel Romero in what could be a top contender's fight. Both Romero and Weidman are big-time wrestlers, though Romero's credentials are greater with his silver medal Olympic performance. Weidman can hold his own on the mat as well. On the feet, Romero has a huge power advantage, while Weidman has the quickness and technical advantage. This will be a close fight, but Weidman should be able to edge Romero out on the scorecards.
Kelvin Gastelum vs. Donald Cerrone
Donald Cerrone looks to keep his winning ways in the welterweight division, but in his way will be a massive grinder in Kelvin Gastelum who looks to send him to the loss column. On the feet, Cerrone holds a distinct advantage in terms of technical prowess and power. Gastelum can box a tad, but Cerrone is just on another level. In terms of wrestling, Gastelum holds that advantage clearly, though taking Cerrone down is no picnic. Cerrone loves to grapple off his back and can submit anybody. I see Cerrone besting Gastelum here however he likes, likely with his on-the-feet game.
Miesha Tate vs. Raquel Pennington
Fresh off her title loss at UFC 200, Miesha Tate looks to jump right back into the hunt when she takes on the massively underrated Raquel Pennington. In the grappling department, Tate is vastly superior to Pennington, whether it's wrestling or submissions. She also holds the athleticism edge. In terms of striking, Pennington has shown to be tough as nails and rapidly improving, so even though Tate can throw herself, she should avoid extended periods on the feet with her opponent. She drags Pennington down and beats her up, scoring a win in her rebound fight.
Preliminary Card
Frankie Edgar vs. Jeremy Stephens
Capping off the prelims is a barn burner of a featherweight bout, as hard hitter Jeremy Stephens looks to take out former lightweight champion Frankie Edgar. Stephens is the power, while Edgar is the precision in this striking battle. Both have good wrestling, but rarely use it unless necessary. Edgar might just do it to stay away from Stephens and his big one-punch ability. This should be fun, but Edgar does enough damage and volume and score a victory over Stephens.
Khabib Nurmagomedov vs. Michael Johnson
Potential title challengers are set to square off next, as undefeated Russian Khabib Nurmagomedov looks to earn his title shot against Blackzilian rep Michael Johnson. Johnson is coming off a massive knockout win in a main event over Dustin Poirier. That win sprung him back into title contention, and in this fight, he will need to use his sprawl and quickness in boxing to outdo Nurmagomedov. Nurmagomedov is a grinder who uses his wrestling early and often. Though his latest bout didn't instill much confidence, he is still considered one of the best 155ers in the world, despite his somewhat conservative approach to fighting. If Johnson can stay up, he will win, but Nurmagomedov drags him into an ugly fight and scores the win.
Vicente Luque vs. Belal Muhammad
On late notice, Vicente Luque looks to continue his winning ways in the welterweight division, but in his way will be underrated, skilled fighter Belal Muhammad. Muhammad is an iron-jawwed boxer that is aggressive and likes to land punches in volume. He will need to use that in unison with his takedown defense, as Luque has a clear advantage in the submission grappling department. Luque can strike too, but not nearly as effectively as Muhammad, who wins this fight by competitive decision.
Jim Miller vs. Thiago Alves
The lightweights are set to headline the Fight Pass card, as vicious striker Thiago Alves makes his long awaited return to the cage against scrappy New Jersey native Jim Miller. Alves has suffered a slew of injuries that has kept him out of the cage for a long period of time. He is a vicious, precise striker that will need to soften Miller up to stop his onslaught. Miller likes to box, but his ground game is what he needs to use here on the Brazilian banger. This should be competitive, but I think Miller should do enough to outlast the Brazilian.
Rafael Natal vs. Tim Boetsch
The middleweights are up next, as powerhouse Tim Boetsch looks to score a big win at 185 against Brazilian Rafael Natal. This fight represents two different types of fighters. Boetsch is a big puncher that has wrestling to fall back on if needed. Natal is more of a grinder, and while his best chance is to clinch and grapple with Boetsch, he cannot outmuscle the bigger, stronger "Barbarian." Boetsch keeps Natal on the feet and batters him to a TKO stoppage victory.
Liz Carmouche vs. Katlyn Chookagian
The female bantamweights kick off the card on Fight Pass, as former title challenger Liz Carmouche makes her long awaited return when she takes on rapidly rising prospect and undefeated fighter Katlyn Chookagian. Carmouche is a grinder who likes to lean on opponents and outwrestle them. Her striking isn't bad, but it would be foolish for her to stay away from her strong ground game. Chookagian is a good jiu-jitsu artist, but has shown in recent times that her striking has greatly improved. It may be a vital tool in winning here. This is going to be extremely close, but I think Carmouche earns the edge through a gritty effort.
This article originally appeared on