UFC 205, Alvarez vs. McGregor: Predicting bonus winners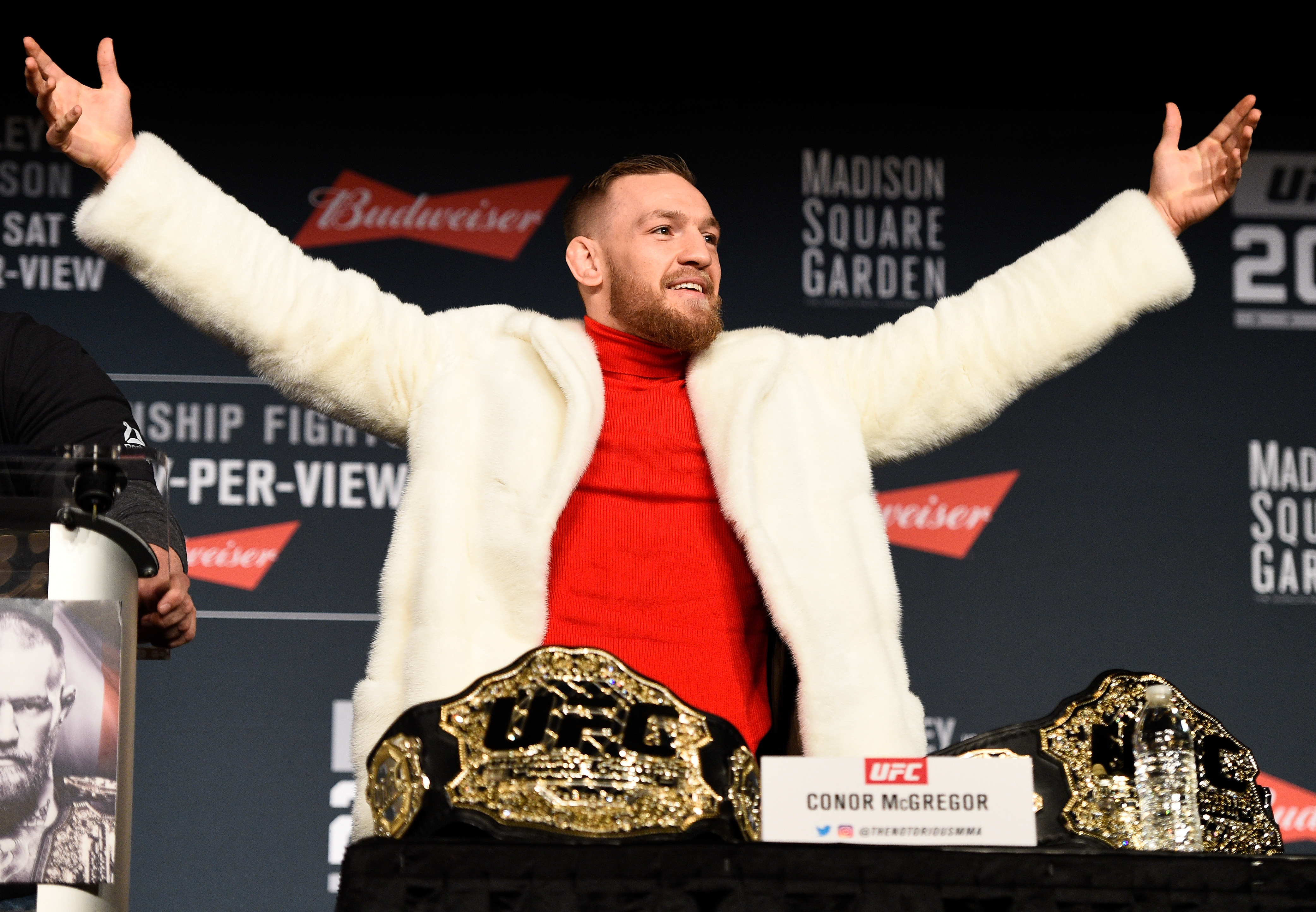 Predicting which fights will stand out on the incredibly stacked UFC 205 card, and who will be walking away with a post-fight bonus.
After months of anticipation and chair throwing, UFC 205 is finally here! There have been set-backs along the way, with two fights getting cancelled during fight week, but all three title bouts are still on… for now. And despite the late changes, this finished product is still the best fight card in MMA history.
If you're able to stand out on this card, you're doing something right. Conor McGregor vs. Eddie Alvarez will naturally get all the attention, but so many of these fights are evenly matched. It's almost impossible to pick a winner in a lot of these, but predicting the post-fight bonus winners is a bit less of a burden.
To start, here are the fighters who just missed the cut, but still deserve a mention.
Honorable Mentions
Performance of the Night – Stephen Thompson: Wonderboy Thompson has been on an absolute roll en route to getting this title shot. Save for a loss to Matt Brown, he has a spotless record, and has been dispatching of top contenders left and right on his six-fight winning streak. His first-round starching of Johny Hendricks was his official coming out party, and his one-sided decision of now-Bellator fighter Rory Macdonald in Canada was enough to give him a shot at the belt.
When Tyron Woodley won the belt, it looked like Wonderboy was about to get passed up by GSP or Nick Diaz. All the trash talk Woodley has aimed at Thompson, as well as his perception that he wasn't the best contender available, will no doubt light a fire under him and make him put on a show for the Madison Square Garden crowd.
Three of Thompson's last five wins have earned him a Performance of the Night bonus — his knockouts of Robert Whittaker, Jake Ellenberger, and Johny Hendricks all made him $50,000 richer. He's got a fan-friendly style and always looks for the finish. On any other card, a win over Woodley would've given him another check, but the fight above them is kind of a bigger deal.
Fight of the Night – Joanna Jedrzejczyk vs. Karolina Kowalkiewicz: During Joanna's dominant title run, a fight in Poland has long been floated around, especially while her fellow countryman Karolina Kowalkiewicz was climbing the division's ranks. But New York has the largest Polish population in America, and UFC 205 will feel a lot like the real thing.
While Joanna is arguably the best striker in the UFC, Karolina also comes from a strong Muay Thai base, and she might be the only person in the strawweight division who's capable of standing and trading with her. For anyone who hates grappling and loves good old-fashioned striking exchanges, this is the fight for you.
Joanna dominated her opponents at the start of her title reign, but her last two fights have gone to a decision and this one could easily go that same route. It's not an indictment on her more than it is a testament to the strong contenders in the strawweight division. This could easily end up being the best title fight on UFC 205, but the real Fight of the Night will come a bit earlier.
Conor McGregor
This is totally dependent on him winning — obviously, if McGregor lost to Eddie Alvarez, he wouldn't be getting a Performance of the Night bonus. But love him or hate him, Conor McGregor has never been in a boring fight. Whenever he's on a card, he's usually guaranteed of a post-fight bonus because he's always looking for the finish.
His second fight with Nate Diaz was only the second time ever that he went to a decision, and that was because he was fighting two weight classes above where he normally competes. The first time, against Max Holloway, he blew out his knee in the middle of the fight.
McGregor's left hand has become as powerful as any weapon, especially when he's picking on featherweights. Many believe that, at lightweight, Conor's power is even more dangerous, which could spell trouble for Eddie. Because of that, people believe that Alvarez will take the same approach to this fight that he did against Anthony Pettis. And that style of fighting won't win you any bonus checks.
Simply put, if Conor wins, it'll be by knockout which will earn him some extra cash. If Eddie wins, it'll be a grind-it-out decision that won't win him over any fans.
Jim Miller
Jim Miller is now the first person ever to fight on UFC 100, UFC 200, and UFC 205. He's also someone who is used to collecting post-fight bonuses — he has eight to his name — and has been in some of the most memorable wars of all time.
A lot of Miller's most recent fights have gone to a decision, but after Thiago Alves nearly put their fight in jeopardy by missing weight, he'll want to go for the finish and send him packing from the lightweight division. He'll also want to silence all of the people that cried robbery when his rematch with Joe Lauzon went his way on the scorecards.
The UFC clearly put an action fight like this on the Fight Pass portion of the card to attract more subscribers. Awarding Miller a Performance of the Night bonus would only further that cause.
Jeremy Stephens vs. Frankie Edgar
Despite how skilled these two fighters are, they might be best known for their connections to Conor McGregor. After beating Chad Mendes, Frankie Edgar felt that he was deserving of the next title shot. The problem is, McGregor had no intention of defending his belt, and was open to fighting everyone except for Edgar. He had the chance to at least win an interim title against Jose Aldo at UFC 200, but he came up short, and is now stuck in featherweight purgatory.
Jeremy Stephens is a very talented fighter who has notable wins over guys like Renan Barao and Rafael dos Anjos. But at the UFC 205 press conference, when he proclaimed himself the hardest-hitting person in the featherweight division, McGregor hilariously put him in a body bag.
But while Stephens may not be a better striker than McGregor, he is still very explosive. Sixteen of his 25 career wins have come by knockout, with his best one possibly being his flying knee finish over Dennis Bermudez. Frankie Edgar, though, is an extremely resilient fighter who has made a living out of taking hard punches, then coming back and winning.
It really speaks volumes about this card that a fight this good is on the prelims. But this is the best possible fight to headline the free portion of the card, and watching it might even entice some people into buying the pay-per-view at the last minute.
This fight will either end in a spectacular knockout, or a thrilling 15-minute decision. No matter how it plays out, Edgar vs. Stephens is the current front-runner for Fight of the Night.
This article originally appeared on