UFC 205: Alvarez vs McGregor Main Card predictions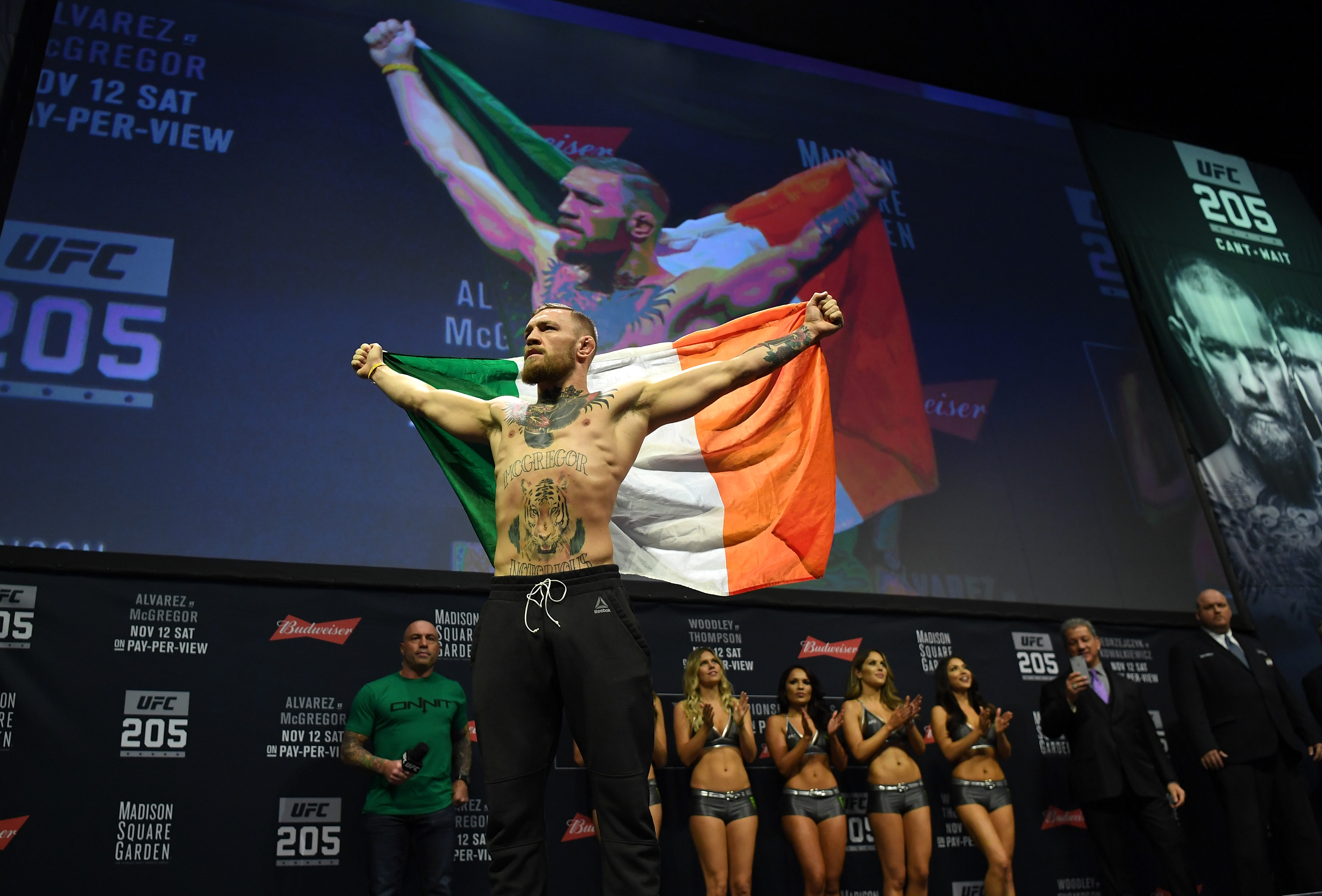 UFC 205 is set to have its first major event in New York City tonight. Here's a list of predictions on all of the Main Card PPV fights, including the headliner, Eddie Alvarez vs Conor McGregor.
It's time. The day is upon us. And although things have been jarred by yesterday's weigh-in debacle, the allure of UFC 205 has gone nowhere. While Donald Cerrone is a loss, the show shall march on Cowboyless.
There is a unique sense of anticipation surrounding this event — even my friends and family who have little interest in MMA are willing to brave the early hours for this one. That's how significant the UFC's first event at Madison Square Garden is. We're in for a very special evening, and one for the history books.
Here are my predictions for the fights on the Main Card.
Conor McGregor vs Eddie Alvarez
There's so much at stake here, for the fighters, for the fans and for the UFC. When there's a fight of this magnitude, educated opinions seem somewhat unfitting. Almost anything could happen. But the unpredictable cannot be predicted, so an opinion is all I have.
My mind has jumped from one team to the other since this fight was announced. Though, admittedly, it has stayed on Conor McGregor's side more often. And for the first 10 minutes of this fight, that's where it will stay. Eddie Alvarez is intelligent enough to have worked on his evasiveness for this fight, but within those first two rounds, I expect him to take damage.
Whether or not he'll see out that and persevere is another matter altogether. Sure, history suggests he will. But McGregor's accuracy and artistry with his striking is a very new challenge for Alvarez' chin, deny it though he might. Alternatively, he could break through the danger zone and grind McGregor down from the very beginning, picking up the pieces from where Chad Mendes left off.
However, I don't think Alvarez will bring anything McGregor isn't prepared for. He's an excellent fighter, and a fighter in the true sense of the word. But he's nothing unusual or eccentric, and that's what it will take to beat McGregor early. If the Dubliner fades, Alvarez will capitalize and win the fight.
The press conference and weigh-ins provided a final perspective, and although Alvarez seemed composed, his visible frustration proved that he is emotionally invested. He seems to think McGregor's mannerisms and actions are evidence he's anxious. That's a big mistake. I'm backing McGregor to make history at UFC 205.
Prediction: Conor McGregor via TKO in the second round
Tyron Woodley vs Stephen Thompson
The bookies really don't seem to believe in Tyron Woodley. And neither do a lot of fans. On the face of it, that makes sense. Wonderboy is the baby-faced all-American action hero straight from a Hollywood movie with awful dialogue. And Woodley is the bad guy who arrives to ruin the show.
But truthfully, he's not really a bad guy. And he deserves more respect from the fans than he's getting right now. Nonetheless, he has a mammoth task ahead of him. Figuring out a system to beat someone like Stephen Thompson is a complex matter. But after what he did to Robbie Lawler, I stopped questioning The Chosen One. It hurts too much being wrong.
With that in mind, I'm going against the common consensus and backing the champion to hold on to his belt. I know, I know. Laugh it up. But something about his demeanor speaks to me. Though I do concede that I doubt Woodley can last five rounds without crumbling significantly. Additionally, I don't think Thompson will have a problem with Woodley's wrestling either. Which really makes my decision questionable. But sometimes, you have to follow your instinct, right?
Woodley must get the job done early, or Wonderboy and Weidman will be celebrating together tonight.
Prediction: Tyron Woodley via KO in the second round
Joanna Jedrzejczyk vs. Karolina Kowalkiewicz
It's a funny world we live in. American fighters compete against each other weekly, but it's never billed as American vs American. Yet if two fighters from the same country outside the United States cross paths, it becomes a major narrative.
Nevertheless, I'm a fool for a good story, and this fight has a great tale to back it up. Beyond the Polish stuff, we have Karolina Kowalkiewicz looking to avenge a loss from back in her amateur days. Joanna Jedrzejczyk made light work of her Polish counterpart back then, but will she be able to replicate that at UFC 205?
Well, another submission is unlikely. The vast majority of this fight will be standing. If Kowalkiewicz is to accomplish the improbable, it will likely depend upon her dominance in the clinch. That's where she truly shines. That's where she can really hurt the champion. Although, if it turns out that Jedrzejczyk has the upper hand there, too, then Kowalkiewicz chances diminish severely.
I must give Kowalkiewicz respect. Her last performance against Rose Namajunas wasn't mind-blowing, but it was praiseworthy. She proved she can hang with the top 10 of this lackluster division. But that was the biggest notch on her unbeaten resume. We haven't seen nearly enough of her against the real elite, and it will be fascinating to see how she handles the immense pressure of this situation.
She's a damn fine striker who's fun to watch. But there's a difference between damn fine and Joanna Jedrzejczyk. Though the challenger won't be beaten easily, it will be convincing. Especially if it drags into those later rounds, where Jedrzejczyk will let her opponent know she's in a championship fight. But if Kowalkiewicz pulls a Holly Holm, we'll be celebrating in my house.
Prediction: Joanna Jedrzejczyk via TKO in the fourth round
Chris Weidman vs Yoel Romero
Excluding the main event, this has been the most difficult choice of the night. On one hand, I see Yoel Romero at his Hulk-like best taking Chris Weidman out early. On the other hand, if Romero can't win early, he probably can't win at all.
I'm expecting a fired up Weidman. Ever since that fateful night last December, and up until UFC 205, things haven't gone well for him. This is the ultimate test of his will and determination. Plus, we'll get an answer to the "whose wrestling is better" question. Weidman will outsmart Romero, survive the early onslaught, and get right back on track. The American's striking is intelligent, and he'll find a way past Romero.
At least, that's what I hope happens. Bisping vs Weidman is too good a contest to lose.
Prediction: Chris Weidman via TKO in the third round
Miesha Tate vs Raquel Pennington 
Once again, Miesha Tate has to battle against adversity. Before she grew accustomed to being champion, it was snatched away from her. Despite how emotionally draining her losses to Ronda Rousey were, the loss to Amanda Nunes was her most brutal and most significant yet.
There were a lot variables in that contest, from the excruciating weight cut, to the added pressure of headlining UFC 200, and the rise in expectation that accompanied her boost in celebrity. Miesha Tate, as we know her, wasn't there that night. Will she be there for UFC 205?
Despite all that, Cupcake dealt with the loss well, taking some time off to travel and refocus We'll see whether or not that has made a difference to her preparation for this fight. If we get the best Tate, she'll claim a pretty solid decision against a tricky opponent.
We've witnessed Raquel Pennington at her finest over the last three fights. She has grown tremendously since The Ultimate Fighter. And at 28, the Colorado native still has more time to develop. A finish is her most viable option, but although she might test Tate's face a few times, I don't think Washington's finest will go down tonight. Cupcake's work ethic will be on display, and she'll bounce back in style.
Prediction: Miesha Tate via unanimous decision
There it is. Don't miss UFC 205 live. If you do, you'll regret it.
This article originally appeared on