UFC 205, Alvarez vs. McGregor: Grades for every fighter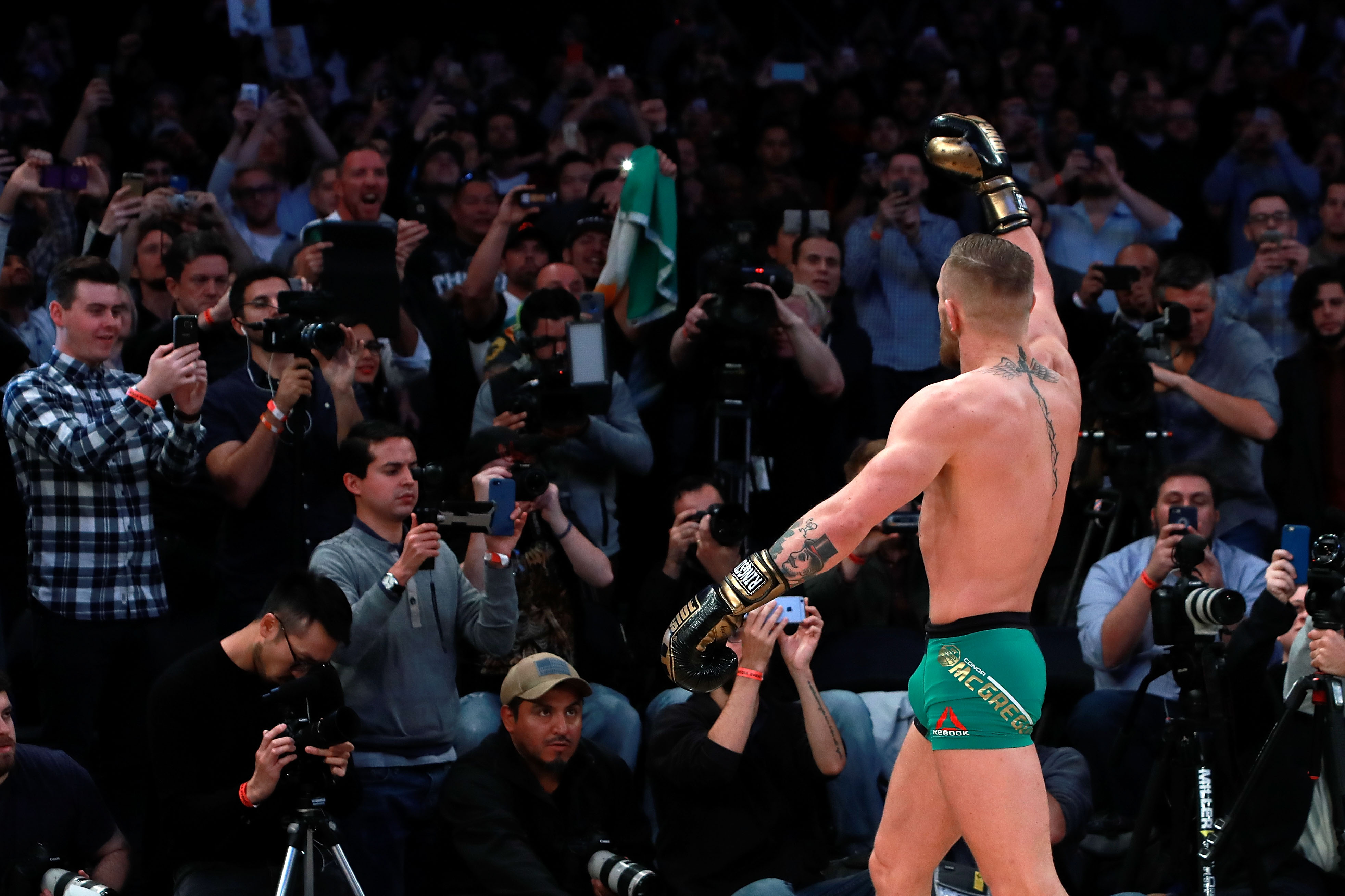 UFC 205 was the night of nights for the UFC and the mixed martial arts community as a whole. The event lived up to the hype in nearly every way.
UFC 205 is in the rear view mirror, but the fight community is still coming off of a major high that occurred in New York City. Hailing from the fight capital of the world for the very first time; the UFC put together a stacked card that featured three title fights and a number of other big name matchups. In the end, this event truly delivered across the board. Even with the two fights that were pulled leading up to the event, every other contest delivered in some form or fashion. Looking back there aren't any reasons to complain about the product that was delivered to fight fans across the world.
At the end of the evening, the UFC leaves NYC with an even bigger star in Conor McGregor, a potential rematch between Stephen Thompson and Tyron Woodley, and another dominant champion in Joanna Jedrzejczyk. When coupled with everything else that occurred on Saturday night, it's clear that this was a monumental win for the promotion as a whole. UFC 205 deserves all of the highest grading marks available. This piece breaks down some of the main players form UFC 205 and gives them each grades on their performances during the biggest evening in MMA history.
Conor McGregor
Grade: A+
On the biggest stage, under the brightest lights, Conor McGregor continues to deliver. UFC 205 is set to be the biggest event in UFC and mixed martial arts history. The fans were cheering uncontrollably for every minute of this fight. McGregor delivered a performance that continued to build his mystique – akin to that of Anderson Silva during his run as the middleweight champion. Even when including the name Ronda Rousey; Conor McGregor is the biggest star in the MMA world today.
McGregor stood just outside of Alvarez's range and made him pay every time he over-extended himself. Each time Alvarez lunged in to attack; McGregor blasted him with multiple shots. The fight opened with a crisp counter that sent Alvarez crumbling to the canvas. The final combination started the same way; Alvarez lunged in, throwing a punch at McGregor's face, only to eat a one-two counter that made him stumble backwards as he ate two more punches to close out the fight. McGregor consistently speaks about his growth as a striker and mixed martial artist as a whole and UFC 205 was a masterful display of such.
The future for Conor McGregor is as bright as any professional athlete across all of sports. With a child on the way the fight and mainstream communities are only going to become more enthralled with the UFC's poster boy.
Eddie Alvarez
Grade: D
A few years ago, Eddie Alvarez was willing to put his career on the line in a legal battle against rival promotion, Bellator MMA. In the end, he earned his way out of his contract and walked into the UFC. A few fights later, he earned the UFC lightweight title and welcomed the opportunity for the biggest fight of his long career against Conor McGregor. The Philadelphia native was a massive underdog coming into this bout, but in some ways, he did a lot to find small victories on the way there.
Then the first round started and the wheels fell off. Alvarez's style played directly into the sliding movement and precision striking that McGregor often employs. Alvarez took many shots that landed cleanly while his opponent moved out of the way seamlessly. From a statistical standpoint, Alvarez landed only 9 of his attempted 41 strikes. Yet, the biggest detraction from his performance is that he continued to charge in time after time, putting himself right in danger of McGregor's biggest strength.
Eddie Alvarez is a great lightweight who holds wins over some of the biggest names and champions in the sport. But his performance at UFC 205 was perhaps the worst of his career on the biggest stage at the same time.
Tyron Woodley
Grade: B-
Tyron Woodley came into his first title defense as an underdog to the highly-likeable Stephen Thompson. Early in the fight it looked like this bout was going to go the way the critics expected; with keeping Thompson on the outside until an intricate combination would finish the bout. However, Woodley changed that idea early in the fight when he landed a takedown right in the center of the cage. From that moment he would blast Thompson with violent ground and pound; opening up a big cut across Thompson's face. The cut was bad, but "Wonder Boy" adjusted well, until that right hand that floored him in the fourth round.
Critics have questioned Woodley's strategy that saw him back against the cage time and time again which limited where he can move to avoid Thompson's striking. Had he not landed that big shot in the fourth round, the story would be about Thompson's reign as champion instead of a rematch between these two men. However, Woodley proved that he has the abilities to finish a fight against any man that's in front of him; now the question becomes whether or not he can develop the right strategy to support those skill sets.
Tyron Woodley may have come into UFC 205 as a villain and the outcome didn't help that change; but he's gone a long way in earning respect as the champion of the welterweight division.
Stephen Thompson
Grade: B
The debate about whether or not Stephen Thompson did enough to become the UFC welterweight champion is going to go on for an extended period of time. Even without the controversy surrounding the mistaken outcome announcement from Bruce Buffer, there's enough evidence to make an argument for a "Wonder Boy" victory.
Still, that moment during round four where he was laid out be a massive Tyron Woodley right hand is the reason why Thompson went home without the title. Judges gave that round to Woodley with a score of 10-8 which was enough to secure the draw that we saw on two of the cards. For five rounds, both men did enough to earn a victory in their own eyes. He continued to control the center of the Octagon and keep Woodley's back up against the cage for much of the fight. The critical mistakes made during the first and fourth round cost him this fight, but he did enough to perhaps raise his confidence in a potential rematch in the near future.
Stephen "Wonder Boy" Thompson has shown that he has what it takes to reach the highest level of the division. With a rematch looming in the near future it will be compelling to see what adjustments are made by both men.
Joanna Jedrzejczyk
Grade: B-
Joanna Jedrzejczyk was the only defending champion to come into UFC 205 and walk out with a successful defense. Even though she had that scary moment where Karolina Kowalkiewicz had her rocked and stumbling against the cage, this was still a strong performance for the Polish champion.
Joanna continued her run towards becoming one of the most dominant champions on the UFC roster as she battered Kowalkiewicz for much of this affair. According to FightMetric, official stat group of the UFC, Jedrzejczyk out struck Kowalkiewicz by the margin of 171 to 50. She landed nearly half of her strikes as she attempted 360 in the entire five round fight. Jedrzejczyk is known for the way she continues to put together blistering combinations, even late in the battle. That was still on display at UFC 205 and allowed her to overwhelm Kowalkiewicz for much of the contest.
As champions fight for more power in their career, Jedrzejczyk continues to build her fan base with performances such as this against a game Polish fighter. While a brutal finish would have gotten the crowd excited, Joanna Champion is becoming a fan favorite for the sheer violent volume she puts on and this fight was full of highlights from start to finish.
Karolina Kowalkiewicz
Grade: C-
The question coming into this fight between Karolina Kowalkiewicz and Joanna Jedrzejczyk was whether or not the challenger had the tools to keep up with the champion. Early in the evening it seemed as if the answer to that question was a resounding "no." That was until Kowalkiewicz landing a massive counter shot that immediately buckled Jedrzejczyk's knees and sent the champion crumbling back towards the cage. She came close to finishing the bout but Jedrzejczyk was able to regain her composure, make it through the round and continue her onslaught from that point forward; racking up four of the five rounds on the judges' scorecards.
The reasoning for such a low score for the Polish challenger is that she didn't show any new wrinkles to her game that would help her rebuild into a contender. Even though she called for a rematch during a post-fight press conference, she's really not in the position to demand that bout after this performance. UFC President Dana White hinted at a potential fight against Claudia Gadelha in the future, but Kowalkiewicz left a lot to be requested if she's going to remain a top contender in this division after this one-sided defeat.
Yoel Romero
Grade: B+
Yoel Romero is an intriguing member of the middleweight division. Fighters know that he's coming to compete with a very slow pace that lulls them into a dangerous position before he explodes. Chris Weidman experienced that moment in the third round when he took a massive knee that dropped him and closed out the fight. Even before that moment, Romero was landing thudding body kicks that immediately turned Weidman's body red. Romeo's timing was spot on to catch Weidman taking a shot before blasting him with that knee and a few shots to finish the deal.
Romero continues to use his wrestling to control exactly where the fight happens. He defended many of Weidman's takedown attempts while hitting technical sweeps that cause Weidman to face plant on the mat. It's well known that the former Olympian has perhaps the best blend of MMA wrestling in the sport and his display at UFC 205 continued that story.
This was an important fight for Romero because a win means he is expected to be the next fighter to get a shot at Michael Bisping. Bisping and Romero exchanged mannerisms and gestures during Romero's post-fight interview which excited fans in Madison Square Garden and commentating via social media. That performance coupled with that interaction is exactly what Romero needed to close the door on any other man getting a title shot at middleweight before he does in the near future.
Raquel Pennington
Grade: B
"Rocky" Pennington was in need of a big win to push herself towards the top of the women's bantamweight division. Not only did she get that win, but she was nearly as perfect as she has been since joining the UFC with her win over Miesha Tate. For three rounds Pennington had an answer for everything that Tate tried to throw her way; popping her over and over with a jab square in the face. When Tate went to her trademark wrestling and grappling, Pennington found a way to escape dangerous spots and put the pressure back on Tate.
Perhaps her biggest improvement was Pennington's steady dose of striking through her jab. With that tool she maintained range and keep damaging Tate over and over. Before this fight Pennington was known as mainly a grappler and her striking was perhaps one of her weakest areas. Her performance against Tate showed that she's growing in this area and incorporating the jab limited Tate's pressure-first fighting style. While Pennington may be a few wins away before being able to demand a title shot, this fight pushed her in the right direction while showing the growth needed for this phase of her career.
Khabib Nurmagomedov
Grade: A
Khabib Nurmagomedov came into this event well aware that he needed a strong victory to cement his claim as the top lightweight contender in the division. Even though he boasts an undefeated record, his time away from the sport due to injury has caused some to question whether or not Tony Ferguson has left over him in the pecking order. Against Michael Johnson he was facing the best competition available in quite a while and Nurmagomedov delivered in every sense of the word.
What was most telling is the way Nurmagomedov dealt with Johnson's initial aggression that even had the Russian fighter rocked. Nurmagomedov recovered and went to his trademark grappling to not only control Johnson, but completely dominate him until the third-round finish. Johnson had no answer and was unable to move, let alone get out of side control and any other position that Nurmagomedov decided to take. This was the example of a dominating performance from start to finish and a clear case for Nurmagomedov to be the next man to get a shot at the lightweight title. It will be interesting to see what UFC match makers decide to do with both Ferguson and Nurmagomedov in the near future.
This article originally appeared on