UFC 205: Alvarez and McGregor bring championship history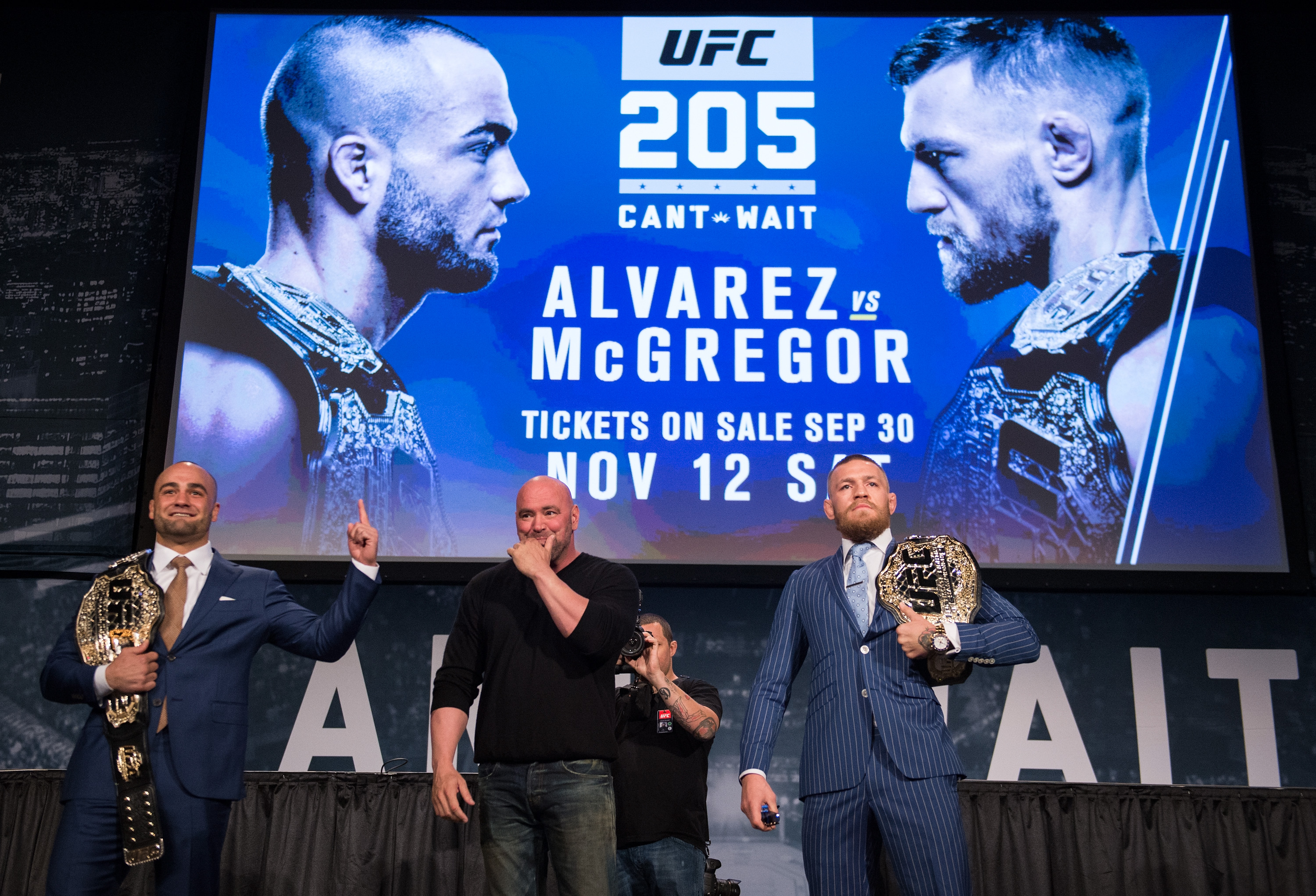 October 16, 2004 | Eddie Alvarez wins Reality Fighting Welterweight Championship
Not much is known Eddie Alvarez's first mixed martial arts title. On October night in 2004, Alvarez, then an unknown prospect out of Fight Factory, stepped into the cage for just the third time in his young career. Standing opposite of him was Chris Schlesinger.
Prior to this title fight, Alvarez had rattled off back-to-back first round stoppage wins to kick of his professional career.  Schlesinger has just won fight under his belt, a decision the year before.
So in front of 3,000 fans in Atlantic City, Alvarez crushed Schlesinger just one minute into the first round. It would set the standard for Alvarez's career as fans saw the inaugural Reality Fight welterweight championship wrapped his waist. Little did they know, greater things were coming for young Philadelphia prospect.
June 3, 2006 | Eddie Alvarez wins MFC Welterweight Championship
Following his win over Schlesinger, Alvarez continued to tear through the competition on the local scene in New Jersey. Picking up three more (T)KO victories, including a second round finish over MMA veteran Seichi Ikemoto, Alvarez was quickly making a name for himself in the fighting world.
His next challenge would come in the form of former UFC veteran, UFC veteran Derrick Noble, who entered the cage with 24 professional fights under his belt.
But even with such a gap in professional experience, Alvarez steamrolled over Nobile en route to 61 second knockout, earning the promotions welterweight crown in the process. Alvarez's MFC Welterweight Championship would later be re-branded the BodogFIGHT Welterweight Championship.
April 14, 2007 | Eddie Alvarez loses BodogFIGHT Welterweight Championship
In spite of the fact that most fans and pundits felt the 170-pound division was too much for Alvarez, he continued to seek out larger opponents. And after scoring three more first round (T)KO victories, including a 65-second destruction of former UFC veteran and Pride FC veteran Aaron Riley, who could blame him?
But when Alvarez stepped in to challenge Nick Thompson at Bodog Fight's "Clash of the Nations" pay per view in Russia on April 14, 2007, his size disadvantage was finally exposed. During the bout Alvarez suffered his first career loss when he was TKO'd by another UFC veteran in Nick Thompson, losing his Bodog title in the process. After this setback, Alvarez decided to leave Bodog to join the new EliteXC where he competed in their 160-pound division against Ross Ebanez, winning by TKO.
A few weeks prior to the first event, it was announced that the upstart Japanese promotion DREAM had signed Alvarez to compete in their 154-pound grand prix.
After being rocked in his first fight against Andre Amade, Alvarez would go on to score a violent TKO over the Chute Boxing product late in the first round. He would follow this up with yet another victory in the form of a unanimous decision Joachim Hansen.
Alvarez would following this up with a Fight of the Year performance in his TKO victory Japanese MMA pioner Tatsuya Kawajiri in the tournament's semi-finals. However, he was unable to advance in the tournament due to a cut and severe swelling under his right eye. His replacement Hansen, the very man he beat earlier in the tournament, would go on to win the tournament and capture the DREAM lightweight title.
Alvarez was then scheduled to face future UFC title contender Nick Diaz for the EliteXC 160 pound title. However, the fight was eventually scrapped after EliteXC's parent ProElite folded. On New Year's Eve 2008 Alvarez fought against Shinya Aoki at K-1 Dynamite!! 2008, losing by submission in the first round. He was subsequently signed to an exclusive contract with the new upstart promotion in Bellator MMA.
June 19, 2009 | Eddie Alvarez wins Bellator lightweight championship
With a new home, Alvarez immediately entered Bellator's lightweight tournament at Bellator's inaugural event on April 3, 2009. He fought against Greg Loughran, who landed a left hook which caused Alvarez to buckle his legs. Alvarez survived, however, and submitted Loughran with a guillotine choke. His next fight at the tournament's semi-finals took place four weeks later at Bellator 5, against Eric Reynolds. After controlling the bout for two rounds, Alvarez used a rear-naked choke to submit Reynolds in the third.
Alvarez advanced to the lightweight tournament's finals, which took place at Bellator 12 on June 19, 2009. He fought and defeated Toby Imada, via a rear naked choke submission early in the second round, to become Bellator's first ever lightweight champion.
November 19, 2011 | Eddie Alvarez loses Bellator lightweight championship
June 2, 2012 | Conor McGregor wins CWFC featherweight championship
December 31, 2012 | Conor McGregor wins CWFC lightweight championship
November 2, 2013 | Eddie Alvarez regains Bellator lightweight championship
July 11, 2015 | Conor McGregor wins interim UFC featherweight championship
December 12, 2015 | Conor McGregor wins UFC featherweight championship
July 7, 2016 | Eddie Alvarez wins UFC lightweight championship
This article originally appeared on