UFC 205: 5 keys to victory for Joanna Jedrzejczyk
Joanna Jedrzejczyk will defend her strawweight title against fellow Polish competitor Karolina Kowalkiewicz this Saturday at UFC 205 in New York City, and here are 5 keys to victory.
Widely regarded as one of the best pound-for-pound fighters on the planet, Joanna Jedrzejczyk rose from contender to dominant champion quickly. Her surge in popularity has happened even quicker. This weekend she defends her title against fellow Polish competitor, Karolina Kowalkiewicz.
Their nationality adds some international context, as New York City has one of the largest Polish immigrants in all of the United States. But this isn't just about that, it is about redemption.
Jedrzejczyk was the last person to beat Kowalkiewicz, as amateurs back in 2012. Since then, things have changed. The domestic rivals have fought their way to the peak of a new era in sports.
And it is being part of that new era which makes them a perfect addition to this weekend. The fabled New York card is stacked, but take away Jedrzejczyk or Kowalkiewicz and the event loses some allure.
From the domestic scene of Poland, to the biggest MMA event of all time.
When you watch Joanna Jedrzejczyk, you are witnessing mastery. But even masters are capable of slipping up, especially against someone as tricky and hardened as Kowalkiewicz. Here are 5 ways the champion can avoid that from happening this weekend.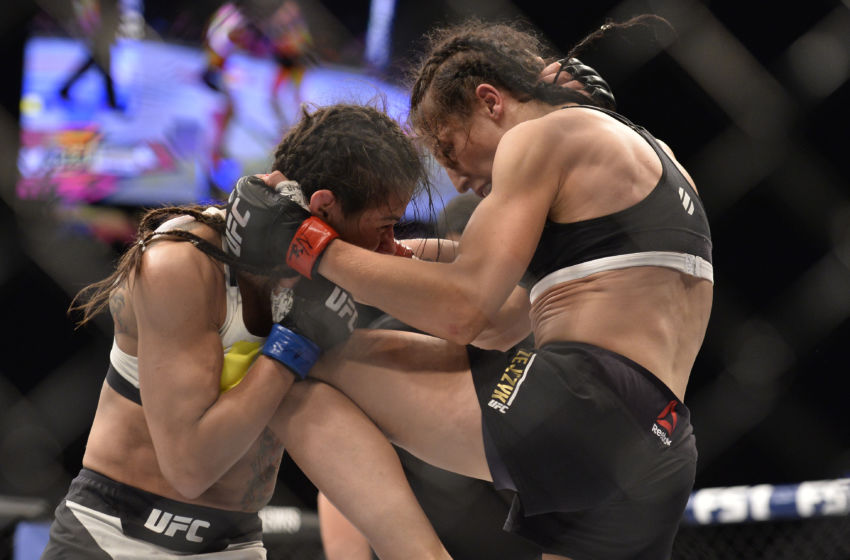 5. Assert her dominance in the clinch
Some common beliefs in MMA are mistaken, but not this one. Karolina's proudest asset is her clinch work. Watch her fights. This is where she inflicts the majority of her damage. Her elbows and knees are nasty, and exhausting to deal with.
Rationally, it would seem sensible to say avoid the clinch altogether. However, that makes the unknown assumption that Kowalkiewicz' is better. We don't know that yet, and considering Jedrzejczyk has a top-level clinch game herself, we won't know until Saturday.
Plus, it will happen at some point. When it does, it is pivotal the champ asserts herself immediately. Those elbows of hers are bats from hell, and she must use her slight height advantage to its fullest.
The more damage the better. A barrage in the clinch will make the challenger question herself. It will make her question what she is best at. If done effectively and early, the demeaning effect could be vital in the trajectory of the fight.
If she can get Kowalkiewicz' back against the cage, even better. That's not where she's most comfortable, though she does have some sneaky trips. This needs to be avoided at all costs. The champion cannot afford to have a close round decided by a takedown.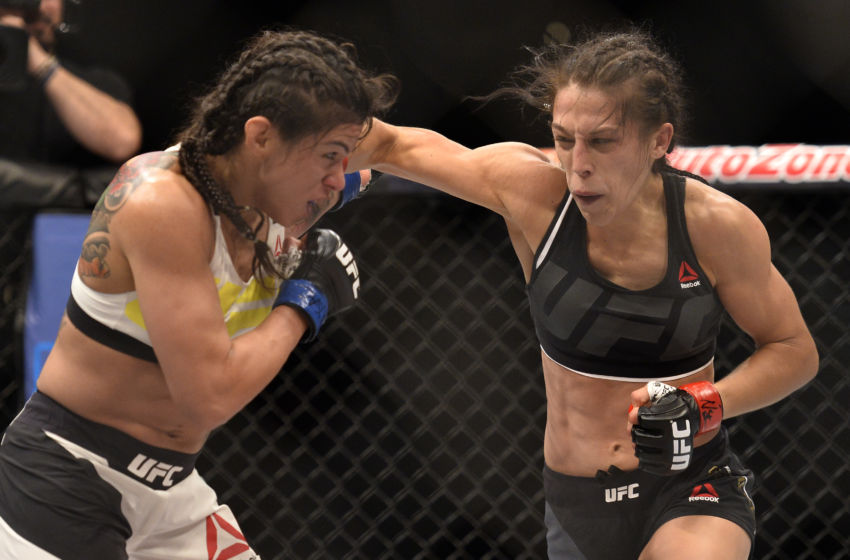 4. Powerful countering and combinations
When not clinching, the majority of Kowalkiewicz' offense comes in short bursts of momentum. She hops inside, outnumbers her opponent with strikes, then leaves the scene promptly.
Luckily for the champ, Kowalkiewicz has an awful habit of leaving her head static and open when she steps in. Against lesser opponents, her method of "I hit, you hit, but I hit more" works. It is a matter of ratio. But Jedrzejczyk is the strawweight powerhouse of quick and cutting counter combinations. In fact, countering is one of her finest tools.
Therefore, she mustn't let the challenger leave the pocket without a souvenir to return with. If Kowalkiewicz gets the sense she is losing whenever she engages, her frustration will rise. In such an intense situation, this will either cause her to become desperate, or it will result in excess hesitation.
Jedrzejczyk can take advantage of either of these.
Additionally, the champion isn't one to be out struck in a contest. Her fluidity is incomparable. Though Kowalkiewicz hits often, her combinations are frequently sloppy and lack in power. That is a stark difference between the two.
Joanna "Champion's" combinations hit the mark, and at the very least they sting. She has a vast catalog of recipes to call from, and it's important she doesn't just use them to counter. Pressure, unusual angles, and thoughtful combinations are priceless in this encounter. In the strawweight division, few things are more valuable than cumulative damage.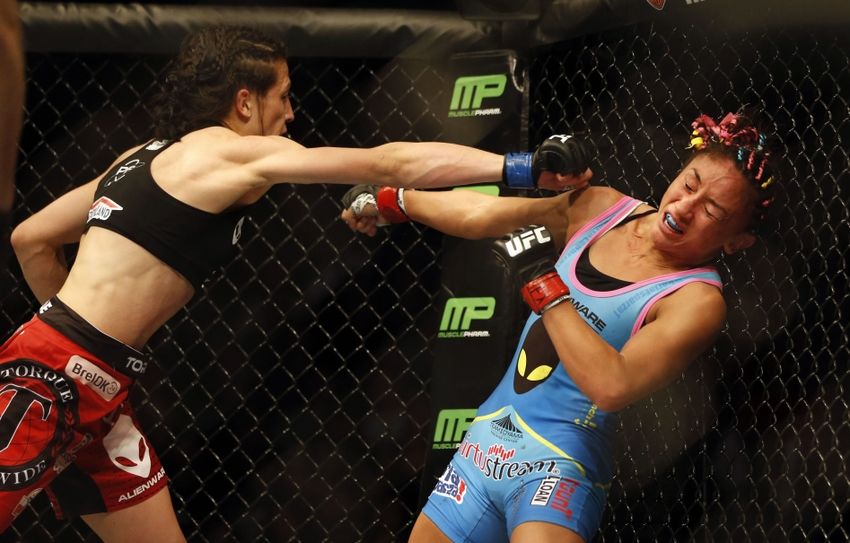 3. Wear Kowalkiewicz down
This point leads directly on from the last. It is known the champion has sublime cardio. And we are yet to see the challenger beyond the third round. Thus far, she appears to have a healthy well to draw from, so there's a possibility Kowalkiewicz could enter those final stages in good condition. Whilst this would make for some exciting late rounds, it's best Jedrzejczyk prevents that from happening.
Both fighters sometimes start a tad slow. Jedrzejczyk should take away this comfort. Start hard and fast. Let her know she's in a true championship fight from the very beginning. Don't let her walk into unfamiliar territory, drag her through it. Hard body shots, movement, countering and combinations will all progressively weaken Kowalkiewicz.
This will allow the champion's usual late fight fireworks to reach maximum effectiveness. There are few things in life more terrifying than a fresh Joanna Jedrzejczyk in the fourth and fifth. It's nightmarish. Just ask Claudia Gadehla.
Despite the fact Kowalkiewicz is a very stoic and composed person, do not forget that she hasn't been in a five-round fight before. Her first experience of this is on the biggest stage possible. The champion has fought under huge pressure multiple times, and if she puts everything together into one complete performance, there are few who won't crumble under this pressure.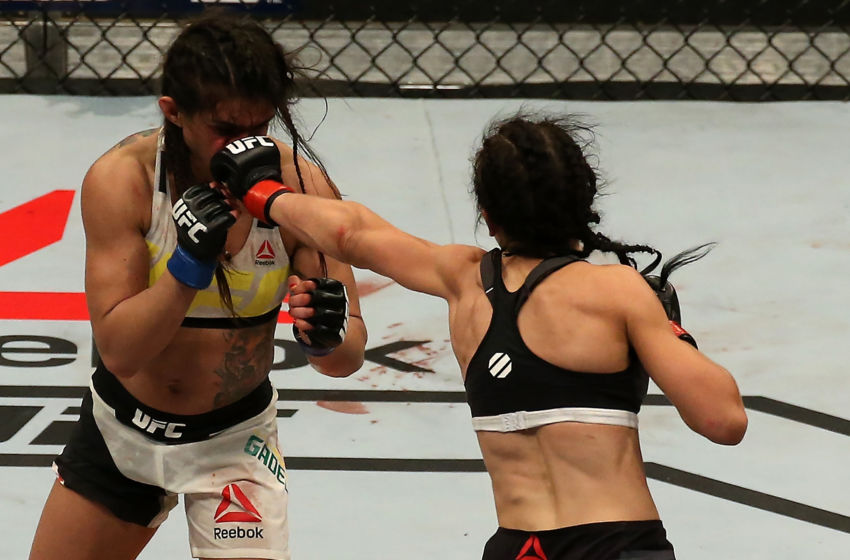 2. The Jab
Okay, this might seem like an overly simple pointer. "To win, she's got to hit her!" But let's look at this more closely. Though she throws in high volume, Kowalkiewicz has a contemplative style.
That seems like a juxtaposition, but it's not. She rounds her opponent's position like some engrossed stalker, awaiting her opportunity. And she finds them opportunities plentifully. Circling and attacking is a simple enough idea, but it's not so simple to perform effectively at the highest level of MMA.
Kowalkiewicz has put the puzzle together well so far. But the last time she fought someone like the Jedrzejczyk is when she last fought Jedrzejczyk. Since her manipulation of space is where many of her assaults stem from, this must be broken up.
Jedrzejcyk's remedy for this is in the jab. And luckily, Joanna "Champion" has one of the finest jabs in women's combat sports. But the jab alone won't suffice. She must break the rhythm, and then use her intricate combinations to direct her opponent into a tighter area.
For Jedrzejczyk, the jab breaks the silence. Then she sees where the conversation is going. Before long, she's raining down all kinds of complex and dangerous topics. Like some hyperactive genius full of coffee giving a lecture and asking questions, whilst the students sit bewildered trying to avoid eye contact.
1. Do not under-estimate Kowalkiewicz
A cliché perhaps, but do not pretend we haven't seen this time and time again. Overconfidence is a problem. We don't want to see what happened with Ronda Rousey at UFC 193, occur again. The UFC definitely don't want that, and UFC 205 is going to be an exceptionally emotional night.
Emotion and adrenaline produce the strangest things. One moment of thoughtless overconfidence could change everything. The last time a female fighter was surrounded with so much anticipation it came crashing down.
Sure, the risks of arrogance are lessened at strawweight, but we've seen the champ get rocked and lose her legs before — albeit briefly. Though Kowalkiewicz' power is sporadic, when her feet are actually planted, she hits hard. And her body kicks aren't to be messed around with either.
And do not miscalculate the strength of redemption.
Losses haunt fighters. They will pretend they don't, but they do. Amateur or not. Kowalkiewicz had to watch her Polish rival rise to stardom, each time being reminded of that experience. The irrational desire to right a wrong is a powerful thing. Jedrzejczyk must ensure her skills quiet that emotional advantage.
Joanna Jedrzejczyk is something special. But believe it or not, she is human. And if this past year hasn't taught you yet, allow me to impart a lesson: there is no sport more precarious than MMA.
And we wouldn't have it any other way.
This article originally appeared on