UFC 205: 5 keys to victory for Eddie Alvarez vs. Conor McGregor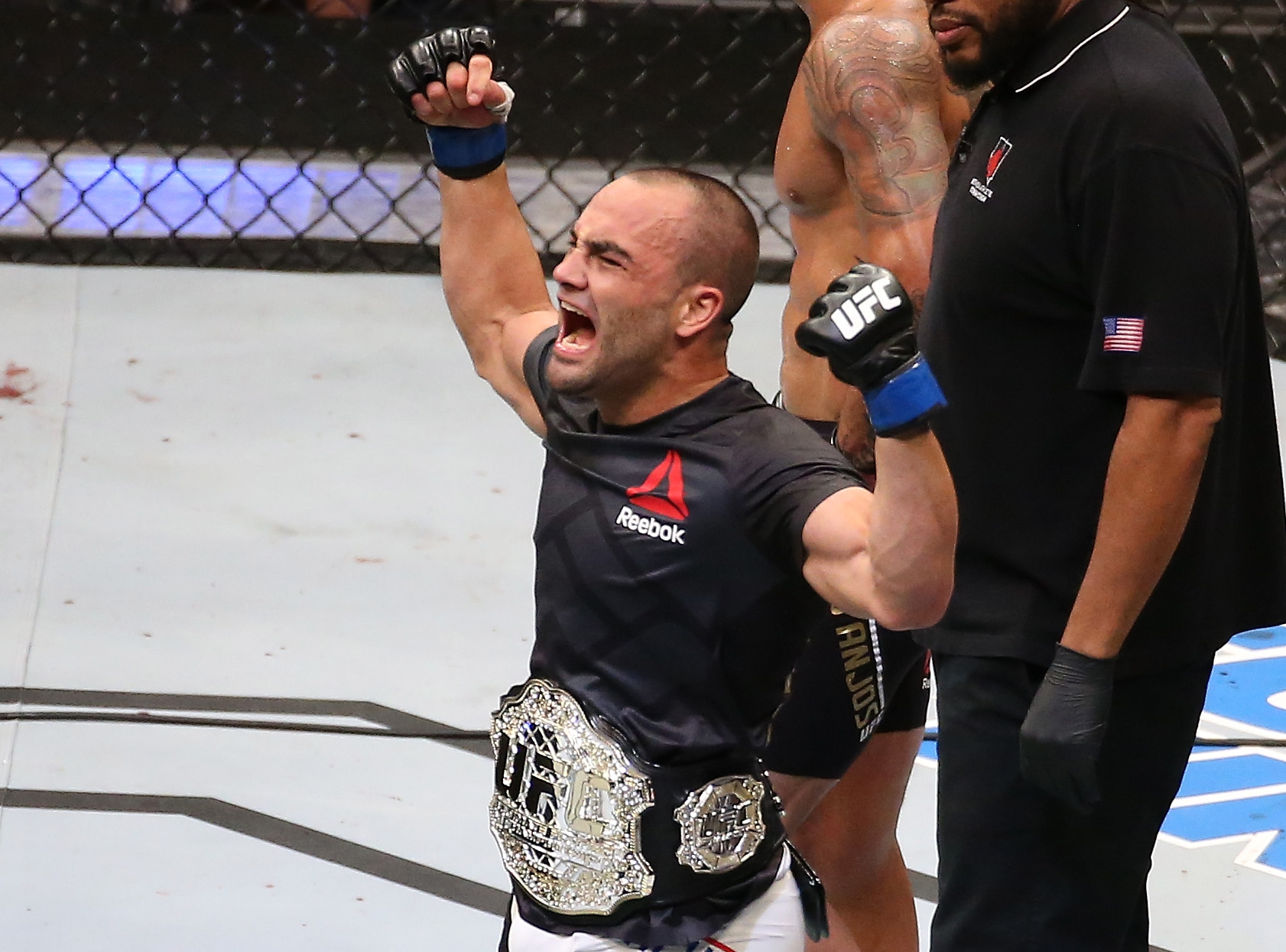 This weekend at UFC 205, Eddie Alvarez will defend his lightweight crown against Ireland's Conor McGregor. Here are five keys to an Alvarez victory.
It's almost upon us. UFC 205 is a mere three sleeps away (excluding naps). Though the event has bankable depth, there's nothing more bankable than the main event. Eddie Alvarez will defend his lightweight title against featherweight champ and weight class maverick Conor McGregor.
No main event has instigated more conversations since, well, Conor McGregor vs. Nate Diaz 2. Yet, it was McGregor's performance in his victory over Diaz that has made this fight even more interesting. And frankly, even more difficult to analyze.
For some, McGregor answered the questions and uncertainty. Others believe he still showed distinct weaknesses that Alvarez will be able to exploit. Though we won't know who's right until Saturday evening, there are few things more fun in life than some good old contemplation.
What exactly must Eddie Alvarez do, or not do, to leave Madison Square Garden with his championship in hand? A complex matter, but here's a brief breakdown of five steps to victory for Philadelphia's "Underground King."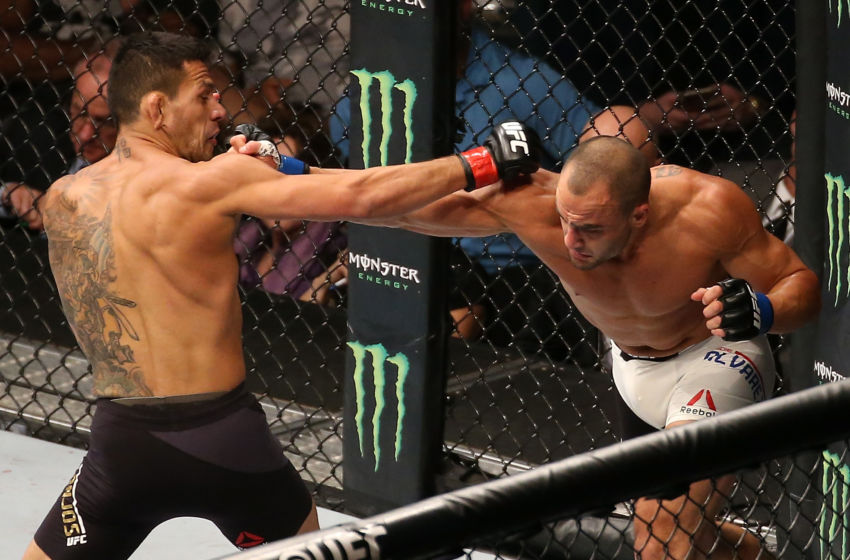 5. Evasiveness
In recent times, Alvarez' boxing style has matured. Or rather, it has developed. The influence trainer Mark Henry has had on this is undeniable. Although he hasn't discarded many of the powerful traditional elements which brought him so much early success, Alvarez has figured out a way to apply them more intelligently. He's a little more in tune with his defensive responsibilities.
This mostly comes through smarter footwork and better spatial awareness. When you watch the highlights of Alvarez slugging Rafael dos Anjos into standing desperation, my point may look false. I'm not saying Alvarez no longer swings wildly. He does. And if the opportunity arises, he will do so again.
I'm also not saying Alvarez has become a guarded fortress. But if you watch the way he circumvented the threat of dos Anjos with his back to the cage, you'll see what I mean. Though it was a short fight, dos Anjos barely landed anything, despite constant pressure. Alvarez' elusiveness was impressive. In this fight, he needs that — but on a much grander scale.
Keeping things centralized is pivotal. Alvarez has to move perceptively, lead the challenger one way and then another, making McGregor work for everything.
Easier said than done, but if anyone can drill an intelligent system, it's Henry. McGregor's reach makes staying safe extra difficult, but the more he misses and moves, the more Alvarez will test his gas tank.
This will be more crucial in the early rounds than the later. "The Notorious" is most deadly in those early rounds. If Alvarez is having trouble finding a way through to McGregor, then evasiveness will be critical.
It might go against Alvarez' fighting spirit, but the longer the fight lasts, the safer he becomes.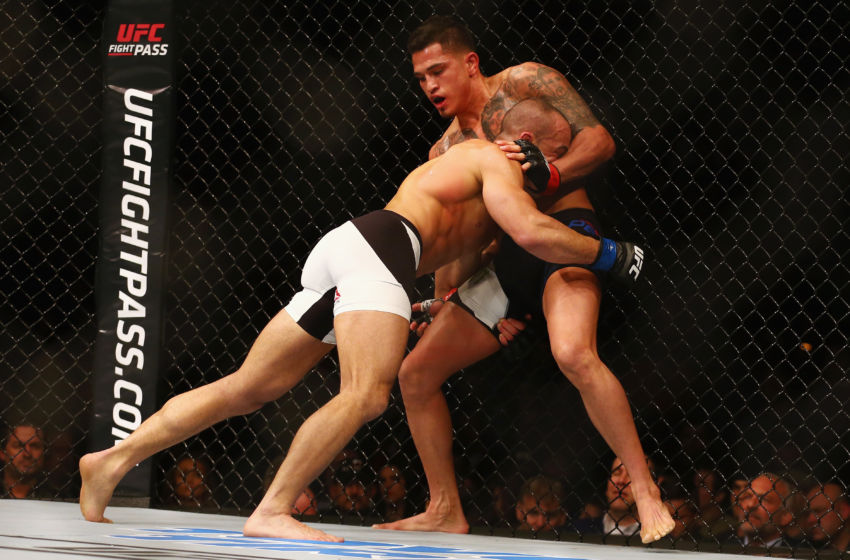 4. Wrestling, and grinding against the cage
A significant amount of the discussion of this fight has revolved around wrestling, McGregor's so-called weakness and Alvarez' so-called strength.
To an extent, this is true. Alvarez is a better, more accomplished wrestler than McGregor. And this is definitely one of the lightweight champion's best routes to victory. But the more relevant question is whether or not McGregor's wrestling defense is enough to keep Alvarez at bay.
This is really a worry for McGregor, not Alvarez. All Alvarez has to do is ensure it becomes a worry in the fight. There was some evident progression in McGregor's defensive wrestling in the second Nate Diaz fight. Despite his best efforts, Diaz found little success beyond wear and tear until the last 15 seconds, when he finally executed a trip.
But it's utterly foolish to suggest Diaz is as good a wrestler as Alvarez. It's equally foolish to suggest he's as good a wrestler as Chad Mendes. McGregor's fight against Mendes offers a more likely representation of how things could go at UFC 205. Alvarez will look at that fight with confidence more than he'll look at McGregor vs. Diaz 2 with apprehension.
Despite all of the Irish fighter's improvements in the space of 16 months, he isn't at Alvarez' wrestling level. And I'm expecting this to be a large part of the champion's game plan. He's the very embodiment of a grinder. For all of McGregor's excellence, he doesn't have the same kind of grit Alvarez has.
So while Alvarez should avoid having his own back to the cage, forcing McGregor against the cage and smothering him down into the ground will change the game. Keep it low, work for the doubles and avoid the clinch. With a full camp, he can do this for the whole fight if necessary.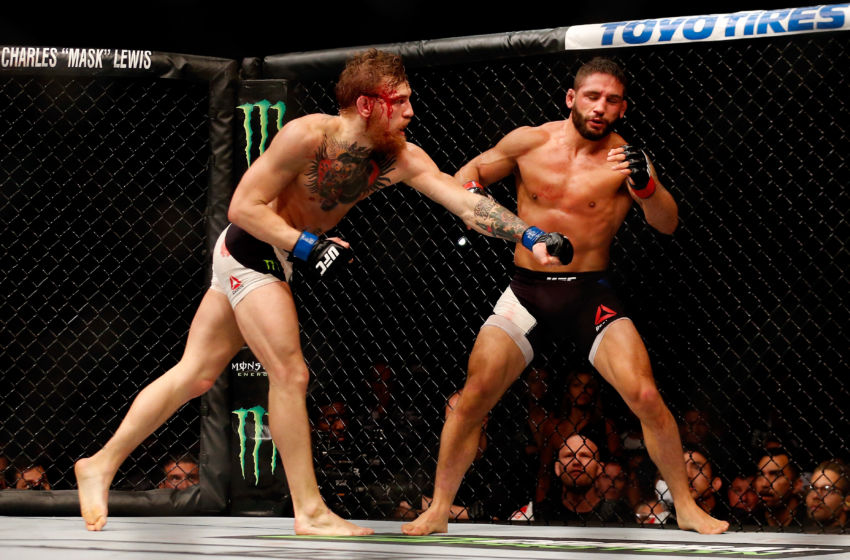 3. Keep his back off the cage
Few fighters close distance as superbly as McGregor. This is where many of his fights finish. It's his home, and he will find his target more than dos Anjos did in that situation.
For Alvarez, it will be extremely difficult to avoid being closed down and enclosed. The ability to trap his opponents and make them panic has been taken to the level of mastery throughout McGregor's career. If Alvarez lets this happen, it could be the end of the fight for him.
The featherweight champ's 5-inch reach advantage can be nulled to a certain extent when Alvarez is controlling the space. But if he ends up here, there will be nowhere to hide. From this point, McGregor can put together the best of his combinations in their purest, most devastating form.
It's best Alvarez avoids the clinch, too. As we witnessed in the Diaz fight, McGregor's clinch is strong, and he was able to dictate and displace Diaz on multiple occasions. Alvarez needs to be in control, and to do that, he has to focus on what he does best.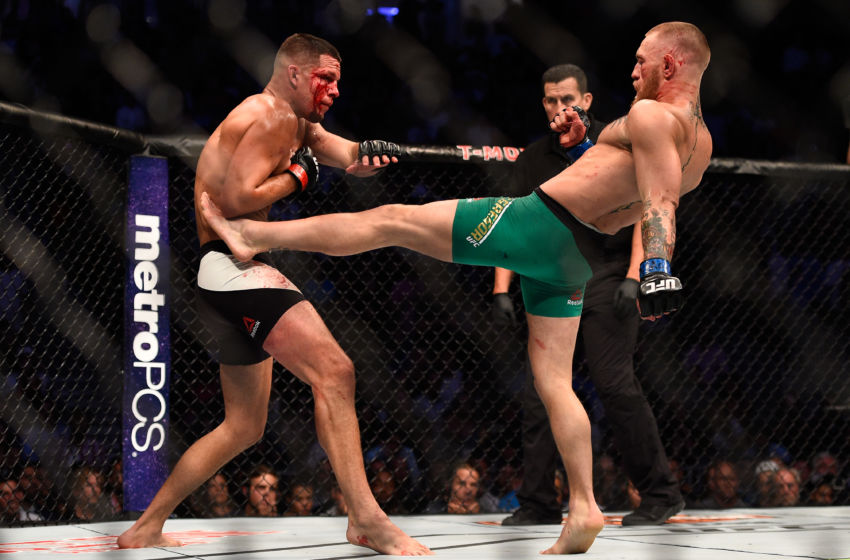 2. Defending kicks and using them for takedowns
In the wrestling section I didn't mention much about takedown attempts from open space. That's not because they aren't a good plan of action. It's because they are a separate art in themselves. Even more so in this encounter.
However, Alvarez must use them wisely. Reckless shooting is not the way to go. Against McGregor, this will open him up to too many counters. For all of the challenger's angle finding and closing down, there's an argument that he's equally good at countering and striking when moving backward.
Why take the risk of losing the fight because of a needless takedown attempt, when a perfectly good opportunity might arise moments later? Direct shots should be employed by Alvarez only in a desperate situation. Until then, he'll be best served by patience and a reliance on persistent movement.
McGregor will look to use kicks. He has witnessed them work well against Alvarez, notably in the Cerrone fight. Alvarez has to remain on his toes and be aware of the leg kicks. He must try to avoid McGregor's harsh front snap kick. And the moment McGregor throws a kick above the legs, seize the moment. Get in there, and take him down.
This way, there's less risk of being hit by something powerful on the way in. But once he has McGregor on the ground, the wait will have been worth it. If there is one way the "Underground King" can be truly dominant, it's in his groundwork.
This will exert the challenger and weaken him significantly. The more time Alvarez spends on top, the better.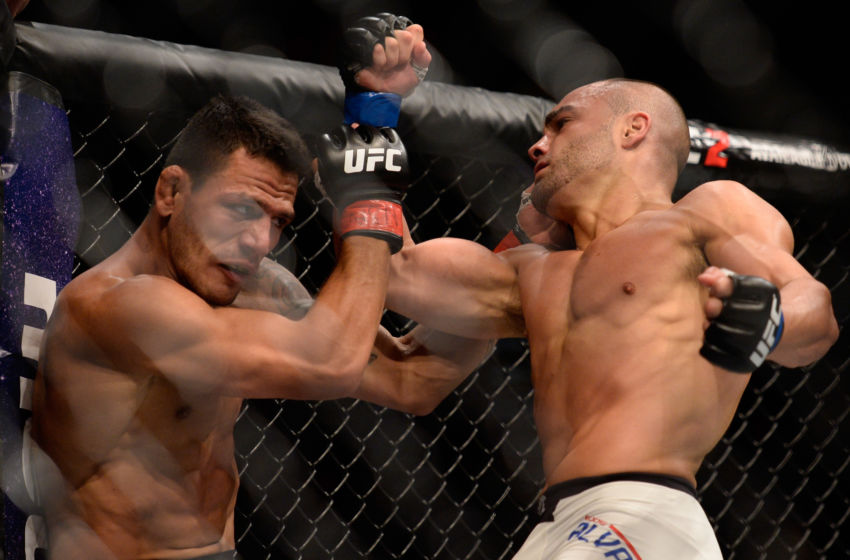 1 . Going in the for the kill
Though contradictory to my other points, I feel a big appraisal of Alvarez is necessary.
For all the tactical talk of defensive duties and avoiding McGregor's offense, many of his victories have come from toughness and unwavering determination. He has fought remarkable opponents this way, survived, and come out victorious.
My perspective comes from a pragmatic outlook. But when it comes down to it, who am I to tell Alvarez to be careful? He's one of the most decorated lightweights in MMA history. This is a man who has taken risks his entire career and been successful 95 percent of the time. He's also smart enough to know when to switch up his game, like he did against Gilbert Melendez.
The last time Alvarez lost by a TKO was almost a decade ago, in 2007. Since then he's taken shots from a wide range of hard-hitting individuals. None of them had the record and reputation "The Notorious" has, but Alvarez' sturdiness is undeniable. For all we know, he could step into that danger zone, land a shot, and change the game entirely.
If we are to believe his own words, anyway.
And when Alvarez smells blood, he must go for the finish. The man from Philadelphia must do what Diaz could not at UFC 202 — finish McGregor when he's at his weakest. Alvarez is better equipped with power to accomplish that task. Yet the Dubliner does adapt well throughout a fight, and if Alvarez fails to finish him here, the opportunity might not appear again.
Alvarez has never had a bigger opportunity to impress on a global scale. He can rise from his position as the "Underground King" to the forefront of the mainstream. But that is dependent upon him stopping McGregor from accomplishing history.
Time will prove everything.
This article originally appeared on