UFC 205: 5 keys to victory for Conor McGregor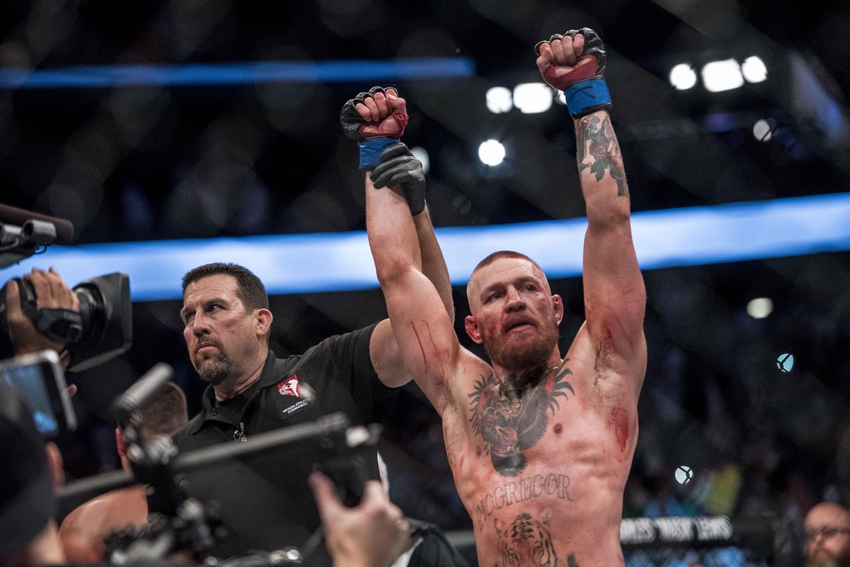 Conor McGregor will look to become the first ever two-weight world champion at UFC 205 against Eddie Alvarez. Here are his five keys to victory.
In the main event of UFC 205, Conor McGregor will look to make history. Challenging Eddie Alvarez for the UFC lightweight belt, if victorious, he'll be a two-weight world champion, the first ever in UFC history.
It won't come easy, though. Alvarez is a very tough competitor and can pose many problems for McGregor. He has to be prepared for a war against someone like Alvarez.
In the next couple of slides, you'll see the five keys to victory for Conor McGregor at UFC 205. McGregor's fighting skill and mental game will be crucial in this matchup. If he does what he needs to do, he will be a two-weight UFC world champion.
5. Leg kicks
Prior to the rematch with Nate Diaz, McGregor never really utilized leg kicks. But, in the fight, he used them and they were effective. We're sure he decided to use this strategy because of Diaz's other bouts. His fight with Rafael dos Anjos stands out the most in that aspect.
With Alvarez, leg kicks are definitely something he can use. When Alvarez made his UFC debut, he faced Donald Cerrone. He found early success, but Cerrone eventually began to pick him apart. Part of that was with leg kicks. The leg kicks began to pile up and eventually, he forced Alvarez to fall because of them.
Now, this is an unlikely scenario. It's not like McGregor has amazing leg kicks. But, it definitely is a useful strategy to add to his game plan if he wants to win. With leg kicks, he can not only hurt Alvarez, but also accomplish a variety of other things.
With leg kicks, he'll be able to set up many other attacks. Just by chopping down his legs, he leaves Alvarez vulnerable to other shots. For example, his left hand. McGregor has a powerful left hand and if he lands that, he could very well put Alvarez out.
Leg kicks will set up his offense, but it will also stop Alvarez's output as well. Again, we aren't sure to what extent McGregor plans to use leg kicks. But, if he does decide to go that route, it'll pay off in the fight.
4. Mix up his attack
Leg kicks can be useful, but it's definitely not the only way he'll win. McGregor has many tools in his arsenal. Known as mostly a boxer, he can throw a variety of strikes and in his own words, "hit you from anywhere."
We've seen him land spinning back kicks in his fight against Diego Brandao. We've also seen him attempt many other different kicks, such as a hook kick against Dustin Poirier and a number of different kicks in the butchering of Chad Mendes.
Most recently, he threw a nice flying knee against Diaz. So, yeah, he can definitely hit Alvarez from anywhere. In order to be successful, he'll have to do just that.
Alvarez is a very tough and durable fighter. If he plans on finishing him, he'll have to land and land often. McGregor is known for that one shot knockout power, but it's hard to think that he'll do it to Alvarez, who has been dropped multiple times throughout his career and he's great at recovering.
Of course, McGregor can land that one shot and put him out, but you never know. Not only should McGregor go for the chin, but attacking the body is also essential. He needs to break down Alvarez and this will lead him to the finish.
High volume, precision, and an array of attacks will be essential.
3. Counter striking
This is nothing new. Time and time again, we've seen McGregor use counters and very effectively at that. The perfect example of this was his fight against Jose Aldo. Aldo was over-aggressive and paid for it big time.
McGregor caught him with a vicious left hook counter and put him to sleep in 13 seconds. Now, this isn't the only time we've seen McGregor use counters. In most of his fights, he's able to counter his opponents with his left hand and hurt them badly.
There's one particular fight that happened outside of the UFC. Back in his Cage Warriors days, he faced off against Ivan Buchinger. McGregor caught Buchinger with a picture perfect counter that put him out. Ultimately, this was the fight that got him signed to the UFC.
In his UFC debut against Marcus Brimage, he also utilized counter uppercuts to hurt Brimage before finishing him off with strikes on the ground.
Finally, in his most recent fights against Diaz, his counters were very effective. In the first matchup, battered Diaz up with strong counter punches. In the second fight, even more so. He was able to counter Diaz on numerous occasions and even dropped him a couple of times.
As you can see, McGregor is no stranger to the countering technique. Alvarez usually uses a lot of pressure in his fights. Things could very well go bad if he tries to be over-aggressive with McGregor.
2. Defend takedowns
If there's one weakness that we've seen in McGregor's game, it's his grappling. We saw him get taken down and controlled by Chad Mendes, and we saw him get submitted by Diaz in the first fight. But, make no mistake. He's been working tirelessly on improving that part of his craft.
With training partners like Gunnar Nelson and Dilon Danis, who are accomplished grapplers, this is a no brainer. We saw immediate improvements in his rematch with Diaz. Other than the final seconds of the fight, McGregor stuffed every takedown attempt from him.
Alvarez is a better wrestler than Diaz, though. He'll definitely be looking to put McGregor on his back and work from there. But, it's highly doubtful that he's a better wrestler than Mendes, and look how that fight turned out.
Regardless, McGregor needs to keep this fight on the feet. Alvarez is a great striker, but there's no doubt that McGregor is more comfortable there. With his recent improvements in cardio and his UFC debut at lightweight as well, we expect his conditioning to be better than ever as well.
Sprawling and brawling will be the key here. If he stuffs Alvarez's takedown attempts, he's that much closer to getting the win.
1. Stay confident
We all know McGregor for his incredible fighting skills. But, if there's one other aspect that stands out even more, it's his confidence. He's extremely confident, both in and outside of the cage. You may even say that he has the fight won before he even steps in.
Leading up to his fights, McGregor does a ton of trash talk. Some of it is funny, but he truly speaks his mind about his opponents. On numerous occasions, he has predicted the outcome of his fights. It's crazy how these fights go the way he plans.
To give some examples, his fight against Poirier. Not only did he predict a knockout, but he predicted the round. That fight went exactly how he said it would go. Another one is the Aldo fight. If you look up clips of him warming up in the back, he was practicing a left hand counter. It turns out that the same left hand counter was the shot that was used to put Aldo away.
McGregor has this thing about him that many other fighters don't. He's extremely confident in everything he does, even when he's not fighting. From the way he carries himself in his personal life, to the way he prepares for his opponents, and so on, he's always mentally prepared.
The day he loses this aspect of his game, we find it hard to believe that he'll be as successful as he is. It's essential that he stays confident in every aspect of the game. If he does, on Saturday night, you'll see a fighter who's confident with everything he's doing in that cage. That won't turn out very well for Alvarez.
This article originally appeared on