UFC 203: CM Punk's debut and 10 reasons to watch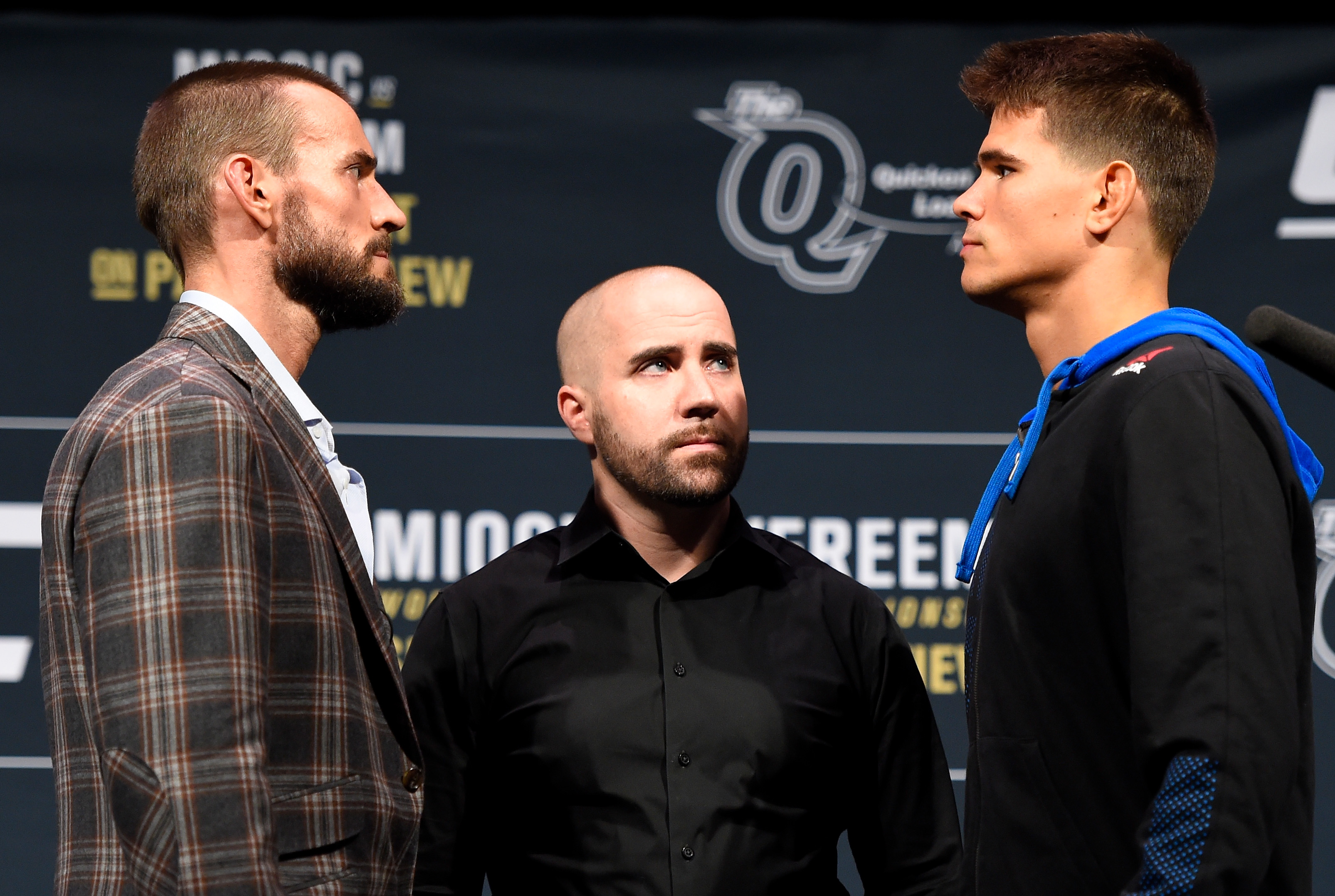 CM Punk isn't the only reason to watch UFC 203. Here are 10 other reasons, including important returns and title fights.
UFC 203 is a few days away and it's already marred with controversy. The issue that many individuals are taking with this major MMA event is the inclusion of one man: Phil "CM Punk" Brooks. Whether people were familiar with him or not back in 2014, when he signed his deal with the UFC, people are certainly informed to who he is at this point.
After a 20-year career in professional wrestling, Brooks leveraged that star power as the former WWE champion, into becoming a member of the UFC. While both he and the UFC differ as to who made the call first, it's clear that Brooks is a man on foreign soil. Even still, he's one of the biggest, if not the main reason, most people will tune into the show on Saturday night.
However, the battle between Brooks and young Mickey Gall isn't the only contest set for the evening. The show is headlined by a battle for the heavyweight title between long-time star Alistair Overeem and current UFC champion, Stipe Miocic. Overeem has an opportunity to become perhaps the best heavyweight fighter of all-time with a win, while Miocic attempts to defend a rare Cleveland title at home.
These are just two of the reasons to tune in on Saturday, but this list breaks them and eight other reasons to watch UFC 203.
10. Brad Tavares attempting to right the ship
Time away can be a great thing for a young fighter. 28-year-old Brad Tavares is making his UFC return after a year away from the Octagon. Most may not remember Tavares and his run that started in 2012 and went through early 2014 when he won five fights straight. Since then, he's dropped three of his last four and looked like a hampered version of himself. After losing to Robert Whittaker in 44 seconds at UFC Fight Night 65, Tavares took an extended amount of time away from the fight game.
It seems like much of the fight community has forgotten about Tavares. With a 15-4 record, he has a strong resume that includes 8-4 UFC tenure. He's well outside the Top 15 in the weight class, but he has a tough-test in Caio Magalhaes on Saturday. This isn't a fight that involves big names in the sport, but it's the type of gritty matchup that will test both men.
There was a time in which Brad Tavares was inching his way up the middleweight ladder before that ladder was kicked out from under him. At UFC 203 he looks to remind everyone that he's a name to watch at 185 pounds.
9. Jessica Andrade – Is she a contender?
Jessica Andrade put on a show when she debuted as a strawweight against Jessica Penne. She put a beating on Penne that would have resulted in assault charges had it not occurred inside the Octagon. With that win, she put herself in a compelling position within the 115-pound division in which some wondered if she finally found the right weight class. Dropping the 20 pounds needed to get here seems to have lit a fire under her and sets her as a focal point leading into UFC 203. If she storms through Joanne Calderwood then the MMA community may be looking at the next contender to the title.
However, this fight against Calderwood is a large task. Calderwood has shown a durability and fight IQ that makes it difficult for opponents to be able to pressure her into bad positions. In fact, she's known for dragging opponents into gritty fights that test the limits of their cardio and mental toughness. That is where Andrade has struggled in the past. When she was fighting in a heavier weight class she struggled with her gas tank and now cutting all of this weight may have a larger impact in that way.
Both Calderwood and Andrade can go a long way in adding their name to the short list of contenders if they can put forth a grand performance at UFC 203.
8. Jessica Eye vs. Bethe Correia – pink slip flight
The women's bantamweight division is in an interesting place at this time. Amanda Nunes is now the champion as the title has changed hands three times in less than a year. Ronda Rousey's dominant grip of the weight class is long over and it seems like no one else is in a position to stake a claim as the queen of the division.
Jessica Eye and Bethe Correia are both on the outside looking in. Eye and Correia are riding a combined five-fight losing streak. At one point, both of these women were surging in the division; Correia even reaching a title shot against Rousey, but being dispatched in seconds. While they were having a sense of success in the cage, much of it was due to their ability to garner attention vocally as opposed to through their abilities in the cage; which are reflected in their current struggles.
As the status of the female fighters on the UFC roster continues to improve, Jessica Eye and Bethe Correia are on the chopping block coming into UFC 203. A bad loss or bad performance all around may result in both of these women being forced out of the promotion and looking for other opportunities.
7. Jimmie Rivera's opportunity to kick the door down
The 135-pound division is in a position in which new contenders are slowly rising to the top, but not fast enough to attract long-term attention. Jimmie Rivera has the chance to change that. If, and only if, he can get through a former champion in Urijah Faber at UFC 203.
Rivera is a lesser-known talent who is in a position to pick up a career-changing win. It's well-known that Faber is a tough opponent that only seems to lose when he's fighting for a title. Outside of those bouts he consistently outclasses younger talent. Even still, many people are picking Rivera to change that trend as he's a slight betting favorite heading into the event. Since coming into the promotion he's shown an ability to earn quick stoppages, make adjustments in close fights and outright dominate the competition. Faber is the biggest name that he's faced at this point in his career and comes with the biggest risk and reward factor.
With a win, Rivera can find himself on the short list of future contenders for the 135-pound title. Perfect timing is a big part of getting a shot at the belt and if Rivera can find a way to dispatch Faber during the preliminary main event he's going to attract major attention heading into late 2016-early 2017.
6. Remember Urijah Faber?
"The California Kid" steps back into the Octagon on Saturday at an intriguing place in his career. The former WEC champion has failed to get a UFC title on four occasions. While it would be difficult to find a way to put Faber back in the title picture in any weight class, he's still one of the most prominent names in the sport; especially among the lighter weight classes. Faber is a first-round Hall of Famer in any sense or argument.
Now he heads into UFC 203 against another young competitor looking to make a name for himself by dispatching Faber. These are usually the fights in which Faber looks the best. Faber rarely loses in non-title fights and Jimmie Rivera is looking to change that fact. At 37-years of age, one must wonder what is really left for Faber. He's vaguely talked about retirement and he's one of the few fighters with viable business ventures outside of fighting.
Still, there's something enchanting about hearing "California Love" blaring from the sound systems as Faber makes his way to the cage. UFC 203 may be one of the last times the MMA community gets to enjoy his presence and it's quite an important one.
5. Can Travis Browne put together a run?
Travis Browne was once on a run towards a title fight. He came into the UFC and put up a 4-0-1 record before running into Antonio Silva at UFC on FX 5. He rebounded nicely and won three straight fights and was on the cusp of an opportunity to fight for the title. That was before Fabricio Werdum dominated their fight at UFC on Fox 11. From there, Browne has looked like a shell of himself, unable to get the momentum going in the right direction.
The volatility of the heavyweight division leaves the door open for any name to bounce into contention at a moment's notice. If Browne looks like the "Hapa" of old and blows Werdum away, the narrative on his career would completely change in an instant. Remember, he also has a win over Alistair Overeem who could become the heavyweight champion when Saturday evening is over.
The opportunity to leverage that victory into a title shot is there, but the first step in that goal is to get past Werdum. Taking a loss as a heavyweight doesn't hamper a career as much as it does in other weight classes, but Travis Browne needs to find a way to get back on track at UFC 203.
4. Will Fabricio Werdum remind people of his greatness?
It's always interesting to see how quickly some will forget a fighter in the world of MMA. Before Fabricio Werdum ran face first into Stipe Miocic's fist, many were asking if he is the greatest heavyweight fighter of all time. His long-tenured run in the division, the big win over Fedor Emelianenko and defeating Cain Velasquez were the feathers in his hat that pushed him into the conversation. Then he dropped the belt in highlight-reel fashion and the talks of being the greatest heavyweight in the sport passed him by.
In order to get back onto the short list of contenders Werdum must do something that he's done before; defeat Travis Browne. Two years ago, Werdum halted Browne's run towards a title shot with a three-round decision in a fight that many expected to go the other way. In those two years, it seems that Werdum has continued to improve while Browne has struggled, going 2-2.
If Werdum can get another win and do it in an even better way, this time, it would not be a far-fetched idea to see him back into the title picture as the next challenger. Another title run would immediately remind people of his greatness as a heavyweight.
3. Is Overeem a candidate for G.O.A.T?
In combat sports, the heavyweight division is always going to be the group that people want to see. The idea of massive men knocking each other out appeals to the masses and draws their attention. While this isn't always the case in heavyweight MMA, that doesn't stop the debate to find out who is the greatest MMA heavyweight of all time. If Overeem can get the win at UFC 203, there is a good chance people may start to consider his name among the list of the elites.
While people may not like his style of fighting as of late; or question the bulging muscles from earlier in his career; the fact remains that Overeem is a consistent winner. His 41-14-1 record includes victories over some of the greatest competitors in the sport. He has wins over the likes of Brock Lesnar, Fabricio Werdum, Andrei Arlovski, Frank Mir, Junior dos Santos and Vitor Belfort.
He's won championships in nearly every organization where he's fault; earning the StrikeForce and DREAM titles, along with a K-1 World Grand Prix title and even an ADCC grappling win. He's the only fighter to hold three titles in different organizations and be a world champion and K-1 champion. Those are accolades worth noting.
Adding a UFC title to that mantle will immediately include him in the conversation to who is the best of all-time. Defeating Miocic is a tough task to get there, but he has the tools to get the victory.
2. Miocic attempts to defend home turf
Stipe Miocic is a proud Ohio native. When the Cleveland Cavaliers won the 2016 NBA Championship, Miocic was out in the city celebrating like a proud fan. In some ways, he can be given credit for inspiring the team to the victory with his win over Fabricio Werdum earlier in the year.
Now, it's time for him to defend that title and he's doing it in the volatile heavyweight division. This is a group where no man has ever defended the title more than twice. 2016 has been the year where titles change hands before fans have the opportunity to become enthralled with the new champion. Miocic is hoping to stop that trend.
He's facing a very dangerous challenge in Overeem. The fighter also known as "Demolition Man,"  "The Reem," and a host of other names is known for his devastating ability to stop fights with his striking game. While he's shown a penchant for wear and tear in his recent battles, there are those that are picking him as a slight favorite over Miocic coming into this fight.
Stipe has the tools to pull out the victory. His cardio and close quarters boxing abilities have shown to be very valuable in many of the fights he's won during this title run. Overeem has struggled with men that are able to get into close range and force him into a brawling style fight where he can't take advantage of his high-level technique. If Miocic can do the same thing, he may be the first Ohio champion in a long time to defend home turf.
1. The spectacle of CM Punk
Since showing up at a UFC event in 2014 and announcing that he was joining the world of mixed martial arts, "CM Punk" has been the MMA story that will not go away. Comparisons to Brock Lesnar, questions about his age, the validity of him fighting in the UFC; these were just a small sampling of the questions that poured forth once Brooks was tied to the UFC. His former WWE colleagues offered their opinion, while fighters and media members provided their input. After nearly two years of speculation, that moment is here, and no one is sure what is to be seen.
The facts are that Phil Brooks has zero amateur and zero professional fights under his belt. He doesn't have the years of training and active competition as BJJ brown belt and Miller Brothers student, Gall. Every snippet of Brooks' training sessions has been analyzed and over-analyzed with a widely negative response. Still; no one is exactly sure what will happen when he steps into the cage.
The majority of those ingrained in the fight community are expecting Gall to win; mostly in a one-sided affair. There's even a saying that "crazier things have happened" in mixed martial arts. But this is the one time that the response to that statement would be a simple "no." Nothing crazier than a "CM Punk" victory has ever occurred in MMA.
One thing is known, however – people will be watching.
This article originally appeared on