Daniel Cormier responds to Jon Jones' issues with referee John McCarthy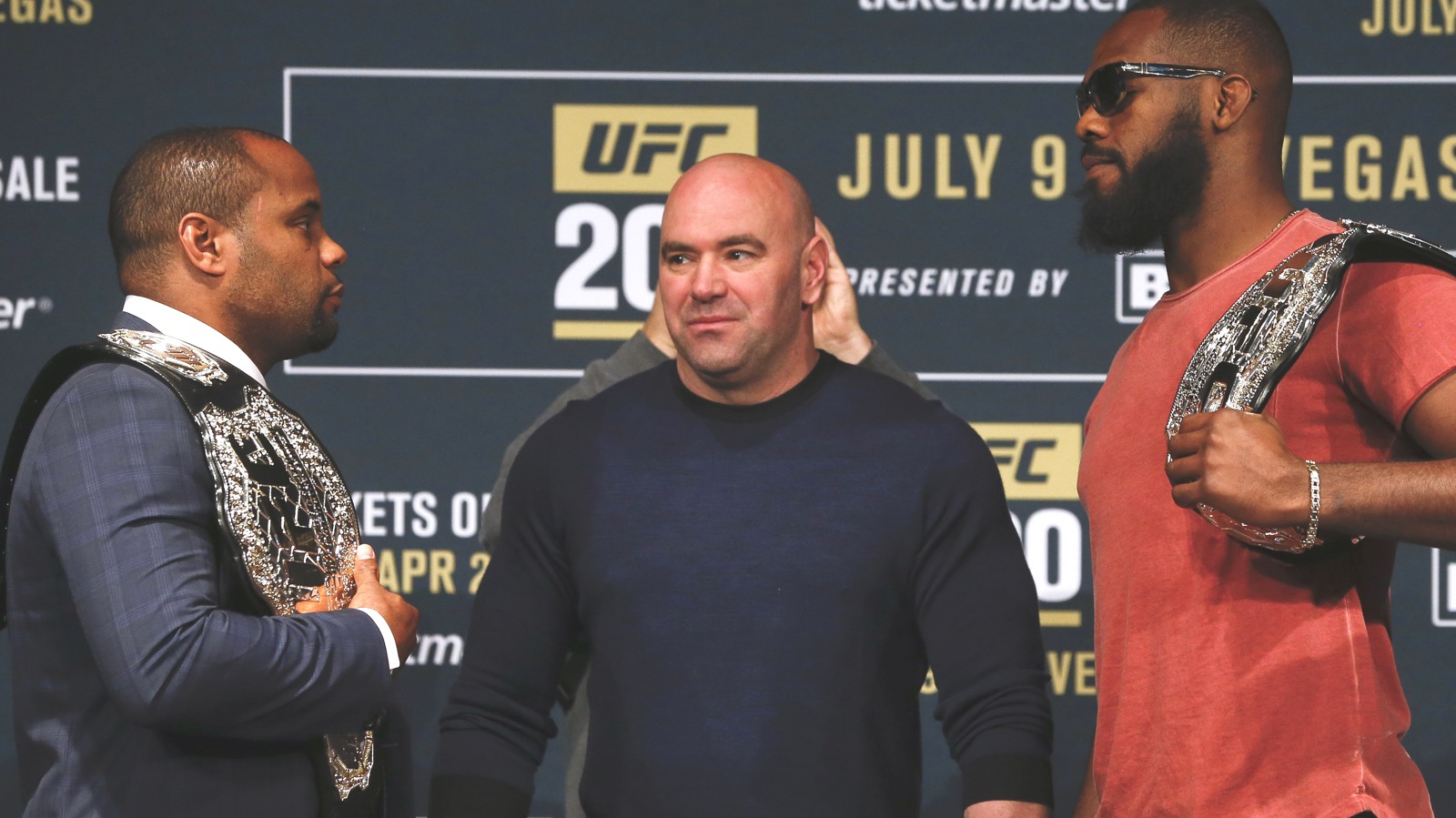 Prior to their last scheduled fight in April, Daniel Cormier voiced concerns about referee Herb Dean overseeing his rematch with Jon Jones at UFC 197.
After Cormier made his complaint known at a meeting for the Nevada State Athletic Commission, Jones ripped him on Twitter for making an excuse about why he lost in the first place.
Excuse of the weak: it's not that I wasn't man enough to get my back off the cage, Herb Dean allowed him to do it

— Jon Bones Jones (@JonnyBones) March 24, 2016
It seems turnabout is fair play because Jones revealed on Tuesday that he would prefer any other referee besides John McCarthy as the third man in the Octagon when he faces Cormier at UFC 200. McCarthy has already been given the assignment and Cormier couldn't help but smile at Jones' complaints, especially after their last dust-up over the officials.
"I think what goes around sometimes comes around. You can't make fun of people because you never know what's going to happen," Cormier said when speaking to FOX Sports on Tuesday.
Jones declined to go into too much detail about why he didn't want McCarthy to referee his fight with Cormier other than saying it wasn't a good "energy" to share in the Octagon.
Cormier believes he knows why Jones has an issue with McCarthy, and it has nothing to do with some kind of kindred spirit he does or doesn't share with the official in charge of their fight on July 9.
I think there are issues between him and Jon because if I'm not mistaken I think he once came out in that little crawling thing he does and Vitor (Belfort) kicked at his head. John (McCarthy) said 'Hey, you want to stay down there and play the game, get up and fight' and I think he also John is very active in terms of correcting fighters with their hands open.
— Daniel Cormier
"There's just a number of things Jon does in a fight that McCarthy, he's big against. I think that's where the issue is," Cormier explained.
Cormier says that Jones has every right to voice a complaint about a referee or judge in an upcoming title fight, especially with so much on the line at UFC 200.
The problem is Jones went about it the wrong way according to Cormier, who had a similar issue in the past. And rather than go public with it right away, Cormier talked to the commission and then spoke to the referee before anything else happened.
"I think that the approach is probably not the smartest approach. Once it happens, it happens. You don't [expletive] on a guy. You try to make amends like when I was actually scared about Herb Dean," Cormier said. "I didn't just say 'I'd like anybody but Herb.' I reached out to Herb and went to talk to him and said I had my reservations. The (Luke) Rockhold-(Chris) Weidman fight — why didn't you stop that fight? The (Cain) Velasquez fight with (Junior) dos Santos and Cain had him hurt very badly on the fence and you kind of touched Cain and he thought that the fight was over and you kind of let them keep fighting. It was weird. You can't touch an athlete, they think the fight is over. I told him these are the issues.
"I also told him after Jon and mine's first fight that we wasted a lot of time in the fifth round, we got criticized for it by Dana (White) saying we did nothing but hug in that fifth round. I voiced my concerns to the commission and that's what you do. You don't go around to the media and say well this guy's a [expletive], I don't want him refereeing my fight. That's not the smartest way to approach it."
In the end, Cormier is happy with the referee assignment because he knows McCarthy is a no-nonsense official who will call fighters on fouls like extending an open hand during an exchange, which could then lead to an eye poke.
As confident as Cormier is going into his rematch with Jones, knowing that the third man in the Octagon is going to do his job is just one less thing he has to worry about.
"I'm very happy about it. I'm very happy to have someone in there that's active. I know referee is supposed to be a third person to protect us, but there are times when they should interject and McCarthy is one of those guys. I'm excited about. I'm happy with the official for this fight 100 percent," Cormier said.
"That's a win. You are trying to win at every turn. Him complaining about the official like that. That's a win. Where as when I complained about Herb Dean — and I actually didn't know it was going out to the world, I thought it was just the commission — but that getting out there, that was a win for Jones. For me, in this instance, this is a win and I feel good about it."
McCarthy has already stated that he didn't know — nor did he care — what Jones' complaints about him were about, but Cormier knows he'll handle himself as a professional when the main event kicks off at UFC 200.
"John McCarthy is a professional," Cormier said. "And he'll do his job to the best of his abilities, regardless of what Jon has to say about it."