Urijah Faber: I'm a title fighter and when I'm not I'll stop fighting
This weekend Urijah Faber will compete for a UFC title for the fourth time in his career and he knows all about the misconception that he's gotten far too many shots after only 14 fights inside the Octagon.
Faber isn't oblivious to the criticism he's received for always hovering around the top of the bantamweight division and constantly being mentioned as a No. 1 contender.
But Faber prefers to think that he's always in title contention because he always beats every contender that steps in his path, and until somebody can stop him, he'll be a championship fighter.
"The title shot thing, I'm a title fighter. That's it," Faber told FOX Sports.
I've been a top contender, I've beaten top contenders, I've been a champion, I've beaten champions. That's it. It doesn't make sense for me to do anything else, otherwise I'll stop fighting.
— Urijah Faber
Outside of his title fights and a lone bout that he took at featherweight against Frankie Edgar last year, Faber has also never lost a non-title bout and that will clearly lead to more shots at the gold.
Faber is also well aware that fans want him to compete in the biggest fights possible, and those are usually the bouts with a championship on the line.
"People want to see me fight TJ (Dillashaw). People want to see me fight Conor (McGregor). People want to see me fight Frankie Edgar. People don't want to see me fight guys that aren't top level," Faber said. "I'll do that because we're in the fight game and you fight whoever they put in front of you, but my goal is to always fight the best.
"That's the mentality. That's what's got me here."
Faber is also mindful about two of those title shots and the circumstances under which they happened, which directly correlates back to his fight with Dominick Cruz at UFC 199.
Faber has twice fought and twice lost to Renan Barao with the bantamweight title on the line, but neither came to an end without an asterisk next to the result and a direct link to Cruz falling out of fights due to injury.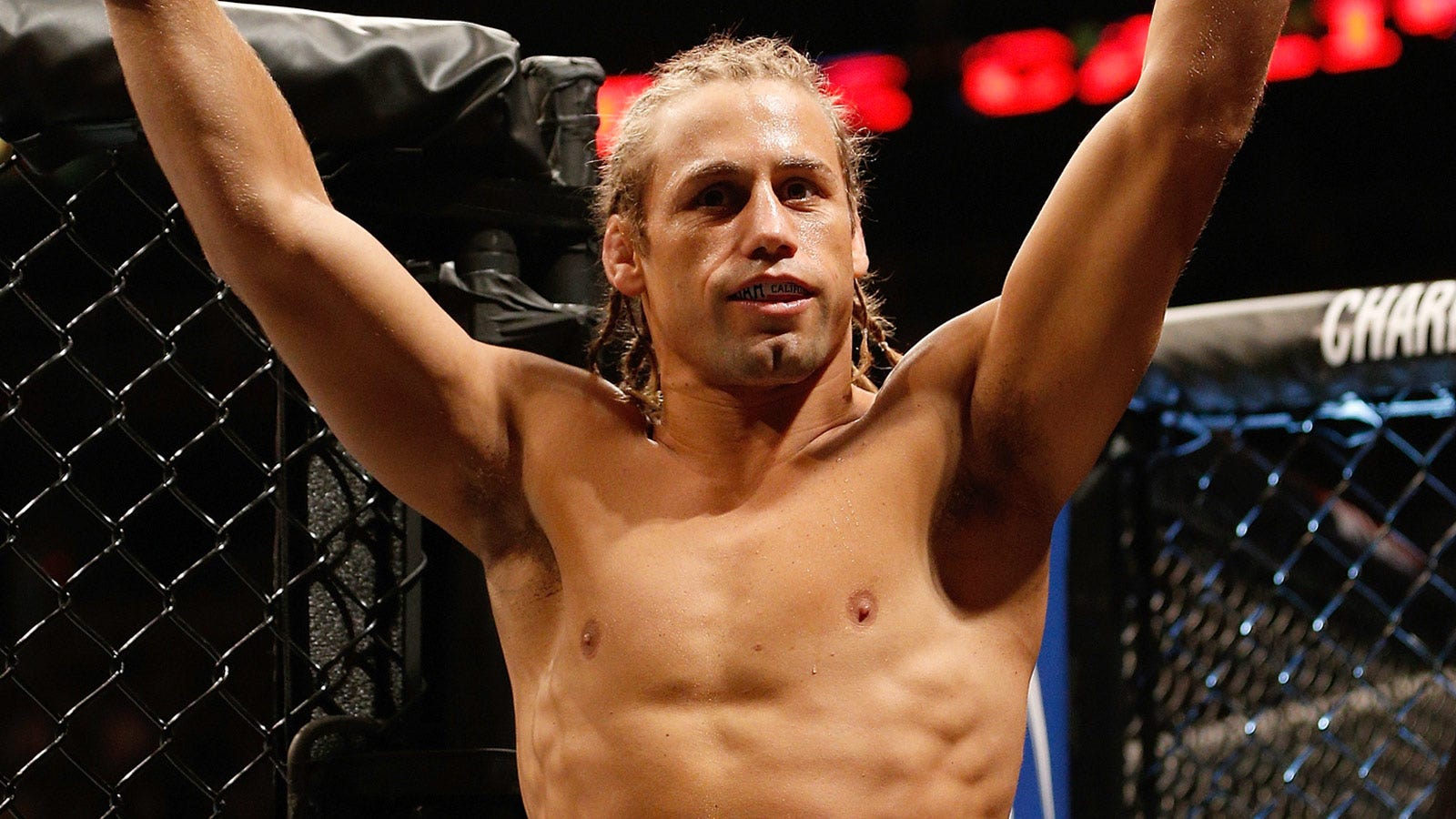 "Have I had a lot of title shots? Sure. Two of those title shots were again (Renan) Barao because Dominick got injured both times," Faber explained. "One of those times it was supposed to be me and Dominick and Barao had to step in and it was a lackluster performance on my part. Barao did enough to win.
"The second one, Cruz got injured with two-and-a-half weeks to go until the fight, I injured myself three days into that training camp and I still (expletive) fought."
His only other title fight loss in the UFC came to Cruz at their second meeting in 2011 and that's why he's so anxious to rectify the past with a win on Saturday night.
Faber and Cruz are natural rivals with a shared disdain for each other that goes back to the time when they first fought in the WEC (World Extreme Cagefighting) in 2007.
While Faber rarely gets into verbal sparring matches with his opponents, Cruz just gets under his skin more than anybody else he's ever fought, although in a way that always seems to bring the best out of "The California Kid" on fight night.
"I enjoy having at least one enemy in this sport," Faber said. "I have a ton of friends and a ton of people that I enjoy being around and like. I like being able to have some banter back and forth and have some real animosity. I think that's something that is important in the fight game and we can't fake it. So I like it."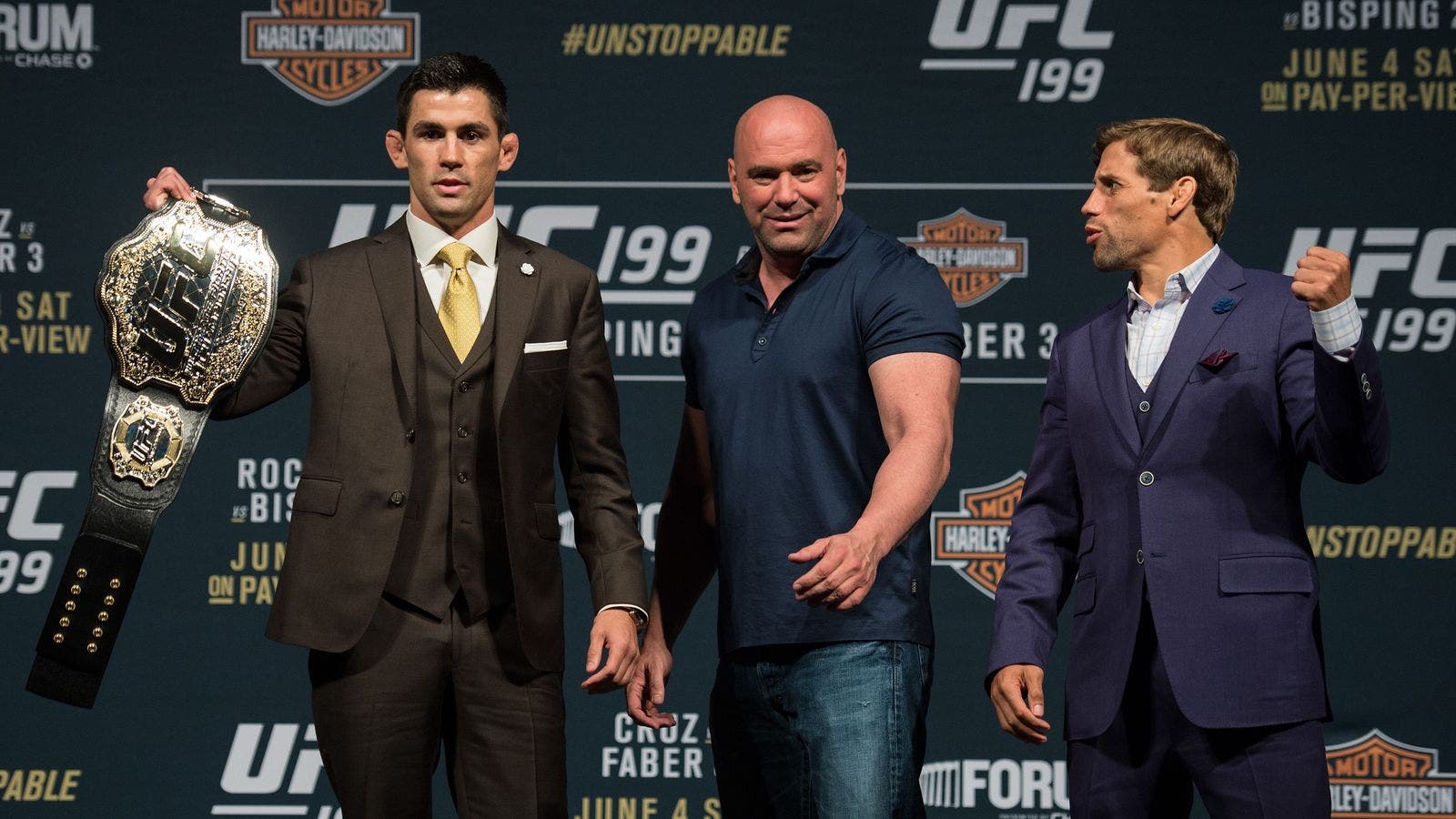 As much as he dislikes Cruz, Faber says he really doesn't pay him much mind in the lead up to their fights. Only when he's forced to sit across from him like he was at the UFC 199 pre-fight press conference on Thursday does Faber really get irritated at whatever Cruz is saying.
"The only time I pay any kind of attention is when I'm right in front of the guy. I'm not the guy that's watching videos or unless somebody tells me what he said, that's about as much acknowledgement as he gets," Faber said. "My dad likes to listen to interviews and tell me what's said occasionally but I'm busy. I'm training. I'm handling business and cutting weight. I don't focus on that guy."
If all goes well for Faber on Saturday night, he'll close the book on his rivalry with Cruz after the two engage in a rubber match after first meeting him in the cage almost a decade ago.
A win over Cruz would also give Faber his first UFC title and while he's had plenty of belts adorn his waist in the past, finally reaching the pinnacle in the biggest MMA organization in the world would definitely mean a lot to the 41 fight veteran.
"It means a lot," Faber said about winning a UFC title. "We've had a lot of champions who have been champion at this age so it's not like an anomaly. I feel very young, I just turned 37 and I feel amazing and I get to test myself everyday with some of the top fighters in the world.
"It means a lot to be able to go with some of the top fighters. It means a lot to be considered one of the best fighters on the planet. But it means a whole lot to be considered the best fighter on the whole planet and that's my goal."