Matt Brown: I want to show Tim Means doesn't belong in there with me
There's no shame in losing to the best fighters in the world, but following two consecutive defeats to current welterweight champion Robbie Lawler and former champ Johny Hendricks it was time for Matt Brown to re-evaluate his priorities.
Brown fell to Lawler after a five-round war and spent most of his 15 minutes in the cage with Hendricks on his back getting outwrestled. He didn't get mauled in either fight, but it still left questions on whether or not Brown could be a legitimate title contender or just another fighter dangling on the fringe of the top five in the division.
The last thing Brown wanted was to fall into the latter category, so following his fight with Hendricks in March he began thinking about all the activities in his life that took away from mixed martial arts.
It was like a diet of excess, except in Brown's case he wasn't cutting out the fat — he was cutting out anything that distracted him from his long-term goal to one day become UFC welterweight champion.
"I've changed my life a lot lately. Trying to re-do my life, trying to rededicate my life to the sport some and for me it's kind of a next level fight for me. I want to make a statement in this fight and show that I belong in the top 10 and guys that are outside the top 10 are just going to be nothing to me," Brown said on the Great MMA Debate when discussing his UFC 189 fight with Tim Means.
"If you're not in the top 10, you're going to get smashed. The thing about the welterweight division is how hard it is to get in the top 10 and once you're there, you're dealing with a bunch of savages. That's what I've got to make a statement to show that I'm part of the savages in there. I want to show you're not f–king with me. Nobody is."
I'm going to let the welterweight division know I'm not going anywhere and let Tim Means know he's in another league now and he doesn't belong in there with me.
— Matt Brown
To achieve this revolutionary change, Brown had to give up a lot of his extracurricular activities, and while some might say being so singular of purpose could end up burning out the Ohio native, he believes it will make him more driven.
Somewhere along the line, Brown started to enjoy life as a top-five welterweight and maybe he took for granted the work that it took to get there in the first place. It wasn't all that long ago when Brown was on a three-fight losing streak, staring at a potential pink slip if he didn't get a win.
He has no plans to return to those kinds of dire circumstances, but Brown knows that he needs that same kind of hunger for survival that saved him from UFC exile the last time so that he can climb back into the title race at 170 pounds.
"I've haven't been taking time out of my day for anything other than to train and fight," Brown said. "I'm getting up early in the morning now every day and training. I've cleansed a lot of things out of my life now. Now I'm going to bed earlier, getting up earlier, the whole thing's changed.
"I'm getting rid of everything in my life that is not a part of fighting. Like I shoot guns all the time, I go off-roading in my Jeep all the time, all these things. I just sold my Jeep. I just sold a bunch of guns and I'm going to be selling a bunch more. Just little things like that. Just one thing after another. I'm cleansing everything out that is not conducive for me to become a champion."
Brown is now getting back to the basics where everything he does will turn his eyes back to the ultimate prize. Instead of off-roading, he goes running with his dog through the streets and the hills to get a better conditioning edge. Instead of shooting guns, Brown contemplates striking combinations and the ways he can batter Means into submission.
"That's where I came from, that's what I started doing and that's what got me to where I'm at. I think I lost a little bit of that," Brown said. "I'm not as foolish as to say 'Oh I had all these guns so I lost a fight.' I don't look at it like that. But I'm just getting rid of anything, if it took 10 minutes out of my time once a month over 12 months and that's 120 minutes out of the year. It actually crossed my mind to get rid of my phone."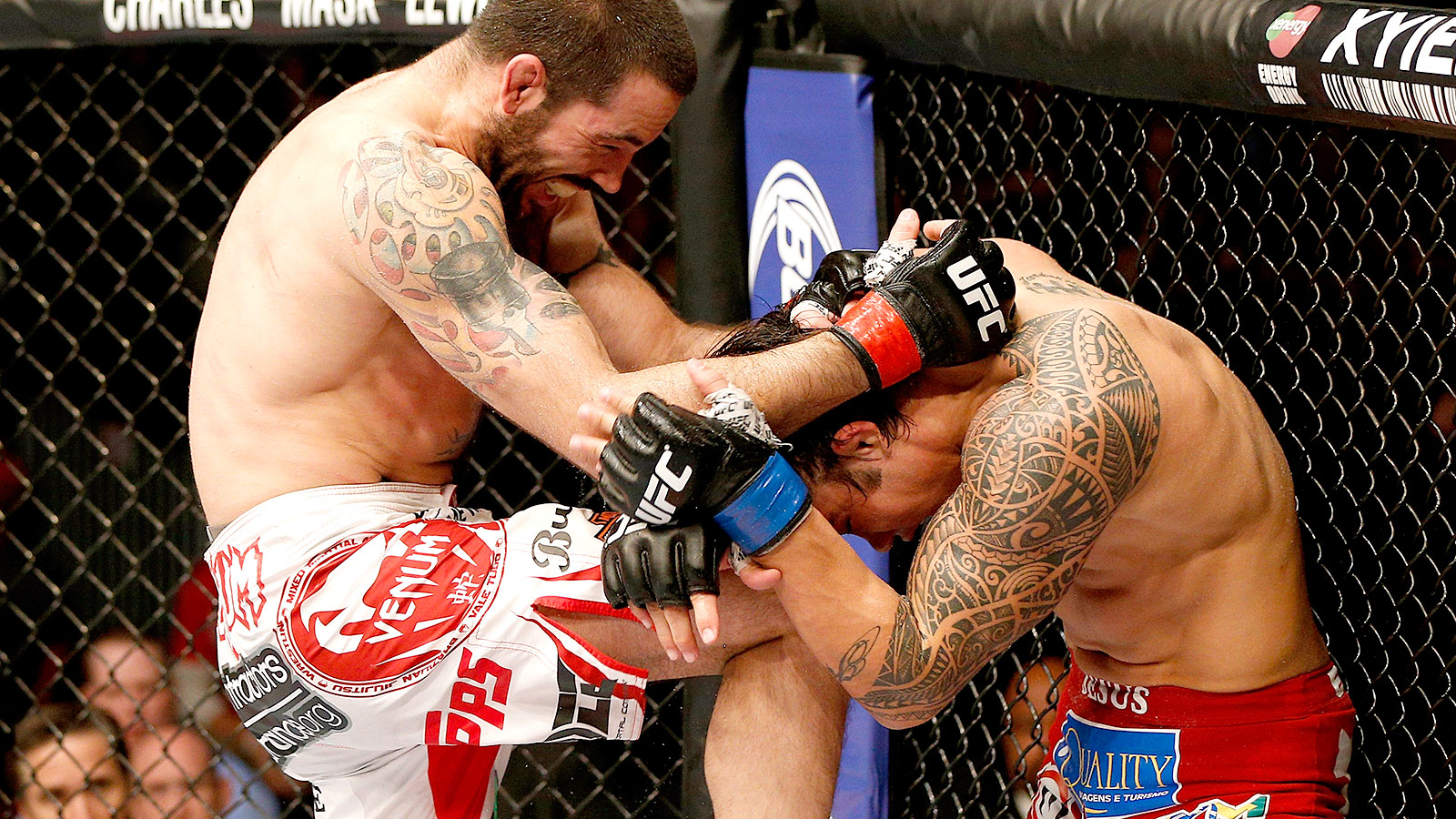 If Brown isn't in training, he's at home spending time with his family. And with a daughter on the way, he's got all the motivation in the world to succeed with his goals.
He knows fighting can't last forever so these are the years to put everything into MMA and then Brown can relax when it's all over.
"I've got twin boys, a dog, a wife and another one on the way. That's enough energy right there. The point is just getting back to the basics, getting back to where I came from, getting back to what got me to where I'm at. I feel like I lost both my last fights by a close margin. It was only little, little things. Maybe if I would have done a little more I would have won," Brown said.
"Maybe if I would have taken 10 minutes (to train) rather than 10 minutes putting a new part on my Jeep. I'm going to make sure there's no regrets. I've got five, six, seven years left in my career and I don't need to rest for the next five, six or seven years. I can rest when I'm done. I can go off-roading every day, go camping."
This weekend Brown will headline the UFC 189 prelims on FOX Sports 1 against Means with one purpose in mind. He wants to assassinate his opponent and send a message to any other welterweight out there that he's far from finished.
Two losses won't define Brown's journey to the top of the division and if anyone has a question about his standing as one of the best welterweights in the world he will answer them this weekend.
"I'm going to go in and make a statement," Brown said. "I'm going to let the welterweight division know I'm not going anywhere and let Tim Means know he's in another league now and he doesn't belong in there with me."