Chad Mendes: Until I'm told otherwise, I'm preparing to fight Conor McGregor at UFC 189
In the time since a stunning knockout win over Ricardo Lamas in April, Chad Mendes has launched a hunting show, signed an eight-fight extension with the UFC and now he might be the savior to keep UFC 189 from falling apart.
Like everybody else this week, Mendes heard about featherweight champion Jose Aldo suffering a rib injury that could force him out of the card on July 11 where he is expected to face Conor McGregor in Las Vegas.
Mendes actually heard about Aldo's misfortune through a teammate and while he didn't know how serious things were with the injury, the No. 1-ranked featherweight wasted no time to put his name in the hat as a potential replacement.
"Basically I was chilling at home and I got a screen shot from Danny Castillo in a group text with all the guys at Team Alpha Male and it was a headliner basically saying 'Aldo's injured'. All of us were talking and they were like 'you need to find out what's happening because this could be a huge opportunity for you'. So I sent it over to my manager and an hour later I get a call and Mike (Roberts) is like 'think you can make weight in a couple of weeks?' and I said 'hell yeah'," Mendes told FOX Sports on Thursday.
Mendes had a trip to Las Vegas planned the next day to shoot some promotional material completely coincidental to the situation happening with Aldo and McGregor, but once UFC president Dana White got wind that he was in town a meeting was arranged.
White explained that Aldo suffered an injury, but they were still hopeful that he could fight. The UFC wanted Mendes to act as a backup just in case Aldo was forced out and his reaction and answer were instantaneous.
I'm treating this like I'm fighting. In my mind, I'm preparing for it. Until I'm told otherwise, I'm getting in there and fighting Conor McGregor for the belt
— Chad Mendes
"I said give me that damn contract. I'll sign it right now," Mendes said. "Basically we just went from there. I ended up meeting with him in his office later that day. It's just crazy how all of this has gone down."
Now here's where things get interesting.
Mendes is contracted to fight at UFC 189 as a contingency plan if Aldo is unable to compete on July 11. The former NCAA All-American has to treat these next two weeks like any other fight camp so Mendes will cut weight, go to Las Vegas for fight week, do interviews, cut video promos and do everything he would normally do except he still won't know if he's competing or not until Aldo walks out to the Octagon.
The UFC didn't give Mendes any kind of indications on whether or not they believe Aldo will still fight, but having gone through a similar rib injury while he was in college he's preparing like he's already got the fight with McGregor on July 11.
"I've had it happen to me in a wrestling match before and had to finish that match out and it was one of the most painful things I've ever had to do. It's definitely not fun," Mendes said. "I don't know to what extent the injury is — is it minor, is it major? I heard there could be some cartilage damage. I wasn't told any percentage of how much I would be fighting or not, but I'm just basically gonna get ready and treat this like I'm fighting."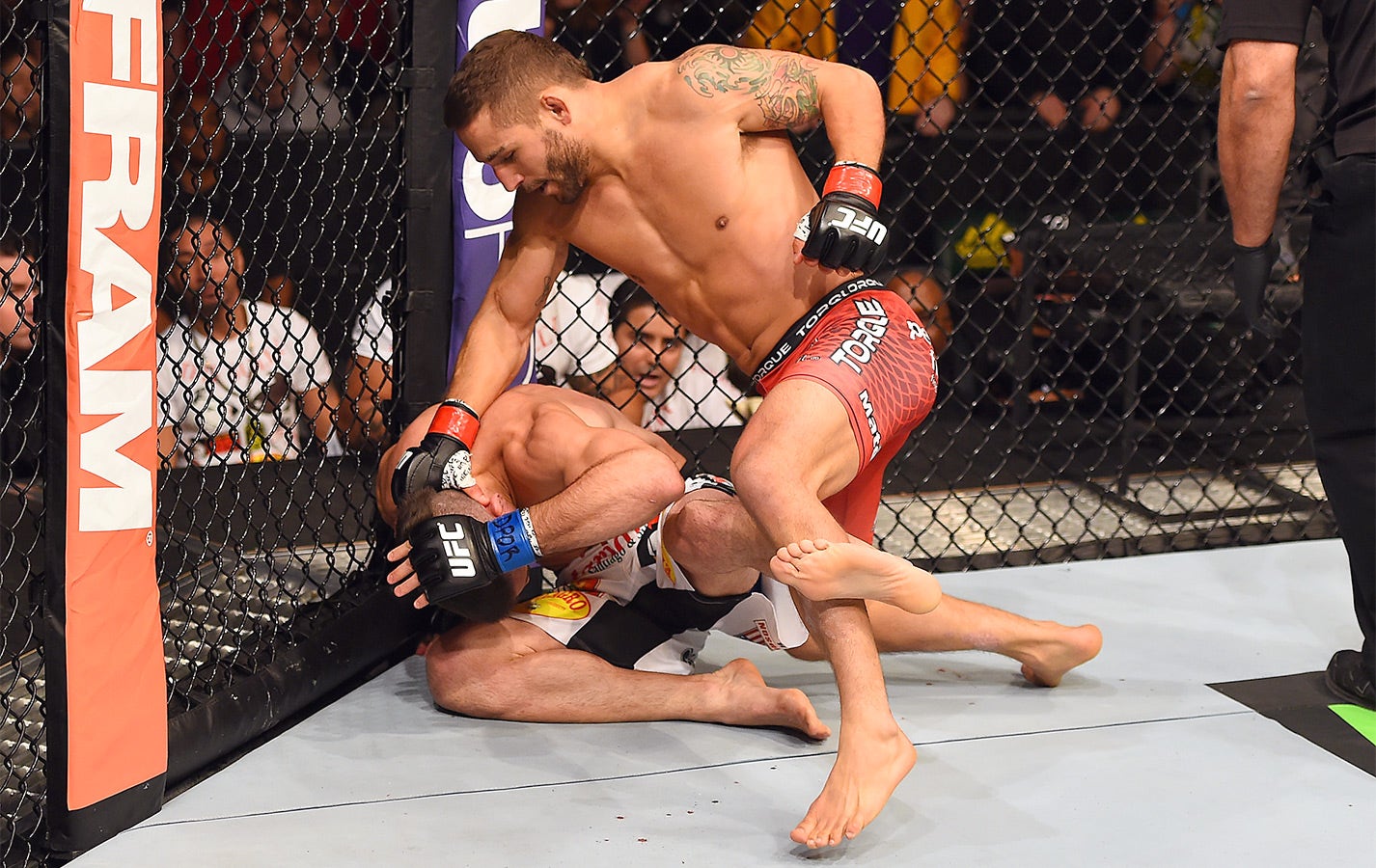 The situation to fight on less than three weeks notice isn't ideal, but Mendes has already been preparing to face McGregor ever since the mouthy Irishman landed in the UFC and started trashing every other featherweight on the roster.
Mendes even got into a verbal sparring match with McGregor in the days leading up to his title fight with Aldo in 2014.
In other words, Mendes has been visualizing a McGregor beat down for the past year, but now he might actually get the opportunity to make fantasy into reality.
"This is a fighter I've watched since he got in the UFC and a fighter I knew I would be facing very soon. So I've watched all of his fights, I've watched past fights before the UFC. I feel like he has a lot of holes in his game and I feel like my strengths fit right into that," Mendes said.
"The game plan and the strategy to beat a guy like this has been there for a while and I'll fine tune some stuff but as far as my cardio and conditioning goes, immediately after my last fight I took a little time off but since then I try to get at least one training session or more per day. Two and a half weeks, I'll have to come up with a strategic game plan for training but all in all I'll be ready for this fight."
Mendes knows deep down that no matter how much he trains or prepares for this fight, it still might not happen if Aldo is able to go on July 11. In his head, however, Mendes is facing McGregor for the interim UFC featherweight title at UFC 189 and that's how he's going to treat his preparation for every second of everyday until Aldo's entrance music hits the speakers in the MGM Grand Garden Arena.
"I'm treating this like I'm fighting. In my mind, I'm preparing for it. Until I'm told otherwise, I'm getting in there and fighting Conor McGregor for the belt," Mendes said.
As far as a final message for McGregor, Mendes can only smile at the prospect of shutting him up in the Octagon, and he hopes the Irish superstar has been brushing up on his wrestling because he's going to need it if they meet on July 11.
"I saw him do an interview and basically say that we're all the same. Dana said it could be Mendes and he said 'they're all the same' and if that's going to be his mindset going into this fight, it's mine already," Mendes said. "Keep thinking that cause this will be a fun night for me getting in there and getting to beat the crap out of Conor, getting a belt and getting paid. It's going to be fun.
"There's no doubt taking this fight on short notice. This is a guy I know I can beat."