How we got here: Anderson Silva vs. Nick Diaz at UFC 183
The UFC 183 main event this weekend pitting former middleweight king Anderson Silva against Nick Diaz has to be one of the most intriguing fights the promotion has ever put together although it does come along with a few question marks as well.
Silva is a former champion at 185-pounds, who also dabbled at light heavyweight for a trio of fights in the UFC — all of which he won by knockout or TKO including a victory over former champion Forrest Griffin.
Diaz on the other hand has never fought at middleweight before, although he has gone up in weight for two previous fights. Diaz actually has more experience at lower weights when he dropped down to 155-pounds for a few fights before returning to his more natural weight at 170.
Regardless of past experience or weight class, both Silva and Diaz were on board to accept this fight and make it happen for the main event on Saturday night. As it turns out, this fight between Silva and Diaz is a bout nearly three years in the making.
So how did we get here? Let's take a closer look.
July 27, 2012 – Nick Diaz's coach asks for a fight against Anderson Silva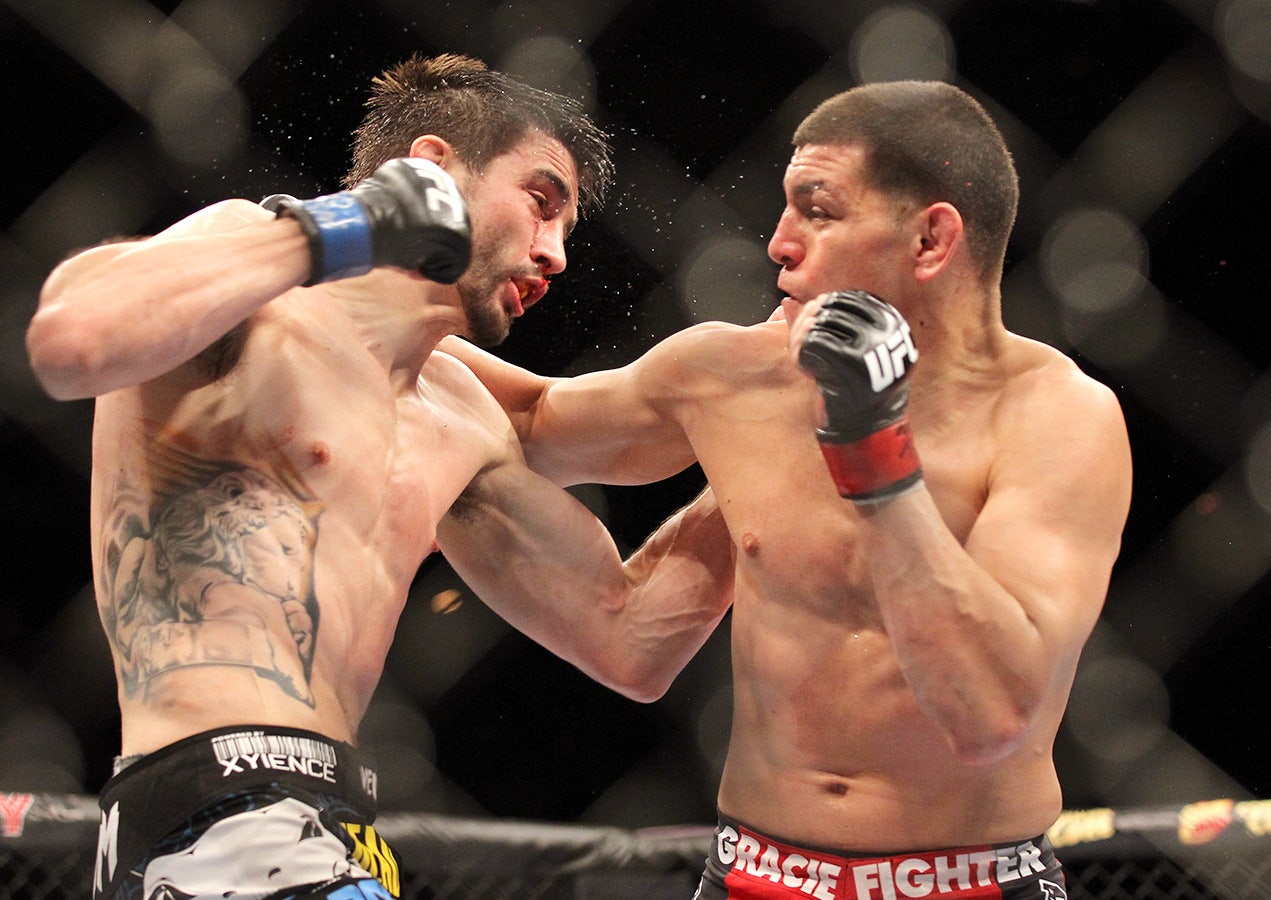 Following a loss to Carlos Condit earlier in the year, Diaz through his coach Cesar Gracie requests a fight against middleweight champion Anderson Silva. Diaz had twice gone up in weight while in Strikeforce — once at 179-pounds, another at 180-pounds — and he was entertaining the idea of going up again for the chance to face the fighter recognized at the time as the best pound-for-pound competitor in the sport.
"Nick has stated that he would like to take fights "that matter". Since GSP will be fighting Condit, he has to look elsewhere. He will respectfully ask for a fight with Anderson Silva, a fighter he respects and would like to challenge.
Silva's camp has been speaking of a fight with GSP, possibly even at a catch weight. Nick will take that fight in a minute but has told me that should Silva decide not to drop at all, he will move up to 185lbs to face the champ."
July 28, 2012 – Ed Soares, Anderson Silva's manager likes the idea of Silva vs. Diaz
Following Gracie's post on behalf of Diaz, Anderson Silva's manager Ed Soares takes to Twitter and responds. It sounds like the middleweight champion and his team are on board for the potential matchup with Diaz.
"I think the idea of (Silva vs. Diaz) is pretty good," Soares said. "Let's see what the UFC thinks?"
August 2, 2012 – UFC president Dana White laughs at the idea that Silva vs. Diaz should even be enterained
At a pre-fight event prior to the UFC on FOX event in Los Angeles just days after Diaz's coach and Silva's manager discuss the possibility of the two fighters squaring off, UFC president Dana White quickly throws water on the idea all together. At the time, Silva was the middleweight champion of the world and Diaz was off a loss while still at welterweight.
He just didn't see anyway making Silva vs. Diaz as good business.
"Nick Diaz makes no sense," White said when asked about matching him up with Anderson Silva. "I know that sounds fun 'yeah throw Nick Diaz in there!'. If you look at it, Nick Diaz just lost to (Carlos) Condit at 170 so that gives him the opportunity to move up to 185 and fight the pound-for-pound best fighter in the world? In what f–king universe does that make sense?"
October 4, 2012 – Nick Diaz not a fan of Anderson Silva accepting a fight against Stephan Bonnar
Silva ends up taking a late notice fight against former Ultimate Fighter finalist Stephan Bonnar at UFC 153. Diaz doesn't understand the logic in the matchmaking nor why Silva would even bother facing someone like Bonnar, who wasn't even on the same level much less the same weight class.
"If I was making a joke, like, 'Who are they gonna get to fight Anderson Silva, right now? Me or Stephan Bonnar?' it would have been a big, laughing matter. It's a joke," Diaz said. "But, you know, that's what's happening at this point in time. So, that's fine. But, if I was Anderson Silva, and I'm on my way out of this sport, at 37 or whatever, I'm looking to do a couple more fights, if that. I'd want to fulfill my legacy. I'm not gonna be able to do that with Stephan Bonnar. That's just the way I see it."
November 26, 2012 – Cesar Gracie says that Anderson Silva's team is on board for the fight
Despite White's previous statement about the fight, Gracie fires back with the notion that not only is Silva and his team on board with the potential matchup against Diaz, but the fans would overwhelmingly support the idea.
The biggest hurdle at the time was White and he wasn't going to budge on making a fight he thought, at the time, was ludicrous.
"[Silva's] people are into it. We're into it. The fans, I think, would be into it," Gracie said. "We've got convince Dana [White] about it now. Obviously the fight that makes sense to them, and I don't disagree, is Anderson-GSP, and like I said, I would watch that fight. That would be great to watch. But let's get real. If GSP just absolutely says no, then what? You can't make a guy fight. That's the thing. And Anderson, if they want to promote a superfight and if the stars align, I think Nick would be into it."
March 3, 2013 – Nick Diaz mocks Georges St-Pierre for never asking to fight Anderson Silva
Ahead of his title bout against Georges St-Pierre at UFC 158, Diaz calls into question a proposed super fight pitting the welterweight champion against Silva that never came to fruition.
Diaz was most puzzled by the fact that St-Pierre never tried to prove himself as the best fighter in the world by challenging Silva in the Octagon. It's a fight Diaz asked for and would have gladly accepted if it was offered.
"I started (competing at) like from 16, 17, 18, 19, 20 (years old). By 23, I'm fighting No. 1 people in the world. I will tell you right now I'll fight the No. 1 guy in the world. I've always said, that I want to fight the No. 1 fighter," Diaz said.
"Georges has never said that. That's the only thing I've ever said negative about Georges, that if I were in his place, I'd be asking for the Anderson Silva fight. I wouldn't let that blow away. That's crazy."
March 16, 2013 – Nick Diaz retires from mixed martial arts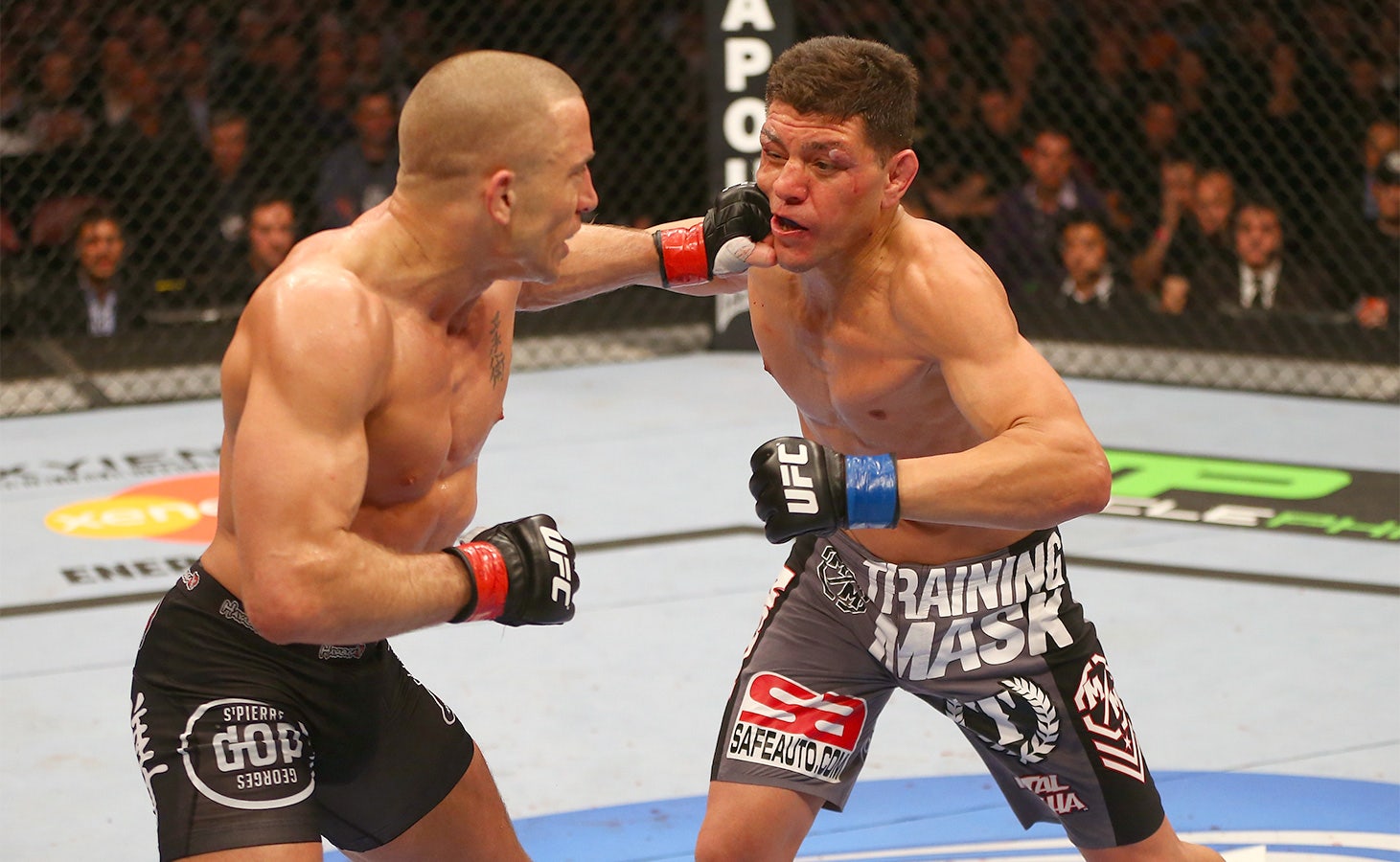 Diaz loses a unanimous decision to St-Pierre and after the fight states that he's probably walking away from the sport for good. Diaz had flirted with retirement before, but it appeared this time he was more serious than any previous time in his career.
With no big fights on the horizon and no chance at competing for a belt, Diaz seemed happy to fade into the background and do something else besides punch people inside a cage.
December 28, 2013 – Anderson Silva injured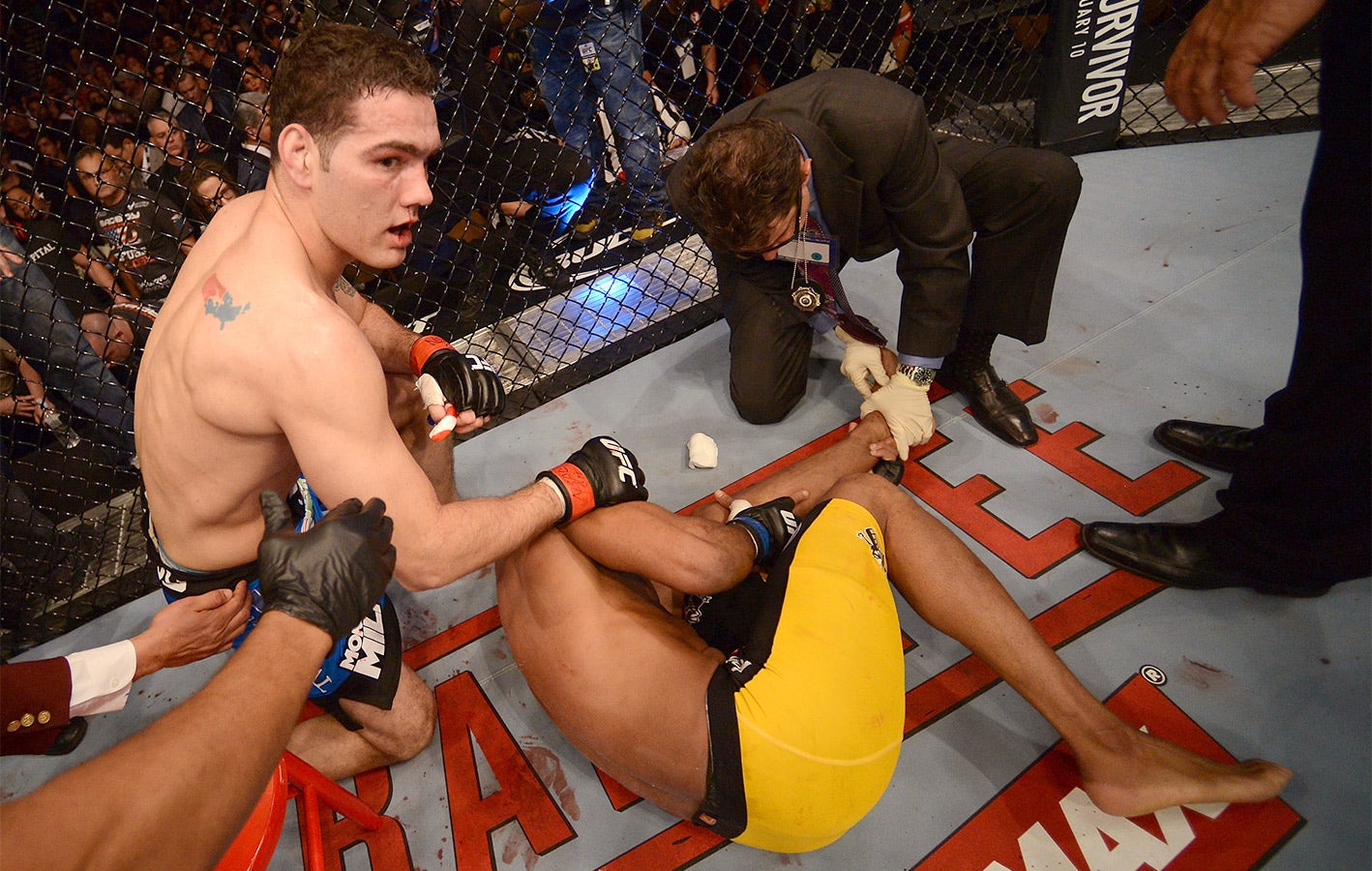 Anderson Silva loses to Chris Weidman in July 2013 in one of the most shocking upsets in UFC history. Silva returns to action and he's granted an immediate rematch against Weidman at UFC 168 in December.
In the middle of the second round, Silva throws a leg kick and Weidman blocks with his knee. Silva's leg bends around Weidman's in a horrific and gruesome injury rarely seen in mixed martial arts or combat sports in general. Silva lays on the canvas in pain for several minutes as paramedics attend to him.
Silva is taken out on a stretcher and immediately rushed into surgery to repair his broken leg. While many believe Silva's career may have come to an end at that exact moment, the former middleweight champion was already asking his doctor when he'd be able to get back into training so he could return to fighting.
February 25, 2014 – Nick Diaz says he's a better stand up fighter than Anderson Silva
For several years, Silva had tossed around the idea of boxing former world champion Roy Jones Jr although the UFC often times stated the bout would likely never happened. Following Silva's injury, Diaz spoke up about possibly stepping up and taking the fight with Jones while also proclaiming that he was the superior striker anyways.
"Me calling out Roy Jones is disrespectful," Diaz said. "But if they want to do that, want to do something like that, [combining] sports [in a boxing match], I'll do it. I feel I'm a better stand-up fighter than Anderson Silva, who has talked about fighting Jones too."
June 12, 2014 – Nick Diaz tells Anderson Silva to fire his coach, learn how to box
Nick Diaz critiques Silva's performance in his last fight against Weidman where his leg ended up breaking. Diaz believes the problems with Silva's loss started with a lacking boxing game.
Diaz pulls no punches when saying that Silva should just go ahead and fire his coach so he can find someone to really teach him how to box.
"I'll tell you what, I think he should fire his trainer and hire himself a boxing trainer that teaches him how to put punches out. I don't talk no s–t. I aint trying to talk no s–t. Of course he's got as many fights as he wants to have, but people saying s–t like, 'He should retire. He's not going to be the same.' I'm like, 'Fire your coach and get somebody to train your punches," Diaz said.
"His last fight, he had punches for (Weidman), but he didn't have no punches. Know what I'm saying? That was the key. Putting punches out there but (Silva) had no punches for that guy. So then he started lobbing kicks out there and you saw what happened to his leg. He didn't have no answer for it."
July 3, 2014 – Anderson Silva thinks a fight with Diaz could be 'interesting'
Anderson Silva still recovering from his broken leg is asked about a potential fight with Diaz. Rumors have abounded for weeks that Silva could be ready to fight again by the end of the year and he's already entertaining ideas for who he might face when he comes back.
"Well, if everybody is saying that it would be an interesting fight, what am I going to say? It could be an interesting fight," Silva said.
July 24, 2014 – Nick Diaz announces his return
During his absence from the sport, Diaz turned down several fights against different opponents including a rematch against Carlos Condit. Diaz seemed happy to stay retired and he even dabbled in fight promotion while he was not actively competing.
Eventually the UFC came to the table with an offer that was just too enticing to turn down. Diaz signed a new three fight deal with the promotion with rumors already swirling about his next possibly matchup in the Octagon
July 29, 2014 – Silva vs. Diaz is official
UFC president Dana White announces on ESPN's SportsCenter that Anderson Silva will return against Nick Diaz on January 31, 2015. The fight is made official just five days after Diaz signed a lucrative new contract with the promotion.
"The greatest of all time Anderson Silva is back, his doctor gave him clearance to fight, and the fight that the fans have been waiting for, the fight that the fans have been screaming for, also back is Nick Diaz. So we have made Anderson Silva vs. Nick Diaz, January 31 in Las Vegas," White said.
October 14, 2014 – Anderson Silva warns Nick Diaz about trash talking him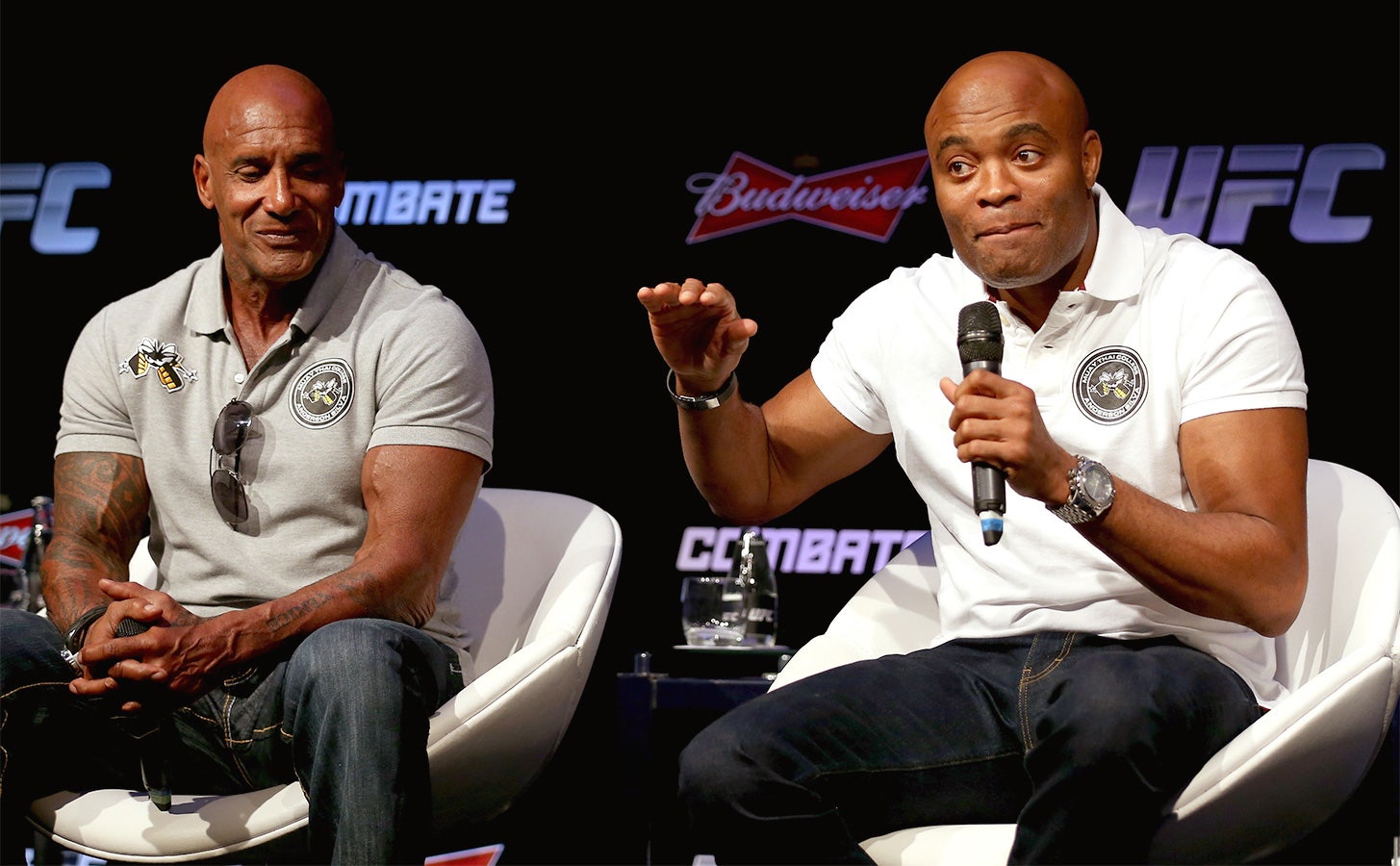 In a pre-fight press conference meant to address his recovery after the broken leg, Silva takes questions from the media regarding a number of subjects including his next opponent. Silva knows that throughout his career Diaz is an infamous trash talker — especially inside the cage.
Silva never threatens to retaliate against Diaz, but does leave an ominous warning looming overhead just in case the Stockton, California bad boy decided to open his mouth a little too wide.
"I'm very easygoing," Silva said. "I'm in a radical sport, for a lot of people it's a violent sport, but I'm a very easygoing guy.
"I think my work has nothing to do with my personality, but I don't like to be disrespected as a man. I think you need to have respect as an athlete and as a man. If he disrespects me, things are going to happen as they need to happen."
November 3, 2014 – Anderson Silva goes to the hospital with back pains
Anderson Silva goes to a hospital in Brazil after experience severe pains in his lower back. Silva is told to rest for a few days before returning to training, but he suffered no serious injuries or set backs.
January 7, 2015 – Dana White proclaims Anderson Silva gets a title shot with a win at UFC 183
Silva and Diaz are the main event at UFC 183, but now the stakes are even higher for the matchup.
UFC president Dana White appears on FOX Sports Live and says that if Silva gets a win over Diaz, he will then earn another crack at the middleweight title against the victor of the UFC 184 main event between Chris Weidman and Vitor Belfort. Silva has two losses to Weidman on his record while he holds a knockout victory over Belfort.
"Diaz and Anderson Silva are fighting, and obviously if Anderson Silva wins that fight, and whether Vitor or Weidman win, then you have Anderson Silva versus either one of those guys," White said.
January 27, 2015 – Nick Diaz misses his flight to Las Vegas for UFC 183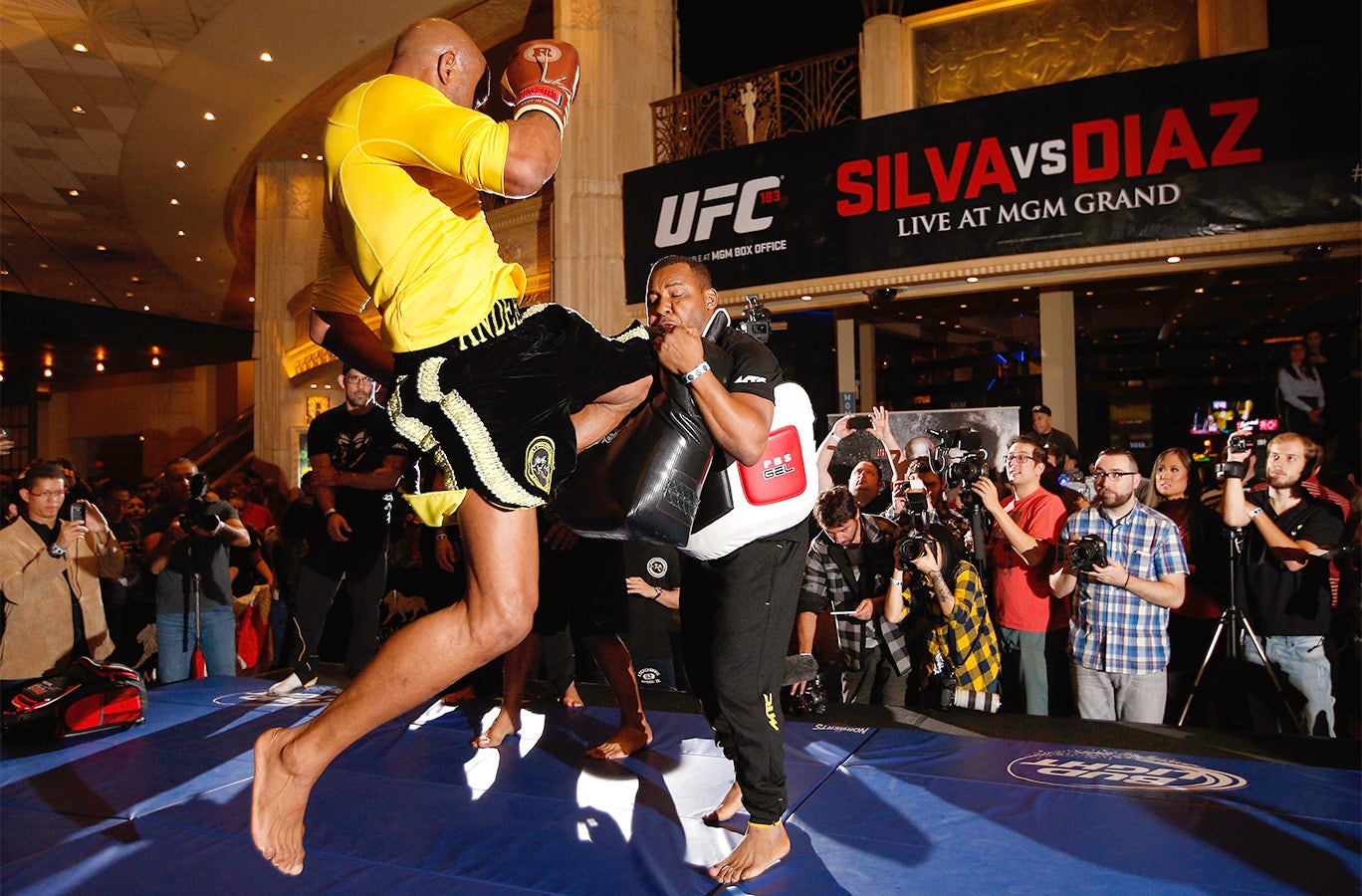 Diaz no-shows a flight to Las Vegas, putting everyone on red alert about him arriving on time for the fight against Silva. A day later Diaz arrives, smiles and even signs a few autographs. Disaster averted.
January 31, 2015 – Anderson Silva vs. Nick Diaz
The main event goes down on Saturday night from the MGM Grand Garden Arena in Las Vegas. Five rounds in the middleweight division.
To make sure you catch all of the action from UFC 183: Silva vs. Diaz check out our viewing and schedule guide for everything going down in Las Vegas.