UFC 180: Werdum vs. Hunt Crystal Ball predictions
For the first time ever, the UFC will land in Mexico this weekend for a card headlined by an interim heavyweight title fight as Fabricio Werdum takes on Mark Hunt.
The winner of the fight will likely take on current UFC heavyweight king Cain Velasquez in early 2015 to declare an undisputed champion, but not before somebody else walks out with the belt this weekend in Mexico.
Also on the card, former Ultimate Fighter winner Kelvin Gastelum enters his fight against Jake Ellenberger as much as a 2-to-1 favorite in the betting odds, but will the young up-and-comer be able to take out a crafty veteran this early in his career?
Who will walk out a winner and who will go home from Mexico with a loss? The crystal ball tells all.
Fabricio Werdum vs. Mark Hunt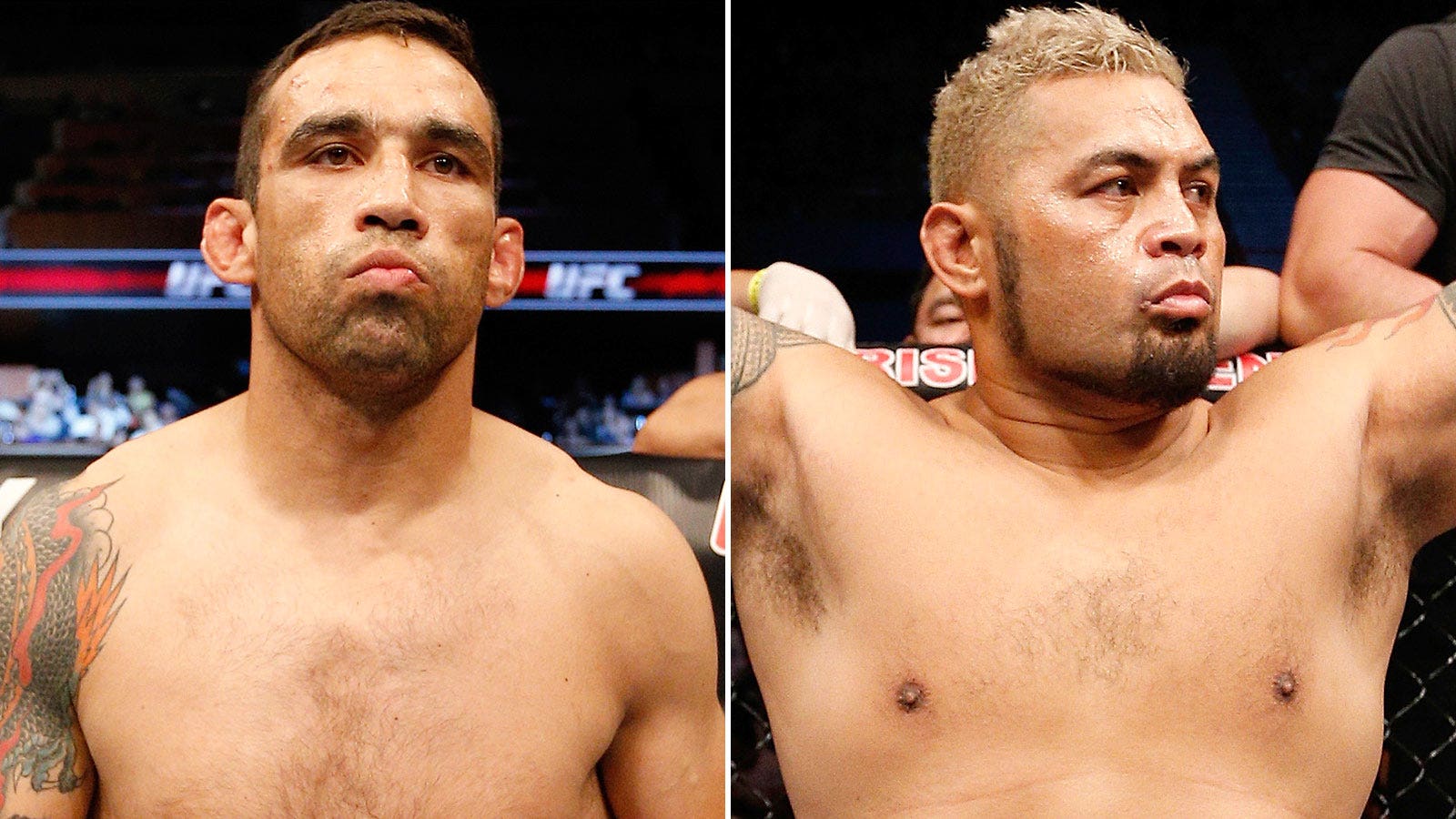 The passing of the guard in the heavyweight division has left names like Fedor Emelianenko, Antonio Rodrigo Nogueira and Mirko Cro Cop on the outside looking in, but Fabricio Werdum is still trucking along as he gets ready for his first ever UFC title shot at 37 years of age. The more unlikely contender fighting this weekend is his opponent Mark Hunt, who wasn't even supposed to get to the UFC if not for a guaranteed contract that forced the promotion to either pay him off or get him a fight.
Now four years later he's competing for the UFC heavyweight title.
As much as everyone loves a good underdog story, Hunt does have a lot going against him in this fight. He took the bout on just a few weeks' notice after Velasquez dropped out. His last fight in September ended with Hunt's hand raised, but he's admitted following the win he didn't immediately get back into the gym because he didn't have a fight booked yet. And finally there's the altitude factor. Hunt struggled with his gas tank when he fought in "The Mile High City" of Denver back in 2011. Mexico City, where Saturday night's fight takes place, is 2,000 feet higher in elevation than Denver.
On the flip side, Werdum spent his entire camp in Mexico to adapt to the climate and elevation. He's on an incredible streak right now, winning his last four in a row and seven out of his last eight. Werdum has only been knocked out once in his entire career, and his striking has evolved exponentially since that time. Chances are he'll just have to weather an early storm from Hunt in the first round or two and then watch the big man's conditioning suck the life out of him.
Werdum can then take over and choose how he wants to finish the fight.
Prediction: Fabricio Werdum by TKO
Kelvin Gastelum vs. Jake Ellenberger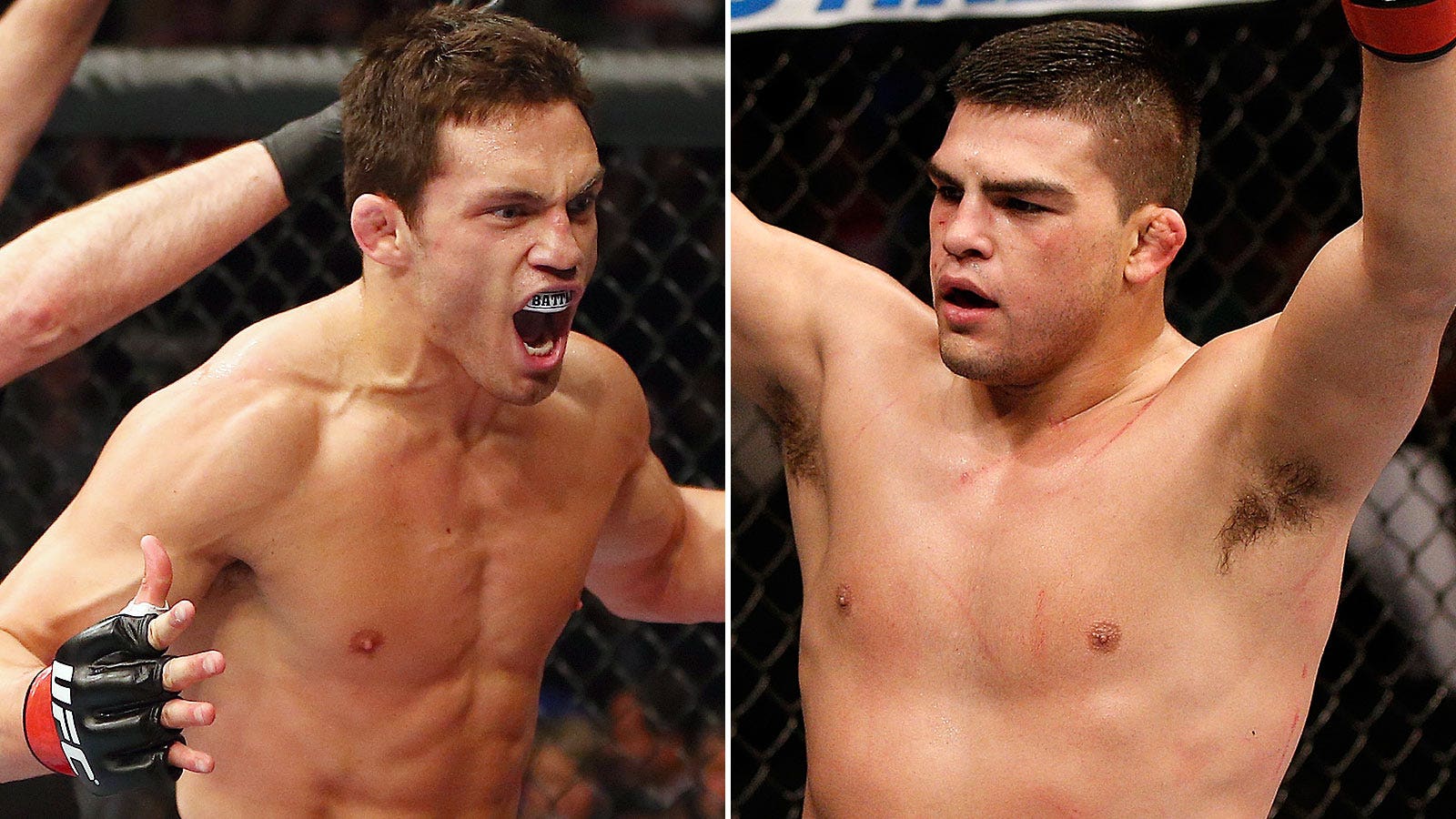 Former Ultimate Fighter winner Kelvin Gastelum is one of the top prospects in the welterweight division right now, and with good reason. He's undefeated, packs a serious punch with striking and carries a wrestling pedigree in his back pocket at all times. He's looked solid ever since leaving the reality show and even has a win over perennial top 15 fighter Rick Story. The hype is so serious around Gastelum that he's a huge odds-on favorite to win this fight.
It's unclear what Jake Ellenberger did to lose so much respect going into this fight. He lost two fights in a row, but both have to be put into context before judgment can be placed. He fell to Rory MacDonald in one of the ugliest MMA fights of all time, where both guys got caught up in a staring contest and forgot to punch each other. Ellenberger then lost to Robbie Lawler after he tagged the top contender in the welterweight division with some seriously powerful punches early in the fight. The point being, Ellenberger's losses have come against only the best fighters in the world, and neither fight was a blowout.
This one might be.
Ellenberger can match Gastelum with his boxing, and his wrestling is always on point. He's started to pay a little bit too much attention on his striking while working with coach Edmond Tarverdyan lately, but Ellenberger definitely has the tools to put a hurting on Gastelum if he performs up to his ability.
Prediction: Jake Ellenberger by unanimous decision
Ricardo Lamas vs. Dennis Bermudez
Dennis Bermudez has been on a tear lately, winning seven fights in a row while getting stronger with each performance. He believes he's a fight or two at most away from a title shot, but he's got a tough test this weekend with former title contender Ricardo Lamas in his way.
Bermudez is a scrappy fighter who likes to throw his hands, work for takedowns and beat up opponents on the mat. The problem he might have in this fight is Lamas is a really good wrestler in his own right, with devastating ground and pound and a solid submission game as well. Bermudez hasn't faced a fighter like Lamas while he's been on this streak, so there's probably a very good reason this matchup happened.
Lamas hasn't looked great in his last two fights against Jose Aldo and Hacran Dias, but this is a stylistic matchup that should play right into his strengths. Another winning streak bites the dust.
Prediction: Ricardo Lamas by unanimous decision
Augusto Montano vs. Chris Heatherly
One of the more established veterans of the Mexican MMA scene, Augusto "Dodger" Montano is a prospect expected to do big things in the Octagon. Montano is a fundamentally sound striker with good boxing and decent kicks. At welterweight, he's going to be one of the bigger fighters on the roster, standing 6-foot-2, and having fought at middleweight before, he's definitely going to be strong. He's also worked with Greg Jackson and his team heading into this fight, so that's another benefit on his resume.
Unfortunately, Chris Heatherly's claim to fame is being the first fight to ever get tapped out from an omo plata inside the UFC Octagon. It happened in Heatherly's debut fight against Ben Saunders, and it's a rather dubious honor indeed. He's coming into this fight acting as cannon fodder once again while facing one of the best MMA fighters out of Mexico while in Mexico. At 5-foot-8, Heatherly is going to be giving up a huge reach advantage, and unless he can surprise Montano with something quick and devastating, it's probably going to be another disappointing evening for him.
Prediction: Augusto Montano by TKO
Edgar Garcia vs. Hector Urbina
Edgar Garcia returns to the UFC for the first time in five years as he looks to erase the memories of his last two trips to the Octagon, which both ended in defeats. He faces former Ultimate Fighter Season 19 competitor Hector Urbina, who enters the fight after going 2-2 in his last four bouts (not counting his fight on the reality show).
Garcia has won four fights in a row, but he hasn't exactly been taking on the best opposition. The combined record of those four fighters is 30-20, and 18 wins come from one fighter in particular, who took Garcia to split decision. While Urbina's had some losses lately, he's also been facing better opponents and with his training at American Top Team in Florida he's sparring on a daily basis with names like Robbie Lawler and Hector Lombard. Urbina may not be a contender, but he's got the skill set to give Garcia serious problems.
Prediction: Hector Urbina by unanimous decision
Ladies Night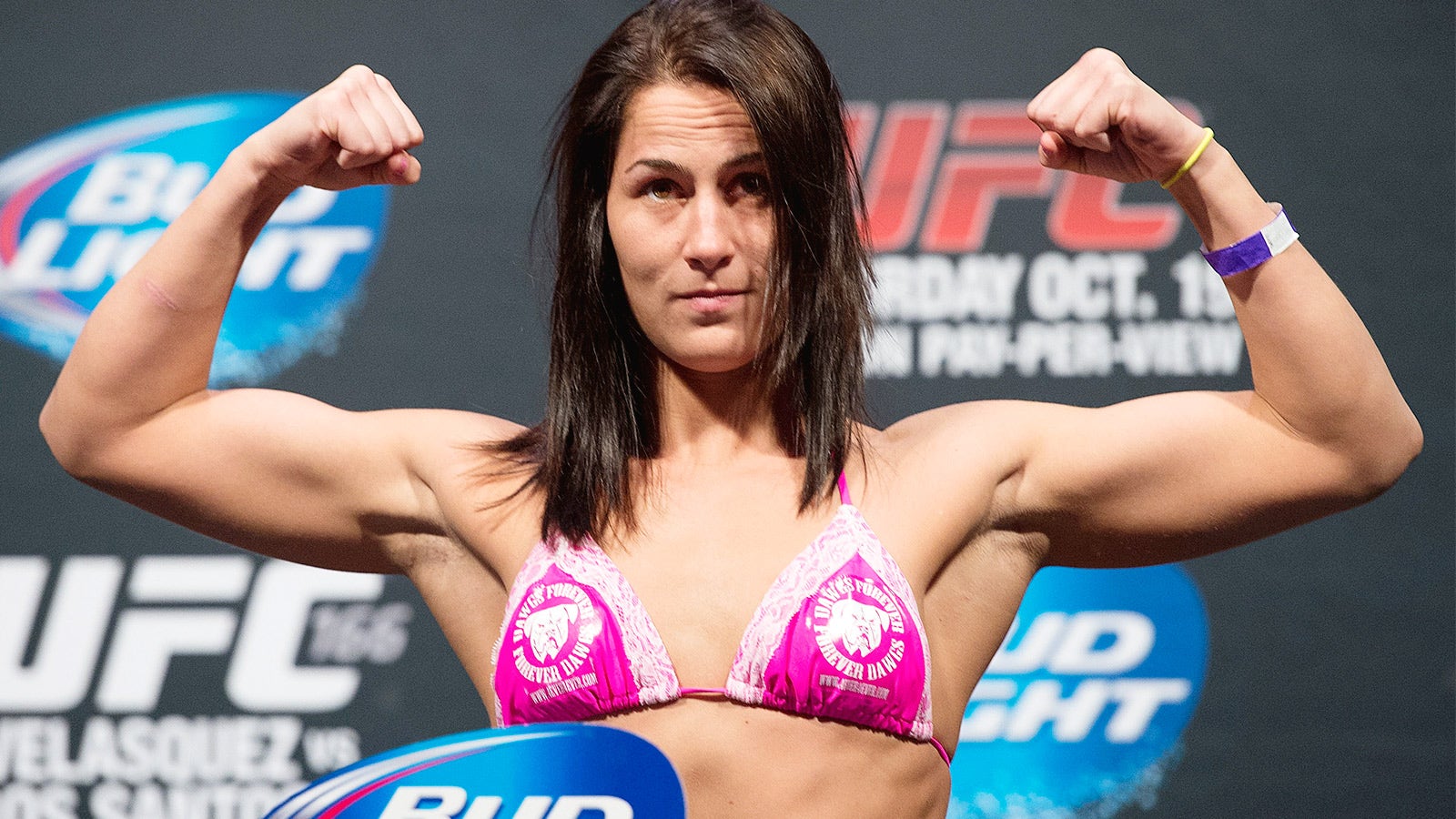 The headliner for the preliminary card pits two top 10 women's bantamweights against each other when Jessica Eye takes on Leslie Smith. Both women are known for their striking, so this one should be a highlight for the evening. Eye looks to bounce back from a close, controversial loss to Alexis Davis while Smith is riding high after knocking out Jessamyn Duke to get her first UFC win. This could be a show-stealer on the prelims.
The Pride of Latin America
The Ultimate Fighter: Latin America only aired in the United States on the UFC's digital network, Fight Pass, but there were definitely some fun fights and finishes this season. The entire show comes to an end with the prelims on this weekend's UFC 180 card as Yair Rodriguez takes on Leonardo Morales and Alejandro Perez faces Jose Quinonez. Both fights should be really interesting, especially the Perez vs. Quinonez fight, considering they fought once before and trained together for an entire season under coach Cain Velasquez. Expect high-intensity, high-output performances from all four fighters.