UFC 175 & TUF 19 Finale medical suspensions: Weidman, Rousey face time off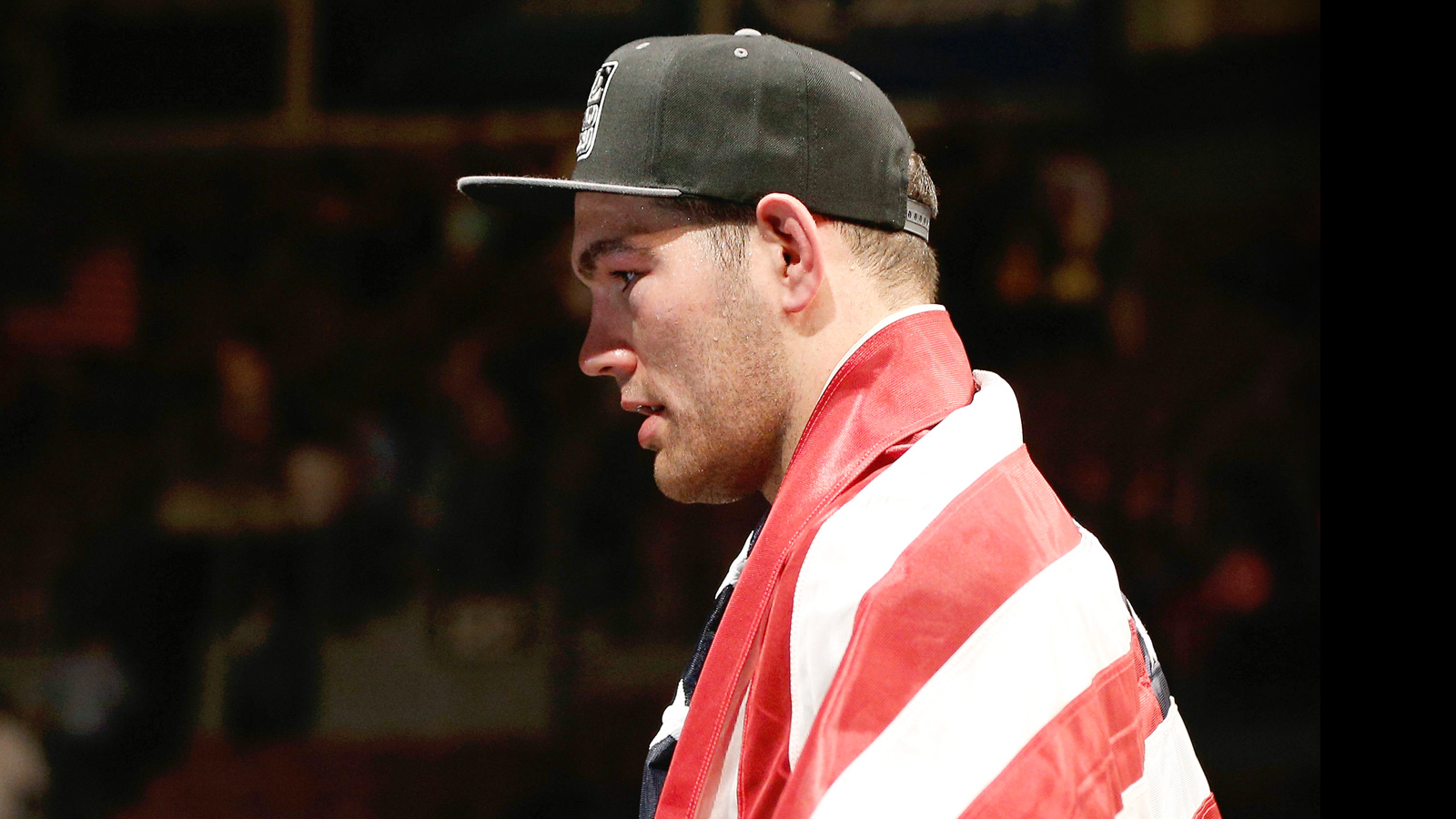 The ferocious nature of the UFC 175 main event has left the champion with some clearances to make before stepping back into the cage again.
At the conclusion of the match, middleweight king Chris Weidman was flagged for four possible injuries that could lead to a lengthy vacation. The Nevada athletic commission is requiring him to be cleared by an orthopedic doctor for possible injuries to his left jaw, right elbow, right ribs and right ankle. An inability to do so could land him on the shelf until Jan. 2, 2015 — which coincidentally, is the day before the UFC's New Year's show in Las Vegas.
Weidman defeated Lyoto Machida in a unanimous decision in last Saturday night's headliner, marking his second title defense.
He isn't the only big name needing medical clearance his next time out. UFC women's bantamweight champ Ronda Rousey also will need orthopedic clearance, in her case for a possible right hand injury that will require an X-ray. Rousey also needed nine stitches after knocking out Alexis Davis in the night's co-main event.
Like Weidman, Rousey could be out until Jan. 2. After the fight, Rousey seemed to believe her cut hand was the more serious problem of the two, suggesting she might be cleared far ahead of that date.
Meanwhile, Weidman seemed to be in good spirits the day after defeating Machida, taking in the TUF 19 Finale in support of his training partner Eddie "Truck" Gordon, who won the TUF middleweight tournament with a first-round knockout of Dhiego Lima.
The TUF 19 Finale participants fared slightly better than the UFC 175 fighters in terms of injury suspensions, but Gordon, who needs left shoulder clearance from a doctor, could otherwise be on the shelf until Jan. 3, 2015, while Keith Berish also faces the same time frame on the sidelines due to a left knee injury.
Berish was submitted by Robert Drysdale, and is believed to have torn the ACL and MCL in his left knee after it twisted awkwardly under him while falling backwards.
Meanwhile, UFC legend BJ Penn was handed a two-month suspension following a lopsided loss to Frankie Edgar, but Penn said after the match that he had fought for the last time.
The complete list of weekend suspensions is below.
UFC 175 medical suspensions
Chris Weidman – suspended until 8/20; must have left jaw, right elbow, right ribs and right ankle X-rayed or cleared by orthopedic, or no contest until 1/2/15
Lyoto Machida – suspended until 9/9, no contact until 8/20
Alexis Davis – suspended until 7/27, no contact until 7/20
Ronda Rousey – must have right hand X-rayed and if positive cleared by orthopedic or no contest until 1/2/15
Matt Mitrione – must have follow up chest CT scan in six months, due 12/16
Stefan Struve – must be medically cleared before next contest and see cardiologist every six months due 11/7
Uriah Hall – must have right second toe ceased by orthopedic or no contest until 1/2/15; minimum suspension until 9/4
Russell Doane – muts have right thumb X-rayed and cleared by orthopedic or no contest until 1/2/15; minimum suspension until 7/27
Urijah Faber – must have left rib X-rayed, if positive then needs doctor clearance or no contest until 1/2/15
Kenny Robertson – must have right elbow cleared by orthopedic or no contest until 1/2/15
Bruno Santos – must have possible nasal fractures cleared by doctor or no contest until 1/2/15; minimum suspension until 7/27
George Roop – suspended until 8/20; no contact until 8/5
Luke Zachrich – must have left hand X-rayed, if positive needs orthopedic clearance or no contest until 1/2/15; minimum suspension until 8/20
Bubba Bush – suspended until 9/6; no contact until 8/20
Kevin Casey – must have left elbow cleared by orthopedic or no contest until 1/2/15
TUF 19 Finale medical suspensions
BJ Penn – suspended until 9/5, no contact until 8/21
Matt Van Buren – must have orbital fracture cleared by ophthalmologist or no contact until 1/3/15; minimum suspension until 8/21
Eddie Gordon – must have left shoulder cleared by doctor or no contest until 1/3/15
Dhiego Lima – suspended until 8/21, no contact until 8/6
Justin Scoggins – suspended until 8/6; no contact until 7/28
Guto Inocente – suspended until 8/21; no contact until 8/6 due to facial lacerations
Jesse Ronson – suspended until 8/6, no contact until 7/28
Jumabieke Tuerxun – suspended until 8/6, no contact until 7/28
Juan Manuel Puig – suspended until 8/21, no contact until 8/6
Patrick Walsh – suspended until 8/6, no contact until 7/28
Keith Berish – must have left knee injury cleared by orthopedic or no contest until 1/3/15