UFC 173: Barao vs. Dillashaw Crystal Ball Predictions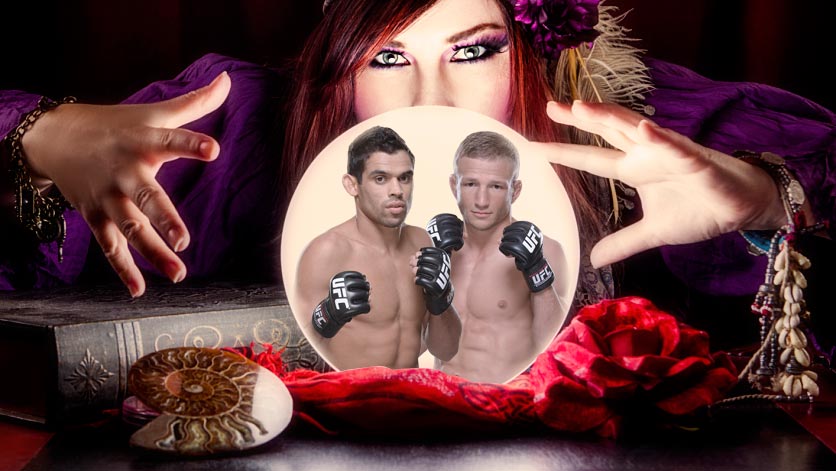 LAS VEGAS — Just how good is Renan Barao? The UFC bantamweight champion has practically made a mockery of the sport. His 33-fight unbeaten streak is believed to be the third-longest in MMA history, and he's ripped through his competition in the UFC and WEC with six stoppages in nine wins. After knocking out No. 1 Urijah Faber, submitting No. 3 Michael McDonald and finishing Eddie Wineland with a gorgeous spinning back kick, he looks to continue mowing through the division against T.J. Dillashaw in the UFC 173 main event.
An Ultimate Fighter finalist just 2 1/2 years ago, Dillashaw was gifted a golden opportunity when the event needed a new headlining act. Is it too much, too soon? Clearly, Dillashaw would benefit from more time, but he's about out of it now.
If he's going to do it anywhere, it might as well be in a city built on luck. Against Barao, he may need it.
Here are the UFC 173 predictions.
Renan Barao vs. T.J. Dillashaw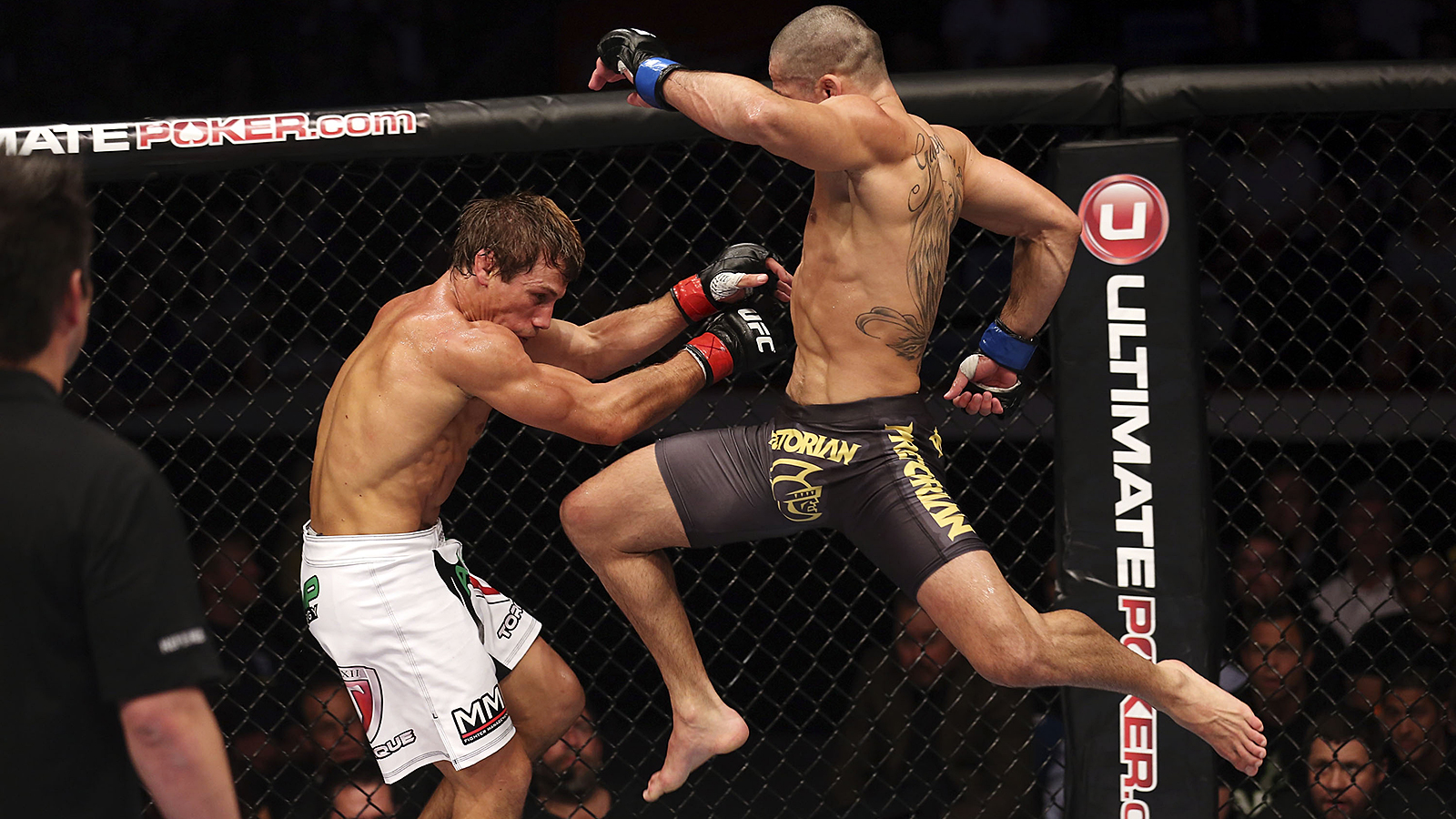 Barao (32-1, 1 NC) is an offensive dynamo, featuring an educated jab, wicked kicks, knockout power and a killer instinct on the ground. Mostly because of his versatility, he's a nightmare matchup for anyone, and Dillashaw (9-2) is no exception. Dillashaw's best trait is his pacing, averaging 4.84 significant strikes per minute, tops in UFC bantamweight history. He's also fairly accurate, landing nearly 50 percent of his strikes.
It's Barao's ability to shut down an opponent's wrestling game that may prove the difference here. Dillashaw's improved standup output is largely dependent upon his takedown threat. If Barao can take that away, he becomes a little more one-dimensional. Here's betting he will, and Dillashaw isn't likely to match the champion's offensive firepower over the long haul.
Prediction: Barao via third-round submission
Dan Henderson vs. Daniel Cormier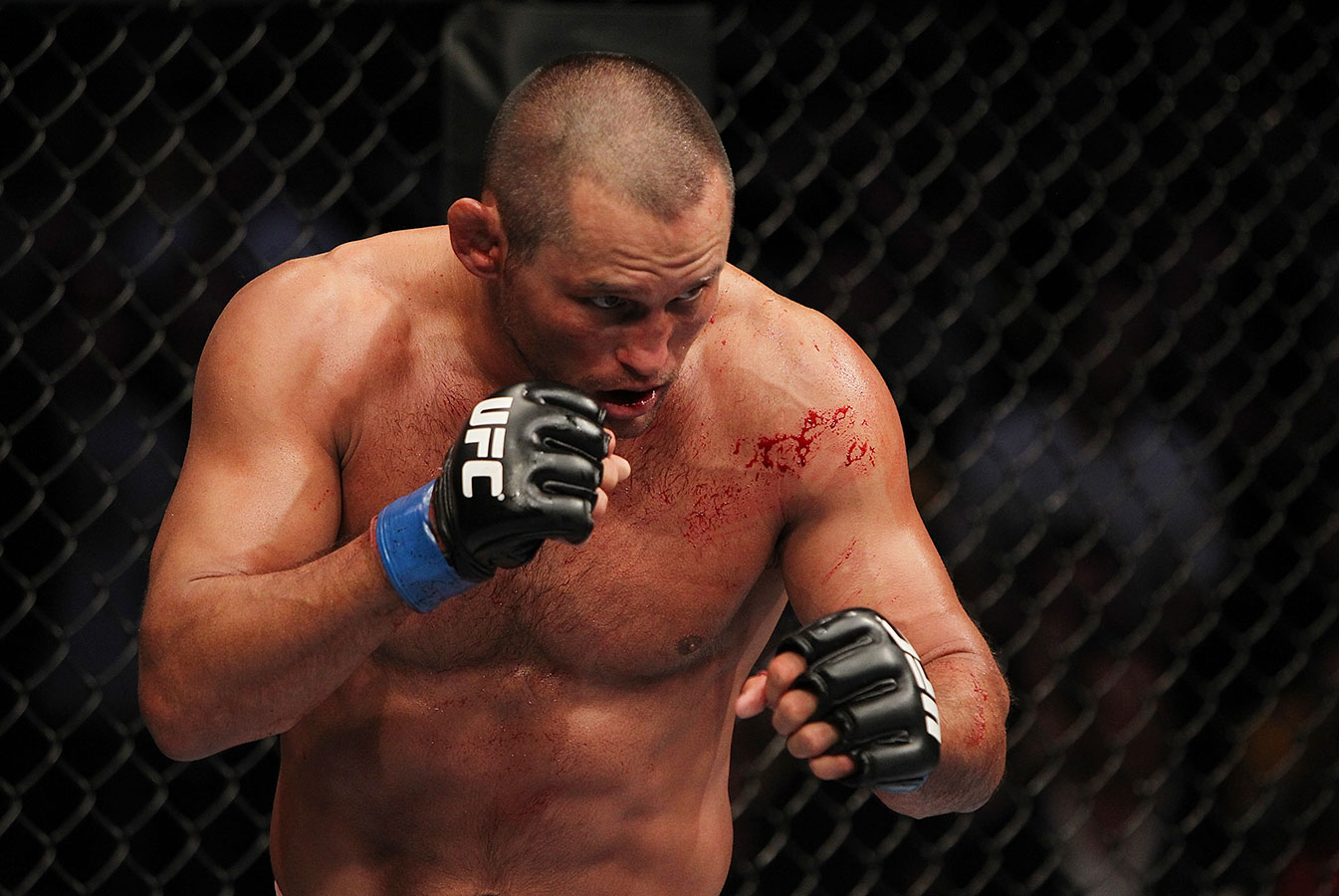 It was just two months ago when Dan Henderson fought another war against Mauricio "Shogun" Rua. In that instant classic, Henderson was dominated early before coming back and KO'ing Rua.
The quick turnaround can be seen as problematic coming off a fight where the 43-year-old Henderson (30-11) was knocked down twice. As he showed in that fight, he remains dangerous from bell to bell, but the style matchup favors Cormier, who is excellent at avoiding heavy fire defensively, dodging 70.1% of the strikes against him. He's also the better functional wrestler, has a massive +2.72 strike differential, and most surprisingly, has a slightly higher knockdown rate than the hammer-fisted Henderson.
Cormier (14-0) has never lost a round in his career, and that streak has a decent chance of remaining intact after Saturday night. As such, Cormier is a massive -1000 favorite in the MGM Grand sports book. That number is a little extreme, but the fight does favor the Louisianan.
Prediction: Cormier via unanimous decision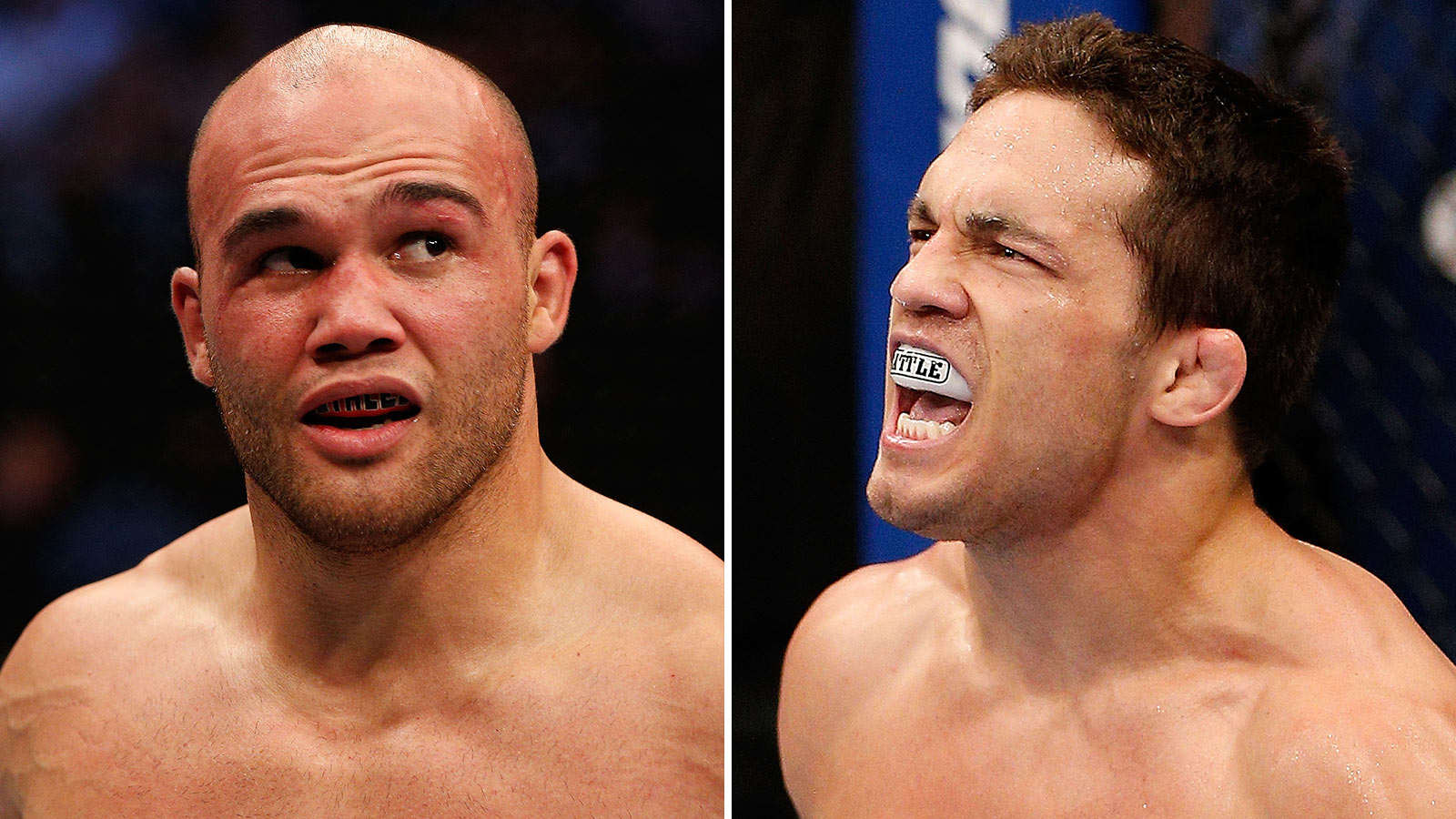 Robbie Lawler vs. Jake Ellenberger
The matchup between two of the welterweight division's elite thumpers could result in a title rematch for the winner. The two are fairly similar in style, with Lawler a southpaw and Ellenberger fighting from the orthodox stance. After a long period of time flirting with life as a journeyman, Lawler (22-10, 1 NC) has found a new level of maturity and combined all of his tools in a dangerous package. Eighteen career KO's in 22 wins attests to his unquestionable power, and his pace (3.88 strikes per minute) remains in the upper tier of the division, but his takedown defense will have to be on point against the multi-faceted Ellenberger (29-7) as it mostly was against Johny Hendricks last time out.
Ellenberger's ability to sidestep offense has been one of his most underrated attributes, as opponents land only 33% of strikes against him. That's generally a winning number, but Lawler has never been dissuaded by missing a couple of times, and his accuracy has been brilliant in his last three fights, landing nearly 50%.
Prediction: Lawler via decision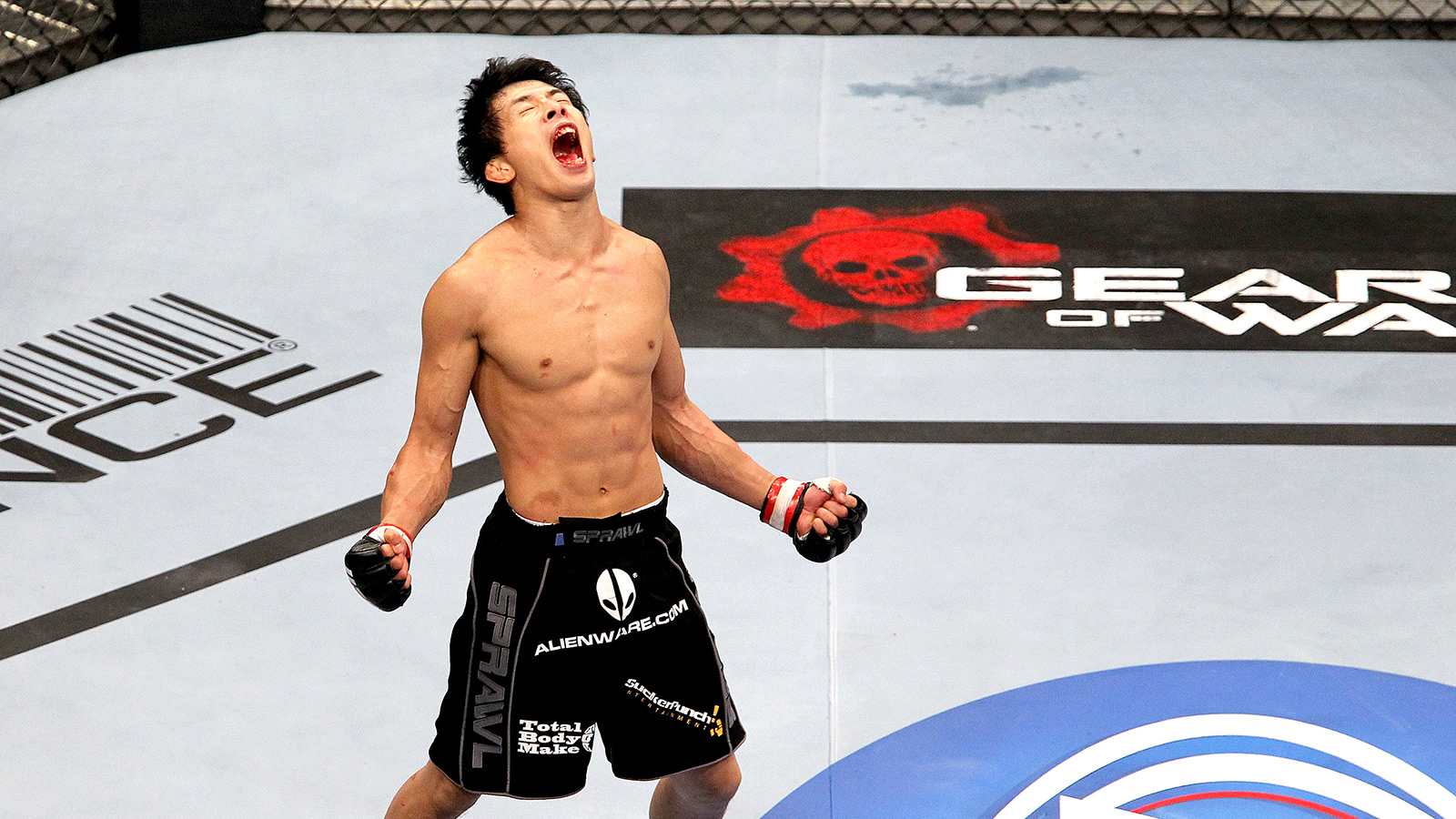 Takeya Mizugaki vs. Francisco Rivera
Mizugaki (19-7) has been around a while and has put together one of the best stretches of his career, winning four straight. Some of it has been done on smoke and mirrors, as he lands only 37.8% of his thrown strikes. He does, however, have a fairly rounded game, landing takedowns at an above average clip and he brings a ferocious competitiveness every time out.
Athletically, however, Rivera (13-2, 1 NC) is on another level. He's primarily a standup fighter, and his clear edge is in power. Rivera averages knockdowns at the rate of 1.21 per every 15 minutes, a rate six times higher than Mizugaki's. While Mizugaki has more high-level experience, we like Rivera for the upset here.
Prediction: Rivera via TKO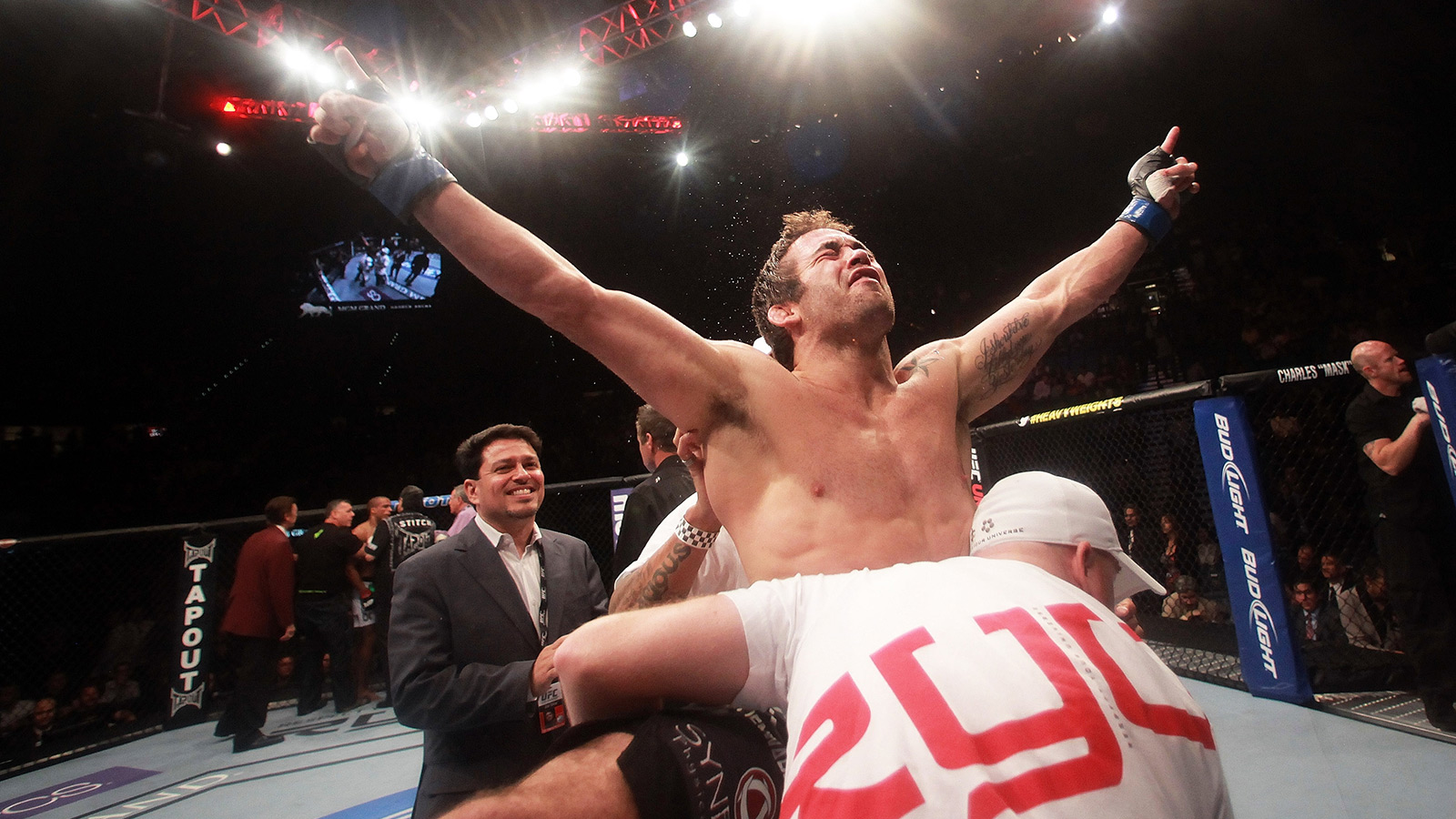 Jamie Varner vs. James Krause
The UFC 173 pay-per-view opener should be heavy on action, but nearly every Varner fight is. His last fight against Abel Trujillo was an early Fight of the Year contender. Varner's biggest gift is his power, but it's not matched by his accuracy (just 34.9%).
Varner (21-9, 2 NC) is at his best when he's mixing and matching his offense between striking and wrestling, and having lost three of his last four, he may be more willing to go conservative and take Krause down occasionally. That would probably be in his best interests, since Krause struggles to stop the takedown, stopping just 14.3% of oncoming opponents. Krause has a winner's disposition and some nasty submissions, but Varner's ability to put the fight on the ground (and stay out of trouble) might be the difference.
Prediction: Varner via decision
Best of the Rest
Tony Ferguson vs. Katsunori Kikuno
Kikuno won his octagon debut despite a fairly lackluster effort last time out. Ferguson doesn't allow many opponents to get away with that. The lengthy lightweight has a size and reach advantage, and keeps a breakneck pace. Kikuno does have knockout power, so if Ferguson presses him into a firefight, things should get interesting.
Prospect Watch
Chris Holdsworth vs. Chico Camus
With only five pro fights, Ultimate Fighter season 18 winner Holdsworth is still relatively untested. It should help that he went through camp with Team Alpha Male camp mate Dillashaw, so a match against the veteran Camus should offer a pretty fair assessment of where Holdsworth stands.
Upset Alert
Francisco Trinaldo vs. Michael Chiesa
Chiesa is 10-1 but usually finds himself in some dicey positions before emerging with a victory, mostly because his standup striking trails his dangerous ground game. Trinaldo has a big edge on the feet, so if he can stop Chiesa from getting the fight to the mat, he's likely to spring an upset.