UFC 168: Weidman vs. Silva II Crystal Ball Predictions
Once more unto the Octagon, dear friends…
Sorry for co-opting a classic in reference to this year's final UFC fight card, but it feels apt.
After a year of outstanding fights, surprising finishes, and all around awesomeness, there is still one last fight card poised to deliver all of the above tonight in Las Vegas, as UFC 168 closes out the 2013 UFC fight calendar.
Loaded with pairings that should produce excitement and capped off by a pair of championship rematches, Saturday's year-end finale could end up being the best event of what has one of the greatest years in UFC history.
Now it's time to figure out who will emerge victorious.
Chris Weidman (10-0) vs. Anderson Silva (33-5)
Video: Weidman vs. Silva II: Countdown To UFC 168
Silva dropping his hands wasn'€™t the only reason a new champion was crowned when these two met at UFC 162 in July, and 'The Spider'€ having his hands up and an appreciation for the New Yorker's skills isn'€™t going to change the final result in the rematch either.
Weidman is simply a match-up nightmare for Silva and everyone else in the middleweight division. His grappling skills are among the best in the sport, and his striking -€" as shown in the first fight -€" is better than people let on.
While Silva won'€™t be as quick to pretend like he's hurt and play his usual games, the always confident Weidman knows he won the first round of the initial meeting with his wrestling, and will look to do more of the same in this fight. Beating Silva on the feet was a surprise last time, but controlling him on the ground and beating him up on the canvas shouldn't be that hard to envision.
Look for the champion to close the distance, impose his will, and break down the middleweight icon mentally and physically to complete his first successful title defense.
Prediction: Chris Weidman by Unanimous Decision
Ronda Rousey (7-0) vs. Miesha Tate (13-4)
Video: Ronda Rousey ready for Tate at UFC 168
As entertaining as this rivalry has become, once these two are inside the cage, there is little that has change that prompts you to believe the outcome will be any different the second time around.
While Tate may have gained ground in the court of public opinion, the fact remains that Rousey has had an additional check time of training and turned aside two more challengers in convincing fashion since their first fight. Meanwhile, Tate has been tested by Julie Kedzie and beaten by Cat Zingano in that same time span.
This one will end just like each of Rousey'€™s seven previous fights – with a first-round armbar -€" but most likely feature the reigning champion looking to inflict a little more punishment on her nemesis before wrapping up the finish.
Prediction: Ronda Rousey by Submission, Round 1
Josh Barnett (33-6) vs. Travis Browne (15-1-1)
In his second North American tour of duty, Barnett has had success against fighters that allowed him to close the distance and initiate his catch wrestling game, while his lone loss came when Daniel Cormier kept his distance and worked his boxing.
An agile heavyweight, Browne has shown the ability to work from the outside, and should do the same here. He has a height and reach advantage on '€œThe Warmaster,'€ and is the far more diverse striker of the two as well. Though he can get 'too cute' with his offense at times, Barnett isn't the type of guy you let hang around, and Browne knows that.
Look for 'Hapa' to work angle and use his footwork to frustrate Barnett. While it'€™s tough to put the former Pride star away, Browne should be able to do enough in space to beat him on the scorecards.
Prediction: Travis Browne by Unanimous Decision
Jim Miller (22-4) vs. Fabricio Camoes (14-7-1)
This is a tailor-made opportunity for the perennial contender Miller to get back into the win column and remind everyone why he has been a tough out in the top tier of the lightweight division for so long.
Camoes is a solid grappler and far from a pushover, but he'€™s returning off an 18-month layoff following a loss to Melvin Guillard. Miller, meanwhile, has been facing the best the 155-pound ranks have to offer for the last three or four years, and the difference in experience and overall skill should show here.
This feels like a bout where Miller will be out to make a statement. He'€™s not a big finisher, but he'€™s capable of battering opponents and wearing them out -€" just ask Joe Lauzon. With a clear edge in the stand-up, look for Miller to push the pace behind tight combinations, and take the fight to Camoes in close and from top position, en route to a clean sweep of the scorecards.
Prediction: Jim Miller by Unanimous Decision
Dustin Poirier (14-3) vs. Diego Brandao (18-8)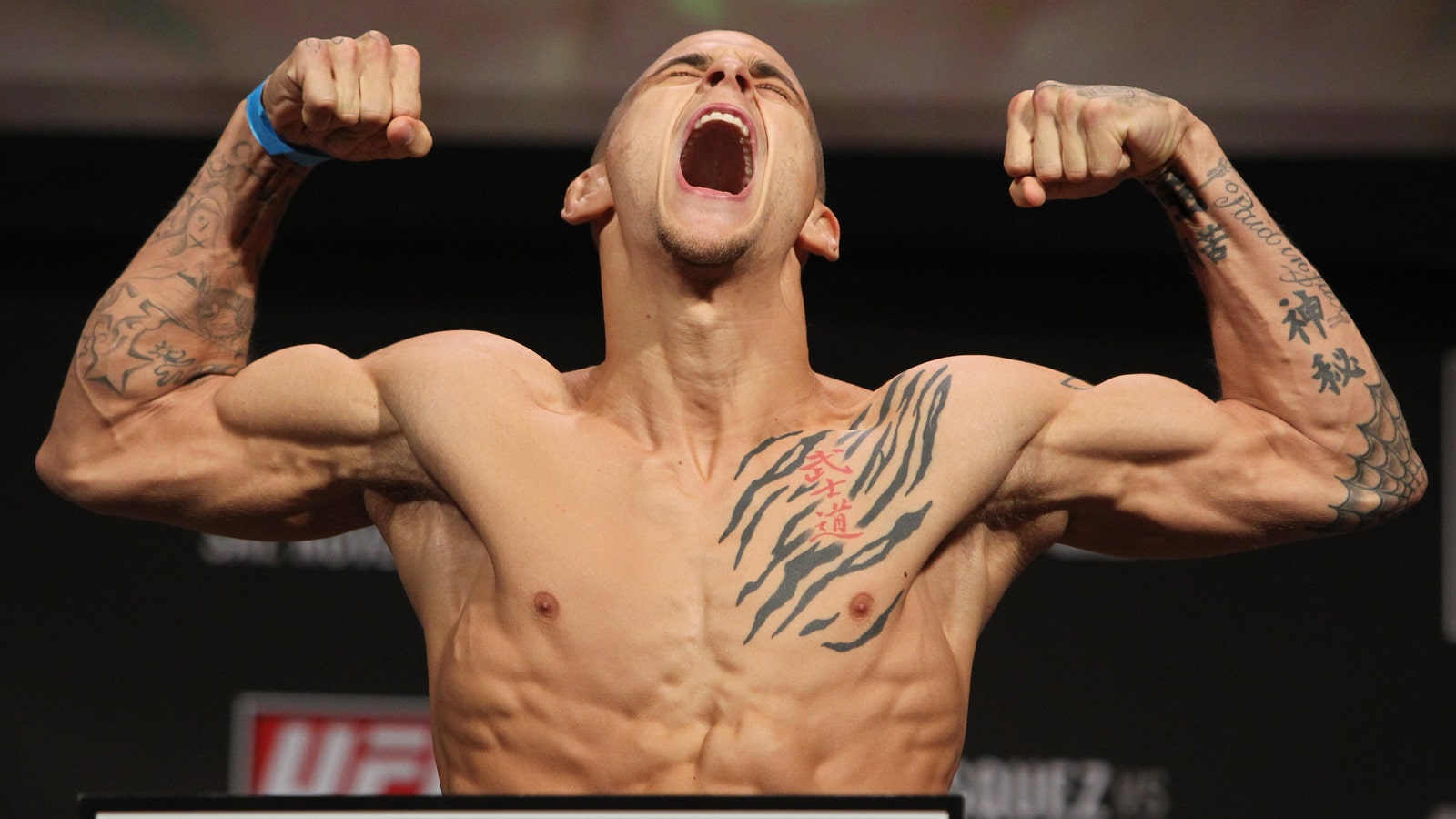 A terrific featherweight scrap to kick off the main card, this one should result in the winner moving into position near the top of the division.
While Brandao is brandishing the lengthier winning streak, Poirier has faced tougher competition throughout his ascent up the rankings, and should continue to show further improvement in putting away the Team Jackson-Winkeljohn representative here.
Though he'€™s still a little loose with his defense, Poirier'€™s relentless offensive style should wear out Brandao, who has worked hard to improve his conditioning, but hasn't been forced to work at someone else'€™s pace in some time. Expect the first two rounds to be fought at a break-neck speed, with Poirier landing the more significant blows, before grinding out the final round as the less exhausted of the two.
Prediction: Dustin Poirier by Unanimous Decision
Uriah Hall (7-4) vs. Chris Leben (22-10)
Video: Ultimate Insider: Chris Leben
If this does turn out to be Leben's swan song, '€œThe Crippler'€ should go out with a victory.
As great as Hall looked when the fights didn'€™t count on The Ultimate Fighter, he has been tentative and underwhelming in two losses since the stakes became real. While he could turn it around at some point, Leben is a rough match-up for any striker because you just can'€™t put him down for good…ever.
And he still packs heat in his left hand.
It may not come as fast and furious as it once did, but Hall has allowed himself to be backed down into the cage in each of his last two fights, and that'€™s a recipe for disaster against a knockout artist like Leben. The veteran will press the action, willing to take the best Hall has to offer in order to land something solid of his own, and beat the over-hyped prospect to the punch to earn the victory.
Prediction: Chris Leben by Knockout, Round 1
Gleison Tibau (28-9) vs. Michael Johnson (13-8)
It'€™s so hard to know which version of Johnson is going to turn up from fight-to-fight. Two fights back, he was unable to fend off the aggressive clinch and grappling attack of Reza Madadi, but last time out, he walked into Joe Lauzon'€™s backyard and dominated to earn the biggest win of his career.
Tibau, meanwhile, is as consistent as they come -€" you know he'€™ll turn up ready to use his size to out-grapple his opponents, and all that heft will lead to him tiring out as the fight progresses.
This should be a fight where Johnson excels on the outside, picking at the Brazilian with his quick hands, avoiding the clinch. As long as he can stay off his back, '€œThe Menace' should stick-and-move his way to another win in this one.
Prediction: Michael Johnson by Unanimous Decision
Dennis Siver (21-5-1) vs. Manny Gamburyan (13-7)
As much as Siver got picked apart and finished last time out, that came against Cub Swanson, one of the division'€™s elite competitors, while Gamburyan looked finished at the end of the first round in his controversial victory over Cole Miller back in the summer.
The Russian-born kickboxer now based in Germany should be able to strike from the outside with speed and power, keeping Gamburyan from getting inside where he can use his strong clinch game.
While throwing kicks against someone looking for the takedown or tie up is often risky, Siver snaps them out with such quickness that he should be able to batter the former WEC title challenger without getting dumped on his back. Over the course of 15 minutes, the damage will accumulate and slow 'The Anvil,'€ allowing Siver to get back into the win column.
Prediction: Dennis Siver by Unanimous Decision
Siyar Bahadurzada (21-5-1) vs. John Howard (21-8)
These two dudes are going to be bombing on each other from Jump Street, and they're not going to stop until one of them is too swollen to continue or staring up at the lights asking, '€œWhat happened?'€
Bahardurzada debuted with a 42-second knockout win over Paulo Thiago and throws smoke with every single punch. Howard, a former middleweight who returned to the UFC with a split decision win over Uriah Hall in the summer, moves back down to match heavy kickboxing with his Afghan opponent.
In a battle that will be shot-for-shot like frat brothers on a Friday night, Howard has a slight edge. Although Bahardurzada has freakish power, he tends to throw single shots, and '€œDoomsday'€ throws more combinations and works leg kicks, which will pile up the points and eventually limit the offensive effectiveness of '€œSiyar the Great.'
Prediction: John Howard by TKO, Round 3
William Macario (6-1) vs. Voelker (24-10)
A finalist in Season 2 of The Ultimate Fighter: Brazil, Macario had a good first round against Leo Santos before tiring and being submitted in the second. This time around, he steps in with a seasoned vet that will test him from the outset.
While Voelker is 0-2 in the UFC thus far, the numbers are not indicative of his performance and skill. Many believe he beat Patrick Cote at UFC 159, and his loss to Robbie Lawler at UFC on FOX 9 this summer in Seattle came on incredibly short notice.
Given a full camp, look for Voelker to put it on the young Brazilian from the outset, showing that while 'Patolino'€ has promise, he'€™s not yet ready to compete on the biggest stage in the sport.
Prediction: Bobby Voelker by TKO, Round 2
They meet here in a do-or-die match-up to open the fight card, and the advantage goes to Peralta. Payan is a gritty, scrappy veteran, but '€œProblems' has shown flashes of greater potential, and should display that here. He's the quicker, more powerful striker, and will catch his opponent with something nasty to end this one early.
Prediction: Robbie Peralta by TKO, Round 1