Travis Browne responds to Michael Page trolling Ronda Rousey
Travis Browne has come to the defense of girlfriend Ronda Rousey
Ronda Rousey's boyfriend, UFC heavyweight Travis Browne, has a few things to say to Bellator welterweight Michael 'Venom' Page.
For some backstory, Page took to Instagram to mock Rousey's stunning 48-second loss to bantamweight champion Amanda Nunes at UFC 207 last Friday. In a video clip, Page can be seen showcasing a new dance he calls "The Ronda Rousey" while acting like he's being punched in the face.
Browne obviously took exception to the Page calling out his girlfriend. So in a now deleted Tweet, the man known as 'Happa' called out the Englishman for his actions
(screenshot courtesy of LowKickMMA)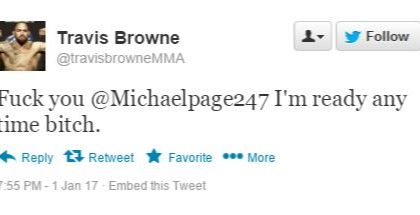 But the heavyweight's threats didn't appear to damper Page's attitude toward the fallen fighter as he took to Twitter to respond with yet another video mocking Rousey's gameplan against Nunes.
For Rousey (12-2), her loss to Nunes marked her second career setback following her violent headkick knockout to Holly Holm in November 2015.
Prior to this loss, Rousey had looked unbeatable, while being praised as the most dominant athlete in the world today. Her dominance led to true crossover appeal as she appeared in movies such as Entourage, Fast 7 and The Expendables.
But following her loss to Holm, Rousey retreated from the public eye, later revealing she was having trouble recovering both physically and mentally.
Browne (18-5-1) is currently slated to challenge Derrick Lewis at UFC 208 in February. The towering fighters be looking to snap his two-fight losing streak. In his most recent contest, Browne suffered a lopsided decision loss former UFC champion Fabricio Werdum at UFC 204 in September. This marked his second loss to Werdum after being dismantled in their initial bout in 2014.
Page, on the other hand, is coming off a lackluster decision win over Fernanda Gonzalez at Bellator 165.
This article originally appeared on