Travis Browne agrees to new deal with UFC, focus now shifts to winning the title
Just a few short days ago, Travis Browne was still a free agent awaiting word on his next contract, but now he's one of the happiest men in the UFC after agreeing a new multi fight deal while also setting up his next fight, which will result in a shot at the title if he comes away victorious.
Browne gambled on his own career with his last couple of fights because he continued to compete on an older contract worth less money instead of renegotiating a new deal while still in the middle of his previous one. It paid off huge for Browne after he knocked out former UFC heavyweight champion Josh Barnett in the first round at UFC 168, and now he's landed one of the biggest fights of the year to start 2014 not to mention the financial security he's always wanted for his family's future.
"The opportunity is huge because the UFC did everything they said they were going to do they said if you go out and beat top opponents we're going to put you in the biggest fights. He beat the top opponents and now he has another top opponent on April 19. Everything they said they would commit to doing they did, and everything Travis committed to doing he did," Browne's manager John Fosco told FOX Sports about his new deal on Monday.
Travis wants to be in the UFC and nowhere else and the UFC compensated him up to this point and he's excited to be a part of the UFC and one day be their champion.
- Browne's manager John Fosco
Fosco confirmed that Browne has agreed to 'a multi fight deal that will take him well into 2016' while also stating that the heavyweight contender has no reason to believe he will ever fight anywhere except the UFC for the rest of his career. According to his manager, Browne got exactly what he was looking for with his new deal and now he has the chance by the end of 2014 to become the new UFC heavyweight champion.
"Travis wants to be in the UFC and nowhere else and the UFC compensated him up to this point and he's excited to be a part of the UFC and one day be their champion," Fosco stated.
The scariest part about Browne's evolution is that he's still a relative novice by all MMA standards. The Hawaiian native has only been doing MMA for a few years and didn't come from a traditional martial arts or combat sports background like most fighters competing at the top levels of the sport today.
Browne was always a natural athlete and his evolution into a top ranked heavyweight has been nothing short of awe inspiring. Fosco's praise for his client also comes with a gentle warning to Werdum and the rest of the division because Browne will only get better from here on out.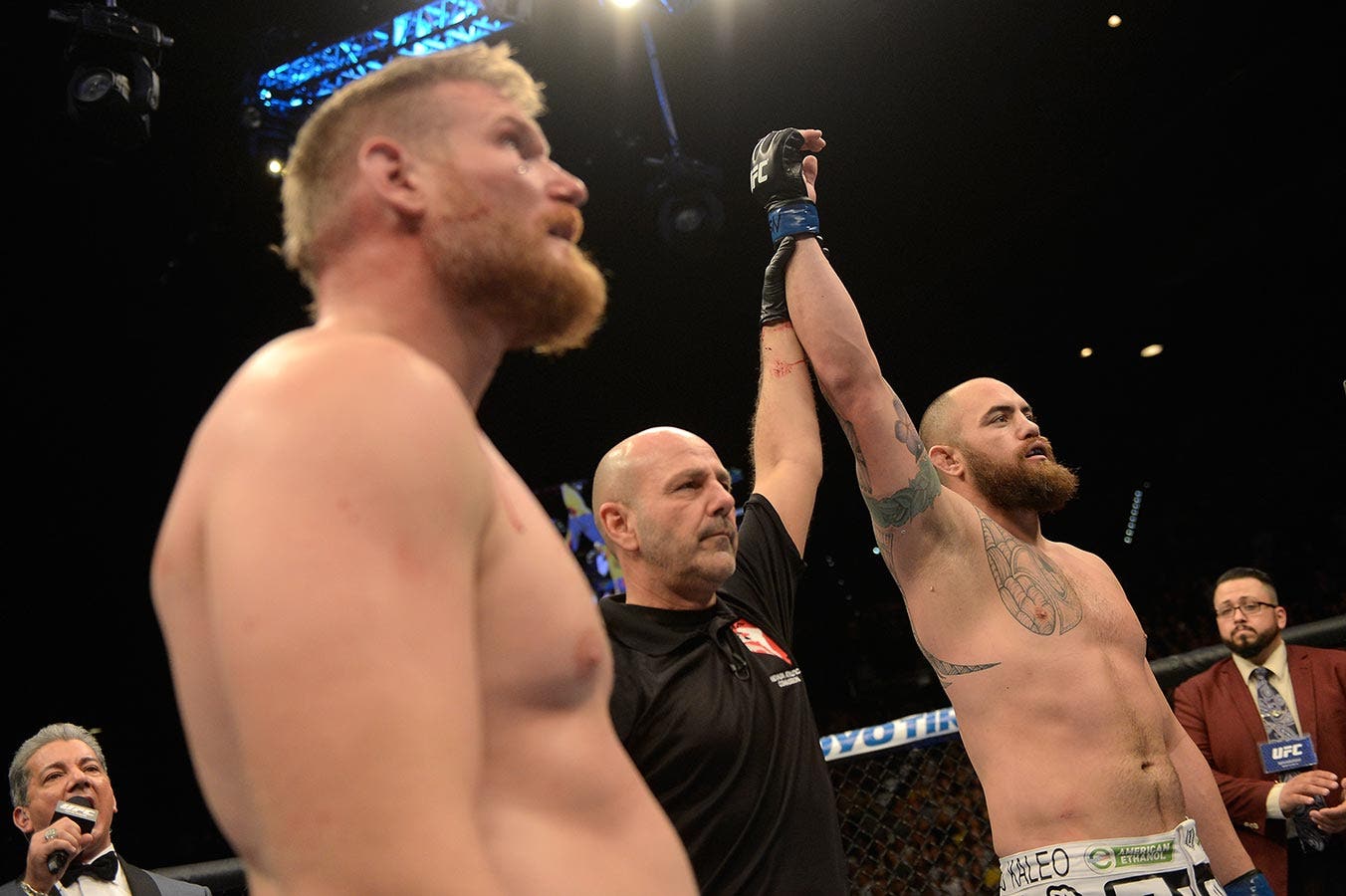 "What people need to understand – when you think of all the great fighters, when you watch them you think stylistically you know what you're going to see. With Travis Browne you don'€™t know. He is just now figuring out who he is as a fighter. His ceiling is ridiculous, he's just now coming into his own," Fosco stated.
"You need to understand that this guy is figuring out what he can do."
With his future secured financially thanks to his new deal, Browne's only focus now becomes destroying Fabricio Werdum and then targeting an eventual showdown with Cain Velasquez as soon as he's healthy enough to return. Given his recent string of performances there's no doubt Browne has the kind of talent to give anyone trouble in the heavyweight division and the list includes the heavyweight champion of the world.