Top 20 Walkouts in UFC history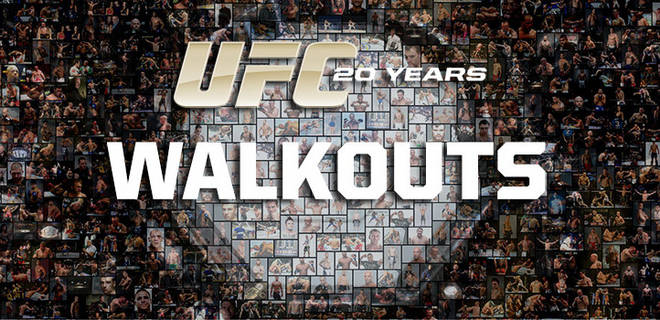 The entrance sets a tone.
Everything from the fighter's song choice to the look on their face to how fast they walk to the cage, it all means something. It can tell both fans and the opposition alike a lot about the fighter's mindset on this particular Octagon outing or their whole career. Some UFC fighters choose one song and one song only to walkout to, meanwhile, others switch it up with each bout.
A heavyweight could run to the cage and a flyweight could slowly saunter to it. There are those who make a big production and others are no frills. And, sometimes, there's a combination of a look in their eye and the music blasting through the arena that gives the crowd a peak into the future of a fireworks heavy fight.
Entrances are as unique as the fighters making them. Here are the top 20 entrances in UFC history..
#20: Georges St-Pierre at UFC 74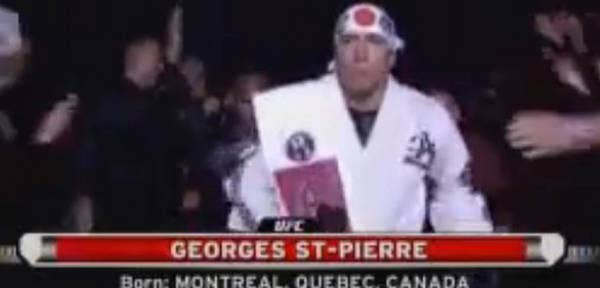 It was "angry" Georges St-Pierre.
In many ways, GSP is the UFC's equivalent of New England Patriots' quarterback Tom Brady. He's an enormous star, a champion, good looking, overwhelmingly positive, very polite, and people accuse both of them to be robotic. They're robotic in their lack of everyday emotion and robotic in their pursuit for perfection.
And you know what's scary? An angry robot. One would have to assume the robot gained some form of sentience and understands only the most simple emotions with the simplest being anger.
At UFC 74, GSP was entering the cage in the first fight since losing the welterweight belt by being knocked out in the greatest upset in Octagon history by Matt Serra. Add to that, St-Pierre was set to face villain-extraordinaire Josh Koscheck. As St-Pierre power walked to the cage in his gi, the former and future champ looked dialed-in and pissed about it.
#19: Rousimar Palhares at UFC 93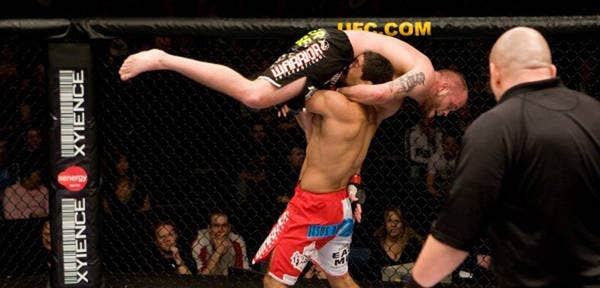 It can be uncomfortable watching a man cry, in general. It's wildly unsettling watching a man-beast like Rousimar "Toquinho" Palhares cry walking into the Octagon.
Who cares about the music, the BJJ blackbelt with a checkered past of winning fights by submission and not letting go of the hold shed tears on a few occasions going into and out of the UFC cage before being recently banned for life from it. At UFC 93 in Dublin, Ireland and heading into his bout with veteran Jeremy Horn, the overly muscular Palhares was outright weeping.
From there, "Toquinho" didn't hit any submissions on Horn. Instead, Palhares chose to throw Horn around like a ragdoll for 15 minutes.
#18: Randy Couture at UFC 129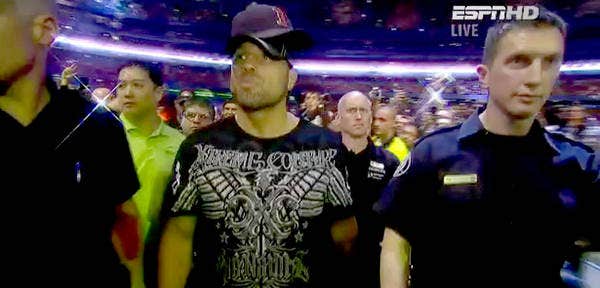 The UFC Hall Of Famer who wore belts from two different divisions multiple times during his days in the UFC did end his Octagon career on a low. After many walks to the cage looking the role of the champion, Couture made his through Toronto's Rogers Centre surrounded by 55,000+ screaming fight fans – all while wearing two hats. Literally.
On several occasions, grabby hands have shot out of the crowd to snatch a hat off a fighter's head. That actually happened to Couture at UFC 105 as well as Mike Swick. The opposite happened before the retirement fight in Canada, a fan gingerly placed a hat on top of the hat Couture was wearing on the walk.
The odd turn of events did not dawn on Couture until he made it to the Vaseline lube-up area outside of the Octagon. If the 47 year old Couture was wondering if he was slipping at his advanced age, wearing two hats on his head on the way to the UFC cage certainly didn't help.
#17: Carlos Condit at UFC 120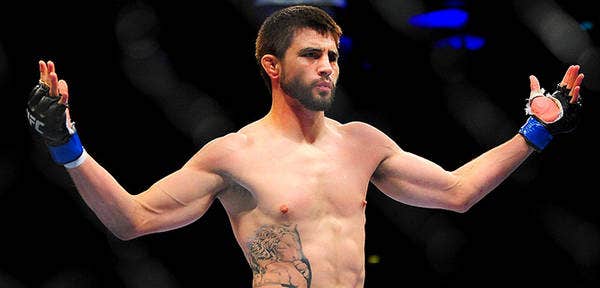 "The Natural Born Killer" wasn't there to make friends.
The New Mexico native was set to tangle with England's own Dan Hardy in London. There was absolutely no one in the O2 Arena there to cheer for Carlos Condit, so he might as well rub it in. It was distinguishable from the opening feedback, Condit had chosen Jimi Hendrix's famous guitar solo rendition of the "Star Spangled Banner". America!
Sadly for the British fans, that wasn't the only mud Condit was planning to throw in their eye as Condit KO'd Hardy in the first round while exchanging hooks. It couldn't have gone more to plan for Condit and any less to what the live audience could have wanted.
The only thing missing by Condit was a "U-S-A" celebration chant following the knockout.
#16: Clay Guida at TUF: Team Hughes vs. Team Serra Finale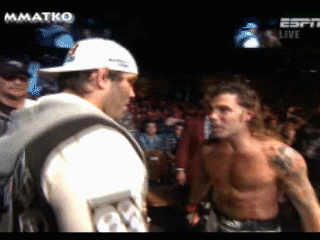 All of Clay "The Carpenter" Guida's entrances are long and energetic. Guida has said he uses his walk to the cage as a first round and works up a sweat and gets the blood flowing. On multiple occasions, whatever the song choice may be, it takes more time for Guida to bop up and down to the cage than the song is, so it gets double air time with a replay.
On this particular night, Guida chose Alkaline Trio's "Stupid Kid" for his pump-up jam to the Octagon get him ready for his first headlining bout for the UFC against Roger Huerta. Guida shouted the pop punk song's lyric from the top of his lungs while jumping up and down and relishing the role of main eventer.
As per usual with Guida, his older brother Jason slapped the taste out of Clay's mouth before hopping into the cage.
#15: Brock Lesnar at UFC 81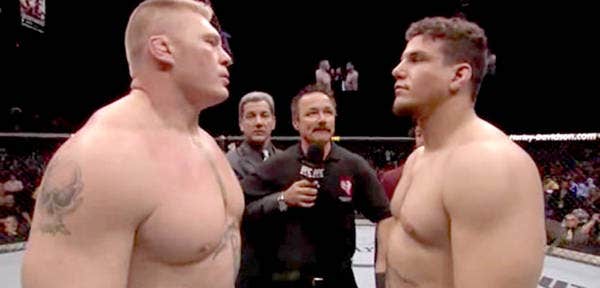 Everything Brock Lesnar did was incredible. Win, lose, talk, fight, walk to the cage, whatever.
The dude was bigger than life at 6'3" and cut down to 266 pounds. The former UFC heavyweight champion was always a blast to watch as he looked like Superman's nemesis and fought with unbridled emotion. This was especially the case at UFC 81 when Lesnar made his UFC debut after only one professional MMA bout the year earlier. And Lesnar made his debut against former UFC heavyweight champ Frank Mir, so there was no warm up fight for professional wrestler.
The crowd was abuzz waiting for the newly acquired Lesnar to make his way to the cage. Several WWE wrestlers were in the crowd ready to cheer like mad men for their former and future co-worker.
The question had to be, what would a monster like Lesnar come out to? The answer that night, "Shout At The Devil" by Motley Crue. That works. Although, later, Lesnar's choice of "Enter Sandman" by Metallica matched his personality a little bit more. But the powder-keg feeling all of Lesnar's fights had was even more so in that debut.
#14: Ronda Rousey at UFC 157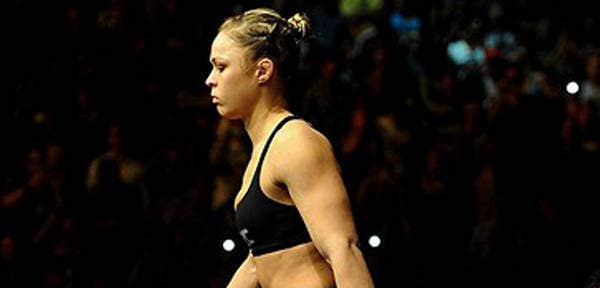 It was a lot of first for the UFC with the first women's fight, women's title fight, women's main event, and so on and so forth. None of it would have been possible if it wasn't for the one woman who was going to enter the Octagon last representing as the first female champion in UFC history, "Rowdy" Ronda Rousey.
She talks trash, she is mean, she is nasty, and she knows how to fight. Incredibly apropos, Rousey chose Joan Jett's "Bad Reputation" with it's dirty eletric guitar and its punk vocals. Rousey's a wrecking crew who has a gameface like she's about to walk into the Deathstar and kick Darth Vader in the face with her Ugg boots.
As with all of her bouts, Rousey won by armbar in the first round and continued that bad reputation she has with her opponents, but the undefeated reputation she has with fight fans.
#13: Anderson Silva at UFC 101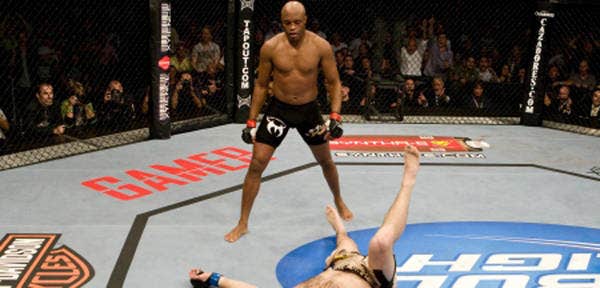 As always, arguably the greatest MMA fighter of all-time, entered to "Ain't No Sunshine" by DMX from the "Exit Wounds" soundtrack. The rap song is slow, foreboding, and is forever synonymous with the former UFC middleweight champion as he has left an indelible stamp on this sport and each and every time he walks to that Octagon to this song.
At UFC 101 in Philadelphia, the crowd was unsure about Silva. Crowds in general do not seem to affect Silva's performance, and his imposing presence is magnified when those in the audience cheer or boo him. In Philly, the crowd had just given a huge pop for fan-favorite Forrest Griffin. At that time, Griffin was coming off the loss of his UFC light-heavyweight title and Silva was coming off a horribly boring but successful UFC middleweight title defense.
This marked Silva's tenth fight in the Octagon and his second at 205 pounds. The uncertainty about Silva that stemmed from his previous fight with Thales Leites was palpable, but forever answered as Silva defeated Griffin in a frightening fashion. It was truly a dramatic entrance in a long line of them for Silva, and in this appearance fight fans knew Silva, but didn't know if they could trust him. He earned it moments later with the unforgettable KO of Griffin.
#12: Jeff Monson at UFC 65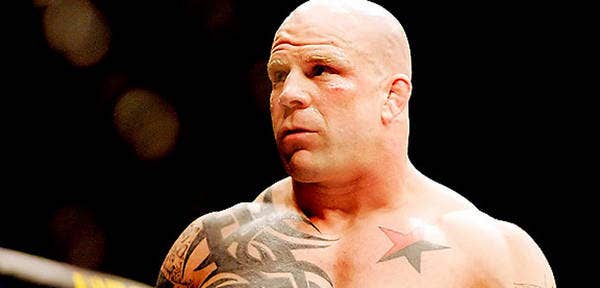 Simply put, Jeff Monson is not like everyone else.
One might guess, Monson with his muscular build covered in tattoos would choose Slayer or Morbid Angel to thrash to before a cagefight. Instead, Monson chose the near nursery rhyme "Imagine" by John Lennon to fill Sacramento's ARCO Arena in the moments prior to his UFC heavyweight championship clash with then champ Tim Sylvia.
Maybe the strategy was to lull his opponent to sleep or maybe that's how Monson's wired that that gets him psyched-up. Or maybe the grappler thought it was funny. Either way, "The Snowman" couldn't have made a more antithetical choice to the UFC's nu-metal show opener, "Face The Pain" by Stemm.
#11: Roy Nelson at UFC 117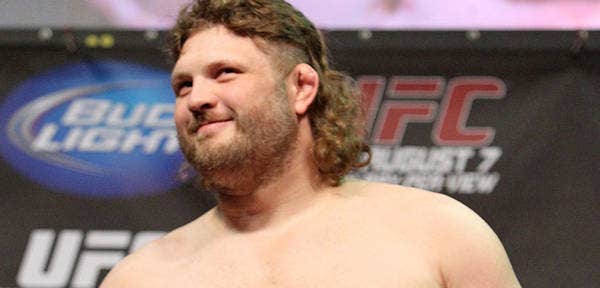 "Big Country" and his big belly had found its perfect musical accompaniment in Weird Al Yankovic's "I'm Fat".
Recently, Roy Nelson has been losing weight and shaving inches of his stomach's girth. But for years, Nelson wore his anti-abs with honor and maybe even avoided whatever exercise would help him lose that rock solid gut. The zenith of Nelson reveling in his unflattering physique was at UFC 117 as he went in to face future champ Junior dos Santos.
Already not a fan of Nelson's stomach, UFC President Dana White must've cringed when hearing "I'm Fat" blaring over the speakers while everyone laughed, but him. For a while there, White was probably convinced Nelson was eating a sleeve of Oreo's a day to keep that fat that White hated so much.
#10: Diego Sanchez at UFC 95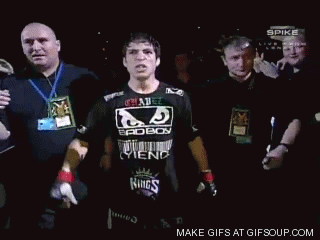 YES! YES! YES! YES!
In his lightweight debut in London, Diego "The Nightmare" Sanchez chose an oldie but a goodie in Queen's "We Will Rock You". While Freddie Mercury talked about kicking someone's can all over the place, Sanchez chose to bark his "YES!" mantra, which never sounded more menacing than it did that night.
That classic rock n' roll jam sounded menacing and soothsaying as Sanchez was already a fan favorite from pillar to post fighter. The bout pitted The Ultimate Fighter 1 winner against The Ultimate Fighter 2 winner Joe Stevenson and the two would go on to rock all of the O2 Arena in a Fight Of The Night performance.
#9: Frankie Edgar at UFC 136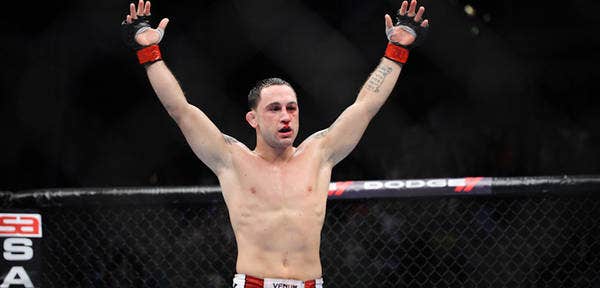 The former UFC lightweight champ who many liken to "Mike Tyson's Punch Out" protagonist Mac always comes out to the same song and it's always the baddest song to come out to: "Kick In The Door" by The Notorious B.I.G. That little dude knows how to make a larger than life entrance.
A tough track for a tough dude, "Kick In The Door" is one of the best dis tracks and, simply, Biggie Smalls at his best. The New York rapper delivering trash talk on the mic as the New Jersey fighter hustles his way to the cage ready to deliver a relentless stick and move style that won him the title from "The Prodigy" B.J. Penn.
At UFC 136, the Houston crowd had already worked itself into a froth through the wild night of fights. They were champing at the bit for the lightweight belt, trilogy ending bout between Gray Maynard and Edgar. The two had last fought to an unforgettable draw on January 1st and 10 months later Edgar looked like he couldn't wait another second to start rounds 6, 7, 8, 9, and 10.
As Edgar enters the Octagon, the undersized fighter outside of the cage stomps in like an angry elephant or like the size of the fighter he scraps as.
#8: Wanderlei Silva at UFC 79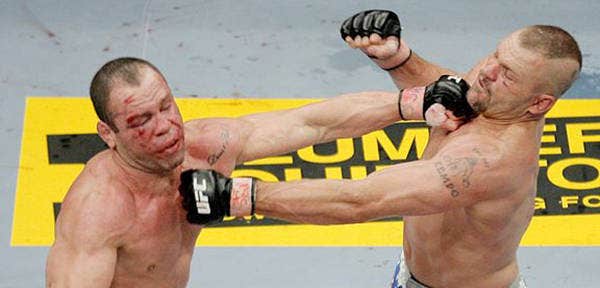 For MMA fans, not simply UFC fans, it was cathartic.
As "Sandstorm" played in Las Vegas, there was a relief felt through fight fans as they were truly about to see the bout they had been waiting for for a long time. Finally, "The Axe-Murderer" Wanderlei Silva was going to walk into the Octagon again since his emergence as a mega star in Pride and he would throwdown against his American equivalent "The Iceman" Chuck Liddell.
Georges St-Pierre vs. Matt Hughes III was the scheduled main event, but "real" fight fans were on the edge of their seating waiting for Silva and Liddell to connect their knuckles to each other's faces. And the kickoff to that, the electronic diddy by that band (Darude) that no one knows the name of that signals one thing and one thing only in MMA – "The Axe-Murderer" has arrived.
#7: Kimo Leopoldo at UFC 3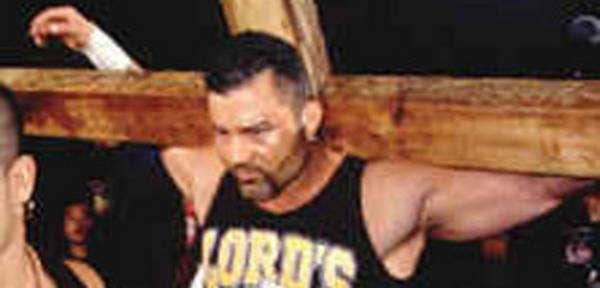 Very subtle.
In his UFC debut, mind you, Kimo Leopoldo walked to the cage carrying a cross on his back twice his size. Whatever the purpose, it made Kimo look like he meant business and he would need to as he was taking on the best fighter in the UFC at that time in Royce Gracie. The bout would easily be Gracie's toughest by that point as Leopoldo was massive in comparison to the slight Gracie.
Back then, all the fighters seemed to be ridiculous characters out of some strange alter-world. There was a 600-pound man fighting in the cage that same night, so while Leopoldo sticks out to us now, he kind of fit perfectly into the madness it was then. Year upon years later, Diego Sanchez walked to the cage with a book sized cross in his hand and we thought that was crazy. Imagine if Sanchez reenacted "The Passion" like Kimo did?
#6: James Te Huna at UFC on FUEL TV: Barao vs. McDonald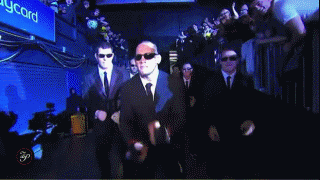 Who saw that coming?
The heavy-handed New Zealander of Maori descent's February 2013 entrance was a spot-on impersonation of a 16 year old pop-culture reference. Walking to the Octagon in London, England, Te Huna and company dressed in matching suits and sunglasses did the choreographed dance from the "Men In Black" theme song by none other than Will Smith.
Group dance numbers were a common occurrence in Japanese MMA organizations like PRIDE and K-1 Hero's with fighters like Genki Sudo and Akihiro Gono. When those companies were going strong, UFC Prez Dana White said he wasn't a fan of their big budget entrances. Maybe White's softened or maybe he didn't know about this dance routine ahead of time. Either way, fight fans seemed to enjoy the dose of levity Te Huna et al provided prior to his head-hunting haymakers inside the Octagon.
Next time though, something a little more topical.
#5: Royce Gracie at UFC 1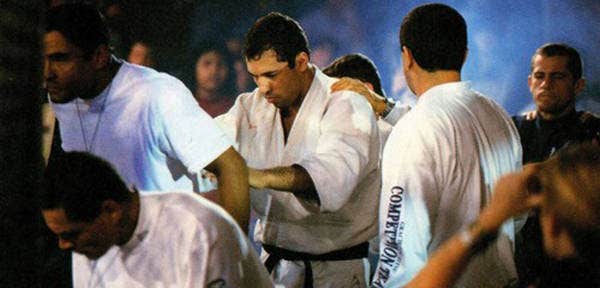 He was the chosen one. Literally.
At the inaugural event, Royce Gracie entered as a part of a line of martial arts masters all sharing the same blood and last name. Call it the "Gracie Train". The man right in front of Gracie who Royce had his hands on was enigmatic Rickson Gracie who was said to be the greatest of all the Gracies in their groundbreaking martial art – Gracie jiu-jitsu. But it wasn't Rickson who was about to fight to prove that his family's fighting way was the best, it was Royce.
Why Royce? Because he weighed 160 pounds and didn't have the beach body physique that Rickson had. It would be even more breathtaking if Royce ran through all his opponents because he was more unassuming. Nevertheless, he still needed to go in there and trade bare-knuckle fists and do it.
Gracie was to enter the Octagon by himself, but he walked to it surrounded by his family.
#4: Tito Ortiz at UFC 32
Nothing screams "ultimate" fighting like pyrotechnics and Limp Bizkit.
Don't let former UFC light-heavyweight champ Tito Ortiz and UFC President Dana White's hostile relationship fool anyone, no one got pushed like "The Huntington Beach Bad Boy". The living embodiment of that favoritism for their best fighter at the time was the epic entrance at the old Continental Airlines Arena in New Jersey.
For a good minute, the crowd just watched as Ortiz under the cover of darkness jogged in place at the top of the ramp with his big gold belt on while robot noises played over the speakers. Then came the fire and explosions and a huge explosion and then Fred Durst's melodious voice on "Break Stuff". It was the grandest entrance set-up the UFC has done and, probably, will ever do.
Years later, White on Joe Rogan's podcast told the story about that entrance. The reason for the huge stage, the UFC wasn't selling out arenas back then, so they cut out a chunk of the seats with the massive ramp. As for the explosion, the obvious anecdote is they nearly blew up Ortiz with it. Fame, it's a double-edged sword.
#3: Yoshihiro Akiyama at UFC 100
Finally, the UFC understood what sexy was at UFC 100 when Yoshihiro Akiyama aka "Sexyama" made his Octagon debut. In five bouts with the company, "Sexyama" took one victory in the cage, but won hearts and minds with every appearance. Specifically, with every entrance.
Prior to "Sexyama", no one dared to think that walking to the Octagon could be so damn romantic. With the operatic "Time To Say Goodbye" by Sarah Brightman & Andrea Bocelli tickling the heart strings (it's the F'n Catalina Wine Mixer!), Akiyama would dress in a white gi with his 3rd degree dan blackbelt in Judo and slowly walk to the cage. At UFC 116, Akiyama walked hand-in-hand with his cornermen. But before they could start their slow pace, Akiyama and his crew would bow and drop to their knees to bow again.
From there, "Sexyama" would simply extend his aura with his confidence and with his musical choice throughout whatever arena was lucky enough to have him fighting. As mentioned, not many wins for Akiyama in the cage, but "Sexyama" did land three consecutive Fight Of The Night bonuses.
#2: B.J. Penn at UFC 63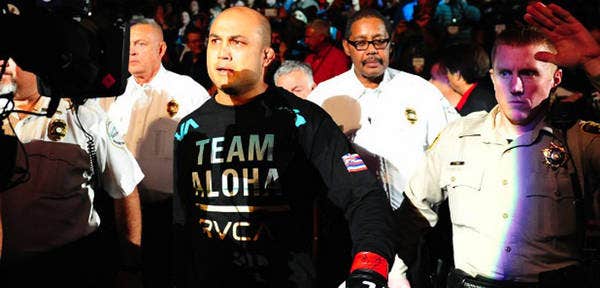 If this entrance didn't give you goosebumps then you don't have a functioning nervous system.
Only the former UFC lightweight champ and former UFC welterweight champ B.J. "The Prodigy" Penn could take two songs with nothing in common nor anger in them and make them a frenzied battle anthem. Walking out to face his rival Matt Hughes for the UFC 170 pounds' belt, Penn went with a fusing of Israel Kamakawiwo'ole's "Hawaii 78" and Gnarls Barkley's "Crazy" and it was terrific.
As if fight fans weren't already expecting a war between the country boy and the island boy, when Penn came careening to the cage with his piercing stare and his hands up and ready to throw, everyone knew it was on. It was on like Donkey Kong. With Bruddah Iz and Cee-lo bellowing, Penn looked in an awe-inspiring zone.
#1: Tom Lawlor at UFC 100
Whether it's weigh-ins or making his way to the cage, "The Filthy Mauler" Tom Lawlor always has something memorable planned. Least not forget, Lawlor fought Aaron Simpson dressed from head to toe as Dan "The Beast" Severn. The guy is committed or should be committed or something.
The Ultimate Fighter 8 alum's most outrageous entrance was to the Baha Men's classic "Who Let The Dogs Out?". Not just a song choice, Lawlor went to the cage at the biggest event in UFC history at that time with training partner Seth Petruzelli wearing a dog collar, walking around on all fours, and with Lawlor holding Petruzelli's leash. It's not even a little bit surprising that "The Filthy Mauler" once trained to be a professional wrestler, right?
The joke's on us as Lawlor won the Submission Of The Night bonus in less time than the entrance took. Just as he planned it?