Top 20 shortest UFC fights
If you asked a fighter whether they'd prefer a long, drawn out battle or a quick, get in, get out, get paid type performance, the only one that might tell you they want a 15 or 25 minute encounter is Diego Sanchez.
Everyone else wants to win as quickly as possible – you get paid the same money, take no damage, and don't have to show up to your after party with a fat lip, covered in bruises, feeling like you just got the snot beat out of you.
It's about time we paid tribute to the fights that finished things in a flash, showing that the one thing you can always count on in MMA is to expect the unexpected. Don't blink, here come the Top 20 shortest fights in UFC history, ranked by duration.
#20: Marcus Aurelio submits Ryan Roberts – Fight Time :16 seconds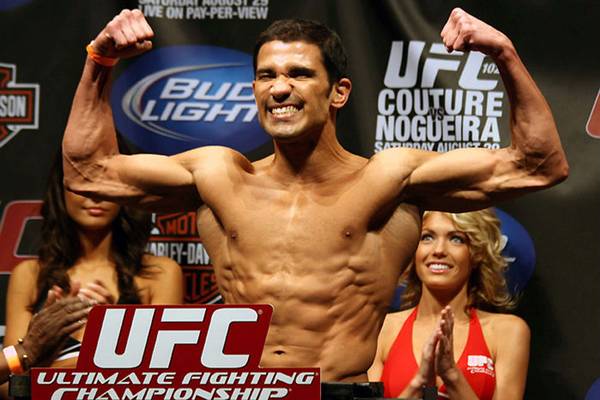 Aurelio made a name for himself fighting in the Pride Bushido series, most notably earning a first-round submission win over Takanori Gomi in April 2006, before making his Octagon debut against Clay Guida at UFC 74.
After bouncing back from his loss to Guida with a win over "Lil' Hulk" Luke Claudio three months later, Aurelio stepped into the cage with Roberts at Ultimate Fight Night 13 in Broomfield, Colorado.
While this was unquestionably the crowning achievement of Aurelio's 2-4 career under the UFC banner, it's a bigger moment for all the wrong reasons for Roberts.
Entering on a two-fight winning streak and sporting a 10-2 record overall, this was Roberts' debut in the UFC – the moment every fighter dreams of when they're grinding out wins on the regional circuit for nickels and dimes, and he couldn't have laid a bigger egg.
Aurelio dropped him with a right hook, landed a couple more strikes as Roberts was dazed, and then grabbed onto the armbar to secure the tap, all in the span of 16 seconds. Though Aurelio would go on to lose his next two fights in the UFC (and a subsequent return bout against Evan Dunham), Roberts wouldn't even get the chance to rebound from this one-sided, lightning quick loss.
#19: Frank Shamrock subs Kevin Jackson at Ultimate Japan – Fight Time :16 seconds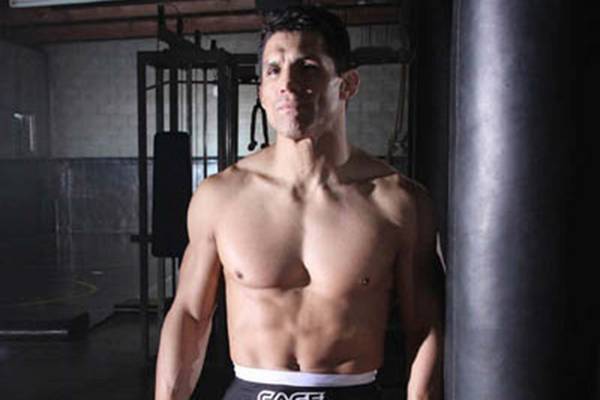 Though his name is sometimes scrubbed from the UFC record books – or surrounded by expletives when uttered by Dana White – this is a fact-based list and not a political creation, and "The Legend" holds one of the fastest submission wins in UFC history.
Here's what makes this even more important in grand scheme of things: it was Shamrock's organizational debut and it was for the UFC light heavyweight title.
Technically, it was called the middleweight title at the time, but it eventually morphed into the belt that now signifies the top 205-pound fighter in the UFC, and from this bout through his retirement five fights and four successful title defenses later, Shamrock ruled the division.
Jackson, a gold medalist in freestyle wrestling in the 1992 Summer Olympics, had previously won the UFC 14 middleweight tournament, and held a 3-0 record at the time, but he was no match for Shamrock. In just 16 seconds, a new UFC star with a familiar last name was created.
Shamrock would go on to hold the title for 703 days, earning a 22-second win over Igor Zinoviev in his first title defense and ending his reign following a win over Tito Ortiz in what is widely held as one of the top fights in UFC history at UFC 22.
#18: "Lil Evil" KO's John Lewis at UFC 28 – Fight Time :15 seconds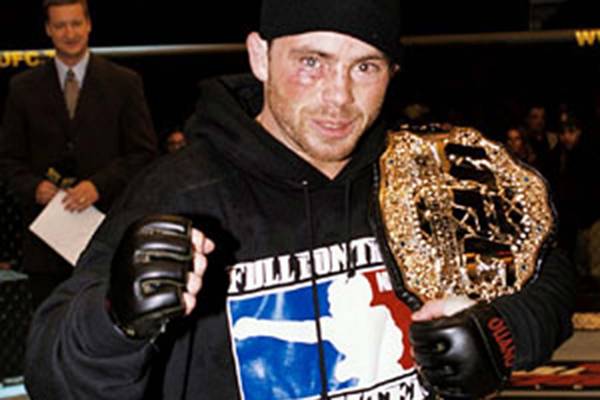 Jens Pulver is one of the pioneers of the lighter weight classes in the UFC, standing as the first lightweight champion in company history. He was also one of the forefathers of the "Sprawl and Brawl" style of anti-wrestling that Chuck Liddell helped make famous.
Instead of using his wrestling ability to keep opponents on their backs, Pulver employed his skills in reverse, defending incoming takedown attempts in order to throw the dynamite he had in his fists.
One fight before winning a majority decision over Caol Uno to claim the lightweight title at UFC 30, Pulver shared the cage with John Lewis, a respected veteran who Jonathan Snowden called "The MMA Kevin Bacon" in his excellent book, The MMA Encyclopedia. Though Lewis had a much better career than his record (3-4-3) indicates, this fight would prove to be his last, and it didn't take long for the end to come.
Squaring off at the Trump Taj Mahal – "Where the boardwalk meets the ocean" as Bruce Buffer put it – both fighters came out in the southpaw stance, pawing with their lead hands, Pulver coming forward. The first quick left touched Lewis on the jaw, turning his head a little, while the second put him to sleep. All it took was 15 seconds.
Several years later, Pulver would be on the receiving end of a first-round knockout loss inside the Octagon, losing to then UFC newcomer Joe Lauzon, who would go on to be a part of the cast on Season 5 of The Ultimate Fighter as a member of Team B.J. Penn against… Jens Pulver.
#17: Andrei Arlovski drops Paul Buentello at UFC 55 – Fight Time :15 seconds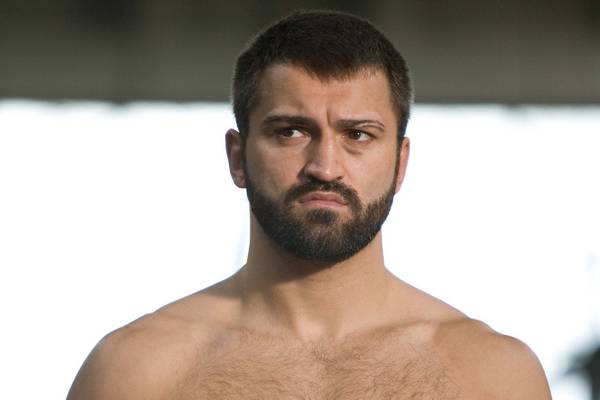 On the same night that Chael Sonnen made his UFC debut and future Kimbo Slice opponent Sean Gannon lost to Brandon Lee Hinkle in the co-main event, Andrei Arlovski was ready to defend the heavyweight title for the first time as the undisputed champion.
"The Pit Bull" had defeated rival Tim Sylvia for the interim title seven months earlier, and was promoted to undisputed champion the following August as Frank Mir continued to recover from the horrific motorcycle accident that nearly cost him his career.
This fight put Paul Buentello into the record books, though not the way he had hoped. "The Headhunter" came out aggressive, looking to exchange with the champ, and then all of a sudden, he slumped to the canvas. The announcers – Craig Hummer and Joe Rogan – didn't know what happened. Rogan actually calls it a takedown first, and then says, "What happened? What happened?"
What had happened was that Arlovski landed a beautiful, inside counter right hand as Buentello loaded up with a right of his own. It was a tremendous shot, and in all honesty, the official finish should be recorded as 10 seconds, not 15 seconds.
As much as losing in your one and only title shot in just 15 seconds is a tough pill to swallow, it's nowhere near as bad as the time Buentello tried to do a call and answer with the fans only to have no one answer.
#16: Terry Martin finishes Jorge Rivera at UFC 67 – Fight Time :14 seconds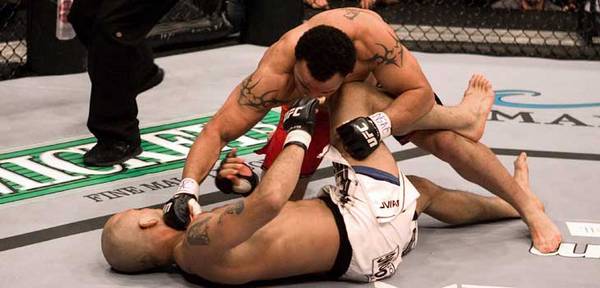 Even after his days on the biggest stages in the sport has passed, Terry Martin's knockout power remained that little caveat that had to be mentioned every time his name appeared on a fight card. The other guy might have been the favorite, "but you've got to watch out for Martin's power" was the common refrain.
This remains the greatest example of his fight-ending power.
Referee Herb Dean offered his now familiar "Let's fight," the two touched gloves, and Rivera landed a solid outside leg kick. When he followed up with one to the body, Martin caught it, and unloaded. The first punch wobbled Rivera and brought the fight to the mat, the second and third shots put "El Conquistador" out, and the last shot actually woke him back up just in time to see Dean standing over him, waving off the fight.
The official time for the finish was announced as 14 seconds, but much like a number of these quick stoppages from the earlier events, a review of the tape shows that the timekeeper was a little slow with the stopwatch, as this one was done about four seconds earlier.
Martin would go on to fight three more times in the UFC, defeating Ivan Salaverry before losing to fellow brawler Chris Leben and veteran Marvin Eastman in his final two appearances inside the Octagon.
#15: Anthony Perosh silences Vinny Magalhaes at UFC 163 – Fight Time :14 seconds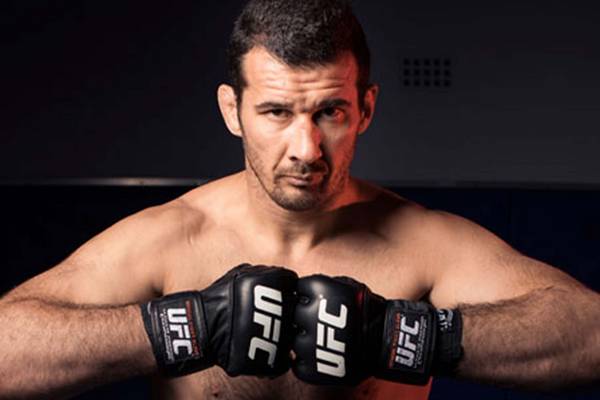 You have to hand it to former Ultimate Fighter finalist Vinny Magalhaes. A couple months ago in Rio de Janiero, Anthony Perosh did just that.
After going 0-2 in his first UFC run, Magalhaes found success outside the Octagon and collected a second-round submission win over Igor Pokrajac in his return at UFC 152. He then managed to talk his way into a fight with Top 10-ranked Phil Davis. He looked awful in the loss, but that didn't prevent him from once again taking a page from his pal Chael Sonnen's book of tricks and talking a blue streak about his next opponent, Australian veteran Anthony Perosh.
Turns out, the 40-year-old "Hippo" didn't take too kindly to Magalhaes' comments, and planted the comparatively young loudmouth face-first into the canvas just 14 seconds into their bout at UFC 163.
There is an awesome anecdotal element to this quick finish from Perosh, but you're going to have to read ahead a little further to find it.
#14: Gary Goodridge elbows Paul Herrara into oblivion at UFC 8 – Fight Time :13 seconds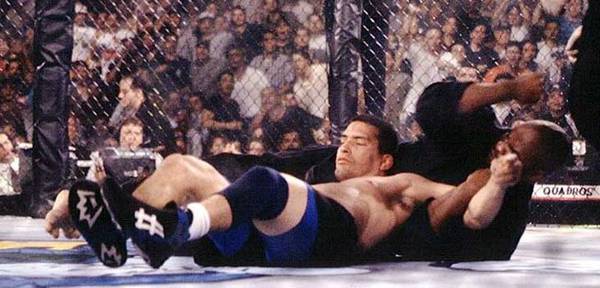 The thing with one-punch knockouts is that the bout is instantly over – the punch lands, the lights go out, and it's done.
This fight was nothing like that.
This wasn't one shot, now let's go home. This was a hulking specimen from Barrie, Ontario trapping a dude he outweighed by about 80 pounds in a crucifix and unleashing a torrent of quick, forceful elbows to his head. One, two, three, seven…
"Big Daddy" was a ferocious physical specimen, and his performance against Herrera produced not only one of the shortest fights in UFC history, but also stands as one of the most impressive debuts in the Octagon as well. But that's a list for another day.
#13: Anthony Johnson destroys in debut against Chad Reiner – Fight Time: 13 seconds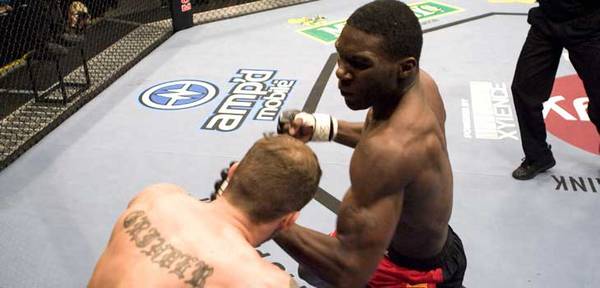 Anthony Johnson was the kind of fighter that made you see championships. You looked at his size, his raw skills, his natural athleticism and thought, "With the right coaches, the right guidance, this guy can be a dominant force."
He had blistering power and was massive for the welterweight division, and though his battle with his size and making weight would ultimately be his undoing, there were times where "Rumble" showed things in the cage that made you believe you were looking at a future champion. That included his debut appearance in the Octagon.
Johnson dispatched Reiner, who had a 13-2 record at the time (compared to Johnson's modest 3-0 mark) in just 13 seconds at UFC Fight Night 10, an event remembered for the second back-and-forth battle between Sam Stout and Spencer Fisher.
Though he never managed to harness all his potential under the UFC banner, "Rumble" certainly had some memorable moments inside the Octagon, and while his unceremonious exit from the company (and eventual move to heavyweight) is probably going to remain his career calling card, there were some pretty impressive performances that are worth remembering too.
#12: Rob Emerson drops the hammer on "The Anvil" at UFC 87 – Fight Time: :12 seconds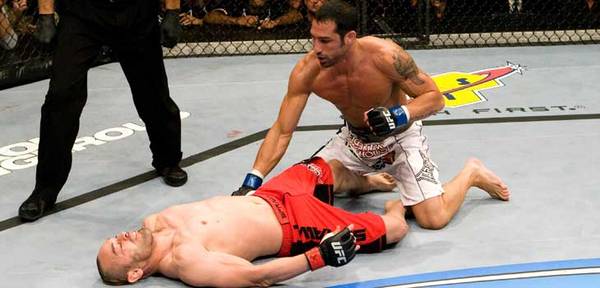 On a night where stars like Georges St-Pierre, Jon Jones, Brock Lesnar, and Kenny Florian all hit the Octagon, it was unheralded lightweight Rob Emerson that took home Knockout of the Night honors at UFC 87.
Emerson, who was coming off a split decision win over Keita Nakamura took on fellow TUF 5 cast member Manny Gamburyan in a bout that seems horribly out of place on the main card in hindsight. Regardless of how it looks in the rearview mirror, it produced a blistering finish that stands as the 12th shortest fight in UFC history.
Gamburyan came out aggressive, firing hands, looking to close the distance and presumably get to the clinch. "The Saint" never gave him the opportunity, making his legs buckle with a stiff right hand before planting a left on Gamburyan's chin the dazed judoka tried to sit up and get back to his feet.
Emerson would go on to fight four more times in the UFC, posting a 1-3 record before getting released, and has never come close to duplicating this performance, but he'll always have that one night in Minneapolis.
#11: Johny Hendricks starches Jon Fitch – Fight Time :12 seconds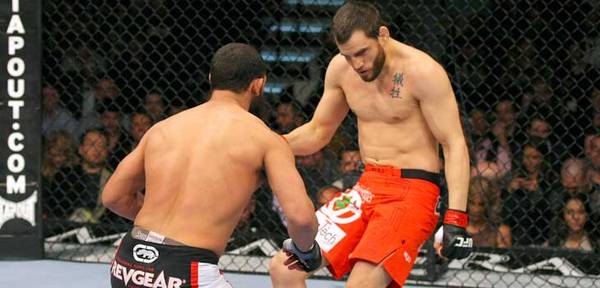 In the rise of every contender and champion there is that one fight from their climb towards the top that stands out as the moment where everyone sat up and really started to take notice.
This was that fight for Johny Hendricks.
Up until this point, the former National Champion wrestler from Oklahoma State was kind of stuck in a heap with fellow wrestler-boxers like Charlie Brenneman, Rick Story, and Mike Pierce, who, coincidently, were three of his last four opponents prior to this contest. He had surprised a lot of people with a quick stoppage win over Amir Sadollah in his UFC debut, and blistered TJ Waldburger two fights earlier, but this was perennial contender and poster boy for "The Grind" Jon Fitch – a guy with exactly one loss over the previous nine years and that came against Georges St-Pierre.
Yeah – turns out none of that mattered. The first left hand Hendrick threw landed square on Fitch's beard and turned him catatonic. He crashed to the canvas and then tried to wrestle referee Steve Mazzagatti for a couple seconds when the official was coming in to wave off the fight.
Hendricks has since duplicated this performance against Martin Kampmann, and won his way into a title fight with GSP at the UFC's 20th Anniversary show, UFC 167 on Saturday, November 16.
#10: B.J. Penn obliterates Caol Uno at UFC 34 – Fight Time :11 seconds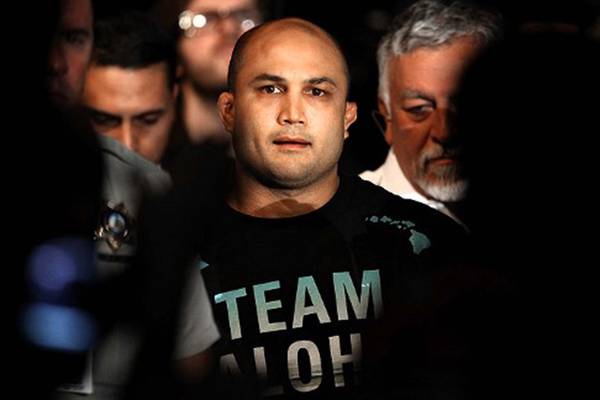 If you ever want to know why people have such a deep affinity for B.J. Penn and an unwavering belief that a focused, motivated, and conditioned Penn is capable of beating a horde of wild barbarians in a 57 against 1 fight with nothing more than his bare hands, go back and watch some of his earliest appearances in the Octagon and you'll understand.
"The Prodigy" was fierce and remains one of the ten most talented fighters to ever set foot in the UFC cage. Just as he had done in Brazilian Jiu-Jitsu when he won the Mundials after just three years of training, Penn did things in the cage that a fighter with his limited experience shouldn't have been able to do.
This was Penn's third fight. Uno was one of the top lightweights in the world at the time, and entered with a 13-4-2 record, having rebounded from his UFC 30 championship loss to Jens Pulver with a knockout win over Fabiano Iha.
Uno charged across the cage, soaring through the air trying to catch Penn with a kick. He missed, reset in his southpaw stance, and then got overwhelmed. A left hand made him cover up, and an uppercut crumpled him into the cage. That's when Penn unleashed a barrage of right hands, prompting "Big" John McCarthy to step in and wave off the fight just 11 seconds in.
Remember the piston-like rights Penn launched at Sean Sherk when he was folded into the cage at the end of the fourth round of their lightweight title fight? This was the younger, faster, more urgent version of those blows.
And then BJ heading up the ramp. Long before Forrest Griffin started running out of the Octagon after fighter, Penn pioneered the move, sprinting to the back, the camera following. He didn't come back either. His job was done.
#9: Mark Weir stops Eugene Jackson at Royal Albert Hall – Fight Time :10 seconds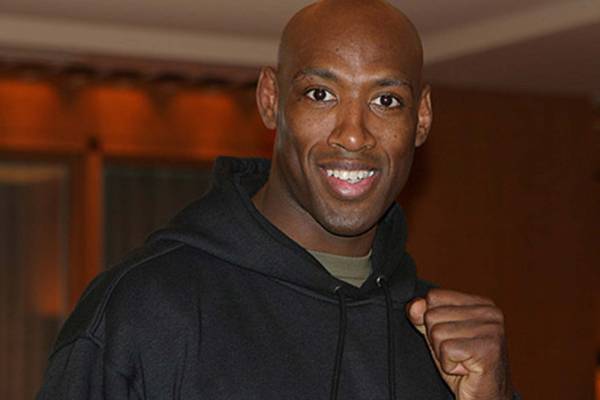 If you're looking for a random bit of trivia to use to stump your fellow fight fans as you're sitting around enjoying an event with a couple wobbly pops one night, see if they can name the first British fighter to earn a UFC victory on home soil.
Ian Freeman was the first Brit to fight in the UFC, but Weir became the first to have his hand raised in the Octagon in England, earning a stunning upset win over Eugene Jackson midway through the main card of the company's first event in the UK. One fight later, Freeman became the first person to defeat future heavyweight champ Frank Mir.
Held at Royal Albert Hall, UFC 38 – "The Brawl at The Hall" – followed the same script the organization uses to this day when they travel to foreign markets, bringing in some local talent to round out the line-up. Weir, a tae kwon do practitioner, had built an 8-1 record fighting on regional shows, including being one of the 28 fighters to get the better of Shannon "The Cannon" Ritch during his ugly 4-28 (and 1 No Contest) run between August '99 and October 2002.
But no one expected a 10-second knockout.
Not that Jackson was a world-beater, but he'd fought in the UFC six times before, sported a 12-6-1 record, and had never been knocked out before. Weir changed that though, connecting with a short right hand on the button after missing with a front-leg hook kick that dropped Jackson.
#8: Oleg Taktarov chokes out Anthony Macias at UFC 6 – Fight Time :9 seconds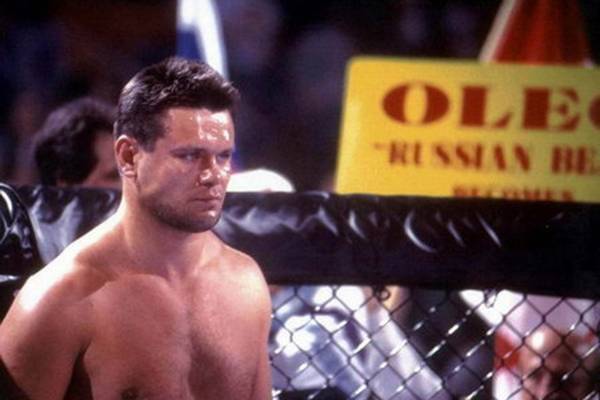 Long before he went on to moderately successful career in Hollywood playing "Russian Bad Guy" types in movies like Bad Boys II, We Own the Night, and Righteous Kill, Oleg Taktarov was a mean piece of business inside the Octagon.
Honestly, the judo and Sambo specialist was one of the best fighters in the UFC during those early years, posting a 6-2-1 record overall, with Dan Severn standing as the only man to defeat "The Russian Bear" under the UFC banner.
That being said, this is one of the more dubious bouts in UFC history.
In his opening round bout of the UFC 6 tournament, Taktarov caught Canadian Dave Beneteau in a guillotine choke just 56 seconds in, advancing to the semifinals, where he would meet Macias. The two men shared the same manager at the time, a gentleman by the name of Buddy Albin, and he was in Taktarov's corner for this one. When the fight started, Macias charged across the cage, dove in for a takedown with his head up, and quickly tapped… even though it appeared the Russian hadn't locked in the hold at the time.
Taktarov looked genuinely confused about what had happened, and the announcer openly questioned the outcome. Still, the official result has Taktarov winning in nine seconds, good enough for 8th spot on this list and the fastest submission win in UFC history.
#7: Gray Maynard knocks out Joe Veres at TUF 5 Finale – Fight Time :9 seconds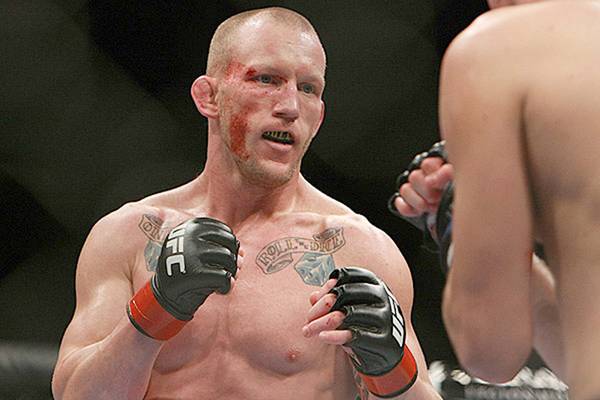 Bet you never thought you'd see "The Bully" on a list of the Top 20 Shortest Fights in UFC History?
Each of Maynard's eight subsequent UFC wins have come by way of decision, and despite hitting Frankie Edgar with everything save for the stool from his corner, Maynard still couldn't ever manage to put "The Answer" away in their classic second and third fights. Veres, however, he dropped with a short left hook before following up with two more quick ones as referee Mario Yamasaki came rushing into wave off the fight.
The look on his face afterward is a classic "Is that it? Really?" expression. Wins didn't come this easy for Maynard the rest of the way, through this did serve as the starting point of the eight-fight unbeaten streak that would carry him into the cage with Edgar for what turned into one of the best fights in UFC history at UFC 125.
It's been up-and-down for the current Santa Cruz, California resident, as he's gone 1-2-1 over his last four. He'll return to the cage to face fellow TUF 5 cast member Nate Diaz as part of the main card for this season's Ultimate Fighter Finale on November 30.
#6: James Irvin blasts Houston Alexander with Superman Punch – Fight Time :8 seconds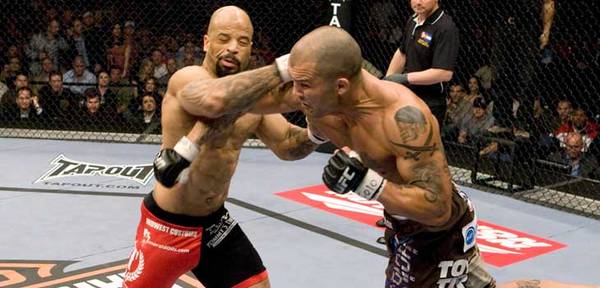 Paired off with fellow knockout artist Houston Alexander, Irvin uncorked a perfect Superman punch as "The Assassin" looked to close the distance, ending the fight in eight seconds. What made it extra awesome – or extra douche-like, depending on your perspective – was that Irvin followed it up by shooting Alexander with the old finger gun as referee Steve Mazzagatii was informing him of the stoppage. At the time, this was considered tied for the fastest knockout in UFC history.
Irvin would fail to register another victory in the UFC, making an ill-advised move to middleweight where he would lose to Alessio Sakara before returning to light heavyweight and getting submitted by Igor Pokrajac.
#5: Don Frye flattens Thomas Ramirez at UFC 8 – Fight Time :8 seconds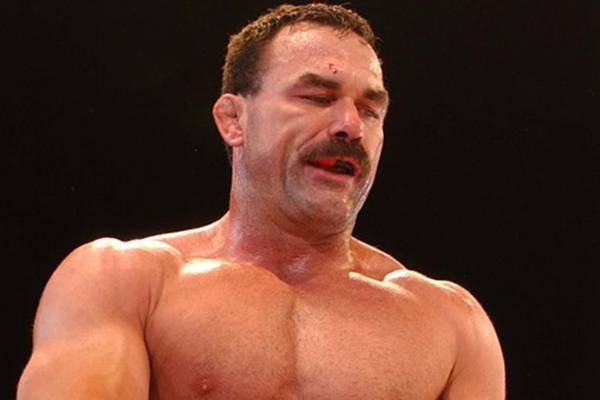 You know those lists of the best fighters to never win a UFC title that pop up every time someone that has never won a title is either about to fight for a title or just failed in an attempt to win gold? With all due respect to guys like Kenny Florian, Michael Bisping, and whoever else ranks high on those charts, Don Frye should probably be No. 1.
The man with the best mustache in MMA history – yes, it tops referee Mike Beltran's braided Yosemite Sam whiskers – went 10-1 in the Octagon, winning the UFC 8 tournament, and advancing to the finals of the UFC 10 tournament, where he would lose to Mark Coleman.
Frye was awesome, and went on to have a successful second act in Japan, competing in New Japan Pro Wrestling and Pride, where his legendary grit and unwillingness to give up made him a cult figure.
We should have seen it coming too, because in his first appearance in the UFC, "The Predator" planted a short right hook on Ramirez' chin that dropped the massive Puerto Rican (he's officially listed at 410 lbs. on Sherdog) into the cage in a heap.
If you've never seen it before, do yourself a favor and go watch Frye's fight with Yoshihiro Takayama from Pride 21. It's non-stop, back-and-forth awesomeness that you have to see.
#4: Todd Duffee crushes Tim Hague at UFC 102 – Fight Time :7 seconds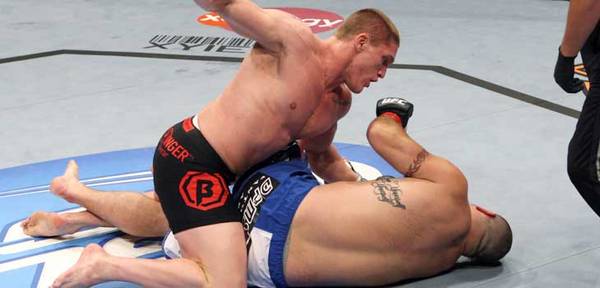 A 6'3", 260-pound mass of humanity, Todd Duffee entered the UFC with a ton of hype, based largely off training at the Hardcore Gym in Athens, Georgia and collecting a second-round knockout win over former UFC competitor Assuerio Silva in just his fifth pro fight.
Signed by the UFC and ushered into the cage at UFC 102, Duffee was tabbed as "the next big thing" in the heavyweight division; he was 23-years-old and looked the part, now all he had to do was deliver.
And man did he deliver.
A stiff jab put Hague on the mat, where Duffee landed a couple heavy rights before connecting with a monstrous left hand that put an out of service sign on "The Thrashing Machine."
It was an insane debut that ended up raising the expectations on the young heavyweight even higher, and he wasn't able to reach them. After a brief hiatus from fighting where he starred in the regrettable Never Back Down 2 (because we really needed that sequel), Duffee returned to the cage and the UFC, earning a first-round knockout win over Phil De Fries at UFC 155.
#3: Ryan Jimmo plants Anthony Perosh at UFC 149 in Calgary – Fight Time :7 seconds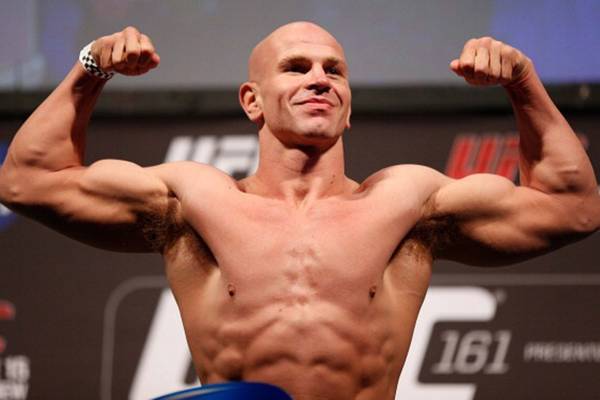 After finding his way to this list for a victory over Vinny Magalhaes earlier, Perosh is back, but this time, he's on the receiving end of a lightning quick finish.
There might not be a crazy debut win in UFC history than Jimmo's seven-second knockout victory over Perosh at UFC 149 in Calgary.
The quirky Canadian entered on a 16-fight winning streak, largely built on wins accumulated while fighting for Mark Pavelich's Maximum Fighting Championship in Edmonton, Alberta. Jimmo had beaten some solid opponents – former UFC competitors Marvin Eastman and Wilson Gouveia, Canadian favorite Dwayne Lewis, TUF 17 alum Zak Cummings – but of his last seven wins, six of them had come by way of decision.
Despite his success, Jimmo didn't court a lot of attention because he appeared to be a cautious fighter – someone more interested in playing it safe and winning on the scorecards, rather than taking some chances and seeing what happens. It's an understandable philosophy when you're trying to put together enough wins to get the call from the big show, and eventually, Jimmo was able to do just that.
And then he walked into the cage and blasted Perosh with an overhand right that left the 40-year-old Australian slumped against the cage wearing an awkward knockout face while Jimmo did "The Robot" in the center of the Octagon.
Not in a million years could anyone have called this kind of finish from Jimmo in his UFC debut.
#2: Chan Sung Jung counters KO's Mark Hominick at UFC 140 – Fight Time :7 seconds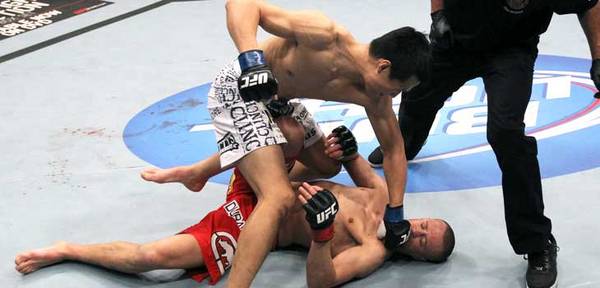 Mark Hominick is known for being a clean, technical striker, having developed his hands under the watchful eye of the late Shawn Tompkins from a very young age. He was polished, didn't rush things, and did the little things that get overlooked at times like work the body and put together three- and four-punch combinations, finishing half of them with kicks.
That's what made it really weird when "The Machine" fired off a quick, lunging right hook at Chan Sung Jung right after touching gloves to start their bout at UFC 140. Jung dodged the shot and countered with a straight right that floored Hominick, following him to the canvas with lefts and rights, forcing Herb Dean to wave off the bout just seven seconds in.
This was the second consecutive fight where "The Korean Zombie" etched his name into the UFC record books. This win tied the record for the fastest knockout in UFC history, and in his previous bout with Leonard Garcia, Jung became the first man to successfully execute a Twister in the Octagon.
Jung would follow up with a win over Dustin Poirier in the 2012 Fight of the Year before facing Jose Aldo for the featherweight title at UFC 163 this past August. Hominick, who lost to Aldo in a championship bout at UFC 129, would go on to lose his next two appearances before announcing his retirement.
#1: Duane "Bang" Ludwig blitzes Jonathan Goulet at UFC Fight Night 3 – Fight Time :6 seconds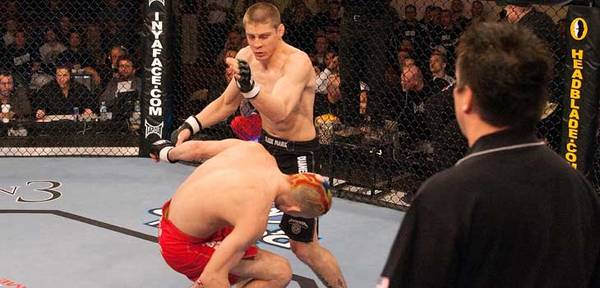 We know this one is truly the shortest fight in UFC history because UFC President Dana White put a stopwatch on the fight and declared this to the winner of the four-fight battle royal for top spot. Even though it is still listed on Ludwig's record as having ended in 11 seconds, no one in their right mind that has watched the fight – or Dana's stopwatch video – thinks this fight lasted 11 seconds.
Goulet entered on a 10-fight winning streak, including earning a victory over Jay Hieron in one of the bloodiest fights in UFC history three months early. During the introductions, Mike Goldberg mentions he is the "No. 2 welterweight in Canada behind Georges St-Pierre."
Before anyone can say anything else, Ludwig lands a beautiful counter right on the chin of Goulet, and "The Road Warriror" crashes face-first into the canvas in a heap. Part of the confusion about the timing of the contest stems from the fact that Goulet actually recovered incredibly quickly, and referee Mario Yamasaki took his time signaling the bout was over.
Ludwig, who pushed his record to 11-4 with the victory, would have an up-and-down career marred by injuries following this contest, finishing with a 21-14 mark.
Since retiring, "Bang" has become the head coach at Team Alpha Male in Sacramento, working with UFC standouts Urijah Faber, Chad Mendes, and Joseph Benavidez (and a host of other pint-sized powerhouses), propelling the team to new heights.