Tony Ferguson: I want to be a multi-division champ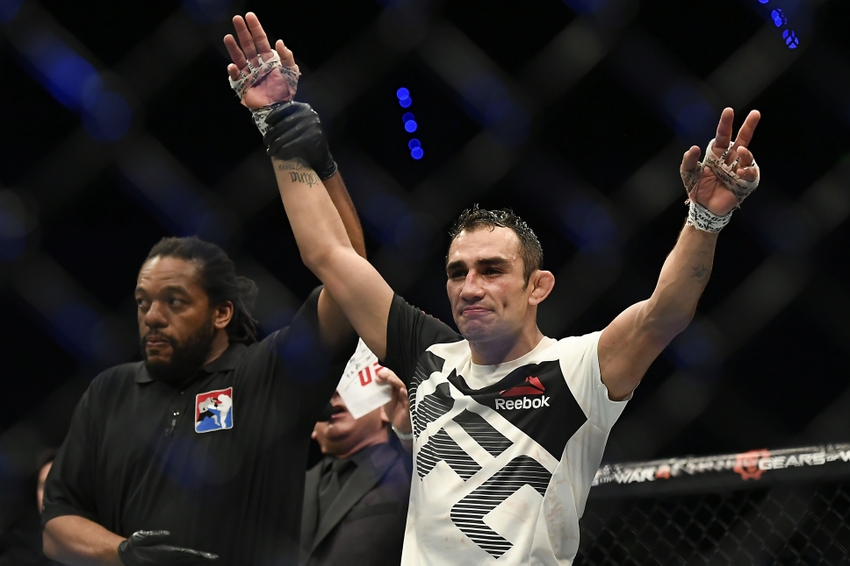 The UFC's No. 1 lightweight contender, Tony Ferguson, wants to finish his career with three titles in hand.
The UFC's No. 1 lightweight in the world, Tony Ferguson, reigned supreme at UFC Fight Night 98 when he faced the former 155-pound champion, Rafael dos Anjos. Ferguson out classed his opponent and secured his ninth straight win via decision in the process.
With the victory, Ferguson set himself up for a likely title shot in his next outing against either the lightweight champion Eddie Alvarez or his challenger at UFC 205, Conor McGregor. However, "El Cucuy" has high aspirations and is seeking to become a multiple world champion with the UFC. In an interview with MMA Junkie, the 32-year-old stated:
"I can go down to 145. I can kick everyone's butt there. I can bump back up to 155, knock everybody out and finish them and you're damn sure I can go to 170 and do the same thing. I want to be a multi-division champ."
However, depending on the outcome this Saturday night in New York, Ferguson may have to wait to face the 155-pound champion. If McGregor wins and takes some time off after UFC 205, this could set up a title elimination bout between Ferguson and the winner of the bout this weekend in Madison Square Garden between perennial contender Khabib Nurmagomedov and UFC veteran Michael Johnson.
Nevertheless, at UFC 205, Alvarez plans on ending the McGregor mystique and prove that the Irishman's rise was all a show. In an interview with MMA Fighting, he stated:
"I feel like I'm about to tell the whole world that there's no Santa Claus, and everybody is gonna (sic) be disappointed. There's no Santa Claus. It was a lie, and I'm gonna (sic) steal the magic from everyone… and I can't wait."
With an Alvarez win this Saturday night at UFC 205, this could set Ferguson up for a title fight and assist in realizing his dream of becoming a multiple world champion sooner rather than later.
This article originally appeared on