Tony Ferguson calls Khabib Nurmagomedov 'a whiny b***h'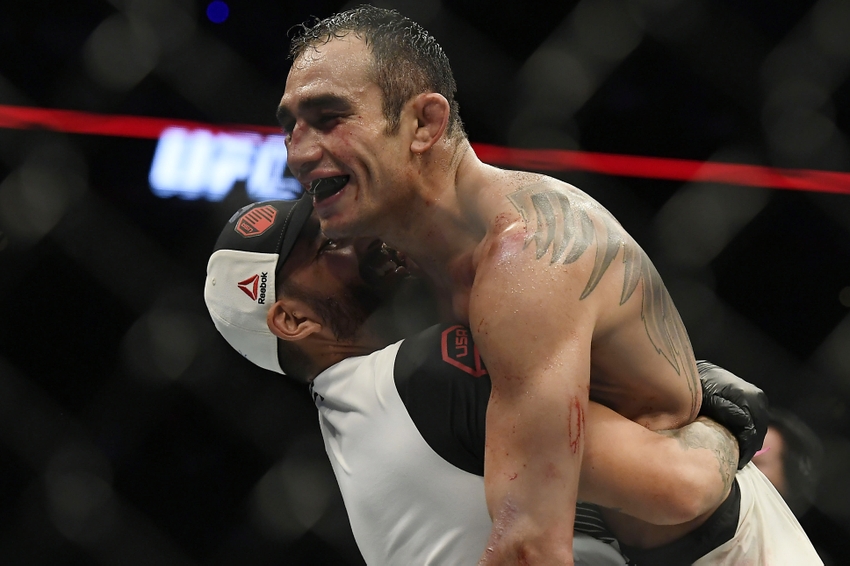 After racking up a nine-fight win streak, Tony "El Cucuy" Ferguson called out No. 1-ranked Khabib Nurmagomedov to an Octagon bout.
Surging UFC lightweight contender Tony "El Cucuy" Ferguson is coming hot off a win over former 155-pound champ Rafael dos Anjos in their five round main event meeting back at The Ultimate Fighter Latin America 3 Finale (TUF 3 Finale) earlier this month, in which Ferguson out-classed the former Brazilian champ for a unanimous decision victory.
The win would mark Ferguson's ninth consecutive victory inside the Octagon since losing to Michael Johnson in 2012, the longest win-streak in UFC lightweight history, and cemented "El Cucuy" as one of the premier contenders in the talent-stacked 155-pound division. Just above him in the fighter rankings, however, sits Russian grappling specialist Khabib Nurmagomedov who comes off a dominant third round submission victory over the last man to defeat Ferguson, Michael Johnson.
Ferguson and Nurmagomedov have been scheduled to meet one another inside the Octagon a number of times before, but injuries to both men have kept the bout from coming to fruition for the past year. Now with Nurmagomedov and Ferguson sitting at the No. 1 and 2-ranked positions in the UFC fighter rankings, the time for the two lightweight studs to face-off once and for all has never made more sense.
Speaking to MMA Fighting's Ariel Helwani on The MMA Hour earlier Monday, Ferguson slammed "The Eagle" for his recent complaints on not yet having received a shot at UFC gold, stating that he himself is deserving of a shot as well, but you don't see him complaining:
"All bullsh*t aside, the guy is a whiny b*tch," Ferguson said. "He can whine as much as he wants to.

"Instead of people saying, 'Hey, you need to go for the belt,' or, 'You need to do this, you need to do that' — me, I'm waving my little finger in the air and I f*cking keep moving forward. I'm going to keep doing what I'm doing, which is taking care of my family and training my ass off. And that translates into winning and getting Performance of the Night bonuses. Right now I got, what, eight finishes out of 12? I'm on a nine-fight win streak. I'm what, 22-3? Sh*t, where's my title shot, man? I'm not complaining, I'm not saying nothing, because I know it's going to come to me."
The UFC's 155-pound division is currently headed by the now-former dual-weight champion Conor McGregor, who made history by defeating Eddie Alvarez in the second round of their UFC 205 main event contest earlier this month to capture the lightweight strap.
Now that McGregor has been stripped of the 145-pound title and is expected to take a few months off before returning to Octagon action, a contenders bout between "El Cucuy" and Nurmagomedov could likely be on the horizon.
Both men pose serious threats to The Notorious One's young lightweight title reign, as Nurmagomedov's ridiculous grappling ability has been the downfall of all those who have competed against him in mixed martial arts (MMA) competition, and Ferguson's diverse and unorthodox striking technique has proven difficult to overcome.
Regardless of who gets the first crack at the heavy-handed Irish champ, it will certainly be a fun one for fight fans to enjoy.
This article originally appeared on