TJ Dillashaw still feels 'ripped off' from last fight, wants Assuncao rematch next
Some losses are tougher to swallow than others when it comes to fighting.
A knockout or a submission is a definitive ending and as crazy as it may sound, the time to reconcile with why it happened is a lesson learned while becoming something any competitor can watch, hash out what went wrong and get better from it. There's closure in an ending like that.
T.J. Dillashaw felt no such satisfaction when he heard the judges' call in his last fight when they declared his opponent Raphael Assuancao the winner of their bout in Brazil last October. The bout was close throughout the course of three rounds and when it was over both fighters were rewarded with a 'Fight of the Night' bonus, but that doesn't make the sting of a tough decision any easier to take for the former Ultimate Fighter runner-up.
"That definitely makes it tougher. I was mad about it because not only do I feel I won the fight that night, but later on I watched it multiple times and I still feel that I won the fight," Dillashaw explained when speaking to FOX Sports. "It kind of weighs on you a little bit more. When you actually lose, you get caught or you actually lose a fight, that's a different story, that guy just beat me straight up. You never want to lose that way, but it feels more like you lost.
I was telling (Jon) Anik and (Kenny) Florian in the lobby that I wanted the rematch next, I wanted it instantly. I was so fired up I wanted to fight him the next day.
"This fight was very close, and it's my fault for leaving it that close but I kind of feel like I got ripped off."
Following the end of the night, Dillashaw headed back to his hotel in Brazil but before he boarded the long flight home to California he was still steaming about the raw deal he believes he was just fed. Even just hours after the fight was over, Dillashaw wanted nothing more than to have three more rounds with Assuanco and his greatest hope is that he will meet him again in the future.
"I was telling (Jon) Anik and (Kenny) Florian in the lobby that I wanted the rematch next, I wanted it instantly. I was so fired up I wanted to fight him the next day," Dillashaw said.
Judging discrepancies in combat sports is nothing new and Dillashaw knows that he has no power to make officials look at a fight differently or change how bouts are scored. What he can control, however, is his own performance and that's where the dramatic differences will come when he competes on Wednesday night in his next fight against Mike Easton.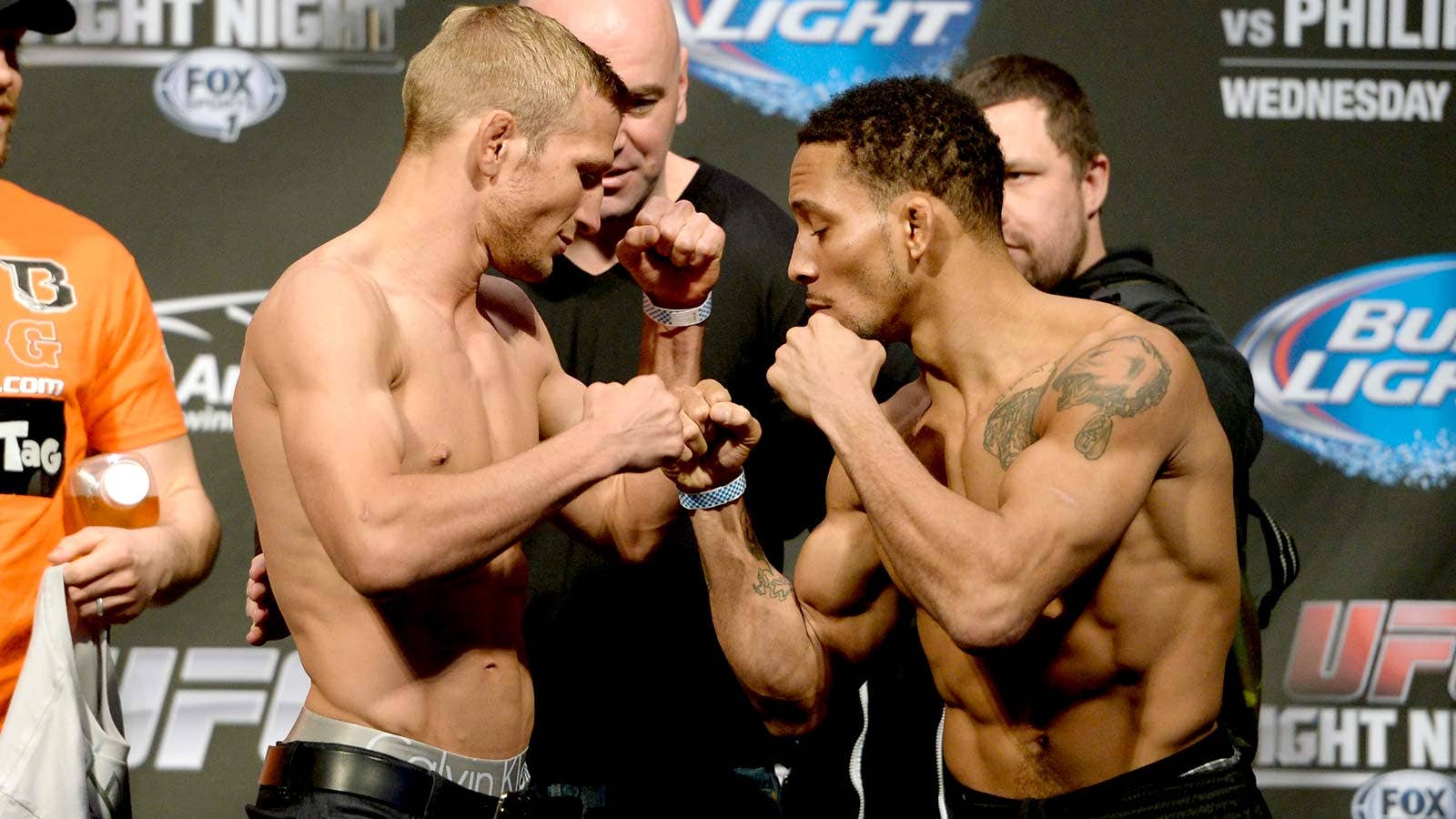 He promises no more close decisions, but at the same time Dillashaw refuses to go out and take the kind of chances that could result in his own demise. Instead, Dillashaw carries the taste of that bad defeat in the back of his throat as a sour reminder of what happens when a fight becomes a game of inches.
"I've got to make sure I don't do it too much because I did make the mistake of keeping it too close and I don't want to put myself in any dangerous situations by being reckless by not wanting to go to decision," Dillashaw stated. "I'm going to make sure I'm winning and I want to make sure I'm doing the right things, but that is in the back of your head. I have thought about that."
Dillashaw is confident that he can put on the kind of performance against Easton to leave no doubt in anybody's mind when it's over who should stand alone as the victor. This will serve as his first step back to the top of the bantamweight division and hopefully a rematch with Assuncao down the road.
"I want to make the statement that I'm still climbing the ladder and Easton's a very, very good fighter to do that to," Dillashaw said. "He's a tough cat."