The Korean Zombie is back and wants B.J. Penn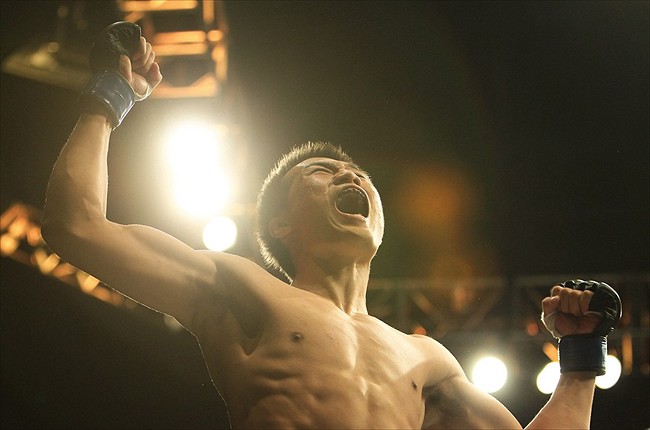 The Korean Zombie is aiming high for his Octagon return and calling out BJ Penn.
Chan Sung Jung (14-4 MMA, 3-1 UFC) announced to monsterzym.com that he will make his MMA return soon and wants B.J. Penn in his return bout. Jung spent the last two years serving a mandatory military service in the Republic of Korea Armed Forces.
Jung's last fight was against Jose Aldo for the UFC featherweight championship at UFC 163 in August 2013. Jung threw a punch in the fourth round that dislocated his shoulder and shortly after lost the fight via TKO.
He is a fan favorite and earned the nickname "Korean Zombie" for being able to take a lot of damage and keep moving forward.
Jung is tied for the fastest knockout in UFC history at 0:07 seconds. He is also the only person in the UFC to finish a fight via "twister".
ESPN, Bleacher Report, and MMAFighting.com awarded Jung with 2012 Fight of the Year for his match with Dustin Poirier. The World MMA Awards awarded Jung with 2011 Submission of the Year for his "twister" submission on Leonard Garcia.
B.J. Penn's last fight was against Frankie Edgar at The Ultimate Fighter: Team Edgar vs. Team Penn Finale in July 2014. Penn lost the fight in the third round by TKO. During the post fight press conference, Penn announced his retirement.
Penn (16-10-2 MMA, 12-9-2 UFC) is in the UFC Hall of Fame and also a former UFC lightweight and welterweight champion. He came out of retirement and was set to fight Ricardo Lamas at UFC Fight Night 97. A rib injury forced Penn out of the fight, which in turn played a role in the UFC canceling the entire event.
A UFC Hall of Famer vs a former top-10 fighter in the featherweight division, if this fight would take place, it has all the makings to be an instant classic.
This article originally appeared on