The Hit List: Top 5 moments from UFC Fight Night: Henderson vs. Dos Anjos
The UFC Fight Night card from Tulsa, Oklahoma suffered the same kind of fate as so many shows throughout the year as injuries ravaged some of the biggest bouts scheduled, but once the final matchups were made, just about everybody delivered on Saturday night.
With finishes in five out of the six main card bouts, there wasn't much to complain about once the night was over.
Now let's talk about the top five moments from UFC Fight Night on FOX Sports 1: Henderson vs. Dos Anjos.
Rafael dos Anjos Is a Very Real Threat to the Title
When Rafael dos Anjos out struck Donald 'Cowboy' Cerrone last year and won a unanimous decision over the veteran lightweight contender a strange thing happened. The hype around Dos Anjos grew in terms of his place in the rankings, but if anything came out of that fight it was more about Cerrone and his lack of fire in the loss. Then dos Anjos came out and laid an egg against Khabib Nurmagomedov after an eight-month layoff and all the skeptics who said he was just a flash in the pan appeared to be correct.
Wrong.
Dos Anjos not only won his fight against former lightweight champion Benson Henderson but he became the first fighter between the UFC or WEC to knock him out. Actually, dos Anjos joins current title-holder Anthony Pettis as the only two fighters on the roster to hold a win over Henderson.
Say what you will about the stoppage — although Henderson did go down and out at least for a moment — dos Anjos made a huge statement by knocking out the former champion and putting his name near the top of the contender's list in the division. With the kind of power he's displayed lately along with his formidable jiu-jitsu game is there any doubt he could go with Pettis or current top contender Gilbert Melendez? How about Eddie Alvarez if he's victorious at UFC 178 in his debut? The fact is dos Anjos is a serious player at 155 pounds and if you didn't know it after the win over Cerrone, you better know it now.
Jordan 'Co-Main Event' Mein
Listen, there's no way to sugar coat the kind of weekend Jordan Mein surely had as he watched his father get arrested on Friday on allegations of sexual battery, released on bond and then barred from the arena on Saturday where he was about to fight. If Mein would have gotten beat in the first round by Mike Pyle it's doubtful anyone could have blamed him given the insane circumstances surrounding his focus going into the fight.
Instead, Mein hammered Pyle with a left hand that resulted in a sickening thud that's still reverberating in my head currently.
Mein is like a Canadian Matt Brown — exciting fighter, devastating power and a natural bringer of violence. He said after the fight he wants nothing but main events and co-main events and he deserves to be in the spotlight. No disagreeing with Mein on that count especially with the UFC's schedule expanding into new territories everyday and there's always a Canadian show in need of a headline fight or two.
Thales Leites Getting His Grown Man Strength
When Thales Leites debuted in the UFC back in 2006 he had a reputation as a world-class jiu-jitsu practitioner with submission skills that few fighters could match at the time. Leites wasn't just hype either because he did manage to put away three out of his first five wins in the UFC by submission.
Since returning to the Octagon last year, Leites has discovered something new that he never had before when he was in the UFC — knockout power.
Leites has won his last two fights in a row against Trevor Smith and Francis Carmont by knockout, which account for two-thirds of the knockouts he's had in his entire 11-year, 28 fight career. Leites has been working with former UFC standout Pedro Rizzo on his hands, and the confidence is showing. While no one is going to accuse Carmont of being the most exciting fighter on the planet, he certainly has the kind of kickboxing to give opponents headaches and Leites walked right through him like a rock through rice paper.
It's not time to anoint Leites back to his previous ranking as a top 15 middleweight just yet, but with a new bag of tricks as part of his arsenal it will sure be fun to see what he can do against the best of the best at 185 pounds and with four wins in a row now, he'll probably get the chance.
Max Holloway Is 22 Years Old and Only Getting Better
Let's not get ahead of ourselves too much when praising Max Holloway's performance on Saturday without notating that his opponent, Clay Collard, was a first time UFC fighter who accepted the bout on a week's notice. Still, Holloway fought flawlessly from the start of the fight until he put Collard away in the third round.
At 22-years of age, Holloway is a crazy prospect when you really think about what he's done in the Octagon. He got trounced in his debut by Dustin Poirier in a fight he accepted on ultra short notice before winning his next three fights in a row. He lost a highly questionable decision to Dennis Bermudez and then got bested by Irish upstart Conor McGregor in the only real loss on his record since his first fight with Poirier.
Now Holloway is on a three fight win streak again and it's time to see what this young Hawaiian is all about. He's got the talent to be a top 10 featherweight and his recent fights have proven he's just learning and molding himself into an even more dangerous weapon that could give anyone at 145 pounds some serious trouble.
What a Welcome Back, Ben Saunders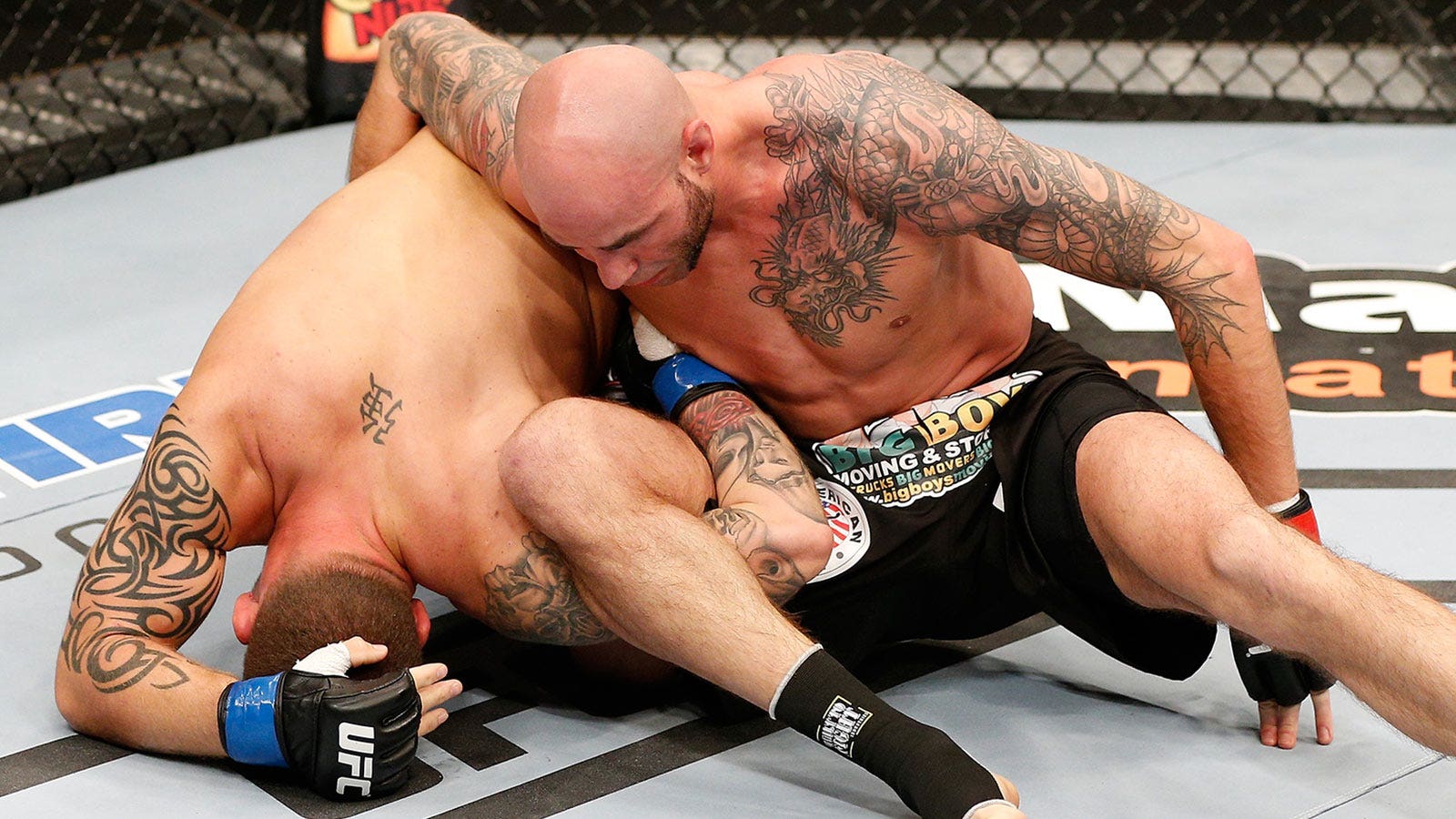 It had been four years since Ben Saunders was in the UFC and looking back on his two losses that got him tossed from the promotion, I started wondering why he was let go in the first place. The truth is at the time the UFC was slimming down the roster with WEC fighters coming into the promotion and a lack of spots for veterans on two-fight losing streaks. Saunders bided his time, fought in some other promotions and finally got the call to come back, which he did on Saturday night.
Then he proceeded to pull off the first ever omoplata submission in UFC history.
Now for those that don't train jiu-jitsu or aren't familiar with the hold, the omoplata is a shoulder lock that is most often times used as a set up for other moves because it forces an opponent to roll to get out of the pressure put on the joints by the legs. In mixed martial arts, the omoplata gets applied quite often, but it's never been used to actually submit an opponent before Saturday night.
Saunders locked on the hold and wrenched up opponent Chris Heatherly's arm until he couldn't take it anymore and tapped out. It was an almost perfect moment for the returning UFC welterweight because Saunders is one fighter who never took for granted what it meant to fight in the Octagon and he truly looked like he loved every single second he was in the promotion during his previous stint.
And as an added bonus, he got a $50,000 'Performance of the Night' check, which was certainly a relief to Saunders, who had been sitting out since last September waiting for his chance to return to action.