The Hit List: Top 5 Moments from UFC 172: Jones vs. Teixeira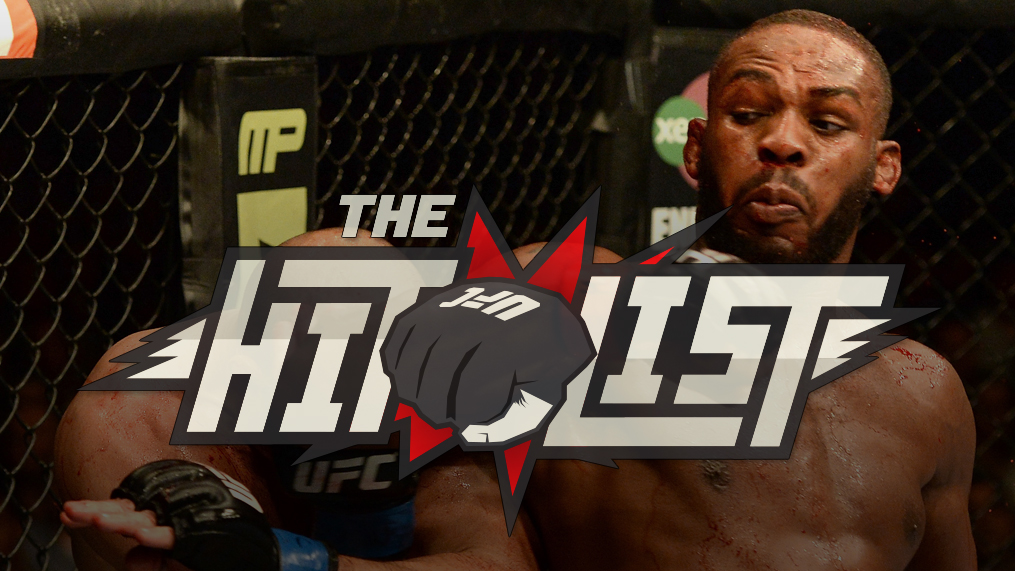 Debuting in "Charm City," UFC 172 seemed to take its cues from the classic show that put Baltimore under the microscope, as the action in the Octagon was as fast, furious and final as the turf wars on The Wire.
Things got started quickly and the pace never slowed, producing one of the most entertaining fight cards of the year from start to finish.
There were submissions, knockouts, and a knock down, drag out thriller and that was just on the preliminary portion of the card. Once the main card kicked off, the action only got more intense.
Here's a look back at the best from inside the Octagon at UFC 172.
This is The Hit List.
Jon Jones is the Best Ever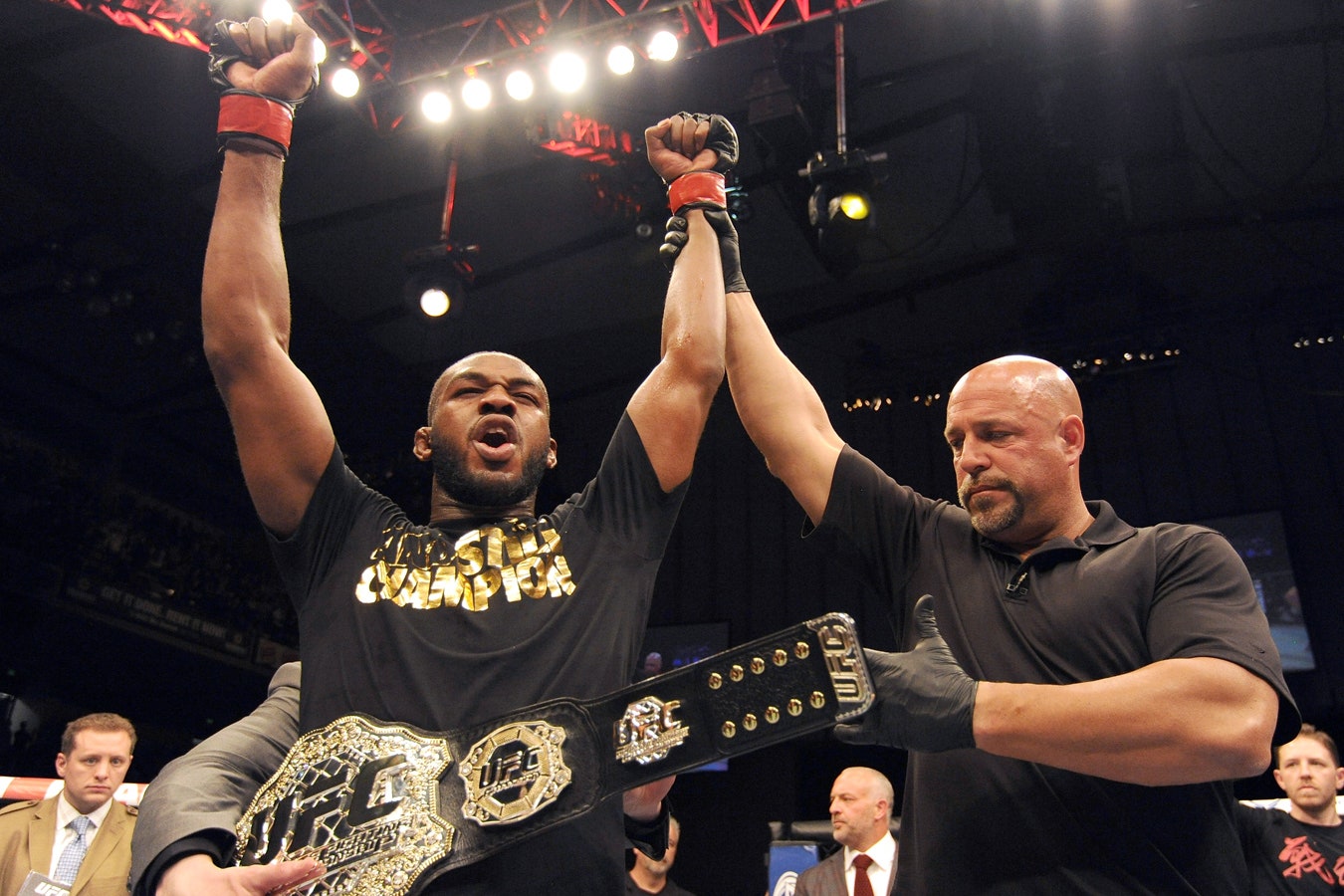 Not yet 27-years-old, Jon Jones is 20-1, should be 21-0, and has successfully defended the UFC light heavyweight title on seven consecutive occasions after battering Glover Teixeira Saturday night in the UFC 172 main event.
As he's done with several recent opponents, "Bones" beat his challenger at his own game, closing the distance and pummeling the Brazilian in tight, slicing him open with nasty elbows and outworking him round-by-round en route to a lopsided unanimous decision victory.
Jones is the best fighter in the history of the sport and continues to prove it with each subsequence appearance.
Intelligent and inventive, dangerous and dominant, the light heavyweight champion has obliterated an unmatched collection of opponents during his time in the UFC. Outside of his fight with Alexander Gustafsson, Jones hasn't dropped more than a round at any point in his illustrious run.
And he's still getting better.
Saturday's win over Teixeira was as dominant a performance as Jones has been in the cage, and it comes on the heels of his gusty, come-from-behind win against Gustafsson.
"Bones" is the best ever, and by the time he's done competing, it might not even be close.
Rumble on the Rise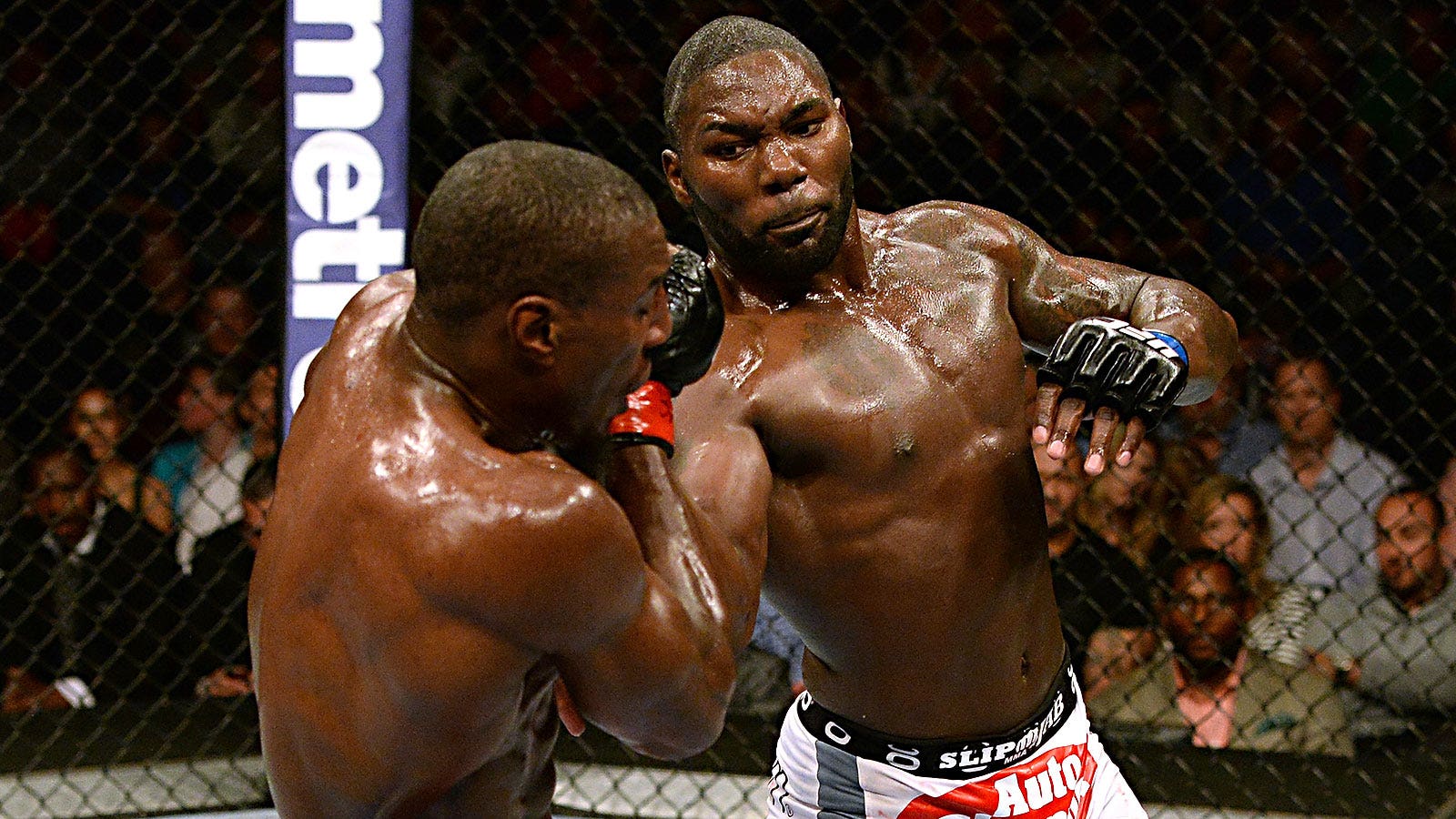 Anthony Johnson's talent was never in question; what held "Rumble" back in the past was his stubborn insistence on fighting in divisions someone his size should not have been fighting in.
Saturday night, Johnson made his return to the Octagon as a part of the light heavyweight division, and in the evening's co-main event, the 30-year-old Blackzilian showed that he's a new force to be reckoned with in the 205-pound ranks, scoring a dominant decision win over Phil Davis.
Still a massive specimen with explosive power and better technical skills than he's ever given credit for, there were two truly impressive weapons in Johnson's arsenal against Davis: outstanding takedown defense and far better conditioning than he's ever shown in the past.
Johnson lit up Davis early, making him pay for every shot the former Division I National champion offered, and continued to connect with force as the fight wore on. Davis had no answers and Johnson never backed off, continuing to stalk "Mr. Wonderful" throughout.
There may already be a group of contenders lining up for their opportunity to fight for the title, but Johnson definitely needs to be included in that collective, and is clearly a dangerous new addition to the weight class going forward.
Rockhold Rolls On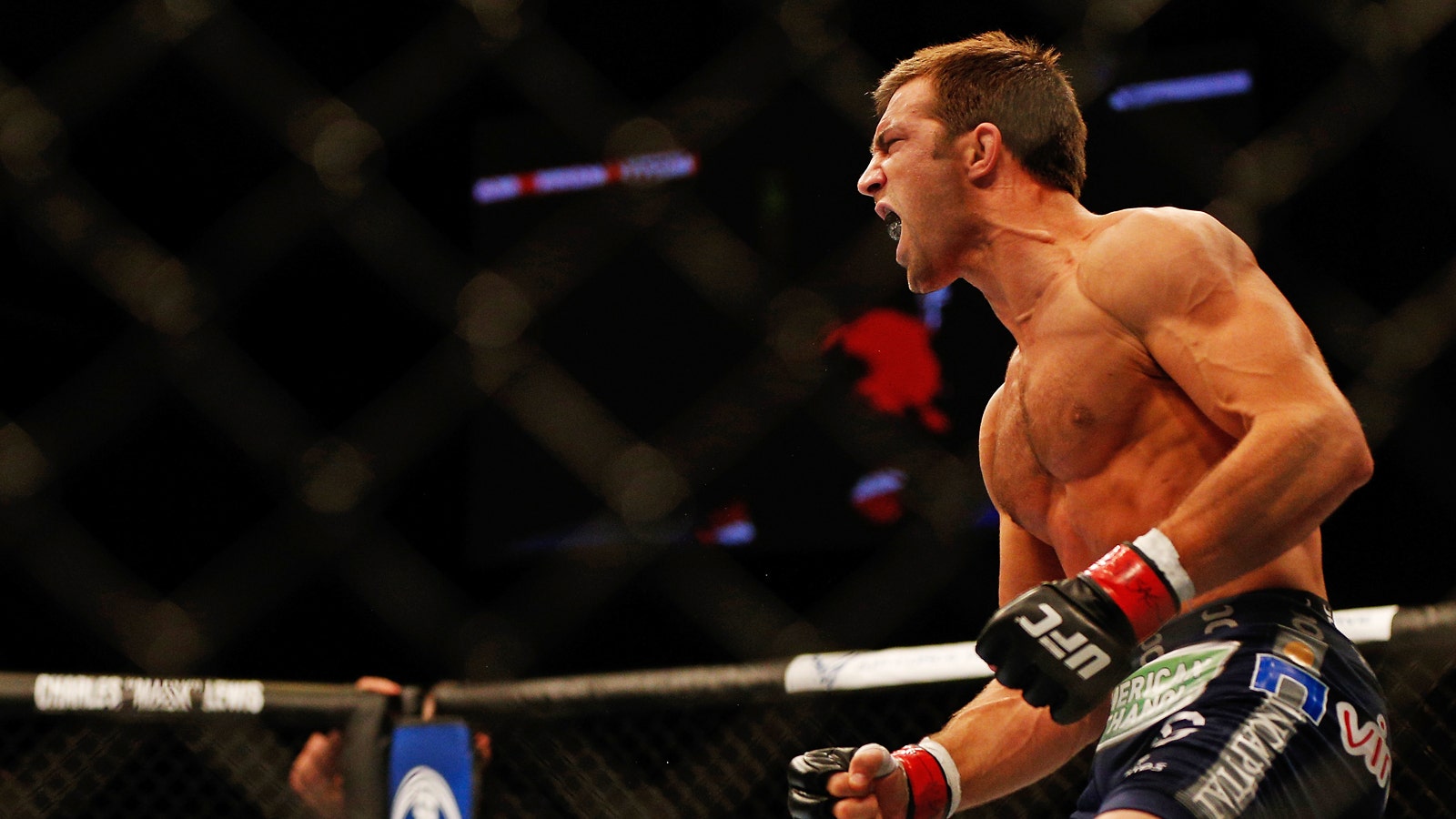 After dropping his UFC debut to Vitor Belfort, Luke Rockhold, the final Strikeforce middleweight champion, got a little lost in the shuffle in the 185-pound ranks. In two fights since that setback, the American Kickboxing Academy product has made it clear that he's one of the top talents in the deepening division.
Following his first-round TKO win over Costas Philippou in January, Rockhold went back to work on Saturday, earning a first-round submission win over Tim Boetsch in the middle of the UFC 172 main card to put himself into the title conversation.
As Boetsch shot for a takedown early, Rockhold elevated him over and through, sprawling on the back end and cinching in an inverted triangle choke as "The Barbarian" continued to drive for the single. While Boetsch defended, Rockhold attacked with a kimura, torqueing his right arm behind his back, forcing the former contender to tap.
This was the most impressive performance of Rockhold's career and it came at the right time, as the fighters like Belfort, Tim Kennedy and "Jacare" Souza all jockey for position to challenge for the middleweight strap.
With his dominant win on Saturday, you can add Rockhold's name to that short list of contenders.
Devastating Debut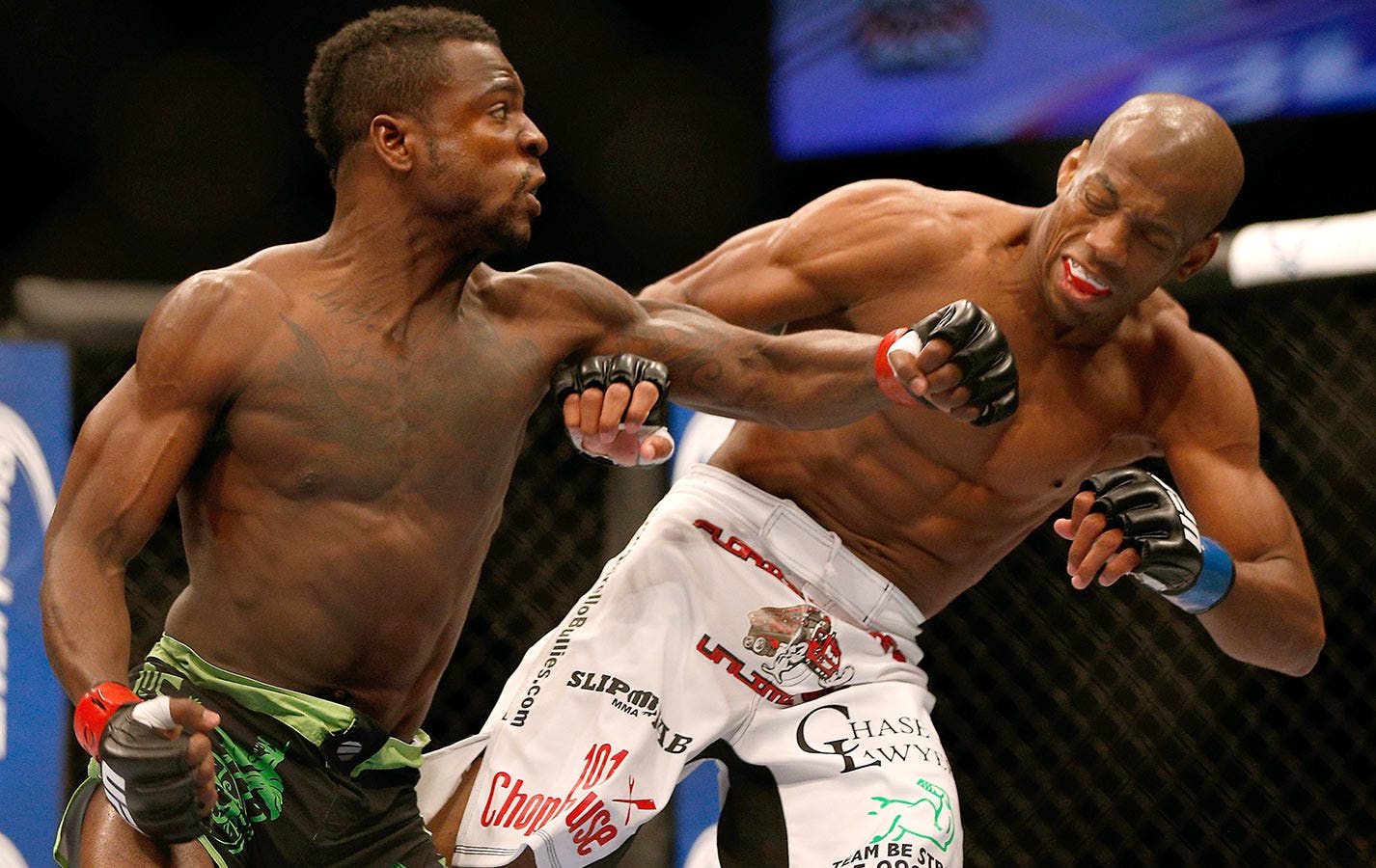 Chris Beal was disappointed he didn't get a chance to move to the UFC with the rest of the cast members from Season 18 of The Ultimate Fighter, but he made up for lost time on Saturday night, scoring an incredible stoppage win over Patrick Williams in the evening's opening bout.
After a wild first round where both men scored with big shots, Beal started the second stalking Williams, working to cut off the cage and pinned the former Arizona State wrestler along the cage. Once he had Williams backed into a corner, Beal connected with a picture perfect flying knee that brought the bout to a close in a flash.
"The Real Deal" timed the technique perfectly, landing right on the chin and turning off Williams' lights, sending the former Sun Devil crashing to the canvas. There have been a lot of strong debuts in recent years, and this one ranks right up there, as Beal set the night in motion in impressive fashion.
Too Much Awesomeness for Just Five Points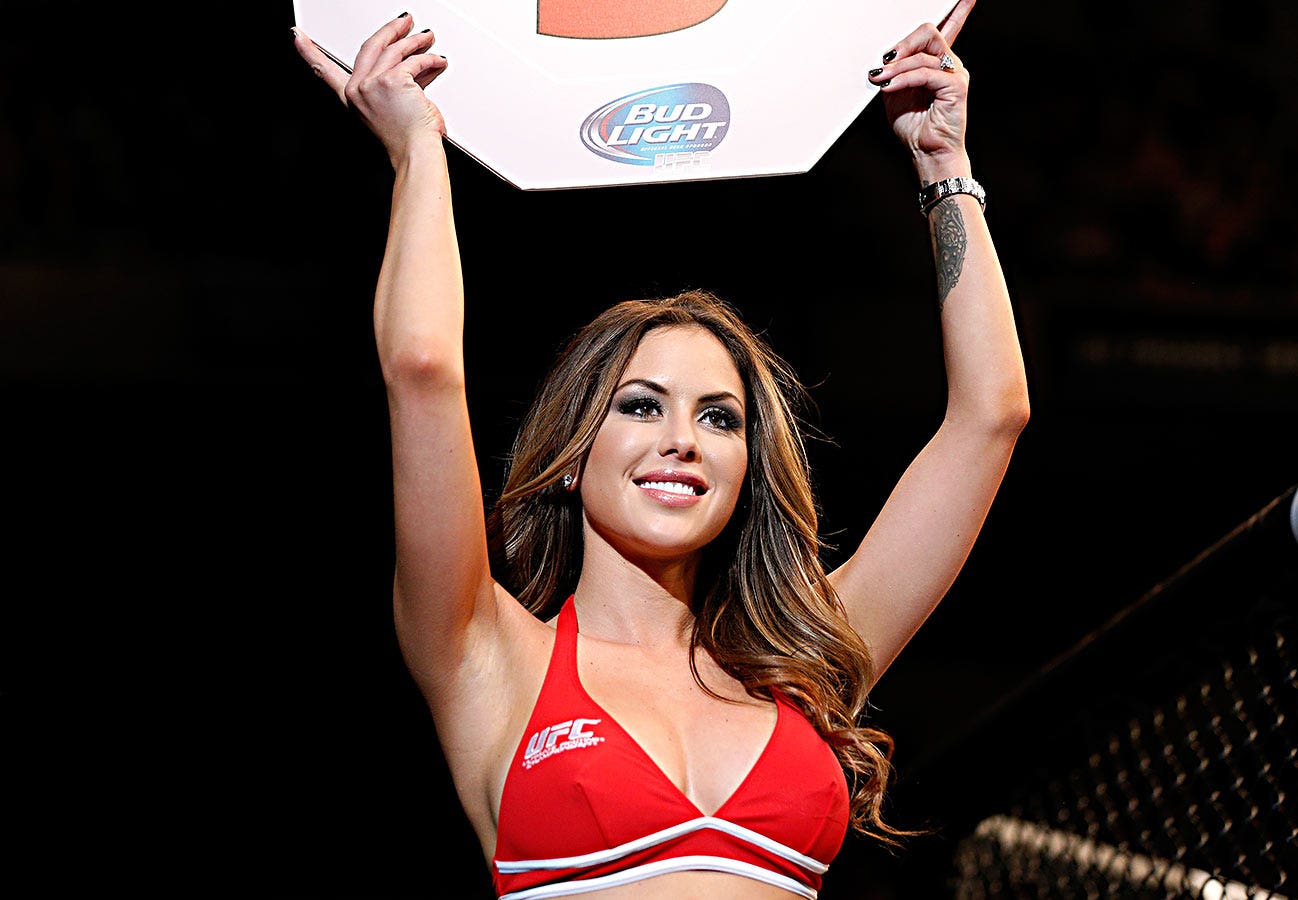 Keeping this post from being a couple thousand words long each time out is a chore and Saturday night made the task even harder, as the action inside the Octagon was terrific all night long.
How good was UFC 172?
On any other night, Danny Castillo's second-round knockout of Charlie Brenneman would have earned "Las Call" a bonus, no questions asked, and his teammate Joseph Benavidez' slick mounted guillotine in Tim Elloitt likely would have been rewarded without hesitation as well. Instead, they were simply two of the many impressive finishes on an insanely enjoyable night of action.
Takanori Gomi and Isaac Vallie-Flagg went toe-to-toe, blow-for-blow, round-for-round through to their 15 minute affair, delivering the kind of performance that normally would have earn its own heading in this column, but this night was so impressive, the lightweight Fight of the Night is relegated to a wrap-up section.
The action kept coming on the pay-per-view too, as the main card kicked off with back-to-back guillotine chokes. First, Max Holloway locked up Andre Fili midway through the third round in their entertaining featherweight battle, and then Jim Miller collected his second straight first-round submission win by putting Yancy Medeiros to sleep.
Saturday's fights were so impressive that Bethe Correia's one-sided decision win over Jessamyn Duke barely registers, and it was a strong showing from the emerging Brazilian female.
If you missed this card, go back and order the replay—you won't be sorry.