The Hit List: The Five Top Moments from UFC on FOX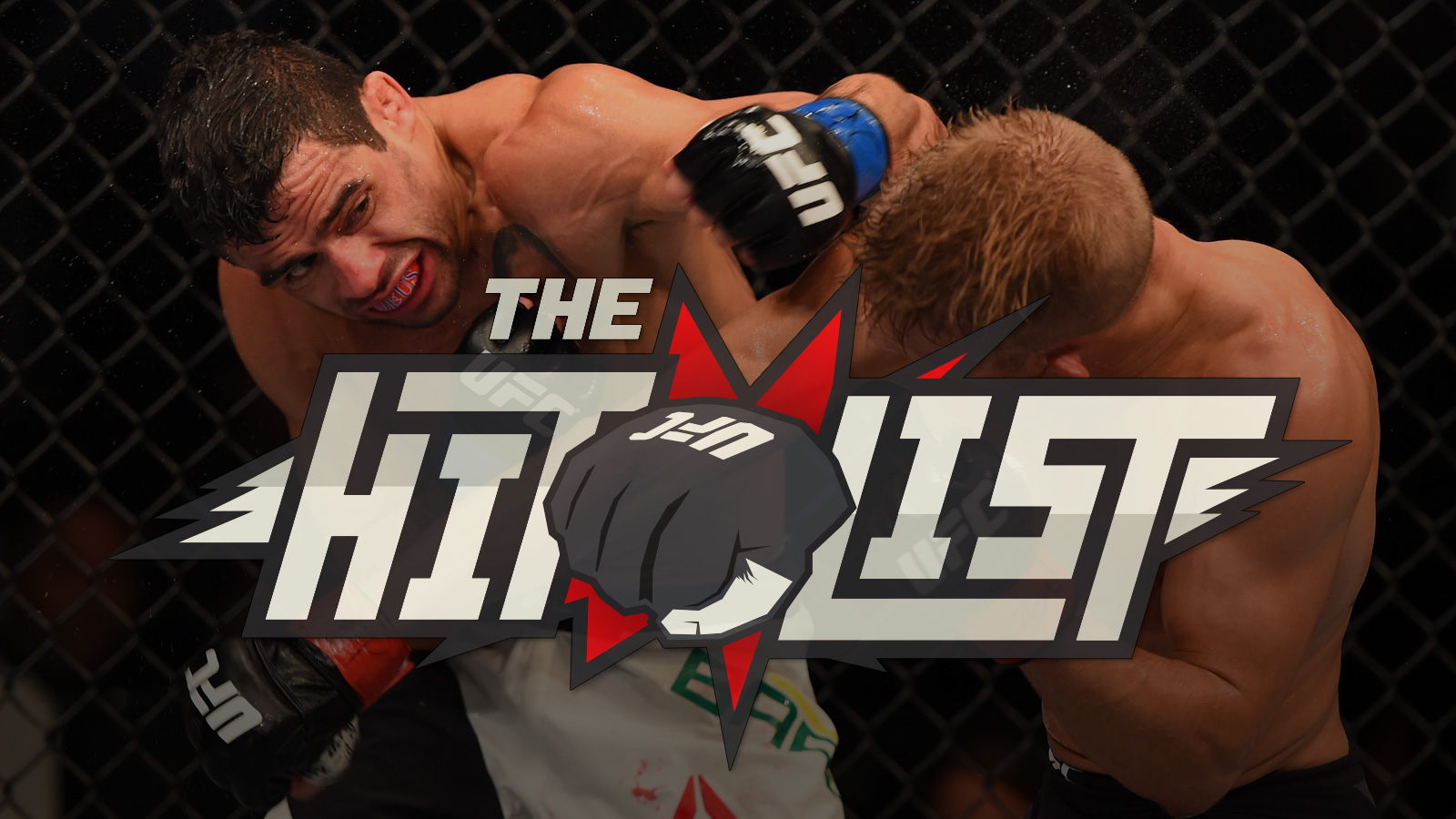 Saturday's UFC on FOX event would have been well worth a pay-per-view price tag but lucky fight fans got it all for free. From a boss walk-off knockout, to a champion erasing all doubt, to fighters warring hard until the final horn, there was a lot to cheer at UFC on FOX in Chicago.
Read on to find out our five top collective moments from the card. Then, let us know your picks on Twitter and Facebook!
TJ Dillashaw putting a stamp on the bantamweight division
Even though TJ Dillashaw's first win over Renan Barao one year ago was decisive, you could still forgive fans and observers for wondering if the new champion would be able to do it again, and really imprint his seal on the 135-pound division. After all, there's been so much tumult and turnover in the past few years between Dominick Cruz's injuries, and Barao and then Dillashaw winning the belt.
For perhaps no other reason than simply having grown accustomed to things constantly shifting at bantamweight, many of us who even picked Dillashaw to win the rematch Saturday in Chicago were still uneasy in our prediction. To be sure, Dillashaw vs. Barao II was competitive and hard and effectively fought on both sides.
Still, through superior speed, accuracy, and timing, Dillashaw clearly proved once again that he's the best active fighter in the division. Dillashaw slowly chipped away at Barao until the former champion wore down and began exposing himself more to punches.
Once given the chance, at the end of the third and the start of the fourth, Dillashaw completely overwhelmed Barao with dozens of consecutive and unanswered punches to the head. Barao was too conditioned and tough to fall down, but he was certainly finished.
The only question that remains for Dillashaw is whether or not he could beat former champion Cruz, who fought just once in the past several years because of repeated severe injuries.
"The Dominator" never lost his belt in the cage, and looked phenomenal in taking out former world title challenger Takeya Mizugaki last fall before re-injuring himself again, so his name is and should be in title discussion. However, facing the TJ Dillashaw we've seen for the past three fights after a long layoff may not be the best option for Cruz.
The Cruz of old had better footwork and length than Dillashaw, and could perhaps match him in wrestling. However, Dillashaw may possess a power striking edge.
Certainly, he is the more active and warmed-up fighter. Cruz has earned the right to get any fight he wants when he returns.
While he is still out with injuries, however, Dillashaw has certainly done enough to be recognized as the new king of the bantamweight division.
Miesha Tate's toughness
We tried to remind people last week heading into her co-main event contest against Jessica Eye to look past Tate's physical appearance and realize that "Takedown" is one of the toughest athletes in the UFC. In December, Tate overcame a broken orbital bone early in her fight with Sara McMann to come from behind and earn a decision win.
Saturday, Tate absorbed thudding shots from Eye that dazed her early on, then took control of the bout with her own power punching and superb grappling. Tate won her fourth straight fight and earned another world title shot.
Now, she's set to fight the winner of this coming Saturday's UFC 190 main event title contest between champion Ronda Rousey and Bethe Correia. If Correia wins, her vs. Tate will be an exciting new matchup.
If Rousey wins, we'll get Ronda vs. Miesha III. However you feel about Tate's chances in that bout, you can't reasonably argue that through her grit, skill and constant winning, she hasn't at least earned another crack at the belt.
Joe Lauzon's walk-off ground TKO
There are few things cooler in baseball than a walk-off home run, and few things are more badass and rare in MMA than a walk-off knockout. Quick: Name someone else other than Mark Hunt who has routinely hit someone so hard on the feet that he turned and walked away afterwards, knowing that they would fall. And that once they did, they wouldn't be moving again for some time.
It's tough to recall many others besides the "Super Samoan," who have made a habit out of that dramatic finish. Lauzon became the only person this writer can recall seeing score a ground walk-off TKO, which happened Saturday night.
After unloading with thudding elbows and punches from on top, Lauzon let go of his back mount, stood up and walked away. Thing is, he did so without prompting from referee Herb Dean.
Lauzon felt his fighting hero Takanori Gomi go limp, and had no desire to continue to hurt him. Of course, the fight wasn't officially stopped until Dean waved it off.
But, Lauzon was the first to recognize that Gomi was done, and ended up with one of the craziest highlight-reel moments of the year because of it.
Strong finishes from Saunders, Duke and Lawlor
Winning can't ever be guaranteed, but fighters can control their effort. Ben Saunders, Jessamyn Duke, and Tom Lawlor all had their share of rough moments early in their UFC on FOX fights, but all of them stormed back at the close of their bouts.
Saunders earned a decision over Kenny Robertson after duking it out with him for two rounds, and then dominating on the ground in the third. Lawlor ate more leg kicks than anyone would want to in the first round of his light heavyweight bout against Gian Villante.
In the second round, however, the returning "Filthy" fighter connected with a big hook that knocked Villante out, cold. Lawlor refused to stop swinging hard, even with his legs being kicked out from under him, and it paid off.
Duke lost a decision to Elizabeth Phillips but she finished stronger in the third with aggressive striking and solid ground work. The current scoring system of the unified MMA rules used by the UFC uses a round-by-round 10-point must process, unfortunately.
So, Duke losing the first two rounds lost her the fight. Having more gas in the tank and taking it to your opponent as the final horn sounds should count for a lot, in the fight of fights (as BJ Penn used to say), so here's hoping both women are proud of their efforts.
Edson Barboza and Paul Felder's technical brawl
Barboza and Felder got after it for three straight rounds in a close-fought, technical, and action-packed main card fight. Barboza's brutal spinning heel kick to the balls notwithstanding, these two lightweight contenders fought a crisp, clean striking battle.
They used contrasting but nearly equally effective styles on their feet but never forgot about defense. Felder may have gotten the first loss of his career, but he showed that he can hang with the best in the world.
He ate lots of roundhouse kicks, sure, but just gave what my friend Duane Finely coined the "Ginger Death Stare," bit down on his mouthguard and came back at the Brazilian with big shots down the middle. For his part, Barboza showed more than flash, and let the division know that he's back on track.
This fight could have gone either way, and it's great that both men were given performance bonuses. During an evening full of great performances, Barboza and Felder still stood out.