The UFC's greatest post-fight interviews in 2014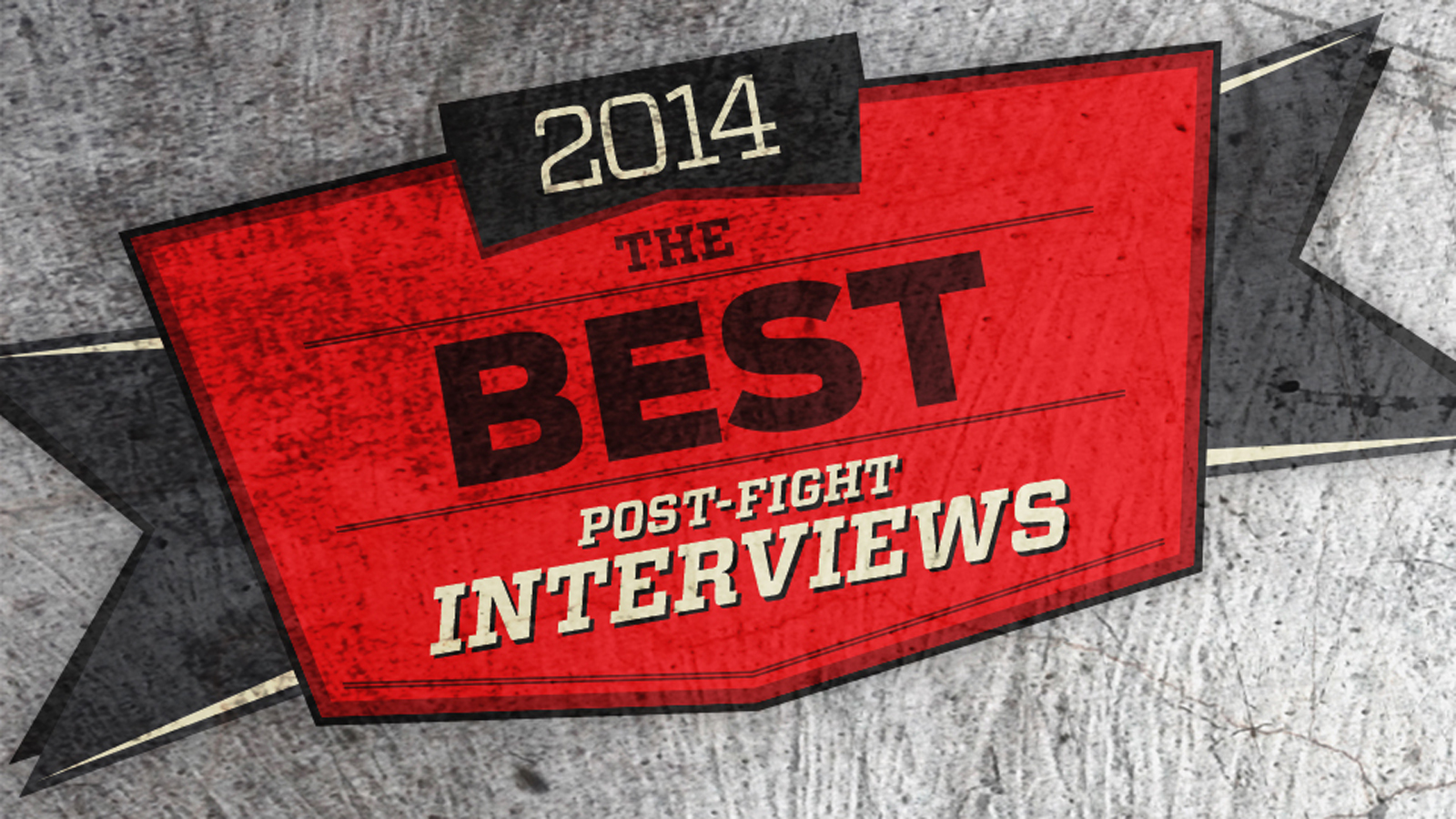 The moments following the end of a fight usually result in some of the rawest emotion ever seen in the sport. Whether it's the elation of a victory or the humble staggering feel of defeat, those first few minutes after a fight comes to a conclusion are often times the truest exploration of the spirit of a fighter.
To escalate that emotion many times after a fight is over, UFC commentators like Joe Rogan, Jon Anik or Brian Stann will enter the Octagon to talk to the winners, losers or a combination of both to get their thoughts on the action that just took place. Sometimes the few moments shared in the cage are unnerving and frustrating, but often they create rivalries and help launch a new star following a spectacular performance.
In 2014, the art of the post-fight interview was in full effect with some of the UFC's best and brightest expressing joy and sometimes sadness at the end of night. From title fights to main events to fighters returning from injury, this list compiles the 10 best moments from post-fight interviews in the UFC from the past year. Raw, real and unedited.
10. Matt Brown at UFC Fight Night: Brown vs. Silva
Fighting in front of a hometown crowd can sometimes be both a blessing and a curse, but Matt Brown made the most of his experience by picking up a TKO victory over Erick Silva in one of the best fights of the year.
After the victory, Brown brought his entire family into the Octagon including his twin boys before chanting out to the Queen City faithful about getting a shot at the welterweight title following his seventh win in a row.
"Cincinnati, Ohio, who do you want to see fight for a title next?" Brown shouted. "Right there's the man (pointing to Dana White) to talk to, tell him what you want."
9. B.J. Penn at The Ultimate Fighter 19 Finale
Not all post-fight speeches are adorned with cheers and applause. Sometimes they are just heartbreaking. Especially this moment at The Ultimate Fighter 19 Finale back in July when Frankie Edgar scored a TKO victory over B.J. Penn, marking the end of a Hall of Fame career inside the Octagon.
Penn was a two-weight-class champion and a legend in the sport, but on that night he looked completely human. He knew when the referee stopped the fight and pulled Edgar off his prone body that it was time to call it a career.
Regardless of how it ended, no one earned more respect over the years than Penn did with his unwavering guts to face any challenger and willingness to put it all on the line each and every time he stepped foot in that cage.
"I started fighting, my father told me when I was a little kid every time I got hurt he said 'Think past the pain' and here I am still today," Penn said.
8. Alexander Gustafsson at UFC Fight Night: Gustafsson vs. Manuwa
There's been no fighter to come as close to beating Jon Jones as Alexander Gustafsson was in 2013 when he lost a decision to the champion in a bout many scored the other way. Gustafsson had been itching to earn a rematch with Jones to correct the errors he made and finish the job he started the first time around.
Jones wasn't all that interested in a rematch so Gustafsson had to eliminate another contender to prove he was worthy of a second shot at the champion. After dispatching Manuwa with relative ease, Gustafsson grabbed the microphone and barked his demands without ever being prompted with a question.
"Jon Jones — I want my title shot again. I'm right here. Whenever you want," Gustafsson said.
Short, simple and to the point.
7. Jose Aldo at UFC 179: Aldo vs. Mendes 2
Jose Aldo might be one of the fiercest competitors inside the cage, but typically speaking when it comes to his interviews, he's a very docile creature by habit. He rarely has a bad word to say about anyone and even if he does, Aldo is so short-winded that you'd never imagine a fighter had the ability to get under his skin.
Enter Conor McGregor.
The loud-mouthed Irishman has been saying since his first day in the UFC that he was going to be the person to snatch the title from around Aldo's waist and make it look easy while doing it. Aldo played it off the chatter for a while, but with McGregor nipping at his heels as he climbed the rankings it was finally time for the champion to put the challenger in his place.
Following his latest title defense, Aldo made reference to McGregor without ever saying his name, but everybody listening knew exactly who he was talking about.
"I think the court is complete here — I'm king, Chad's the prince and now we have a joker," Aldo said.
6. Dominick Cruz at UFC 178: Johnson vs. Cariaso
When Dominick Cruz was scheduled to fight at UFC 178 in September there were dozens of questions surrounding his return to action. Cruz had been out of action for three years dealing with double reconstructive knee surgery. By athletic standards for almost every other sport in the world, Cruz shouldn't have even attempted a comeback, but he did.
It took him just 61 seconds to remind everybody why he was the only bantamweight champion in the world before his knew blew out a few years ago. Cruz smashed top 10 fighter Takeya Mizugaki and proved that if you've got the heart, the will and the determination, anything's possible.
Maybe the best part about his return was Cruz not looking to inspire people with his performance or talk about the long road back to the Octagon. No, instead Cruz wasted no time igniting an old rivalry with a camp who just had no luck beating him when he was fighting previously.
"I want to get back in there and take out some more Alpha Fails," Cruz said pointing directly at bantamweight champion T.J. Dillashaw and his coach Urijah Faber.
5. Conor McGregor at UFC 178: Johnson vs. Cariaso
Leave it to Conor McGregor to make a couple of appearances on the list for best post-fight speeches in 2014, but this guy just knows how to get a crowd riled up. Following his first-round snuffing of Dustin Poirier, McGregor wasted no time explaining why he was the best in the world and ready to conquer the rest of the featherweight division.
McGregor is a quote machine and whether it's in the cage or on the mic, this Irishman just knows how to keep everything entertaining.
"I don't just knock them out. I pick the round," McGregor said. "These featherweights don't understand, until they get hit by me, it's a whole other ballgame when they get hit by me."
4. Daniel Cormier at UFC 173: Dillashaw vs. Barao
While Daniel Cormier's hopes of dethroning Jon Jones came to a halt at UFC 182 just a few days ago, the post-fight speech he gave back in May became the soundtrack to the entire event. Cormier has the gift of gab instilled in him like few fighters in the sport, and when he was afforded air time after rolling over Dan Henderson like a freight train taking on a tricycle, he made the most of it.
Cormier may get another shot at Jones down the road and something tells me this promo might come back to life when it happens.
"Jon Jones — you can't run away from me forever," Cormier said. "I'm the kid at the wrestling tournament that's always in your bracket. No matter where you go boy, I'm coming"
3. T.J. Dillashaw at UFC 173: Dillashaw vs. Barao
No one picked T.J. Dillashaw to beat Renan Barao back in May except the fighters and trainers working with the former Ultimate Fighter finalist — and probably a bunch of people with the last name Dillashaw. Otherwise, this long-shot underdog probably looked like a dead man walking as he strolled into the Octagon to face Barao, who was undefeated ever since his second fight in the sport and after he tore through Dillashaw's mentor Urijah Faber just a few months earlier.
Dillashaw had other plans.
The Team Alpha Male fighter stunned Barao early and never let up until he finished the fight in the fifth round. Dillashaw's improbable run was not only the biggest upset of the year, but also one of the most inspirational performances in UFC history.
"I've dreamed it for so long. It's unbelievable," Dillashaw said. "It's the greatest feeling in the world. All you have to do is believe. Believe you're the best in the world."
2. Robbie Lawler at UFC 181: Hendricks vs. Lawler 2
If you would have looked at Robbie Lawler's career three years ago and said in 2014 he would be standing tall as the UFC welterweight champion, most people would have told you to stop taking crazy pills. Lawler's re-emergence as a threat to the division was surprise enough, but to see this 13-year veteran claim the title he long sought after was one of the most special moments of the year.
By his own admission, Lawler would say he's more of a doer than a talker, but with UFC gold wrapped around his waist for the first time ever, he let out the same kind of thunder in his voice that he usually unleashes with his fists.
"I thought I needed to get in his face and force him to fight. That's what my corner told me to do and I went out there and tried to finish. That's how we fight in the UFC. That's how you fight in championship fights!" Lawler said.
1. Conor McGregor from UFC Fight Night: Dublin
Not only was the UFC card in Dublin probably one of the best of the entire year, but watching featherweight star Conor McGregor address his home country after putting Diego Brandao away in less than one round was something visceral and real that rarely happens between fighter and fan.
McGregor spoke and every person in attendance hung off his every word like they were dangling off a hook. It was a proud moment for McGregor, but maybe even moreso for the country of Ireland, who had long thirsted for the UFC to return to the Emerald Isle but even more important was the emergence of a hometown star making it big on the grandest stage in the sport.
"I said it last year — we're not just here to take part, we're here to take over," McGregor said as thousands roared in approval.
McGregor was without a doubt the fastest-growing star in 2014 and his gift of gab will continue to push him as much as his fists do inside the Octagon. As great as this past year was for the Irish superstar, 2015 might be even better.