UFC Special: The art of trash talk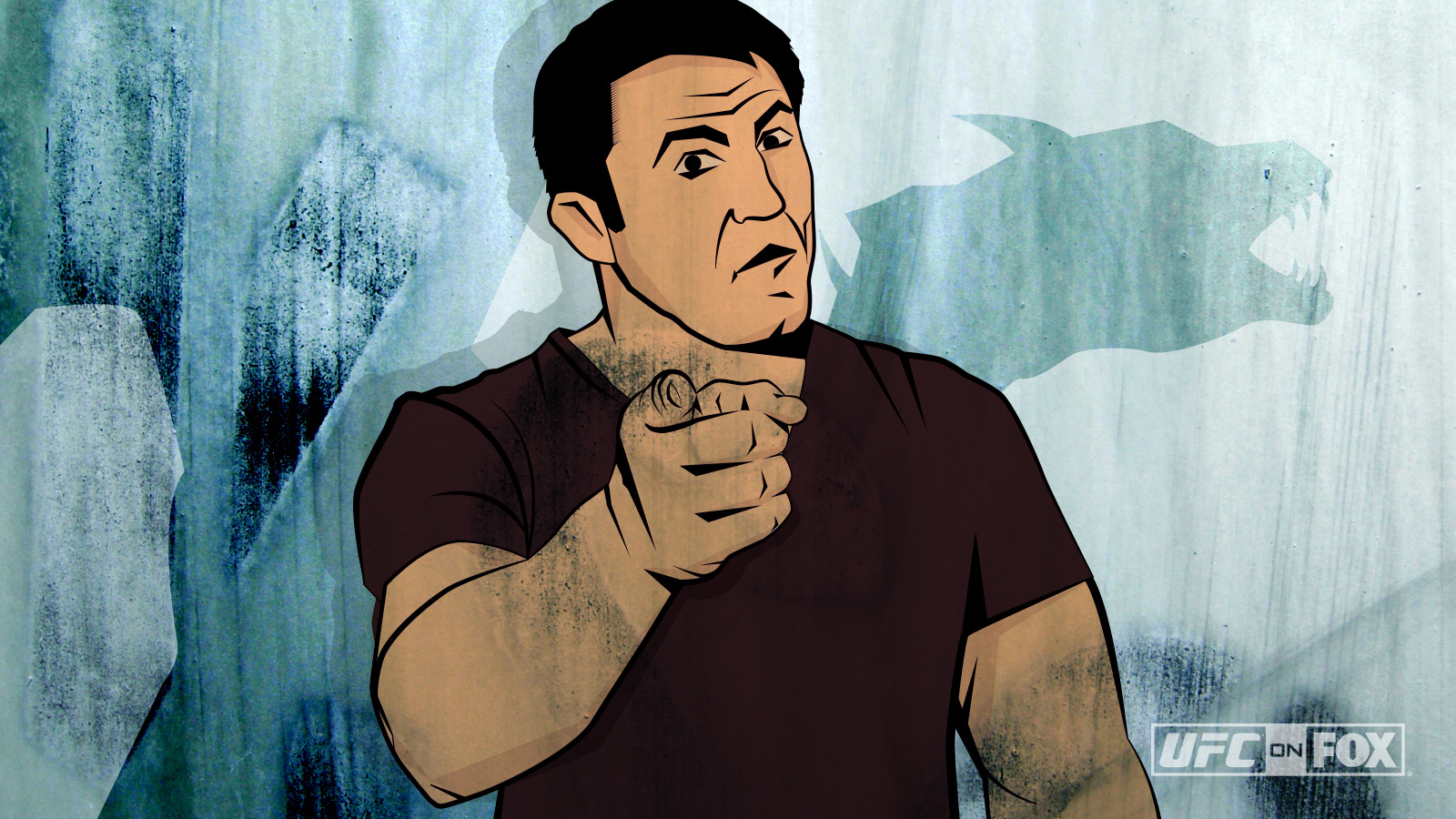 Almost as long as athletes have been prizefighting, they have attempted to wage battle on a second front by infiltrating their opponent's minds with a few well-chosen words. Back in 1910, in boxing's first "Fight of the Century," Jack Johnson beat Jim Jeffries so thoroughly that at some point of the match, in order to demoralize him, he began stopping during exchanges to shout out to ringside reporters what to print in the papers.
Over a century later, mental warfare remains as much a part of combat sports as ever. For an opponent, the ability to create or exploit a sliver of doubt can be a game-changer, while to an audience, the type of audacious self-confidence exuded by fighters like Johnson is often either riveting or appalling.
Either way, it's polarizing, and invested fans are what every promotion counts upon to fill arenas, build television ratings and sell expensive pay-per-views.
If you're in a stadium and cheering, and the person next to you is booing, you're going to cheer even louder because you want to be louder than the booing person. So it escalates when there's disagreement, and that's what I go for.
- Ronda Rousey
Look at the list of some of MMA's biggest events. Ortiz vs. Shamrock II, Liddell vs. Ortiz II, Lesnar vs. Mir, Evans vs. Jackson, Sonnen vs. Silva II, St-Pierre vs. Diaz. What do they have in common? A back story and an antagonistic relationship predicated on trash talk.
"I think the main thing is when it's personal, it makes it personal for the fans, too," UFC women's champion Ronda Rousey told FOX Sports. "When they pick sides and there's a group of friends watching the fight, and some friends pick one person, and some like the other one, and there's a big back story to the buildup, everyone is arguing for their fighter. When the fight itself happens, it's not just about the two fighters anymore; it's about who in the living room is right. A lot of times, the whole trash talking side of it is what brings it into your living room and makes it really personal for the people watching. If you're in a stadium and cheering, and the person next to you is booing, you're going to cheer even louder because you want to be louder than the booing person. So it escalates when there's disagreement, and that's what I go for. I don't just go for cheers. I go for noise and influence."
But it's not so easy to generate that kind of heat. For example, when Phil Davis took aim at UFC light-heavyweight champ Jon Jones before UFC 172, his words didn't exactly resound, mostly because it seemed somewhat out of character for him, but also because he'd been publicly challenged by UFC president Dana White to show he wanted a title shot. In other words, it seemed forced.
Why does some trash talk hit the bull's eye and some fall flat? It generally comes down to authenticity. There has to be a root cause that is easily identifiable as a source for issue. A past friendship gone sour, a grudge between training camps, a battle over the belt. Something tangible.
But it can also be simple philosophy. While most fighters look at a signed contract as a business agreement, the Diaz brothers Nick and Nate seem to take it as a declaration of war, and therefore treat nearly every opponent as a hostile enemy. To them, mixed martial arts is not an athletic competition; it's a direct threat to their physical well-being, so their viewpoint naturally includes some genuine anger.
That approach is fairly unique to them. For most who choose to trash talk, it's a way to engage the fans in your career goals.
That's exactly what Chael Sonnen did when he made his second run in the UFC, even though he doesn't call what he does "trash talk." He's a truth-talker, he says. He'd fought in the promotion in the mid-2000s to marginal public acclaim, but when he returned at the end of the decade, he targeted UFC middleweight champion Anderson Silva almost immediately and never let up in his message until he had his title fight. Sonnen marketed himself so well that he eventually fought for UFC championships three times in a five-fight stretch.
The larger UFC platform was one of the keys to the perception shift around Sonnen; the other, more personal one was spreading a message of focused ambition.
"Pick your target," Sonnen said. "Tell us very specifically who you want to fight. There's a reason why I say someone's name. If you don't like the guy, say it. If he's just simply ranked higher than you, say it. If he's the champion, then say it. All of these are good reasons. But you need to tell us why. You need to create the storyline. It doesn't have to be animosity. Animosity is very good in fighting, that's true. But if it's not there, it doesn't have to be. It can be because you worked out with him a few times or you looked up to him. You can even compliment a guy, but you've got to give us a reason."
Sonnen is so verbally gifted that he's deftly able to turn around media questions to accomplish that mission, like when he did moments after losing to Silva the first time, and after voicing his disappointment said, "Here's the truth: if the commissioner would sanction it and Dana would move, I would fight him right now."
That moment of emotional candor helped set up a Silva rematch that was easily the biggest UFC pay-per-view of 2012.
And drumming up attention is one of the key goals of trash talk, which is why Tim Kennedy went chasing Michael Bisping for his last fight.
Not only is Bisping a perennial contender, but he also serves as a willing foil who will continually volley back insults or challenges that come his way.
In the leadup to their April fight, Kennedy and his team at Ranger Up devised a series of videos as supplementary content for viewers interested in the feud. The videos mainly mocked Bisping's mannerisms, fight style and reputation, and even included an animated version of Bisping with pillows as fists.
Kennedy, no fan of Bisping's due to his controversial performance against friend Jorge Rivera, called Bisping a "cheater," and Bisping dutifully responded by calling Kennedy, a proud former U.S. Special Forces solider, an "embarrassment" to the Armed Forces, and a "Communist."
"I don't have any problem with most trash talk," Kennedy told FOX Sports. "I think it's genius to try to get under the skin and trash talk. He could've said anything. He could have made fun of my family. He could have made fun of my kids. It's like, 'I already don't like you. I already don't respect you. So anything you say isn't really going to irritate me.'"
That's not a commonly held idea of acceptability, however. Remember, there was an uproar in 2011 when Sonnen said he was coming over to Silva's house, "patting his little lady on the ass and telling her to make me a steak, medium rare just how I like it."
Although Silva got the last laugh, winning and playfully inviting Sonnen over for a barbecue, even people without spouses and children think family is a line not to be crossed.
"It's not your family's choice that you found this career so it's not really fair for them to be dealing with stress because of choices you made," Rousey said. "I try to keep family out of it as much as possible."
There's trash talk before the fight. Not quite as prevalent is in-fight trash-talking, but it certainly happens as well. Nick Diaz was well known for taunting others in hoping they would bend to his inimitable style and pace.
"Oh, we're throwing spinning s*** now?" he once asked Carlos Condit in the middle of their UFC 143 fight.
It was as much a psychological ploy as a question, designed to frustrate Condit into abandoning some facets of his offense.
"I knew that I had to be mentally prepared as well as physically prepared to fight Nick Diaz," said Condit, who won a close decision against him. "He's a tough guy. I hit him with some hard shots and he just kept coming. That's something I had in my mind set. As well as the talking and the taunts and stuff, I needed to stay focused and execute my game plan no matter what he said or how many punches he took from me. I couldn't let my focus stray."
In-fight trash talk doesn't always connect, mostly because the mind doesn't have time to wander due to its narrowed focus. Like the time Nate Diaz fought Clay Guida. Nate, who like his brother enjoys chattering at opponents during action, was in Guida's ear throughout the duration of their three-rounder back in early 2009. But one bizarre moment stuck out to Guida.
"I think we were in the second round and we were in a whizzer or fighting for position, and he goes, '209 b****, 209 b****,'" Guida said with a laugh. "I looked at the clock and there was like 3:15 left in the round or something. I was like, 'Man, he can't tell time.' It wasn't until a few weeks later when I realized he was talking about his area code. I thought that was pretty funny that I really thought he didn't know how to tell time. I thought he was trying to say, 'There's only two minutes left, so fight me.' But it was a Stockton thing.'"
Guida, who pays little attention to pre-fight banter, was simply a bad target for Diaz's favored war cry. The possibility of confusing the message is why Sonnen, the current undisputed champ of trash talk, suggests the straightforward approach.
I answer Joe's question when Joe says, 'Who do you want to fight?' Whatever you do, don't ever say, 'Whoever the UFC wants me to fight.' We know that, Captain Obvious. Tell us who you want to fight. Pick a fight. Give me a reason to watch.
Chael Sonnen
Sonnen said he occasionally has pro fighters ask his advice on callouts and trash talking, and he tells them to be direct and never punch down.
His own verbal style was influenced partly through pro wrestlers like Stone Cold Steve Austin but mostly from watching the world of politics, where the hierarchy system is in play and you always aim at targets above you. More importantly, it's how he learned to master the art of the sound byte, where you crystallize your message — your "story" in his terminology — in a few words meant to grab a headline or lead off a television segment.
"Here's the deal: I didn't get where I am in the sport because of the 15 minutes I spend in the Octagon; I got to where I am for the 30 seconds after those 15 minutes," he said. "The 30 seconds with Joe Rogan. The thing that I do that's different from anybody else is I answer Joe's question when Joe says, 'Who do you want to fight?' Whatever you do, don't ever say, 'Whoever the UFC wants me to fight.' We know that, Captain Obvious. Tell us who you want to fight. Pick a fight. Give me a reason to watch. You're in the ultimate market. You're in front of the fans. You're right in front of the people who paid money. You're right in front of people that actually want an answer to that question which is why Joe asked it, and so few fighters answer the question. They say what they think they're supposed to say but it's probably the worst thing they can say. It's such a missed opportunity."
Nearly as bad in his opinion is when a fighter answers the question by giving multiple names, dividing his own fan base in the process. Pick one target. Start your own narrative.
His history of success is why he's had several fighters and managers inside and outside of the UFC reach out to him for advice in putting themselves out there, and he's gone so far as writing talking points scripts for a few.
While that might sound disingenuous to some, he believes it's no different than learning a new jiu-jitsu submission from someone who has mastered it. Anyway, he believes it's as important to prepare for interviews as it would be for a college exam.
"I'm into realness but I'm a bit of a hypocrite on that because I have a camera on me so many times, it just can't all be natural and genuine all the time," he said. "People say you have an interview at 2 pm and I'm going to prepare like it's a test. I'm not just going to walk in and see what the teacher puts in front of me."
Rousey is also considered to be blessed with the gift of gab, but she, too, puts time into preparing herself for her moments in the spotlight. For example, she cited a dual interview she did with Miesha Tate before their first fight in 2012, when she studiously researched Tate's stated positions on topics related to the top contender spot. Then in order to be as prepared as possible to respond to what Tate might say, she debated the subject with friends.
"The general idea is planned out but the actual delivery is spontaneous," she said. "In that case, I did it that way so I was ready for every single thing that could be said. But then in other times, like if I'm just in a media scrum, I'm just freestyling it."
Rousey has already found a spot among the best trash-talkers in MMA, alongside such pot-stirrers as Tito Ortiz, Phil Baroni, Michael Bisping, Rampage Jackson, Rashad Evans, even Brock Lesnar.
If there is a single best MMA trash-talk moment, however, it was almost certainly one that came in Strikeforce in 2007, when Frank Shamrock, a father of early MMA trash talk, met Baroni. The entire leadup to the fight was heated, and one minute into the first round, Shamrock turned it up to "10," pointing at Baroni and telling him he was going to sleep, even making the "go to sleep" motion with his hands. With his next barrage, he knocked Baroni down. In the next round, he choked Baroni completely unconscious, making good on his promise. Idea, execution, finish, all in a perfect package.
Calling your shot is the Holy Grail of trash talk. Rarely accomplished, but generally worth the gamble. That is what makes the mission of young, featherweight trash-talking virtuoso Conor McGregor so mesmerizing. Calling out Jose Aldo from the get-go isn't advisable, but it suggests a certain level of brazenness and insolence that history shows objections be damned, we're attracted to.
In the end though, everyone agrees that the words are vastly more meaningful if you win. You can go around spewing nonsense about dethroning the champ even when you're a nobody, but a discerning audience will only start to take notice when the risk behind the remarks becomes real.
"I definitely do better when there's no other options," Rousey said. "I feel like the whole trash-talking part of promotion is a way to paint myself into a corner. A lot of the girls and guys, you hear the way they talk, they're almost making it so if they lose, no one can hold anything against them. They're setting it up for a graceful loss. I never really want to have that option. I don't want to have it in my brain that, 'Well, if I lose, it's OK.' No, I want it to be, 'If I lose, this is the end of the world,' so that I treat it that way. A lot people speak in a manner that will cushion their fall if they lose, and I don't ever want to feel that that's an option for me."