The Art of the Knockout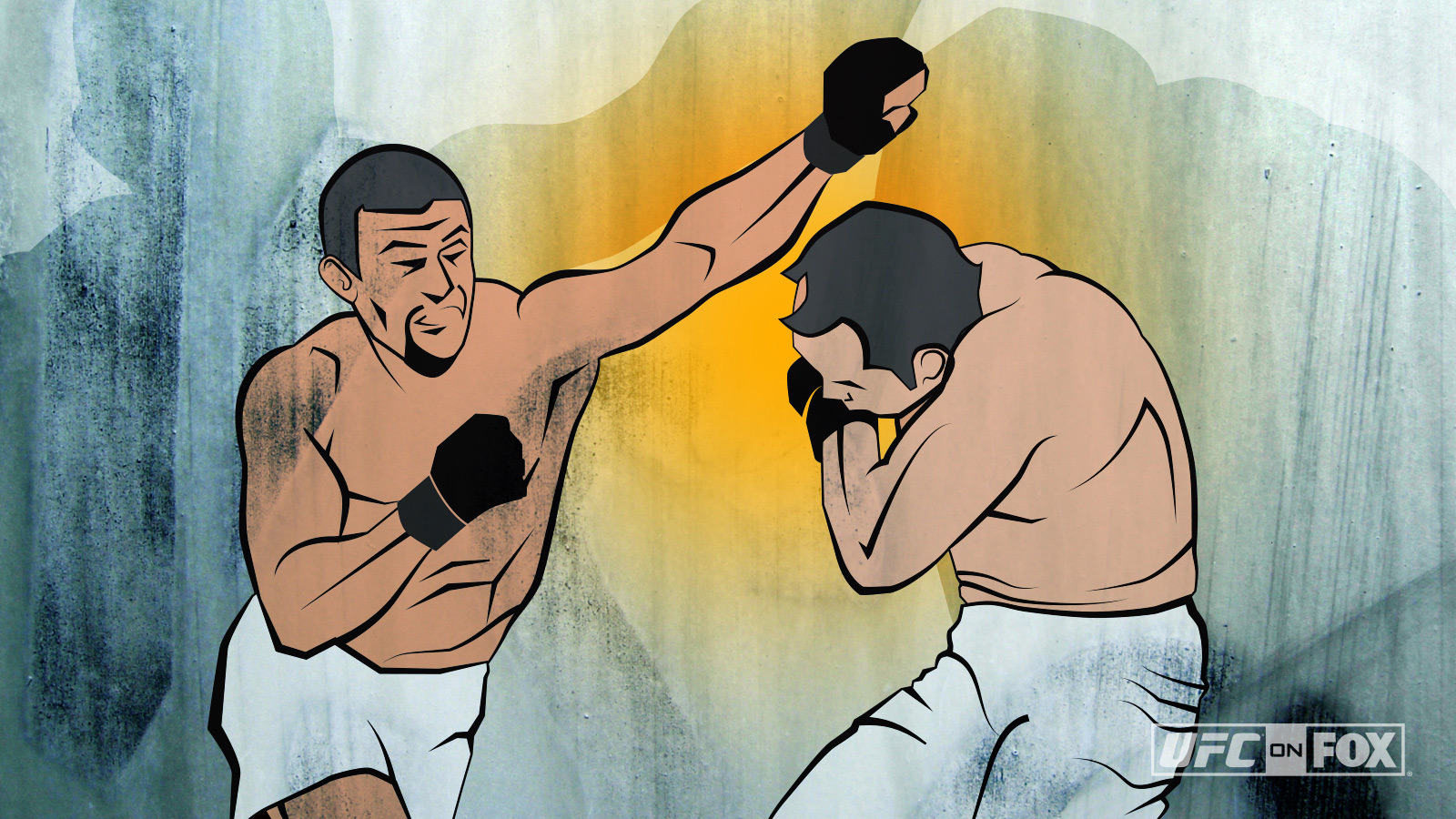 There was a time when the author of one of the greatest knockouts in UFC history didn't think his feat would ever be possible. Edson Barboza comes from a Muay Thai background, and while competing in that sport, he came to believe that in high-level combat, the wheel kick was wasted energy. It was simply too difficult to land. The technique involves torquing your entire body, spinning 360 degrees and blindly landing a heel to the jaw of your opponent all in one fluid motion, and for the first 18 years of the UFC's existence — nearly 200 events and 2,000 matches — no one had ever finished a fight with one. In fact, it was rarely ever used.
And then came a March 2011 matchup with Anthony Njokuani. In the final seconds of a close fight, with risk minimized by the dying clock and nothing much to lose, Barboza uncoiled one, landing his foot upside Njokuani's head and giving his opponent a severe case of the wobbles as time expired. He left the bout with a decision victory and an epiphany.
"All of the sudden, I said, 'Man, I think it could work,'" Barboza told FOX Sports. "So I started training it a bit. Just a little bit, thinking maybe I could use it."
Two fights later, he was competing against Terry Etim in a fight he was handily winning. Throughout the first two rounds, Barboza's punches targeted the head, and his kicks would go to the body or legs. Punches high, kicks low. There was little variation in this offensive strategy, making it quickly detectable. Late in the first round, Barboza noticed that when he threw a wheel kick to the body, Etim's hands dropped to try to defend it. In other words, Etim had recognized the pattern, too. The chess match was underway.
"I said, 'Oh, I'm going to try it again, and the next time I'm going to try the head," Barboza said. "He wanted to protect the body."
So in third, with Etim trailing and his pace slowing from fatigue, Barboza unleashed his plot twist. He spun again. After feeling his body battered by kicks, Etim lowered his elbows to defend what he thought was another shot to the ribs, but instead, Barboza's heel flew over the top of his arms and slammed full-power into Etim's jaw, knocking him immediately unconscious.
If you watch the replay — which Barboza said he's done "a couple million times," — it's obvious how show-stopping the finish was. Matchmaker Joe Silva leaps to his feet with his mouth agape. UFC president Dana White and Lorenzo Fertitta both shake their heads in disbelief. The Rio crowd, already cheering for the Brazilian Barboza, erupts in euphoria. It was a kick almost worthy of a World Cup win. The strategy of misdirection, the power generated in the hips, the speed of the spin, the accuracy, and the degree of difficulty are all elements in what made Barboza's finish so memorable and unique.
Once you immerse yourself in mixed martial arts, the draw is the variety and complexity of action. A standard overhand right knockout will always send a buzz through an arena, but the game always demands evolving techniques. Wheel kicks, Superman punches, flying knees, liver shots, spinning back fists. There are seemingly 1,000 ways to stop an opponent in his tracks, and that is the art of the knockout. The canvas can be one in a figurative sense, the [mixed martial] artist painting, limited only by physics and lack of imagination.
The realization that you have power can come as a blessing or a curse. It's either your most useful tool or it comes to define you to the point that you let your other skills go rusty. If you ask knockout artists, the first key to a KO is to shift focus from the end result to the process of getting there.
"You want to embrace it because you know raw power is always dangerous, but it also has the ability to make you tired if you use it at the wrong times," said heavyweight Travis Browne, who has 12 career knockouts in 16 wins and is bidding for the No. 1 contender spot when he fights Fabricio Werdum at an April 19 UFC on FOX show. "It's about the big picture, finding your spots and when to explode. Hitting combinations together, punches and kicks. How to set it up, learning range. There's just so much more to it than power."
In many ways, it's similar to the idea that baseball sluggers don't step to the plate and consciously try to hit a home run. Instead, they concern themselves with their approach and swinging at something in their sweet spot.
That's a process that must be learned early, and even by some of the best. UFC welterweight champion Johny Hendricks is among those who struggled to implement the natural power he knew he had until unlocking the secret.
"What I learned is that whenever you try for something so hard, your body tenses up and that actually hinders your power," Hendricks said. "A lot of times, you get KOs when you don't expect it. You throw a good combo, you turn it over just right and don't even throw it that hard. When you know you have power you start placing it right and hit someone at 80 percent and still knock them out. That's when I realized, 'Boom, this is how I should do it.'"
It's like nothing. It's surprising, because you throw and you feel a connection, but it's like a flash. Nothing. And then you see them crumble.
Michael McDonald
It's rarely as simple as throwing combinations and hoping the back end lands. Hendricks is a faithful student of tape who looks for habits he can exploit. When he knocked out Martin Kampmann in just 46 seconds, he did it with a right hook/straight left. While looking at video, he saw a tight defensive guard, and surmised he would need a way to clear Kampmann's hands. The right hook was that answer, as Kampmann lowered his right hand to swat it away, but couldn't pull it back in time to deflect the finisher behind it.
Now, here's the surprising part: Hendricks' reaction to it?
"It sucks at the moment," he said.
But that's only because of the shift in his mindset over the years. He is no longer a power puncher hellbent on one strike but a mixed martial artist with strategy and vision. The quick finish in some ways robs him of the opportunity of some greater display.
That particular finish was born in pre-fight preparation, but when the action goes live, it's up to the athletes to be their own coaches and make adjustments in the moment. If a fighter is repeatedly slipping a jab to your right, for example, it's incumbent upon you to follow with a right cross, where his head is going to be. The ability to improvise is an underrated asset in the arsenal of most successful knockout artists.
"It's really hard to say that there's a common element in knockouts because I feel that I fight more with my instincts than I fight with reason," UFC middleweight title contender Lyoto Machida told FOX Sports through an interpreter. "I have to feel out the fight and know when that moment is coming."
Feeling out the fight is a process shaped by experience. Throughout his pro career, Browne has never been taken down, with his UFC opponents coming up empty on all eight of their tries against him. It stands to reason that at some point, he would push further than simply shutting down the takedown. To move beyond that, he had to punish opponents for even trying. When he knocked out Stefan Struve with a Superman punch and Alistair Overeem with a front kick, he was following a plan prepared through hours of training, but he went off the script when he devised a vicious finish against Gabriel Gonzaga last April.
Just over a minute into their fight, Gonzaga had Browne pressed against the fence, attempting to force a takedown. With a wide base and a right underhook, Browne was in a good defensive position, standing over Gonzaga who was bent at the waist and digging low. For a split-second Gonzaga paused for a breath and Browne let go of his underhook, slamming an elbow to the side of Gonzaga's head. Five more followed, but by the third one, Gonzaga started wilting and on the next, his body gave out.
Two fights later, Browne wrote a nearly identical finish against Josh Barnett. Yet the elbows were something he had never practiced before, and still hasn't. It's simply not something you would try against a sparring partner because before very long, you'd run out of them.
"Both of those knockouts came very instinctually," he said. "There's something that people familiar with team sports would know: the intangibles; the things you don't keep stats on. That's one of the intangibles that I have, being able to fight off of instinct, and being good at it. Some guys fight off instinct but they don't have the power or the technique. But some fighters can fight off instinct and come out with knockout wins."
Power is something of a given at the higher weight classes. Simple physics tell us that size matters as force is a product of mass times acceleration, and heavyweights have more mass to uncoil into a strike.
What then for the little guys? In 2013, the UFC hosted 37 bantamweight fights, but only seven were finished via knockout. Every division, however, has outliers, like bantamweight Michael McDonald, who has six knockdowns and two KO's in his Zuffa tenure.
From the beginning, striking was McDonald's favorite part of MMA, but over time, he was able to look past the excitement of it to study the craft, from particular techniques to proper posture. It took his first professional loss to truly force him to consider all of the variables that go into successful striking.
"I was really confident in my standup," he said. "I had seven fights before that, all first round stoppages, and [knocking people out] was normal. Even in my amateur fights, I guess you can say I was used to knocking people out. I started to focus on it more and I think that altered the way I fought. I expected to punch him and see him fall. He took me down and pounded my face in."
That's why McDonald says he advises young fighters who start their careers on knockout streaks to forget that those fights ever happened. It simply won't come as easily when you're actively looking for it. So after losing for the first time, McDonald studied the mechanics of punching to have a better understanding of what he was actually doing, realizing that everything had to be properly aligned in the kinetic chain to unleash maximum force.
And when that maximum force lands, it's effortless.
"It doesn't feels like anything," Hendricks said.
"If you do it right, all of that energy that goes from your feet to your hips to your shoulders to your fist, all of it gets transferred to your opponent's head," McDonald said. "It's like nothing. It's surprising, because you throw and you feel a connection, but it's like a flash. Nothing. And then you see them crumble."
There are times when that's it, the fight is over, and there are times when the opponent is staggered and in danger. According to these knockout punchers, this might be the riskiest time for the offensive fighter, because your challenger is desperate to cling to his consciousness. Over the years, we've seen many instances of a dazed fighter scoring a comeback KO.
Scott Smith over Pete Sell. Chris Leben against Terry Martin. Cheick Kongo vs. Pat Barry. Overcommitting to the finish can get you finished.
"You've got to stay controlled and calm for it," said light-heavyweight Jimi Manuwa, who has 13 knockouts among his 14 wins. "If you hurt someone, you can't run up and rush them. You can have someone wobbled and run into a big right hand. You can run into a takedown or a clinch and mess the whole thing up. That's why you have to stay composed even when you know they're hurt."
Even knowing whether they're actually hurt can be a challenge. McDonald says some fighters are better actors than others and can play off the fact that they're dazed. It's something he's done himself on more than one occasion. So even if the offensive fighter knows he landed something significant, if he doesn't see the expected reaction, it could lead to just enough hesitation to allow recovery.
That's why sometimes fighters go to the well more than once with a specific technique, as Anthony Pettis often does with his body kicks. Sometimes, it's a measurement tool, as he's looking for a response that confirms a suspicion that his opponent is hurt. It's something Barboza does with his leg kicks, where he sees no reaction for the first few, but then sees a single wince and knows he's in the process of chopping down a tree. Browne did a similar thing with Overeem, when he overcame a horrific start, rebounded and began to unleash multiple front kicks. As the seconds ticked away, Browne could see his opponent's expression change on each one until he finally knocked him out.
"I could see his energy and consciousness dwindling and his mind working," he said. "His mind went from I'm going to do all of these things to, 'Oh, s—, I just need to walk him down against the cage and try to beat him up there. All of his thought processing was down to one thing, and that was good for me."
It was the kind of knockout that was a perfect melding of everything that is prized in combat sports: toughness, preparation and instinct.
The dynamic nature of MMA ensures that the someone, somewhere will always be attempting to raise the bar. After all, before Barboza pulled off his wheel kick knockout, it had never been done in the UFC. Since then, it's been pulled off multiple times, including by a heavyweight, Junior dos Santos.
So the arms race is on, with the hope of topping it, and taking the art of the knockout to another unforeseen level. Can one be reached?
"For sure," Barboza said. "Why not? Everything is possible. I have a couple more things to show you guys for sure. But let it be a surprise."
That's the point of watching, after all. To see the unexpected and experience the unbelievable. For the fans, adding style to the substance makes it worth the time investment, but for the athletes, a knockout is the ultimate arbiter of a job well done.
"I feel like there's no better way to win," said Browne. "With submissions, you gave the guy a chance to give up. You gave him an option to quit. A TKO or ref stoppage, you needed someone to step in and stop the fight because it was going in a bad way. But a straight knockout to me is like you did your job to the extreme. Your training camp was the school work, and your fight is the test, and you just got an A+."