T.J. Dillashaw will continue to work with Duane Ludwig even after coach departs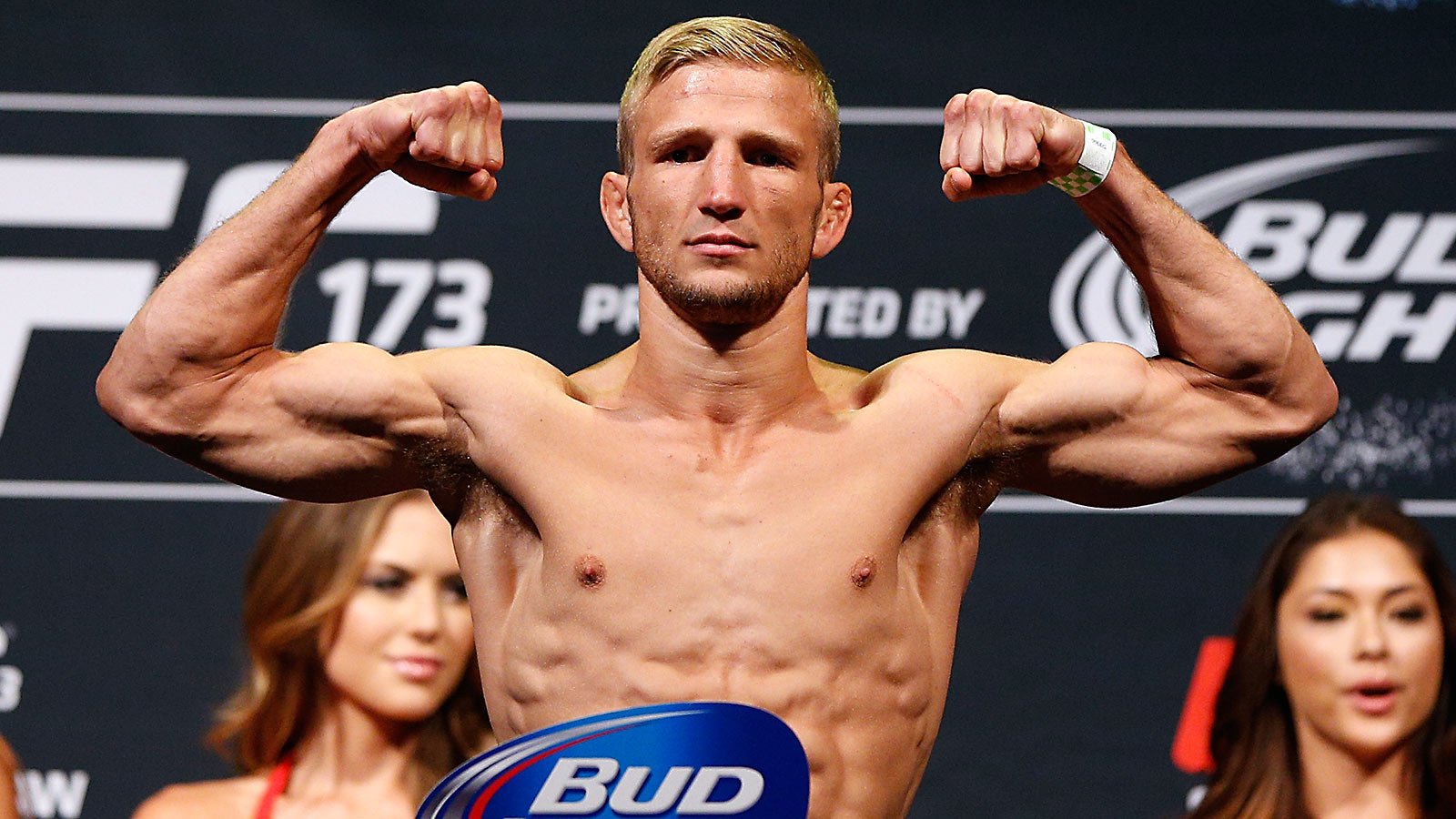 LAS VEGAS — Saturday night represents the latest chance for a Team Alpha Male member to bring home a UFC championship. Urijah Faber has lost twice. Joseph Benavidez has lost twice. Chad Mendes has lost once.
UFC 173 brings T.J. Dillashaw's turn.
Few are giving him any real chance of dethroning bantamweight champion Renan Barao. Dillashaw is a sizable underdog on the sports books, and has a serious deficit in experience level to navigate. Yet he's also grown significantly under head coach Duane "Bang" Ludwig over the past year. As one of the younger TAM members, Dillashaw needed work in rounding out his wrestling base, and Ludwig has helped him install a dangerous striking attack that adds new layers to his overall game.
But Saturday night's main event will also be the last time Ludwig is officially in the corner as the team's head coach. He will soon depart and head back to his home state of Colorado amid clear signs of tension. Within the last week, the team's founder Faber called Ludwig's eventual departure "a breath of fresh air," and confirmed that the two sides have butted heads.
But don't count Dillashaw among Ludwig's critics. In fact, win or lose, UFC 173 won't mark the end of his coach/student union with Ludwig.
"After he leaves it's going to be the same for me because I'm going to continue to work with Duane," he told FOX Sports. "Obviously it's going to suck not having him every single day for all the fights, but I'm going to fly out and cross train with him in Colorado, fly him out for my fight camps and we'll continue to work. I plan to get my black belt under him, so we'll continue to work."
Dillashaw said he prized Ludwig's indefatigable work ethic, citing an appreciation for a coach that worked just as hard as he does at his own job. Ludwig helped structure the team practices and though the team still hasn't captured that elusive UFC title belt, Dillashaw believes he's done more than enough to remain a key mentor.
Whether other members of the group feel the same way is unclear, but as Dillashaw pointed out when asked about the Team Alpha Male vs. Nova Uniao rivalry, at some point every fighter needs to focus on individual goals ahead of everything else.
"Ultimately it's an individual sport," he said. "Obviously we train as a team and we care for each other like a family, but ultimately it's about myself. From a financial standpoint and the goals I set for myself, this is what it's all about. Obviously I'd like to win it for my team and my coach, but it all comes down to doing it for myself."