T.J. Dillashaw says no rematch for Renan Barao: "I messed him up"
Some are calling it one of the biggest upsets in the history of mixed martial arts, but T.J. Dillashaw didn't have a single doubt in his mind heading into Saturday night as he stood across the Octagon from Renan Barao that he was walking out with the UFC bantamweight title.
In some of the sportsbooks, Dillashaw was as much as a nine-to-one underdog, but the confidence he carried into the cage was the feeling of an unbeatable man just waiting to achieve greatness.
The first round saw Dillashaw knock Barao to the mat with a single punch and nearly finish the fight. In an odd turn of events, the Team Alpha Male fighter was actually happy it didn't end right there because he then had the chance to prove to everyone watching, this was no fluke. This was no lucky shot.
The next three and a half rounds went a lot like the first, and then in the fifth and final round, Dillashaw decided to coast to victory. Well that was the plan anyways.
"(Coach Duane Ludwig) knew that I had it. He came in saying move your feet, you've got nothing to prove, we won the fight. He said 'we won't even charge him' and I said good deal. So my mindset going into that fifth round was to move," Dillashaw told FOX Sports. "For me what I did at the beginning of the fifth round was me stalling. Even though it was only like 30 seconds, for me that's a slow paced fight I guess. That's how I fight, I bring it, I'm always aggressive, I want to win every second of the fight.
I beat him up for five rounds. I proved to a lot of guys in my weight class that Renan Barao can be beat and I gave them the blueprint of how to do it. So he needs to show he can come back from that before he can even fight me again
— T.J. Dillashaw
"I kept him on his toes but as soon as he came to engage I landed a good strike and I was like 'you know what, I'm just going to put it on him'. That's what I was best at doing."
A few moments later, Barao was laying in a heap on the canvas as the referee swooped in to stop the fight. Dillashaw celebrated his improbable win not only because he just dominated a fighter UFC president Dana White was calling the pound-for-pound best in the sport, but also because he became the fighter to figure out the puzzle that was Renan Barao.
For more than 30 fights in a row, Barao was virtually untouchable. He was a force of nature tearing through every other bantamweight in the world, but Dillashaw knew a long time ago that he had the perfect strategy to pick him apart and snatch the title away from him.
Funny enough, the game plan all came from watching Barao's fights and then studying former bantamweight champion Dominick Cruz to know how to get the job done.
"I've said in interviews for a while when they were asking me if I thought Dominick Cruz would be able to beat Renan Barao and I've been asked this question a lot, and even though Renan Barao's a more dangerous fighter and a great champion, I thought Cruz would be able to beat him with his footwork and movement. So for me, I just kind of played that up and realized that's really how I think you can beat Barao and I've been saying it for years now," Dillashaw revealed.
"That's what I wanted Urijah (Faber) to do in his first fight and that's how I feel he was beatable. He likes to slow people down, he likes you to stand right in front of him, he uses power and he intimidates you. I knew I was faster than him and I could use my angles to beat him."
And beat him he did. Badly. Over 20 minutes worth of domination.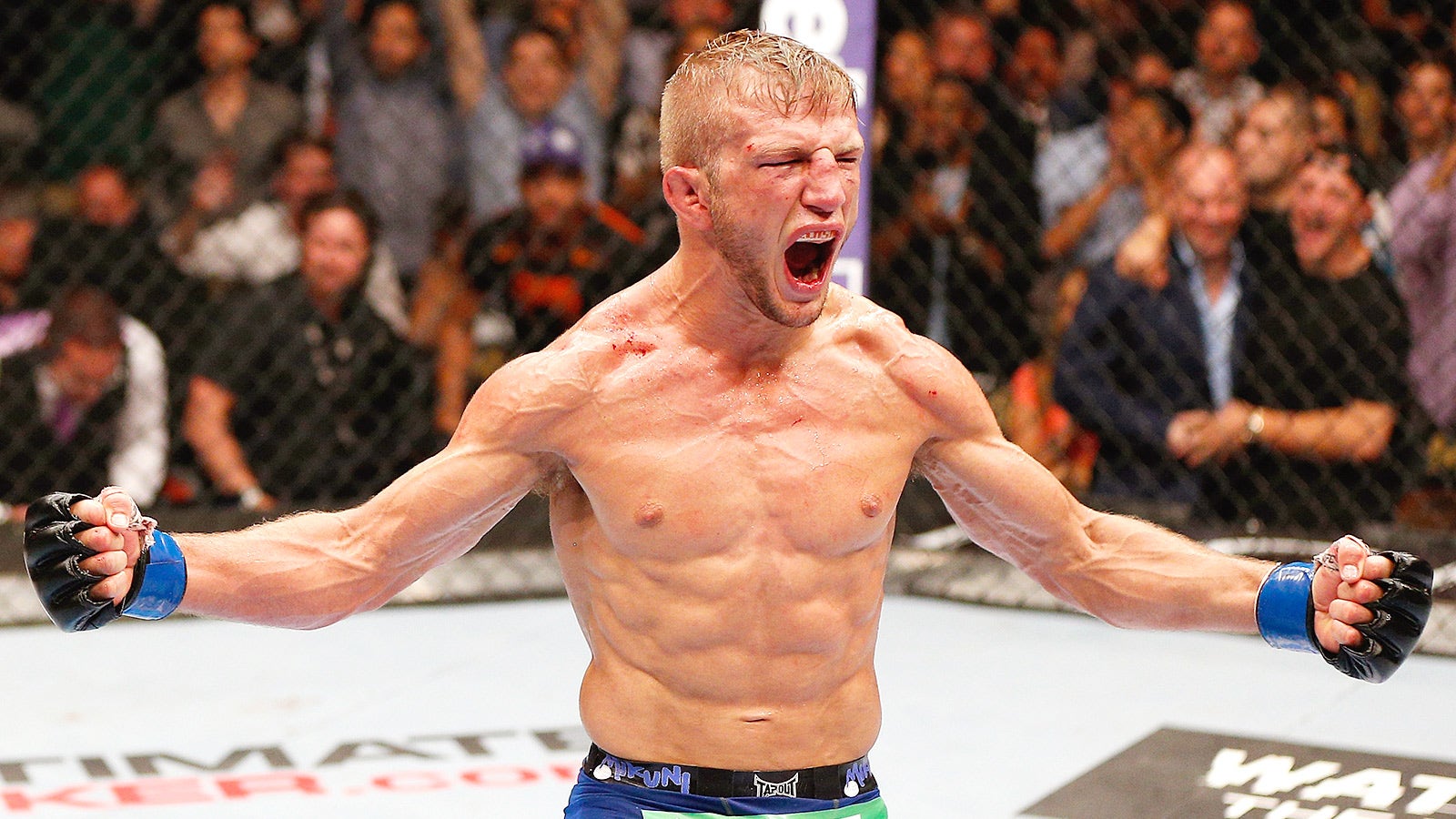 Dillashaw can't deny that Barao was a phenomenal champion and maybe there will be a day when he will hold a UFC title again, but it won't be tomorrow and it won't be in his next fight unless he's abandoning the bantamweight division.
Following UFC 173, Barao's coaches and teammates began rallying for an automatic rematch with Dillashaw while also saying the fight should take place in Brazil. Now, none of these statement came directly from Barao himself, but the messages were received loud and clear by the new UFC bantamweight champion.
To those requests, Dillashaw goes back to that first round when he nearly finished Barao after a single right hand crashed into his temple and the Brazilian went flailing to the mat. A finish there could have warranted exactly what Barao's camp is asking for right now. Another 20 minutes of that same action followed by a fifth round finish and Dillashaw says it's time for Barao to go get a win and then come back and see him again.
"If I would have caught him in that first round, dropped him and finished him I could understand them saying 'oh he got caught, give us a chance', but I messed him up," Dillashaw said. "I beat him up for five rounds. I proved to a lot of guys in my weight class that Renan Barao can be beat and I gave them the blueprint of how to do it.
"So he needs to show he can come back from that before he can even fight me again. He could be beat once again. He's got to come back and prove that first before he can fight me again."
As far as what's next for Dillashaw, the new champion is really focused on his wedding and a vacation following two back-to-back training camps with little to no rest. He will be back in time to help his teammate Chad Mendes get ready for his title fight coming up in August in Los Angeles, but he's ready for a break before booking his first defense of the bantamweight gold.
With Barao out of the running, Dillashaw seems to think a fight against Raphael Assuncao makes the most sense right now. The two bantamweights fought last year and it was Assuncao who came out on top, albeit by a close, controversial split decision.
What better way for Dillashaw to defend his belt and avenge one of only two losses he's suffered in his career?
"I did get that win, but I'd like to make it official. There's no way it's even going to be close to as close as it was last time. I'm a way better fighter even from then than I am now and I'm going to demolish him. That's going to be an easy fight for me," Dillashaw said.
"I won't say easy, nothing's going to be easy, I've got to go out there and respect him just as much as I do every other opponent but there's so many things I could have done differently in that fight that would have changed it."