Stephanie McMahon says WWE wants Ronda Rousey after she's done with MMA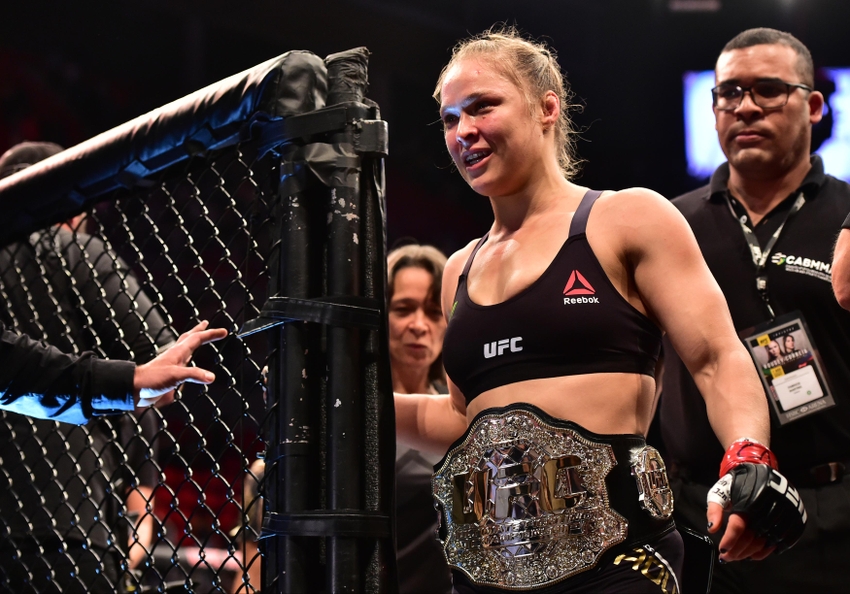 Looks the WWE will be making a major push for Ronda Rousey once she's done with her UFC career
Former UFC bantamweight champion Ronda Rousey's career as a professional mixed martial arts fighter is coming to an end. That much is certain.
But once the woman known as 'Rowdy' finally does decided to hang up her four-ounce gloves, she may have another career already lined up.
Speaking with TMZ Sports, Stephanie McMahon, daughter WWE Chairman Vince McMahon, made it clear the wrestling promotion would be gunning for Rousey once her time with the UFC is over.
"I certainly hope so," McMahon told TMZ cameras when asked about Rousey venturing into the world of professional wrestling. "I gotta get her back. She put me in that armbar [at Wrestlamania 31]. I'm certainly going to try and get her back."
Rousey made waves when she stepped into the squared circle alongside former WWE champion The Rock at WrestleMania 31 to confront the villainous stable The Authority, which was headed by McMahon and her real life husband Triple H. Much to the delight of the sold out crowd, Rousey and The Rock cleaned house as they tossed everyone from the ring. Needless to say, the WWE Universe loved her.
Rousey (12-1), also a former Strikeforce champion and Olympic bronze medalist, has to get through current UFC champion Amanda Nunes at UFC 207 in December. This will mark Rousey first appearance inside the Octagon since Holly Holm's shin slapped across her head at UFC 193 last November.
This setback not only marked Rousey's first professional defeat, it seemed to give the rest of the world ammo to take aim at the fallen champion. She went from America's sweetheart to public enemy number one overnight.
Rightfully so, she stepped away from the spotlight to regroup from the devastating loss.
But since that memorable November night where fight fans witnessed what they once thought was impossible, the UFC's 135-pound women's division has seen two more champions crowned. First Holm dropped the title she won to Rousey's longtime rival Miesha Tate after succumbing to a fifth round rear naked choke at UFC 196. Fast forward three months and fans saw Nunes crumple Tate in the first round at UFC 200, taking her belt in the process.
UFC 207 will go down on December 30 at the T-Mobile Arena in Las Vegas.
More from FanSided
This article originally appeared on