Sage Northcutt moves to 155 following UFC on Fox 22 loss
Following his UFC on Fox 22 loss, Sage Northcutt seeks to greener pastures in the lightweight division.
At UFC on Fox 22, Sage Northcutt lost his second fight in his last three outings. During the bout, the 20-year-old found early success in his stand-up game against another UFC newcomer, Mickey Gall. However, Northcutt's skills proved to be of lesser caliber in the grappling department, allowing himself to be submitted via rear naked choke at one minute, 40 seconds of the second round.
In response to his loss, the once promising star announced via twitter that he would move down to 155 pounds in an attempt to find better success there. He stated, "Sorry I didn't win… I'll be going back down to my real weight class 155lbs! Thanks for the support and to all that came out to watch."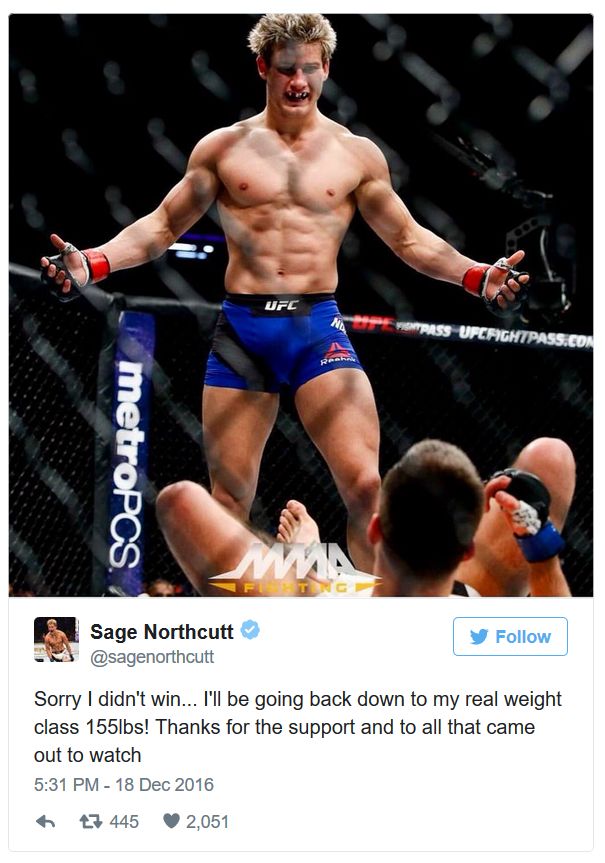 Northcutt is a young and talented stand-up artist who has deep roots in Karate and is also an undefeated kickboxer. At the same time, it is apparent that his grappling skills could see more development. The latter is evidenced by the Texas native having lost two of his last three fights by submission.
At UFC on Fox 18, Northcutt was submitted by Brazilian jiu-jitsu blue belt Bryan Barberena in round two. In that, Gall, a Gracie jiu-jitsu brown belt, manhandled Northcutt on the ground, leading to the inevitable outcome.
Northcutt's move to lightweight is sound, and he has proven to be a large lightweight. At the same time, said division is wrought with grappling aces, such as Beneil Dariush, Rafael dos Anjos, and the undefeated Khabib Nurmagomedov. Irrespective of his move, it is imperative that Northcutt improve his grappling/ground game if he ever wishes to vie for a UFC title.
This article originally appeared on