Rousey vs. Cyborg: The Biggest Possible Fight of 2014
Ronda Rousey is the biggest star in the UFC.
The women's bantamweight champ makes an impact outside of the MMA vacuum, stealing the show when she lands on Jimmy Kimmel and making Forbes'€™ '30 Under 30'€ sports list alongside global stars like LeBron James, Usian Bolt, and Leo Messi. No other fighter on the UFC roster has the same mainstream crossover ability, and it'€™s not even close.
Heading into a new year where perennial pay-per-view headliners Georges St-Pierre and Anderson Silva are no longer an option, and champions Cain Velasquez and Anthony Pettis are sidelined with injuries, the UFC has already shown that they intent to bank heavily on Rousey'€™s star power.
A little over an hour after the unbeaten Olympic bronze medalist successfully defended her title against Miesha Tate at UFC 168, Dana White hung a promotional poster for UFC 170 on the front of the podium at the post-fight press conference, announcing that Rousey would make a quick return to the cage to headline opposite fellow undefeated Olympic medalist Sara McMann on the event that just so happens to coincide with this year'€™s Winter Olympics in Sochi, Russia.
While pairing the two world-class athletes off and hustling '€œRowdy' back into the Octagon eight-weeks after she secured her eighth consecutive victory via armbar makes perfect sense from a business standpoint, it'€™s a contest that isn't going to move the needle a great deal, no matter how much promotional muscle the UFC puts behind it.
It will do well, mind you, because Rousey has already become that fighter that fans want to tune in and see, but McMann has just a single appearance in the Octagon on her resume, and that came nine months ago on the UFC 159 preliminary card.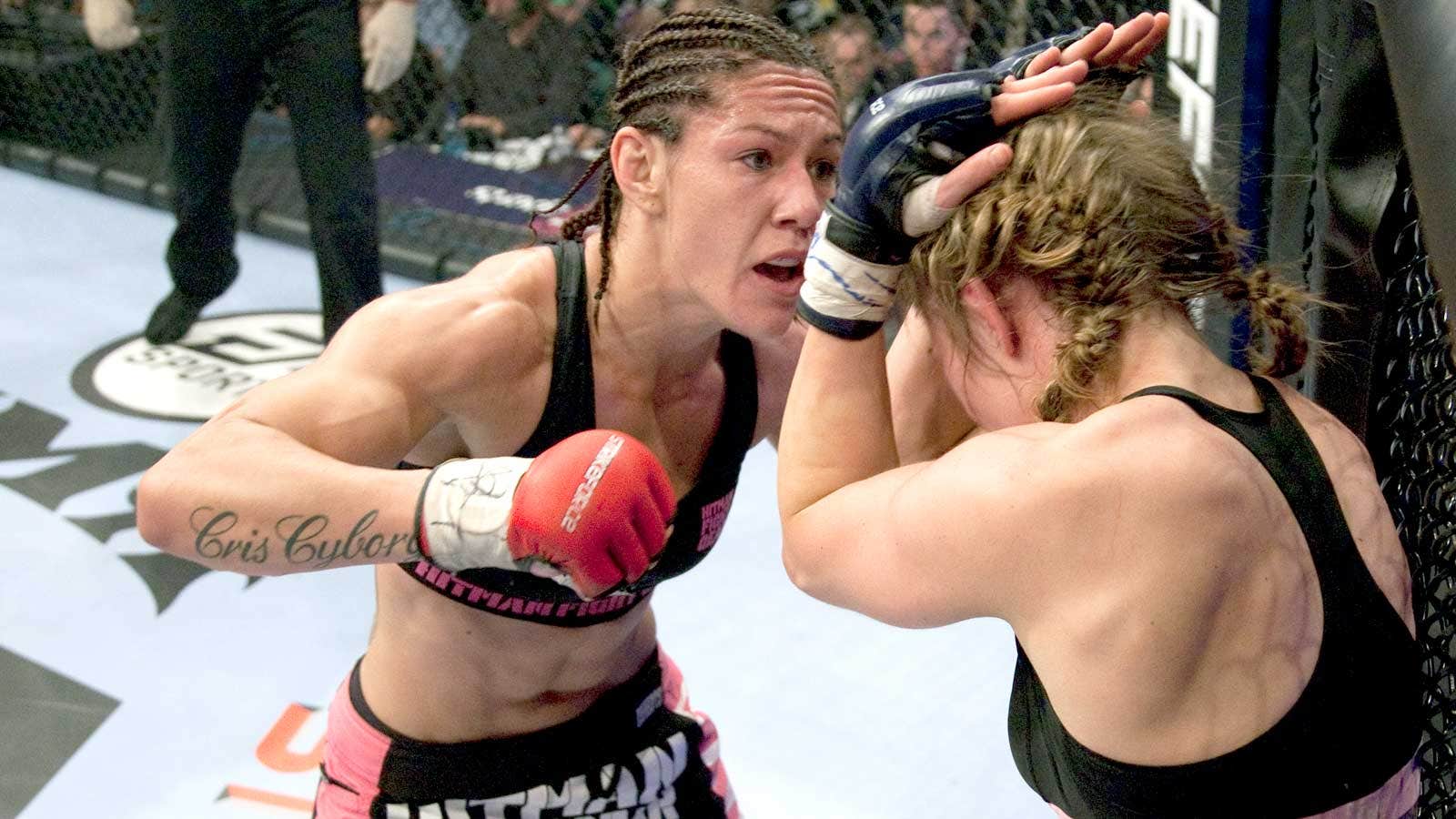 Though she came away with a first-round technical knockout win over Sheila Gaff, the 2004 freestyle wrestling silver medalist remains more under the radar than fellow contenders Cat Zingano and Alexis Davis, both of whom could find themselves fighting for the title at some point in 2014.
There is a fight involving the women'€™s bantamweight champion that does have the potential to be a blockbuster for the UFC in 2014 however, and that is a clash between Rousey and former Strikeforce and current Invicta FC featherweight champion Cristiane '€œCyborg'€ Justino.
A showdown between Rousey and Cyborg is the biggest possible fight the UFC could put together in 2014, and one they invariably will work towards making happen.
The rivalry between these two is real and has been brewing since they both competed under the Strikeforce banner.
Rousey'€™s first four professional victories came in the 145-pound ranks, including a pair of wins on the Strikeforce Challengers series, but when it came time for her to set her sights on championship gold, '€œRowdy' opted to move down in weight to fight in the deeper, more talent-rich bantamweight division. Some said she was ducking '€œCyborg',€ the Chute Boxe-trained wrecking machine that ruled the division at the time.
Some of the hype surrounding the potential match-up quieted down after Justino tested positive for a banned substance following what turned out to be her final bout with Strikeforce, but after consecutive victories over Fiona Muxlow and Marloes Coenen inside the Invicta FC cage, interest in a bout between the two most dominant forces in women'€™s MMA is rising once again.
Shortly after Rousey defeated Tate at UFC 168, Cyborg took to Twitter and let it be known that she still envisions sharing the cage with the first female champion in UFC history.
"Ronda I'm coming to get you!" pic.twitter.com/JcDZoKgpwV

— Cris Cyborg (@criscyborg) December 29, 2013
At the present time, there are obvious obstacles standing in the way of the potentially explosive pairing.
The biggest issue is that Cybrog has never competed in the 135-pound weight class, and has always balked at the idea of cutting down to face Rousey.
Her management team, headed by former UFC light heavyweight champion Tito Ortiz, has said in the past that doctors have advised against the 28-year-old Brazilian trying to make the bantamweight limit, suggesting it could have create serious health issues for the fighter who walks around between 160 and 170 pounds between her fights.
That being said, nutrition expert and weight-cutting guru Mike Dolce has suggested in the past that he could help Cyborg make a safe and healthy transition to 135-pounds, though having worked with Rousey for her last fight, it remains to be seen if the former Ultimate Fighter contestan'€™s offer still stands.
If the weight issue can be resolved, everything else should fall with relative ease.
While Cyborg is not currently under contract with the UFC, we'€™ve already seen Invicta FC transfer contracts to the UFC to help populate the women'€™s strawweight division, which will be introduced on Season 20 of The Ultimate Fighter later this year. The same could be done with Cyborg'€™s contract in order to make a potential pairing with Rousey a reality, and it certainly doesn't hurt that Invicta FC president Shannon Knapp suggested the match-up as her bold prediction for 2014 on Twitter earlier in the week.
@mmaencyclopedia the new TUF strawweight show will break all the former TUF show records. @criscyborg will drop to 135lb & challenge Ronda.

— Shannon Knapp (@shanknapp) January 7, 2014
Given the genuine animus between these two, Rousey's increasing star power, and the legitimate threat Cyborg represents to the 26-year-old UFC champion, this is a fight that -€" if packaged correctly and accompanied by a marquee co-main event -€" could potentially do major numbers on pay-per-view.
As impressive as Rousey has been to this point in her career, she's never shared the cage with someone as dangerous as Cyborg, which is why this is the one Rousey fight that stands out above the rest as having serious blockbuster potential, even in today'€™s declining pay-per-view marketplace.
Cyborg's 2009 showdown with Gina Carano drew an average of more than 575,000 viewers on Showtime. As much as the Haywire and Fast & Furious 6 star was the '€œMMA It Girl'€ at the time, she didn't carry the same kind of credentials as Rousey, nor was she as big a star as the UFC women's bantamweight is today at the time.
On the flip side, Rousey has already proven to be a solid draw for the UFC and a polarizing figure among fans, with equal numbers lining up for and against the fighter with best pre-fight scowl this side of Diego Sanchez.
Combine that with the highlights of Cyborg leaving a trail of battered opponents in her wake and a steady diet of these two combatants launching verbal jabs at one another, and you have the makings of an explosive headliner.
How about Fourth of July weekend in Las Vegas?