Rory MacDonald back in title conversation? He never left.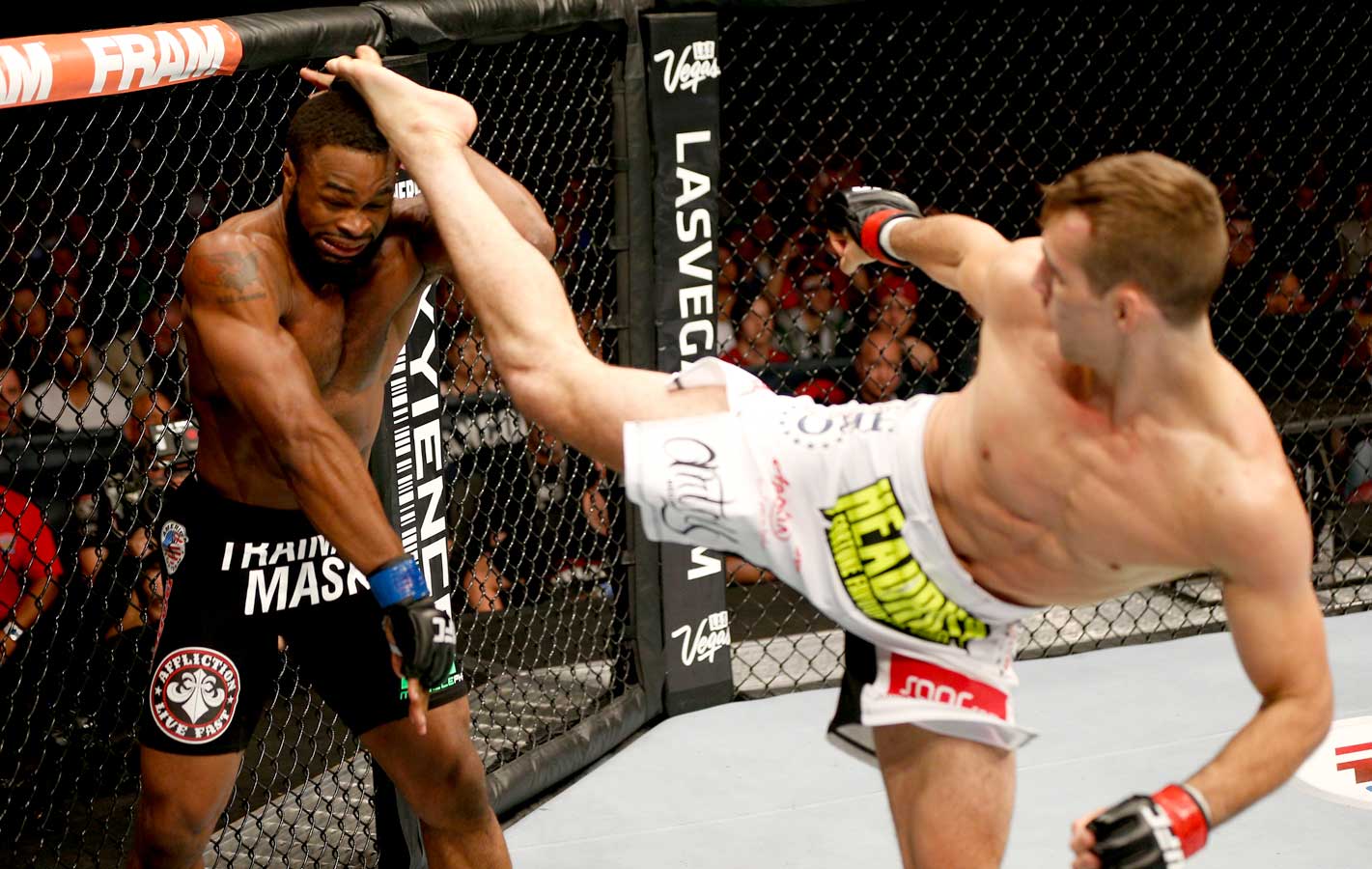 Upon further review, I'm not quite sure whether Rory MacDonald was as impressive as he seemed to be in the moment, or if I surfed the wave of Canadian nationalism like it was the Oahu pipeline. Maybe both. I'll never know, and either way, what's the difference? Perception means a lot in mixed martial arts. Sometimes it even means everything. We often trick ourselves into seeing what we believe, and other times we refuse to see what's plain as day.
In beating Tyron Woodley in the UFC 174 co-main event, McDonald gave off the vibe of what he was always supposed to be: a legitimate UFC welterweight title contender. Georges St-Pierre's hand-picked successor was back, out-striking Woodley 97-38, absolutely owning the center of the octagon, and even taking Woodley down once.
But was it enough to change the recent perception shift that views him as a point fighter? And does it strengthen his UFC welterweight title contender resume?
A little bit of yes to both, I think. MacDonald certainly appeared more decisive in his actions than he has his last couple fights. Perhaps he understood that given Woodley's physicality, there could be no indecision. Hesitation would be no man's land, and Woodley has no problem crossing the breach.
So it was all-in for MacDonald, and the invested approach paid dividends. That's a good thing, because right now he's all about rebuilding his equity after a couple of less-than-stellar performances that sent some of his backers running for the hills.
Before the fight, it seemed he needed a clear-cut win just as a first step back. By the time it was over, he was being asked to discuss his thoughts on a possible title match. That was quick, but the more you pay attention to the little things in his game, the more obvious it becomes that he has a set of skills that are perfectly suited for disrupting your standard onslaughts, flurries and barrages.
When MacDonald made Jake Ellenberger gun-shy, we mostly viewed it as Ellenberger's shortcomings, not something MacDonald was actively playing a role in shutting down. After all, throwing strikes is what these guys do, so when they're slow on the trigger, the blame is quick to go on the man fiddling around with the gun. But after pulling the same trick against Woodley, we have to admit that the kid understands how to disarm a situation.
Against Woodley, what he did from the first second of the fight to the last was own the cage and own the distance. He might as well have walked them around on a collar, establishing his command over both within the fight's first seconds, running out to the middle of the octagon, and backing Woodley up with a front kick.
Whatever Woodley did, MacDonald anticipated. He saw his blitzes coming. He recognized his takedowns tries. He avoided his powerful right. That didn't leave Woodley with much else.
"[Woodley] choked in the big fight tonight," UFC president Dana White said in the post-fight show. "He needed to come out and try to rip that head off in the third round and he didn't even do that. He threw a few punches, missed and didn't knock him out. He just sort of sat back into the way he fought the rest of the fight."
That's easy for us to say, but the problem with that oversimplification is it lifts credit from the winner.
Didn't MacDonald have as much to do with Woodley's trouble as Woodley himself? Those difficulties were not self-made. Woodley couldn't connect from the outside because of MacDonald's lead kicks, and couldn't get inside because he had too much distance to navigate. In effect, MacDonald lengthened his reach advantage by his emphasis on front kicks and jabs, and Woodley found himself consistently frozen.
"He dominated Woodley. He made him look like he shouldn't have even been in there," White said later, proving that even the president could see things multiple ways.
Who knows what any of this means. Remember, we're a sport that loves revisionist history. As the fight went off, MacDonald vs. Woodley was essentially a pick 'em fight, with some books having the Canadian as a tiny favorite, others favoring the American. As soon as the fight was over though, there were plenty of people slapping themselves and wondering what they'd ever seen in Woodley. Who'd he beaten except a couple of over-the-hill guys and one who broke his leg mid-fight, anyway?
It's not a fair reassessment, but it's what we sometimes do.
At 24, MacDonald's side of the momentum see-saw is back on the way up, so the perception will follow. Ah yes, perception. That's how we started this whole thing. So how do we look at MacDonald now? Here's how, and you can take your pick. Either 1) MacDonald is back in the title conversation, or 2) he never left it.