Ronda Rousey Says UFC 207 Will Be One Of Her 'Last Fights'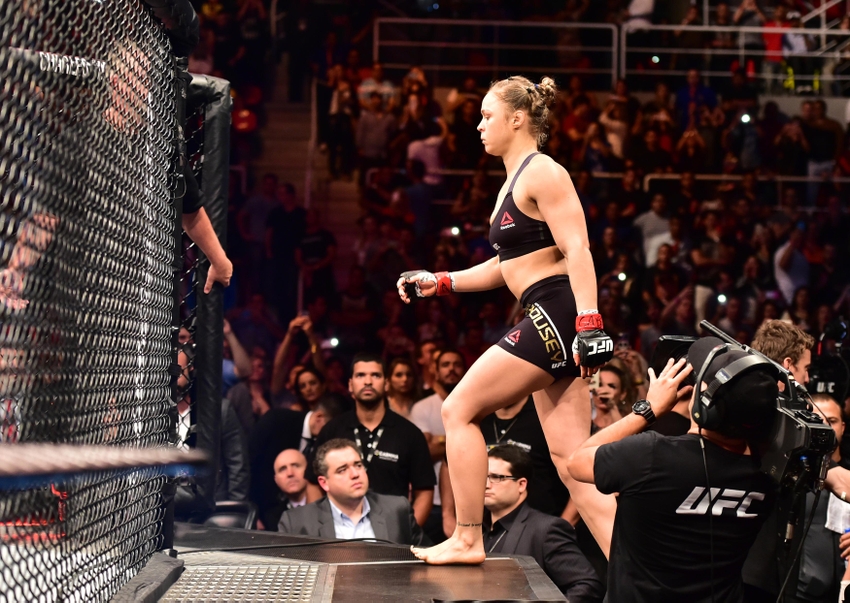 If you thought that Ronda Rousey was back in the UFC for good, you were wrong.
Ronda Rousey is making her return to the sport over a year after her upset loss to Holly Holm at UFC 193 last November. Set to take on current bantamweight champion Amanda Nunes in December, Rousey has said that it could well be the last time she competes inside the cage.
Appearing on the Ellen DeGeneres Show on Tuesday, Rousey stated that she did not want to spend much more time in the sport and it was the promotional side of the things that she feels is the hardest.
Not that long. I'm wrapping it up, this is definitely one of my last fights. Everybody better watch because the show isn't going to be around forever.

The build-up is more tiring than anything else. If I had a fight right now I'd be like, 'I'll fight right now and then I'll go get dinner' and I wouldn't really feel tired about it. The weeks and weeks of build-up beforehand, [where] you know you're fighting this one person. It's like your showdown, the most important thing in your whole life and millions of people are watching. It's that build up for weeks on end. If it just happened right now I wouldn't be nervous at all.
Rousey took the UFC by storm , defending her 135-pound title six times between signing with the UFC in 2013 and when she lost it in 2015. She defeated the likes of Miesha Tate, Cat Zingano, Alexis Davis, Sara McMann and Liz Carmouche during her reign.
Her record streak came to a screaming stop in Australia thanks to a brutal neck-kick knockout at the hands of Holly Holm.
Thanks to her hard work and results inside the cage she became a huge star outside of the fighting world as well. Rousey was the hottest thing in sports and was seen in movies, on magazines and adverts all over the world.
Win, lose or draw at UFC 207 should Ronda Rousey decide to hang up her gloves she would most certainly go down in history as the greatest and most dominant women's champion in UFC history.
This article originally appeared on