The night that changed women's MMA forever
When Ronda Rousey debuted in the UFC in February 2013, it marked a huge change in the philosophy for a promotion where the president notoriously said once upon a time that a woman would never fight inside the famed Octagon.
For years, Dana White just couldn't justify bringing women to the UFC, but it was a night almost exactly a year prior when his mind was likely changed and the sport followed right along with him.
The date was March 3, 2012. The location was Columbus, Ohio. The venue was the Nationwide Arena.
On that night three years ago, Rousey defeated Miesha Tate in what was the most highly anticipated women's MMA fight since Gina Carano fought Cris "Cyborg" Justino in 2009.
In addition to the main event, the undercard was highlighted by an instant classic put on by former Strikeforce champion Sarah Kaufman as she defeated Alexis Davis in a three-round war that rivaled not only any fight in women's history, but the men's divisions as well.
At the time, Zuffa (parent company to the UFC) already owned Strikeforce, but after the event that night, it was going to be hard to deny that women's MMA was not only an attraction — it was the biggest headline in the entire sport.
"It definitely was a huge night," Kaufman told FOX Sports about the historic fight card. "The UFC had known about and kind of been on the pulse of what was going on in Strikeforce for a long time. They had been watching the division, watching Gina Carano, myself, Cris 'Cyborg,' Miesha Tate, Alexis Davis and Amanda Nunes was in there at the time. All these talented females were in this division that the UFC were keeping an eye on. Once Ronda got herself that title shot it was the moment of 'Let's see what's going to happen here.' All this hype, all this talk, all this build-up, what's going to happen?
It's great to be a part of that. I feel like there are a few milestones for women's MMA that really stand out. A lot of us have been doing this for a while, but it really hasn't had as much notoriety. That's really when it became mainstream
— Alexis Davis
"The fact that Miesha was as tough as she was and wouldn't tap and her arm gets dislocated and all the bad blood. To top that off, you had Alexis and I putting it down and getting a 'Fight of the Night' if there had been a bonus, it would have really put a stamp on where we are now as far as women in the UFC. It was electric in there."
Rousey defeated Tate late in the first round via armbar, which at the time marked only her fifth professional fight and first bout at 135 pounds.
Up until the main event started, Kaufman and Davis were the talk of the town with their back-and-forth battle that had the Ohio crowd on its feet. The rest of the fights that night just didn't resonate nearly as much as the two women's fights that absolutely stole the show.
"It's great to be a part of that," Davis said in an interview with FOX Sports from Montreal. "I feel like there are a few milestones for women's MMA that really stand out. A lot of us have been doing this for a while, but it really hasn't had as much notoriety. That's really when it became mainstream.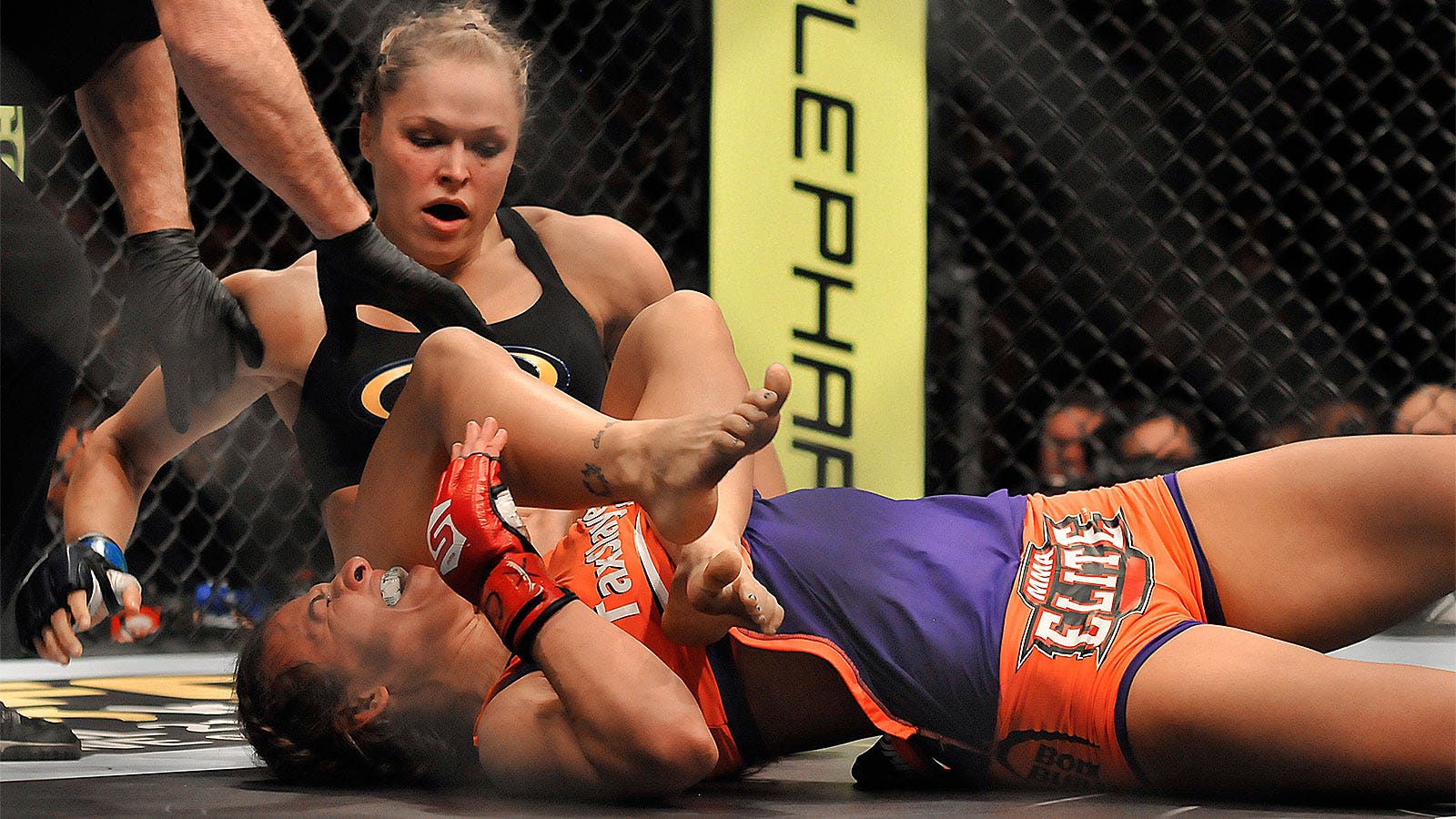 "I think that was the big leap between women fighting on the prelims to now we're headlining cards and stealing the show. We're the fight that people are talking about. That was the night people started to see it was big time."
When the card was over, Rousey was definitely the superstar on the rise, but no one could discount the show Kaufman and Davis put on in what was actually a rematch from their original fight from 2007. Even now, Davis says that despite all the fights she had before that night and all the ones she's had since, it's the second fight with Kaufman that gets brought up more than any other.
"It still surprises me now. With every single fight that I have, someone brings up that fight," Davis said. "They're like, 'That was such a great fight, it was an all-out war,' and it still surprises to this day how much recognition I've got from that fight."
The four women who fought that night didn't immediately shift to the UFC, and actually the division itself wasn't brought to the promotion for another year. Still, that night stood out in everyone's mind as the fight card that likely convinced White and the rest of the brass at the UFC that women's MMA was not only a viable product, but these women could be stars in the sport.
So much has happened since then that it would be easy to forget about how huge that moment was for women's MMA and the sport in general. If Rousey didn't talk her way into a title fight and build the rivalry the way she did with Tate while Kaufman and Davis put on a Fight of the Year candidate on the prelims, maybe White wouldn't have ever found value in bringing women to the UFC.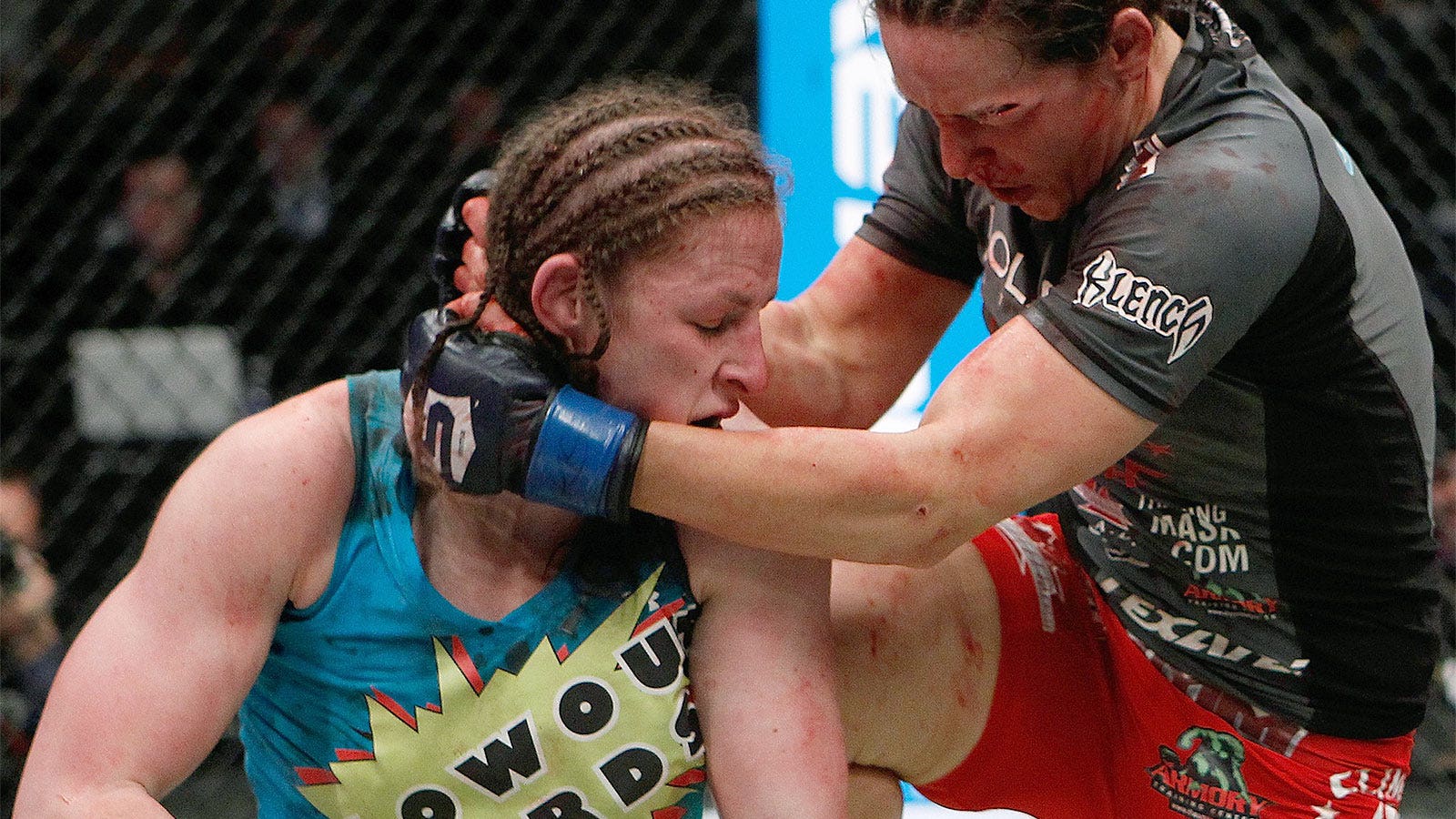 Thankfully, everything happened the way it did, and now Rousey is considered one of the biggest stars and most dominant fighters in the sport, while Kaufman and Davis are about to mix things up again at UFC 186 this weekend and the stage is set for the women to steal the show.
UFC 186 has been ravaged by injuries and late replacements, but throughout it all, Kaufman and Davis have been in the exact same position on the preliminary card for this show that they were in Strikeforce three years ago. While the stakes aren't as high in regard to the future of women's MMA, Kaufman and Davis once again have the rare chance to help lift a card by their fight alone, although neither one of them will concede anything other than a dominant victory.
"The first fight was exciting. The first fight, I laid a beatdown, the second fight I laid a beatdown and the third one I want to lay an even bigger beatdown. My goal is to crush Alexis if possible and as soon as possible," Kaufman said. "It's not a goal to earn a Fight of the Night by getting beat up. Those are exciting fights and fun to be in at the end of the day, but for career longevity, it's better to go in there and do your thing and win in impressive fashion without taking unnecessary shots."
For Davis, her motivation is more about avenging two past losses than earning a Fight of the Night bonus, although after sitting on the shelf for the past nine months, she wouldn't complain about it either.
"It's obviously a fight I wanted, but didn't expect. Everybody wants that opportunity. It's almost like you're cleaning up record by avenging a loss," Davis said. "This is a really good fight to come off of my last one. It's someone who can really get me motivated to get up in the morning. It's someone I've lost twice to in the past, so this is something I've wanted to do for a while now."
No matter what happens, Kaufman is quite sure the fans in Montreal will enjoy what they are going to see when she gets into the Octagon with Davis. There's no bad blood, no intense trash talk — just two women who are ready to throw down, and chances are just like three years ago, the crowd will be on its feet.
"It's a fight people are going to want to watch," Kaufman said. "It's going to be exciting, and it's going to get people ready for the rest of the card that's coming."